Videography $$
I feel like at this point, everyone has kind of accepted the cost of videography but I just can't seem to make it work. Honestly, i have about 1k to put towards it, and I'm struggling to find anyone. The people who are in budget, the only provide like a 3 min highlight video, not even just the raw footage, and i really want a full movie. I really want to just buy some camcorders and tripods and record everything myself. Then pay a video editor to put together the final video. I know i will miss a lot of the extra angles and whatnot but i think it will be okay. Anyone else diy their wedding video??
Latest activity by Elly, on March 17, 2022 at 10:19 AM
I semi-DIYed my wedding video.

so my videographer did give me a highlight video and it was like 2.5 minutes long but it was missing some aspects i really wanted. luckily one of my friends had a nice camera and she filmed like almost everything!! so i took her clips and just inserted it in myself haha

I never thought about until now. Like you said it's expensive! Thank you for the idea, i'll be figuring out how to put something together.

There are low cost companies that will allow you to rent HD cameras and found the wedding yourselves, then they will edit the footage and put it to music for you. There are others that will edit footage that you collect yourselves. Here are a couple companies you can check into:

https://www.wedit.com/ https://getweddeo.com/

View Quoted Comment

Right! No one talks about it, but I'm sure it will work!

View Quoted Comment

Thank you!

View Quoted Comment

Yes! Where there is a bride, there is a way. I'm sure we'll get err done.

You can also try photography schools. They will give out names of students that have just graduated and may not charge as much.

View Quoted Comment

So helpful! Thanks for sharing

So, here are a few things I've learned after being shocked from the initial cost of videography:

1) Initial Setup and Editing

-A more experienced videographer will know where to place the cameras and what setting you will need to avoid glare. They will also should have equipment if in case a camera fails. Go for two videographers: One who will focus more on you and your spouse, and maybe another focusing more on your guest's reactions, or angles from a different perspective.

-Wedding videos have come a looooooooonnnnnggg way from the last 30ish years or so. This is no longer the camcorder "raw footage" or "behind the scenes" videos.

-Some companies or professionals do give raw footage to you as an option in your package, but this will include all the ambient noise from your day. Editing sound out and adding music in at right times is time consuming.

2) Music and Licensing

-To use most mainstream music costs thousands if not millions of dollars to use songs to add to a video. The music industry has sued brides and grooms and their videographers in the millions for using their music.

To Clarify:
For a videographer to have a video of you dancing to songs by Ed Sheeran or Bruno Mars for your first dance, is acceptable because that music is in the "background". Adding their song as a video "soundtrack" could be grounds for a lawsuit.

-Most videographers will use a website with thousands of songs or tracks created specifically to add to videos either because they are not as known, and do not have the licensing requirements that most mainstream music does.

-Food for thought: In an interview with a videographer, I was told that to have certain songs could "date" my wedding film. To have music that isn't as known keeps the video more "timeless" .

3) Other Miscellaneous (But Important) Advice

-4K is a "higher" definition of film that requires specialized equipment to both film, and play back once the editing is complete. Some companies will try to market 4K, but the reality is that unless you are a techie, you may not "need" it.

-More wedding videos these days are delivered/stored via a "cloud". You can either download them, or ask to have your video delivered on a flash drive.

-The average turn around for wedding videos is 3-4 months.

-READ the contract before making the deposit. Contracts are legally binding for both you and the videographer. Take a day, or two, or three to read and re-read the contract, make edits, receive the edits, and then book.

-Some videographers will have in their contract that if something should happen to the footage (gets destroyed, cameras stolen, etc.) that you cannot sue them for punitive damages (aka: You can't say that they "destroyed" your life).

-The "very expensive piece of advice" as given to me by a videographer: Make your payments on a credit card. The reason for this is that it keeps a record of you paying the vendor for their services. The sad reality is that some businesses have closed, or other vendors have gone "poof" along with their client's deposits. Proof of payment could hold a vendor legally responsible and be used as evidence should something go wrong.






I personally don't think a videographer is necessary if you have a professional photographer. I hired a great photographer and will just have guests share videos that they take. I think it'll be plenty for me. Maybe your photographer can help you with where to set up the cameras.

View Quoted Comment

Thank you hun, this honestly makes me want to avoid a videographer even more lol but i think l can avoid most of this by letting a professional edit it and making sure someone is in charge of recording at the wedding

View Quoted Comment

Completely up to you, but I will say this:

-Some photographers do offer videography with their services.

-Video is an awesome way to relive the moments and see things like guest reactions that you wouldn't otherwise.

-I will personally be expanding my budget for a videographer because I do want to see my wedding day for years to come.
Related articles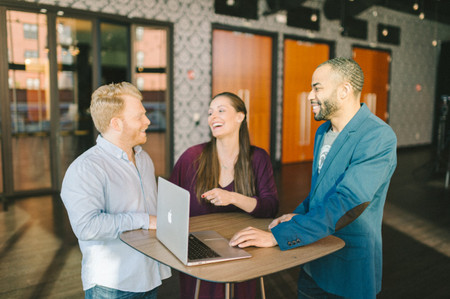 WeddingWire celebrates love
...and so does everyone on our site!
Learn more
Groups
WeddingWire article topics