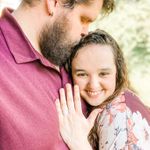 Just Said Yes
September 2022
Videography: Worth It or No?
Wanted to get some opinions from brides who did or did not choose to go with videography. We could make room in our budget by cutting back a few things that aren't as important to us. My fiancé isn't on board with a videographer. I'm leaning towards having one. Wondering what pros or cons of having a videographer are? Any help or opinions are appreciated!
Latest activity by Emily, on August 8, 2021 at 8:14 PM
I think this just depends on your own wants. I've seen some people say it's the best choice they made by getting one and others say the same about not getting one. Originally FH and I didn't want one at all because we figured what's the point, but then I saw people mention being able to see a video of people who have passed years later and now I believe we both want one since our grandparents are getting older and we collectively just lost 3 grandparents in a span of like 6 months.

It depends on what you want, my FH and I don't want one simply for the fact that we don't feel we would ever watch it again. I'd much rather have photos over video.

Like others said, it depends on what you want. But a wedding mix might be a good compromise? That's what we are doing

My fiance and I decided not to book a videographer for our original date. However, since we postponed due to COVID, we ended up booking a videographer for our new date, and we're super excited about it! The pros are that there are many things that video captures that pictures do not: the sounds of your voices as you say your vows, the motion of the signature dance moves by your friends, the sounds of the music as you walk down the aisle/do your first dance, the sounds of your grandparents voices, etc. You can also make it a tradition to watch your wedding video every year on your anniversary. The cons to keep in mind are that it's another vendor to coordinate and provide a vendor meal for (and give a tip to, assuming you feel that they earned a tip), and they'd have to work with the photographer to ensure neither of them are getting in each other's way. Plus, the obvious expense of booking one.


If you are looking to book one, but don't want to spend a lot, check with the film/photography department at a local college! You may be able to get a student to do videography for way cheaper than a professional. Or, find a Facebook group for weddings in your area ("[city/area name] brides" or "[city/area name] weddings"), and put a post listing your budget, date, and desired video options (hours needed, requested video length, etc). Often times, vendors are in those groups and will reply to your request, or other brides can recommend their vendors. Otherwise, there are many people who end up not booking a videographer and don't regret it. It really all depends on whether you think you want a video of your wedding or not. If on the fence, maybe watch a few wedding videos by videographers in your area to see if it changes your mind one way or another.

Just Said Yes

September 2022

View Quoted Comment

This was very helpful! And gave me things to think about that I hadn't even thought of! Thank you!

Just Said Yes

September 2022

View Quoted Comment

I hadn't even thought of that as a pro of having one. Thank you!

We had a cousin tape our ceremony, and we've watched it a few times. I don't know what else I would have wanted video of i guess. I have photos of everything else.

Thank you for posting this discussion! Reading the responses has helped me think through whether or not I want a videographer.

I think this is something people will either think of as an unnecessary expense, since you only watch it maybe once a year on your anniversary, and then there's others that think it's a must have.

We originally weren't going to have one because in our area it's around $2k for a really good video. We ended up booking one because they reached out to me and had an insane deal going on for the holidays, so we got ours for $500. I already knew I wanted our ceremony and first dance taped, but I was going to have a go-pro set up for that, but now we'll have a really nice video to look back on! I will say though, if it weren't for that deal, we wouldn't have gotten one.

I guess you really have to sit together and come up with pros and cons. A video will capture all of the tears, laughter, and expressions of everyone and everything a photo only gets a quick snap of. They can be extremely pricey depending on your area and what package you pick, but I think if you're able to find one reasonably priced, that it's worth it.

I highly recommend hiring a videographer! It was by far the best money we spent and best decision we made during our wedding planning. Photos are great, but videos capture actual movement and sound. We love watching our videos and it really takes you back to your wedding day. The day goes by SO quick. It is nice to have those videos to look back on and remember everything. They are worth every penny!

I personally am all for video!

i feel if you've the budget for it, it's worth getting it. but if you don't, then it's ok to just only have photos.

i personally watch my wedding video a lot. i don't even look at my photos haha cause it's just too many to go through compared to watching a 3-4 minute video that relives it all

We decided on no video and I've gone back and forth several times on if we would regret it. $2k for a videographer after paying almost $5k for a photographer just wasn't reasonable to us. I think the main reason for wanting it is to have it after grandparents, parents, etc pass away and still having happy memories of them in motion. Pictures cant really do that. We're live streaming/recording the ceremony which involves our grandparents and parents so I think it's a good way to meet in the middle

We don't want one. To us, it's not worth it to pay $1,000 for a 3-5 minute video.

Just Said Yes

December 2021

Personally I think it's worth having a videographer reason being is so I can look back at my wedding day and relive the moments again. If you're on a budget you should definitely do some research and see what your options are.

View Quoted Comment

What do you mean by wedding mix?

I haven't gotten married yet - but we opted out of a videographer. A lot of our family members that have gotten married have never seen their video/lost it/or think it's boring to sit thru and watch the whole thing lol. I personally know that I would never watch it - I'd rather have friends/family members send me clips - I feel like it's more intimate and it'll give me a guests perspective! We felt like we would make more use out of pictures, therefore we spent a good amount on our photographer. Honestly don't think video is worth it - but completely up to you! Don't put anything aside if you feel like you're going to regret it!

I think you should just ask yourself if you will ever watch it. I don't have the budget for one, but I don't think I would have one even if I did just because I can't think of ever watching it. Nice photos are good enough for me. But I have family who thought a videographer was essential and were glad they splurged on one.
If you do decide that you want one, try to find a combo photo/video package to save money

View Quoted Comment

Wedding Mix is a company that edits a wedding video using footage submitted by you and guests. There is an app that people can download to share their photos/videos or they can use the hashtag and get everything from there. I think it's a fun perspective to see from your guests point of view. And if you know they are taking videos anyway, why not use them?

View Quoted Comment

That's awesome! Thanks for the info!

I got married last night and it is a huge regret. I assumed people would record stuff with there phones but no one caught our vows which were so moving. Our adult children made toast that had every guest tearing up. Again, no one caught that either. Our photographer had an option to add at least a short ceremony video but I opted not. So if you don't hire one at least designate someone to film those moments. I would give anything to hear and see those moments again. Thank God everyone wrote them down so I can at least read there words.
WeddingWire celebrates love
...and so does everyone on our site!
Learn more
Groups
WeddingWire article topics