Post content has been hidden
To unblock this content, please click here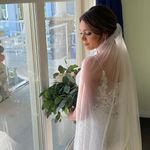 Splurges!
Did anyone else start wedding planning off with a strict budget and the idea that you didn't want anything extra? We started off that way because I didn't think that I would care about the centerpieces, chairs, drapery etc. Now I feel like I'm wanting everything! Our venue does an exclusive bridal show for our tasting and of course I added Chiavari chairs, ceiling drapery and farm tables.. am I the only one that has completely changed their budget and vision?
Latest activity by Arianna, on March 2, 2020 at 7:33 PM
Yep, right here!! I don't even know who I am anymore lol I began the wedding planning process not wanting anything... no wedding cake, no DJ, no musicians, no centerpieces, no flowers, no videography, no wedding dress (just wanted a nice evening gown)... Flash forward 1 year later and I have all the things & more! 🤦🏼‍♀️

It's common ! For me I wanted to stick to my budget but when I saw premium items for the menu and tried it, I upgraded the menu aha

I have a budget that i set and for the most part we have stayed within budget. We did research for alot of things like venue, dj. etc.

This is us! We booked our venue which is basically all inclusive. Wesaw sooo many great ideas at their open house we want to add to the package 💸💸 Our vision definitely changed from a simple brunch wedding to what we on doing now!

I felt the same way at first, but now we have all the staples and more than a few extras.

Oh yeah!!! I'm torn between wanting to save money wherever we can and wanting to have the wedding of our dreams. Guess which one is winning? My FH is no help, he keeps saying "so what? its once in a lifetime " 🤣

It happens to most people ! As long as you don't go way over or put yourself in a bad spot because of it you're fine. After looking at a venue my FH said he didn't think he would ever care what chairs look like but we definitely need the chiavari chairs 😂

I spent way more than I ever thought I'd spend on a Snapchat filter for the day of our wedding 😂😂 actually not a ton of money in the scheme of things, but we got married downtown so it was more since it's a "high demand" area. But 100% would do it again—worth it!

Our original budget was 20-25k. But knowing how extra I am, we're now at 30-35k. FH always tells me this is our special day and it'll only happen once so we gotta do it right and how we want to, basically giving me permission to be extra lol

Yesss. It's so hard not to when you see what other people are doing. I'm not one to just go with the flow but I also don't want to invite a bunch of people to a tacky event. I was also mistaken on the cost of everything. I hadn't realized how much it would be for small things like decor and invitations. Planning a wedding definitely gives you mad respect for other brides.

Does it count if I say the honeymoon? I went in expecting to set aside 2k for my portion (we are splitting costs)... I've now set aside 4.5k.

View Quoted Comment

Lol yes this is basically us too😂

View Quoted Comment

Absolutely! Honeymoon is our next item on the list. I have no idea what we're doing but I'm sure we'll be the same way😂
WeddingWire celebrates love
...and so does everyone on our site!
Learn more
Groups
WeddingWire article topics