So I fell in love with this dress:
https://www.azazie.com/products/azazie-arnett-wedding-dress?color=diamond-white/champagne&is_plus_size=1
Exceeeeept that it has no decor on the skirt. The bodice is GORGEOUS and it feels SO nice to wear, but I wanted to give it a little more pop. So, I thought that I would make a tulle cape with rhinestone decorations and attach it to this back part:
Back of dress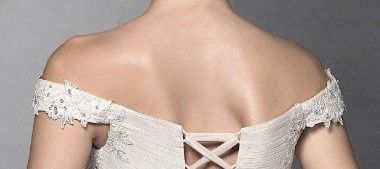 I know the easiest way would be to just sew it to the inside of the dress, but considering it's a corsetted back I'd prefer not having to do that since the back will never be the exact same length at all times. So is there something small and unobtrusive I could use to attach this theoretical cape to the back of the dress without making it permanent? Or even a way to disguise something that is obtrusive would work too.