Hello!
First time poster, hoping for some feedback from the community.
I just got my dress back from the tailor last night. I was always slightly worried that she wasn't really hearing me properly but stupidly decided to ignore that voice in my head. Turns out I should have listened.
Basically, I wanted her to remove the train from my dress, without losing the horsehair trim which was one of my favorite things about the dress. She said she could do it, and I said great. The second time I came in, the horsehair trim was removed completely from the dress and it was shortened. She had me try it on and I loved that I wasn't weighed down with the train. I then checked that she would add the trim back on and she said that she would.
Fast forward to last night. I picked up the dress and it had only horsehair trim on the top tier. I queried why and she said that it was always going to be impossible to keep it on the bottom tier - which of course is the first time I have heard this! You can see from the photos below that actually the dress wasn't too terribly long on me, and if I had known this would happen I never would have okayed it.
My questions to the community are: 1) Is it truly terrible-looking? I keep changing my mind, and to many I have shown the photos to, it doesn't seem to be something noticeable (i.e. only I know it because I know the dress so well), so wondering if it's just me, and 2) Is it at all possible to take this to a competent tailor who may be able to re-attach a horsehair hem to the bottom tier? I don't know much about how difficult this might be.
And oh yeah, wedding is in 3 weeks!
Original skirt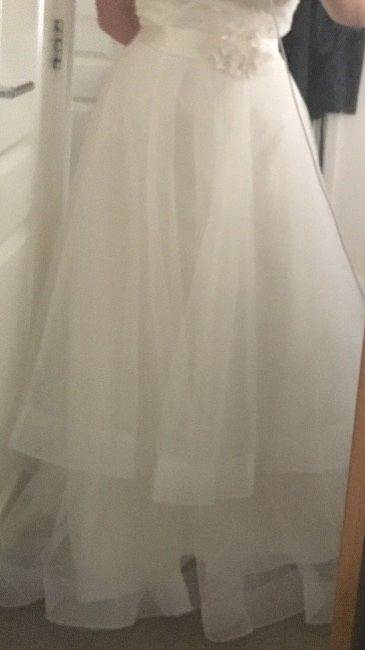 Altered skirt