Here it is y'all! My Sams review! It's wordy and pic heavy but if you want the short version here it is: Prepare accordingly, and DO IT! Seriously, best decision ever!
My vision: white and greenery, simple, easy going, elegant and not cluttered. No large floral arrangements. I had 17 tables, a bridal party of 12 people total, parents, a welcome sign, etc. Florist quoted about $2500.
Here's why I did it:
I really am not a flower person. And $2500 for some leaves on a table made me want to throw up. I love them, sure, they're pretty. But, they die. You spend thousands for floral's for a few hours and then they get taken home/thrown out/etc. Not my style. I knew I wanted either bulk flowers or faux flowers for bouquets, bouts, etc. I learned faux can be just as expensive as bulk so we went bulk.
Here's my order breakdown:
630 stems total- $345 (including shipping)
400 stems of Israeli ruscus
200 stems of olive branch
30 white hydrangeas
(I also spent about $50 on 1 kind of faux flowers from Afloral.com, anemones, for my bouquet, husbands bout, and the cake, as well as fake greenery for the bouts.)
Ordering:
I did a lot of research before actually ordering, I looked into multiple companies and price points. I googled flower "recipes" and utilized Flower Moxies free consultations for a more accurate number of what I needed. Do this, it was so helpful, and they were scary accurate. I knew I wanted to over-order a little bit to have wiggle room for mistakes or dead branches, etc. I ordered from Sams and checked out as a guest (you don't need a membership to order bulk flowers) I ordered the flowers about a month from my wedding date and set them to be delivered 3 days before the event. They emailed me when the order shipped.
Preparing for my order:
This is the most important! Everyone tells you doing your own flowers is stressful, but it really doesn't have to be as long as you're prepared. I ordered a flower kit from Amazon with shears, tape, wire, etc. I had ribbon on hand for the bouquets. I also had a spray water bottle for the greenery to keep it fresh. I got a bottle of wine. I got about 6 buckets. I watched YouTube videos about how to make a garland. I even bought cheap faux flowers beforehand and played with arranging them so I knew the look I liked without wasting time Wednesday. I probably spent about $50ish in supplies. I cleared my schedule the Wednesday before the wedding and I woke up that morning ready for my order to arrive.
Upon arrival:
They arrived via FEDEX at around 10am. I immediately opened all of the boxes and began cutting the stems at an angle and putting them into water to "drink". The ruscus looked great, the olive branches were dry and the hydrangeas were a little smashed and small (expected). Cutting the stems total maybe took an hour and a half. I was sweating, to be honest. I them transported them to a spare bedroom out of the harsh sunlight to drink, rest, and open. I left them for a few hours and went to the grocery store, ran a few errands, etc.
flowers delivered in boxes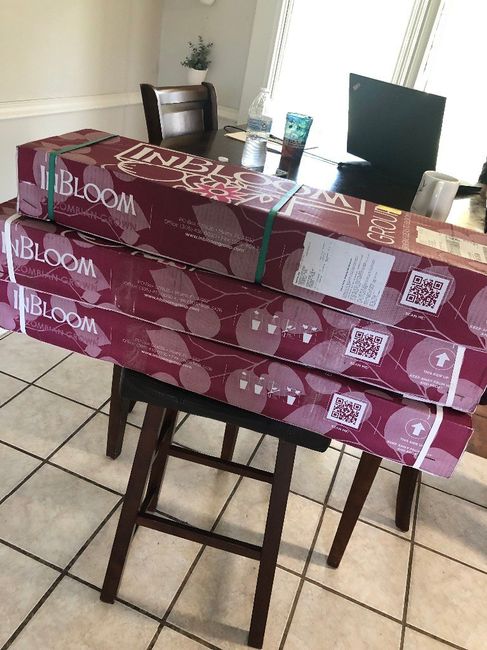 immediately after opening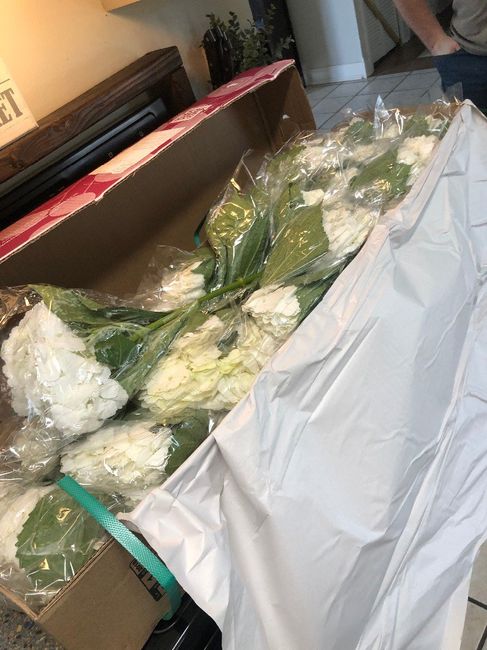 set into buckets of water with stems cut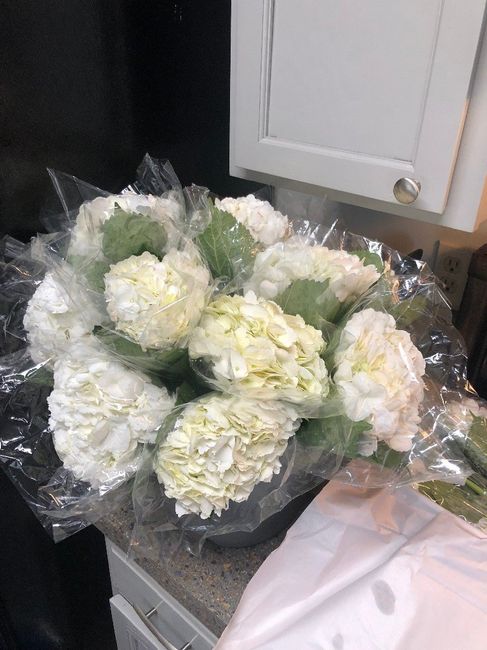 letting them drink - don't mind my laundry!
Putting them together:
When it was time to really get the party started, it only took a few hours for the hydrangeas to really open up and the greenery to look super fresh. I spent probably 6 hours total putting together everything. (I should probably back track here and say I pre-made all of the mens bouts with faux flowers and greenery, as well as the grandmas corsages, this saved SO MUCH TIME). I did the easy things first: the pew hangs (just some greenery and ribbon), the little wreaths for the cake table, the little welcome sign garland, the larger garland for the fireplace mantle (this took the most time, but only 30 minutes to an hour). I prepped as much as I possibly could. I even made a greenery chandelier but it was the last thing I did and I was tired (totally would have added more hanging greenery but whatevs.) Then I moved onto the bouquets. The moms nosegay was 1 hydrangea and a few stems of greenery. Easy enough. Put them together quickly and wrapped in ribbon. 5 bridesmaids bouquets: 1 hydrangea and a lot more greenery than the moms. Also easy enough. Then my bouquet, 3 hydrangeas, a lot of greenery and 5 of the anemone flowers I ordered from afloral.com to match husbands bout.
husbands bout made from faux greenery and a "real feel" anemone flower and golf tees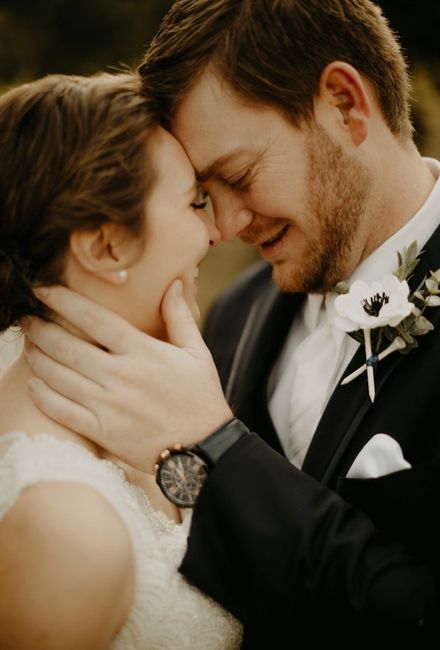 Transportation:
Arguably the biggest pain in the behind with DIY bulk flowers. It took 2 cars to get everything to our venue. A 50 minute drive from our house. We had to keep all of the hydrangeas in water, so I actually used baggies and hair ties. I filled the baggie with a little water, wrapped it around the stem with the hair tie and put it back in an empty bucket to sit upright. They stayed in the baggie all night in my hotel until the wedding day. They had opened up SO MUCH. Honestly 1 flower was totally enough for the bridesmaids to carry.
totally packed car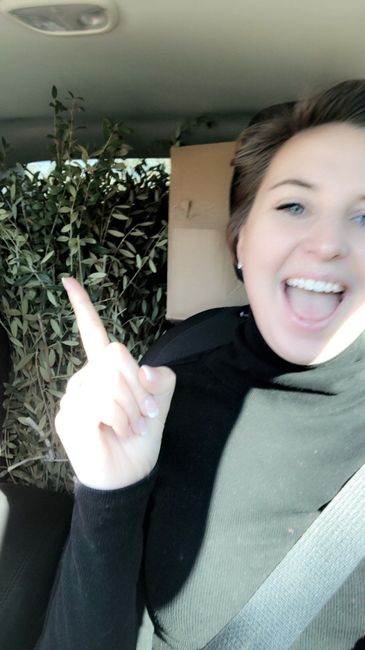 Friday set up:
We had round and rectangular tables. For the round tables, we laid the greenery down in a small cluster around candles (the candles were friggin' romantic when lit, btw.) For the rectangular tables we laid the greenery down the center in a loose garland look with candles. We also had table numbers, salt and pepper shakers, etc. and with a set table it looked perfect and fresh! I also did this on other tables like the food, our sweetheart table, etc. With the hydrangeas we had left over, I took the petals off of some for the flower girl and then the rest we placed in vases around the venue. We also had some for our church ceremony. We had all day Friday to set up but setting out the flowers took less than an hour.
bridesmaid caught me in action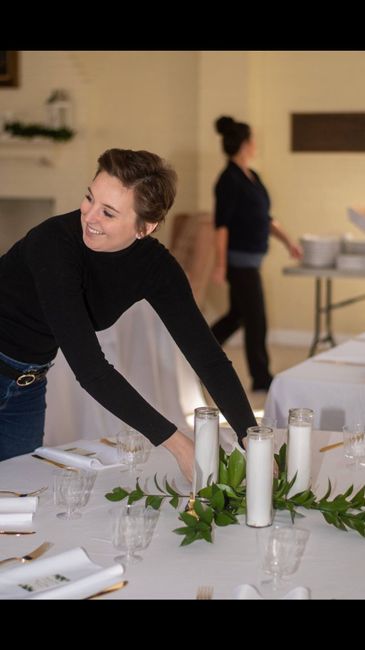 left over hydrangeas placed around venue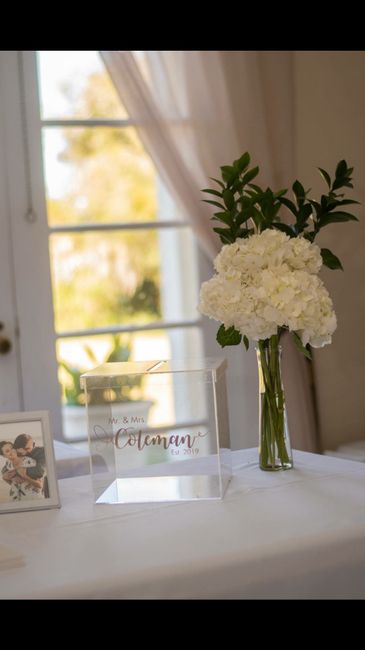 sweetheart table set up- garland and loose greenery plus my bouquet in water baggie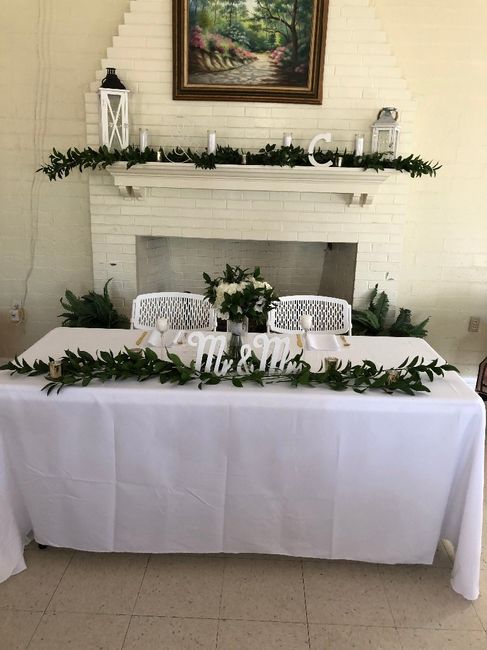 Wedding day:
Everything looked fresh and perfect. The DOC sprayed the greenery morning of the wedding but it really didn't need it. I loved the organic look! So natural and effortlessly pretty!
my bouquet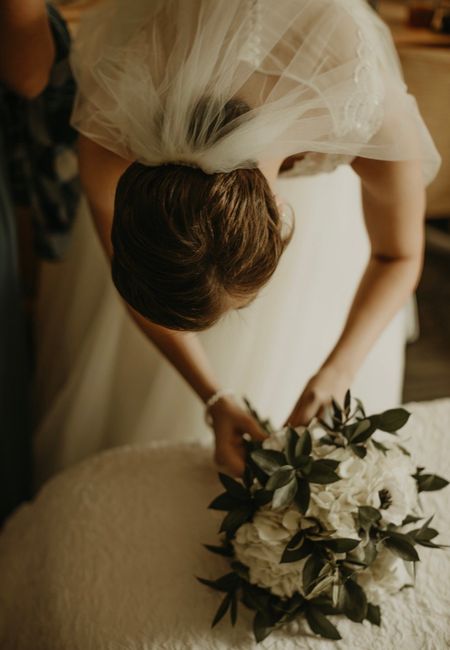 loved how it photographed and the organic look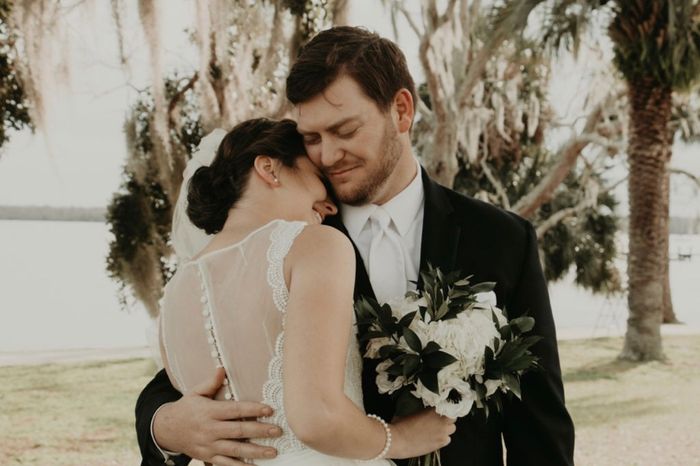 bridesmaids single hydrangea and greenery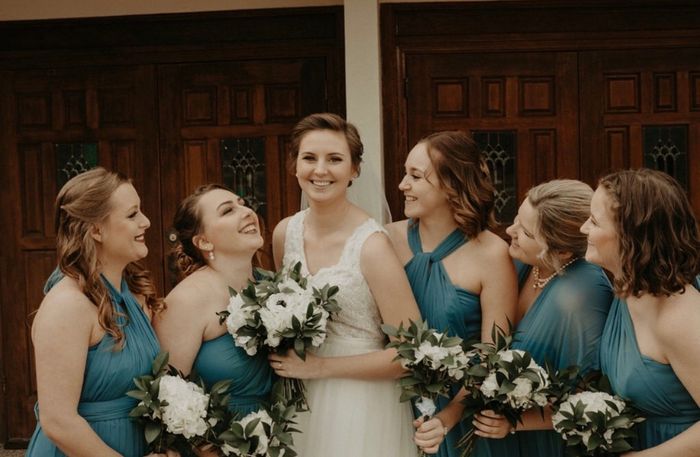 pew hangs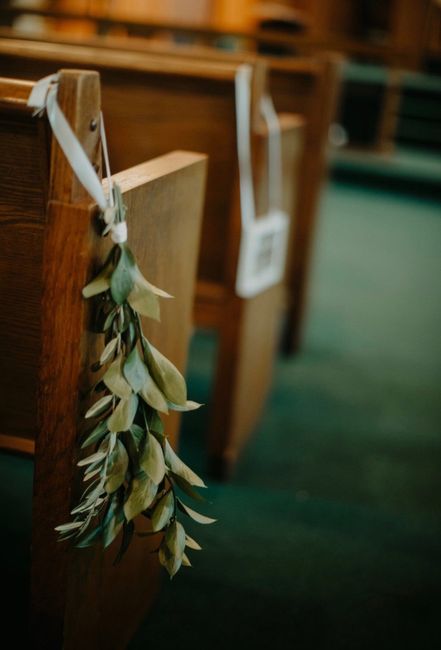 welcome sign garland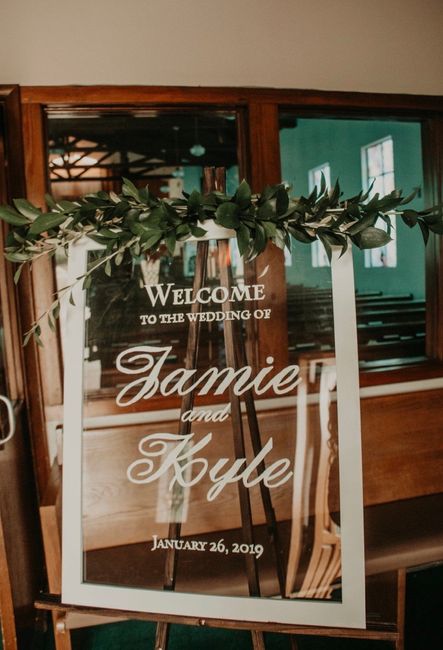 cake table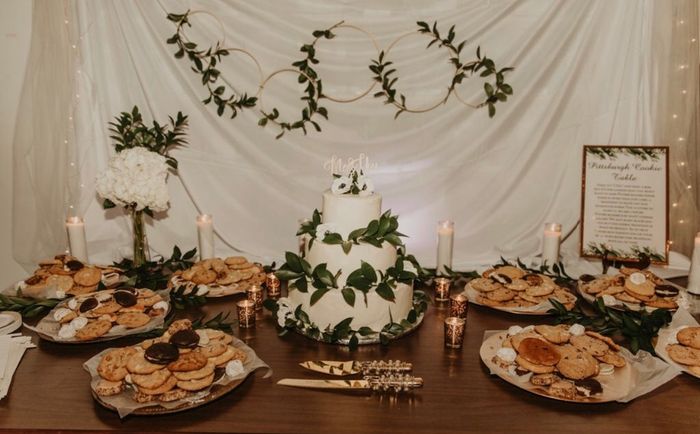 during the reception
small set ups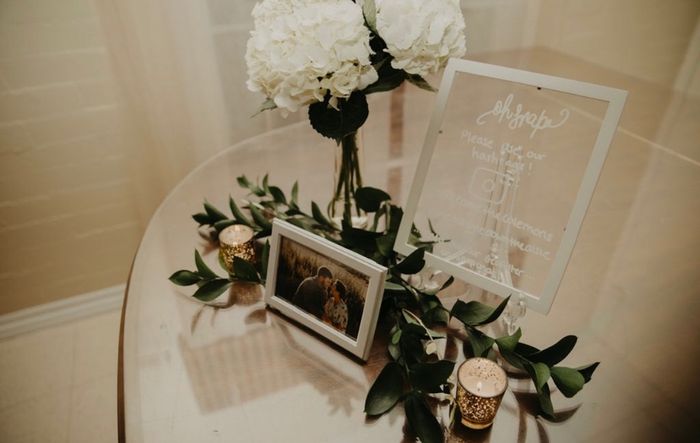 close ups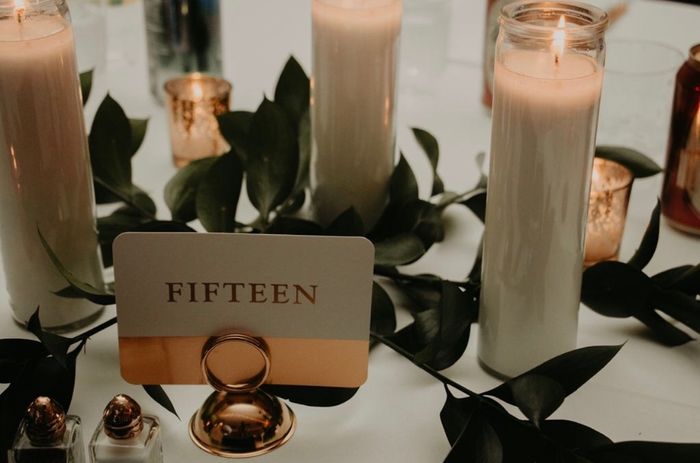 After the wedding:
Most of the greenery got thrown away but my bridesmaid left her bouquet at our house when she flew home so I put it in a vase. My mom had mine at her house. We left for a week for our honeymoon. When we got home the hydrangeas were definitely suffering. They really don't live too long, even in water. BUT THE GREENERY is still going strong! Seriously, it looks as fresh today (a week and a half later) as it did the day it was delivered.
1 week post wedding- flower looking rough but greenery going strong!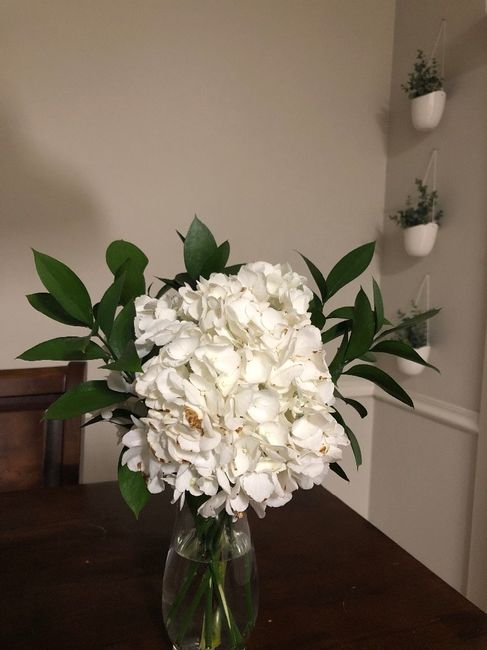 In conclusion I'd 10000% do this again. The effort was expected, but I was prepared for it. The flowers looked exactly like I had hoped and dreamed, and I saved SO MUCH MONEY. If you're not willing to dedicate a day to it, it might not be for you. And if I was doing something more intricate, I might've gotten a florist anyhow but knowing how simple I wanted things I just tackled the challenge head on. So glad I did!
Hope this was helpful for you brides looking into Sams!