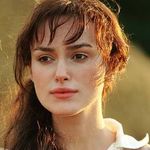 Random bridesmaid dresses??
So, I'm really on a tight budget. Can the bridesmaids just pick something in a color family? Has anyone done this? What would it look like? Is it too haphazard looking?? I feel like this is my only option as I have VERY different sizing to try to coordinate everyone perfectly. I have junior bridesmaids too. I'm considering not having bridesmaids if I can't figure out a cheaper alternative. But they are all family and I WANT to include them. But not pay for them. Haha. I just have to because they're young and my mom thinks it's necessary for the bride to pay. Idk what to do
Latest activity by anna, on September 15, 2020 at 1:15 PM
In my opinion, your wedding, you pay. Have less bridesmaids and watch for sales 😊

Letting the pick their own dresses with a color family is very common. It's easier to avoid the mismatched look if you opt for black. Otherwise stick to a certain color by one designer, otherwise you will have a dozen shades of red or blue or whatever color.


The only time you as the bride are expected to pay for something is if you require a certain identical look for everyone. Hair/makeup/shoes/dresses are all their responsibility.

Most brides don't pay for their bridesmaid dresses, but ask them to buy their own within a budget all agreed upon.

I would recommend picking a color by a designer so it's cohesive or pick something like floral dresses that are intentionally mismatched.

Look at azazie or pinterest for ideas

Cocomelody and Azazie are inexpensive with try at home options and can be shipped to your door.

I am having my bridesmaids wear dresses that are in the same color family. I am not even concerned about whether it's the same shade. I kind of like the look when it's not matchy matchy. They are all different skin tones so I would prefer they wear what compliments them best. So far they are loving that idea.

I did this ! I let mine choose as long as it was a light pink. I did get scared it would look all over the place. But it looked good. Here's what it looked like altogether

You don't have to pay for them, allow them to wear the same color but different dresses. But it's definitely not a requirement to pay for everyone's dress.

I'd look into Azazie. It's decent quality, affordable, and so many different styles that accommodate every body type you can imagine. Can your bridesmaids not pay for their own dresses? These days, most of the time bridesmaids pay for their own dresses

For all the times I have gotten the same dress as a group of others, I have always preferred it when Bridal party women have complimentary colors than all the same. I gave a list of Not these colors, or shades of them: oranges, browns, golds, yellows, bright pinks, or any intense neon color. And formal, not too bare. And gave a swatch of my pale gold. Same request a close friend made of her ladies. My ladies were far away from me, different states. 3 got together in NYC, bought off the rack, ended up with 3 bluish greens: sage, spruce, peacock. My auntie, a matron of honor had a dark emerald called evergreen shadows in velvet, which she had worn once for an award the year before. They surprised me, looked great. No hassles. My friend's ladies the two teen sisters wore the same family of dusty pink, the jr bridesmaid a fliral, the same pink and streaks of gray-green like flower stems. And her 30ish two pregnant friends wore two close soft blue-greys named dusty blue. girls in filmy chiffons, older friends in crepe de chine. Friend bride in creamy ivory. Same instructions , exactly, as mine. And she, and I, were thrilled they all looked good as a group and singly, all happy, varied price ranges, and most of all, though we had said, I reserve the right to say no to any dress, in fact she asked one to wear a lacy jacket over a strapless in church, and I asked one to get a more closed in, at least strappy slingback, instead of a flat sandal with a toe loop. Too informal a shoe with a very formal cut gown. They all loved their individual dresses, none had that bridesmaid/ never wear again look. So nice to not have to deal with the whole thing except to view a pic sent in email, and say, beautiful. No need to get very, very different figures over a 30 year span all accomodated by one style or color. Also, mine together, and hers separately over 3 days, got all gowns, no ordering, and only 1 needing hemming. I had always preferred a mix of dresses when I was BM or MOH, and it sure made life easier with a short engagement, 4.5 months, to have them take care of it. Also, neither of us went for jst 2 wedding colors. My friend was in the Courtyard and balconies of a famous Beaux-Arts library. Mine a typical old family mansion turned inn , so with varied paneling, carpet, stone mantelpieces. So the reception, all was glittering glass, silver, and white damask, with flowering plants. Guys all in own midnight blue or black tuxes, with accessories that went with the formal tuxes, no odd colored ties or pocket squares matching the women.
In real life, look at a wealthy home, hotel, venue, or palaces, people do not dress to match their room's decor, and do not match the room to their dress colors. And people not couples do not wear accessories to match someone else's clothes. This is a wedding industry notion. Bridal party in different colors made no difference to color scheme of wedding. Lace toppers on damask.


I agree with one of the prior posters! I am asking my bridesmaids to find a cocktail-length black dress of their choosing (but just to run it by me before they purchase). I hope that all black dresses (with a few guidelines, like no sheer fabric, etc) will look pretty uniform while not breaking the bank and also allowing for personal styles to show through!

I was MOH for my sister's wedding and we all paid for our own dresses. We just had to all agree on the dress itself. I am having my bridesmaids pay for their own dresses too. It is not a requirement that you pay for the bridesmaids items.

I had mine pick different styles in the same color. As long as the color is exactly the same and they are all the same length (all floor length or all knee length) it wont look haphazard. As far as paying, its really rare for the bride to pay for the dresses, and if you have young junior BMs their parents would pay. Ive never been in a wedding where the bride paid for my dress and Ive been in quite a few.

I completely disagree that you should have to pay for anyone's dress in your bridal party. If someone is a minor, you should ask their parent before you ask them because they will be the one paying for the dress.

That said, I think telling everyone to pick in a color family is fine and even trendy. You can have each girl run it by you beforehand. I think it would look great though. Also, black or navy is a very easy way to match without having to get something from the same brand.

You as the bride should not be paying for your bridesmaids' dresses. Typically bridesmaids buy their own dress, along with paying for their own hair and makeup for the day of unless you are offering to cover it. I've been in several weddings and have never expected the brides to pay for my dress. For my bridesmaids, I told them the dress should be long and navy, but that they could pick their own dress. They all have very different body types so I didn't want to make anyone uncomfortable with the dress choices. This way, they can all pick their own dress and spend whatever they are comfortable spending. They're my best friends so they sent me pictures anyway to get my thoughts haha but I didn't necessarily need to approve the dress because I trust them. The one thing I am paying for is the jewelry for all the girls to wear on the wedding day.

I did this with my bridesmaids. They all picked a dress that flattered their figures and my colors are burgundy and navy so one girls dress is burgundy and the other is like a dusty rose color.

This was my inspiration.

So, I had 2 bridesmaids and 5 additional "friends of honor" that were essentially bridesmaids but just without any of the responsibilities. we all got ready and took photos together! I picked out the dresses for my 2 bridesmaids and asked everyone to choose something in the same color scheme. I love the way everyone's dresses were so different and fit their personalities, yet the overall look was still cohesive
Related articles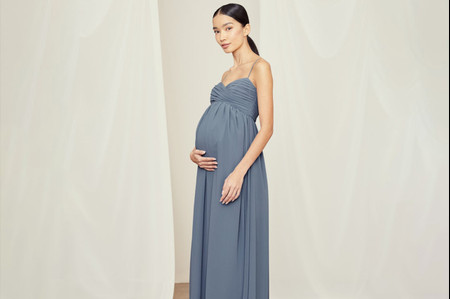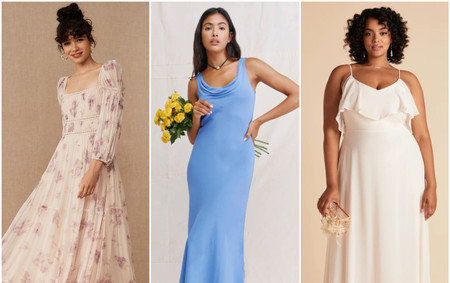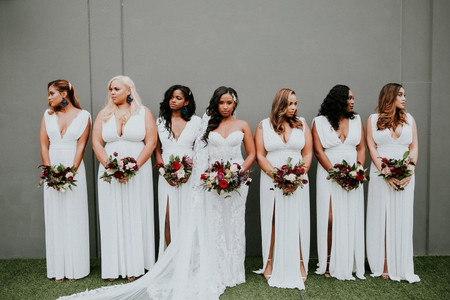 WeddingWire celebrates love
...and so does everyone on our site!
Learn more
Groups
WeddingWire article topics