Hello everyone so my wedding was Sunday March 24th, 2019 it was a beautiful Sunday in California! The temperature was warm enough to not feel cold and cool enough to not get hot.
Venue: CocoPalm Restaurant, ceremony held on large outdoor terrace and reception held in the ballroom.
* Venue included bridal suite **pictured in photos with large double door balcony.
Catering - from CocoPalm Restaurant (Cuban Cuisine): Appetizers included meats and cheese and fruit and veggies along with papa rellena (stuffed potato ball) and chicken empanadas.
Main course, plated dish: Steak and Shrimp Scampi, those with allergies to shellfish received chicken instead and veggie option was included as well, everyone and I mean everyone loved the food.
DJ & Photobooth: Beverly Hills Dj with Fabian, they played the ceremony and reception music along with cocktail hour, etc. He was outstanding, it was like having a coordinator as my dj, kept us on time and on our feet all night long.
Officiant: Put a Ring on It! Chrisit Wickoff was such an amazing person to work with and really made our ceremony special and close to our hearts!
Cake: Included with venue package, made by Somecrust bakery (yummm!)
Photographer: Juan Gallegos, I did the friendor thing but it worked it perfectly fine, Juan and I know each-other since middle school and he's very professional and on top of things.
Videographer: Diamond Cut Films, worked with Steven on our wedding day highlight video!
Flowers: Small floral shop owner lost her store because they were tearing down the space, will update with her info shortly as she is currently updating her location and contact information. She was amazing!
Dress: Oleg Cassini, Davids Bridal
Veil : Davids Bridal, my favorite piece!
Shoes: Nina Shoes
Jewelry and hair piece: DesertRoseDesigns10 @ Etsy, this girl is amazing and even custom made my hair piece to match my necklace and earrings.
HMUA: Used thumbtack to find my girls and they were amazing at their job, I was thrilled with their work. Will update contact info shortly.
The day flew by, so fast that there are literally parts I can't remember, lol. My best advice is to just enjoy the day and be in the moment. It is too late to change anything the day of, don't stress yourself out with anything on your special day. Have fun and enjoy it, its literally all about you! So many things went perfect the day and of my wedding thanks to my amazing vendors, honestly, if you choose the right vendors then you are good to go, you don't need to worry about making sure things get done, they'll make sure everything gets done for you so choose wisely. I felt such a sense of relief when mid way through getting ready I walked down to the ballroom to see it almost ready to go, flowers getting put all over the place, my cake, tables, decor, sign in,etc. I was shaking when I was up with my hubby because I had so much adrenaline and excitement, but let me tell you that once I walked out everything after was a blur, there is such a rush inside of you and you're being pulled a million ways, its insane! I recall times where the entire photo booth line wanted to take pictures with us so we were jumping from picture to picture to video to facetime to whatever. I was nervous when I left and was only with my two handsome escorts that I forgot my bouquet. My amazing photographer has given me close to 2,000 photos of absolutely everything, God bless him he caught moments I did not, he prefers to catch everyone in their normal being so everything seems so in the moment!
Walking down to the ceremony site where my mom was waiting for me!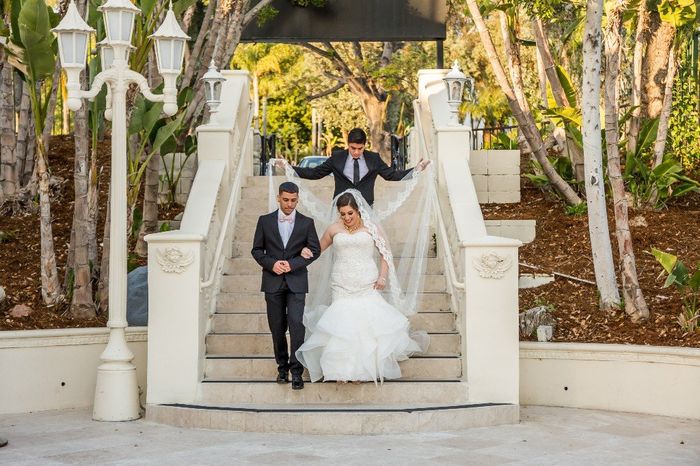 The ceremony, under the trees!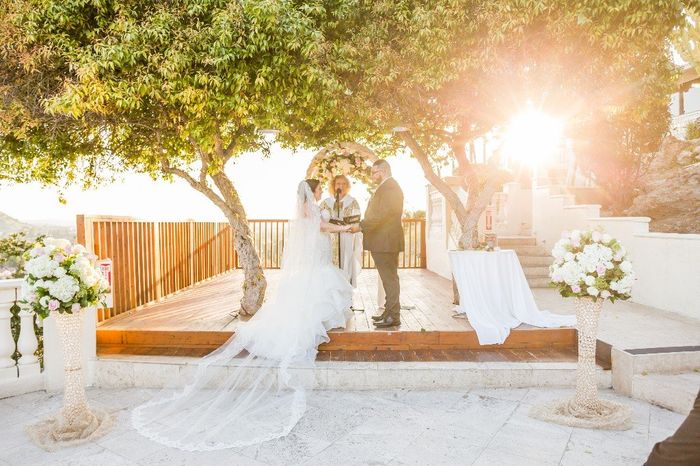 Mr & Mrs. Amaya!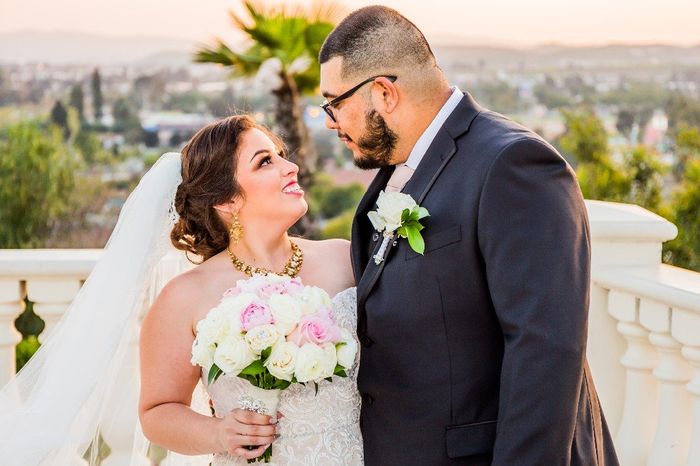 Top terrace photos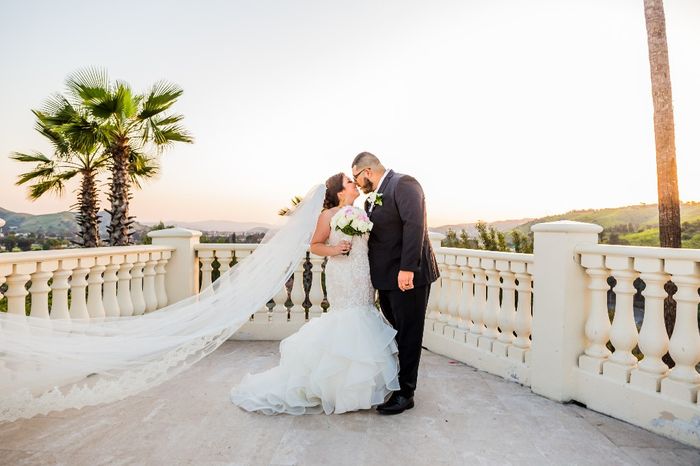 Our 1st dance!
Time to eat some cake!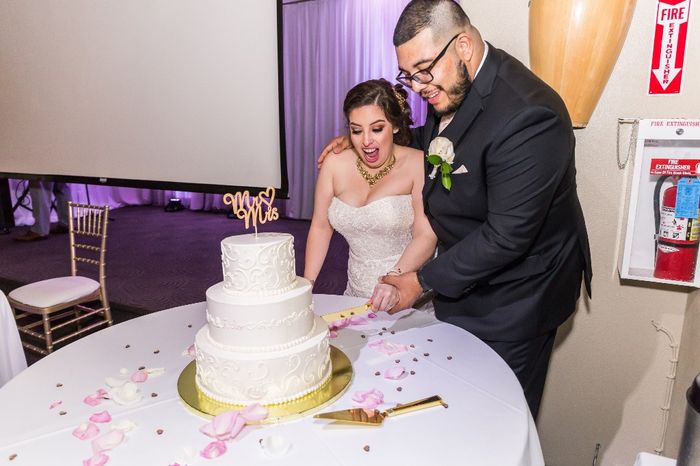 Wow, is this really happening!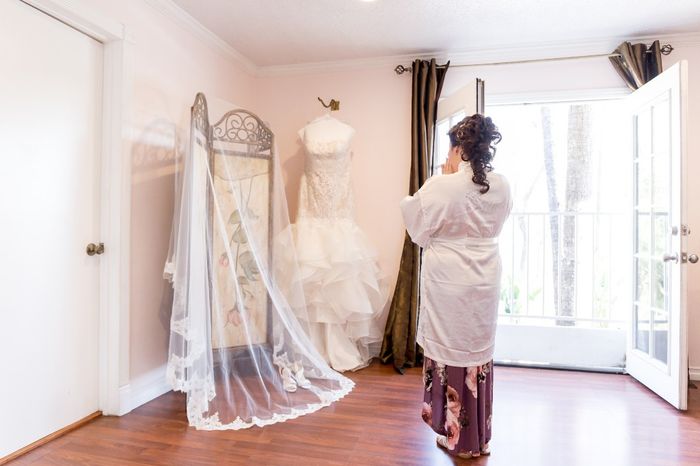 Putting on the veil! I love my veil!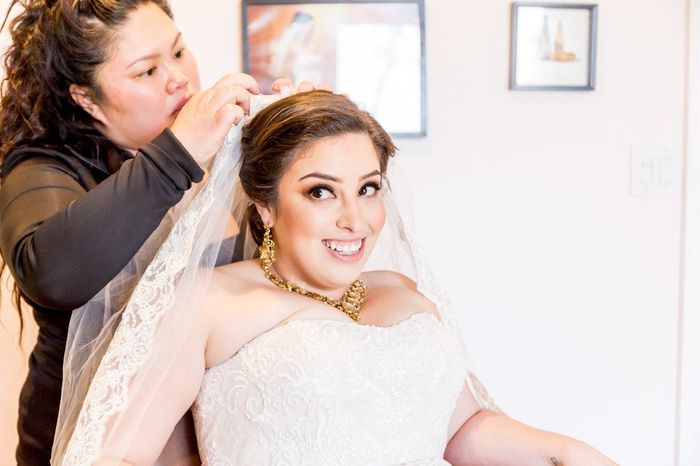 Ok here we go!