This is Part 1, Part 2 will be posted later.

Introduction
If I had to list all the horrible stuff my husband and I had to go through to plan the wedding of our dreams, this would be a long and never ending post. So for now, I'll just link some previous posts I made on here that basically highlights the suffering I went through while I was busting my butt off planning this wedding.
Planning this wedding was one of the hardest things I ever had to go through, I have never poured so much of my own blood, sweat, and tears into planning this once in a lifetime event. My wedding didn't go as initially planned, but I'm so happy that I didn't let COVID stop me from having the wedding of my dreams. I may have had to go through three venue changes, my own parents wouldn't go to my wedding, and a whole lot of other crap, but it was worth it.
Wedding Day
My husband and I invited 150 people to our wedding, 70 people RSVPed "Yes" and 60 people ended up attending the wedding. Initially, I was really bothered by the small guest list we had, but at the end of the day, I'll be honest, I wasn't the least bit bothered by it. I didn't even notice it. All it meant was that all the people that attended the wedding were the ones that truly mattered, and the people that really cared. The vendors, and all the members of the bridal party did whatever it took to make this a night my husband and I can remember. I appreciate them all so much for it.

Getting-ready
I had my bridesmaids and groomsmen all get ready together at an Airbnb I rented out for two days. I had my bridesmaids meet up the day before, and I had my groomsmen meet up the day of. I think the only problems my bridesmaids and I faced the day before was that none of us were basically able to sleep, the airbnb failed to supply us with extra blankets, and the beds were uncomfortable as all hell. Other than that, I spent the day before my wedding running around with my head cut off making lists, making calls, answering questions, and getting crappy responses for people being unable to make it to the wedding. I'm not gonna delve into too much about the crappy reasons someone didn't make it to our wedding, like not being able to go because your uncomfortable to go to a wedding because of COVID is one thing, but when your "friend" says that the reason they can't go to your wedding is because they have a test to study for, when you specifically plan your wedding on a three day weekend to deal with this issue. Yeah, that's BS and you and I both know it. However, I digress…
Anyway, during the day of the wedding, at around 7:00 am in the morning, I got a call from my hair and makeup stylist's booking agent, saying that my original hair stylist ended up having to go to the hospital the day before the wedding due to the adverse effects he had with getting his 2nd COVID-19 vaccine dose, and to let me know there was a good chance that he couldn't make it. I didn't freak out about it too much, since he assured me that one of the makeup stylists that was coming knew how to work with hair. I took it with stride and went with my day.
One of my groomsmen, bless his soul, was kind enough to come early to cook scrambled eggs, sausages, bacon, and rice for all the members of the bridal party, just so we could all have something to eat. Too bad I couldn't really eat much because the butterflies fluttering in my stomach were in full force that day.
Also, while that was happening, I was having issues with my contacts, and I had to call my now husband and his best man to go back to the apartment and get my contacts, since god knows I needed it. I felt real bad for forcing them to go back, since they had just gotten off the freeway. Luckily, my now husband and his best man didn't seem to care at all, since they were just like, "Got it, we'll go back and get the goods".
The makeup stylists started coming in one by one, and they did not hesitate to start their work. All my bridesmaids ended up looking so fierce and so beautiful that I found their beauty intimidating. Also, for someone like me, who doesn't know the first thing about makeup, I am so glad I ended up going with a good makeup look for my bridesmaids that worked with the "rainbow" theme. Also, during this time, a miracle occurred, and my original hair stylist was able to come and do my hair for my wedding after all, and I was so happy because my hair was on point that day.
The shapewear I ended up wearing didn't work out so well, and it made my stomach really stick out in some of the wedding photos. I'll be honest when I say that I don't have the best self-esteem and seeing my stomach sticking out made me feel uncomfortable and real ugly at times. However, I'm on a journey of learning to love myself, and my photographer made sure to also take a LOT of pictures of my good side too. Also, a lot of people called me beautiful on my wedding day, and I was so happy, there was no shortage of love for the bride. Like, yeah, you bet your butt I looked good. IDGAF if my stomach was sticking out, I'm beautiful either way and I know it.
Anyway, where was I? Oh yeah… the videographer came in at around 10:00 am to start doing his thing. My husband and I didn't have the budget to hire a professional videographer, but luckily I was able to find an aspiring videographer that was willing to do the work at a reasonable price. Unfortunately, since he was new and and a bit awkward he didn't do any getting ready shots of the bridesmaids and I, but it wasn't too much of a big deal for me. Instead, what he ended up doing was getting shots of the shoes (which looked real good), the rings, and the groomsmen wandering around. He also was there to videotape the first look, which I'm so glad he was able to do.
Afterwards, the videographer left to head off to the venue and a few minutes later the photographer arrived to do the actual first look shots, and the bridal party shots. If I could, I would've had my photographer arrived earlier, but money, so it is what it is.
Finally, it was time to leave, and when I said that my bridal party and I scrambled…. WE SCRAMBLED! I don't know how, but in a span of 15 minutes we were scrambling to get everything packed and ready to go. We were going left, right, up, down making sure we didn't forget anything, but of course, leave it to me to forget the freaking marriage license. I noticed it on the way there, while we were more than halfway at the venue. It was far too late to go back, so we had to make our purple groomsman (same guy that made breakfast) go back after the ceremony and take the drive back and grab it. The other thing my husband ended up forgetting was the cups to serve the alcohol with, which we left at our apartment (not Airbnb), so he and the best man had to run and grab literally all the paper cups he could at the gas station half a mile away.
While my husband was away grabbing some cups, I was expediting the remaining things that had to get done, decorating the entryway as best as my bridal party and I could, and decorating the desserts table that featured the rainbow cookies that were the star of the show, etc. Afterwards, ounce everything was done and ready to go, we decided to do a quick and easy rehearsal on what we had to do to get the timing just right, for the procession. It was nice, quick and easy.
Afterwards, I was freaking out in front of my bridesmaids inside the bridal suite. My god, I thought I was going to barf. And I'm just going to let you know right now that, that feeling of wanting to barf did not go away. No one in my bridal party, not even my husband could calm me down, I was so nervous, and anxiety filled, that I didn't start feeling better until I saw an unexpected guest.

For those that don't know, my entire family moved out of the country, in the middle of COVID, and while I was in the middle of planning my wedding. Once my family had left me, I felt alone, and abandoned, and the only family I truly felt like I had left were my aunt and my cousin, who lived with my family and I for several years. They had made it quite clear with me that they would not go to my wedding, since their jobs required they both work with children, and whatnot. While I understood the sentiment, it broke my heart, since I felt like those two individuals were the only family I had left, like a second mom and a second sister. I wasn't expecting them to make it, I really wasn't, but they made it! They actually made it, seeing those two people were the only family and the only support I needed that day. My nerves melted away, and I was just happy.
The ceremony was beautiful and hilarious, everyone loved it. Everyone loved the vows my husband and I wrote for each other, we laughed, we cried, and most importantly we were surrounded by so much love in the air. The officiant we had was amazing to work with, and she gave us the wonderful idea to have a sand ceremony to really show the love in the air. Who knew it was going to be so funny.
Later I'll be sure to post my wedding video in another post, so you guys will get to hear it. Look forward for Part 2, I'll try posting it within the next 2 weeks or so!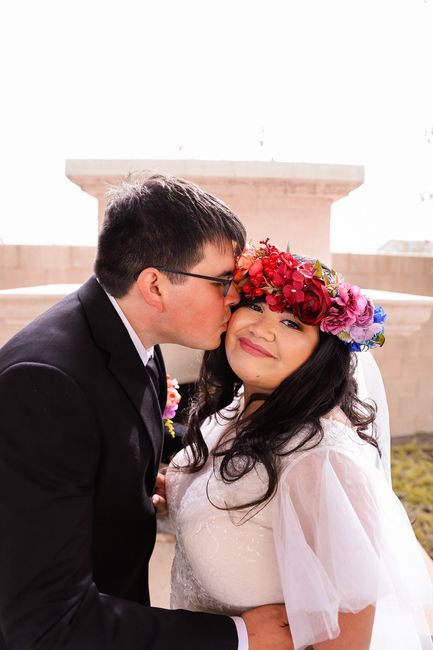 Our amazing bridal party.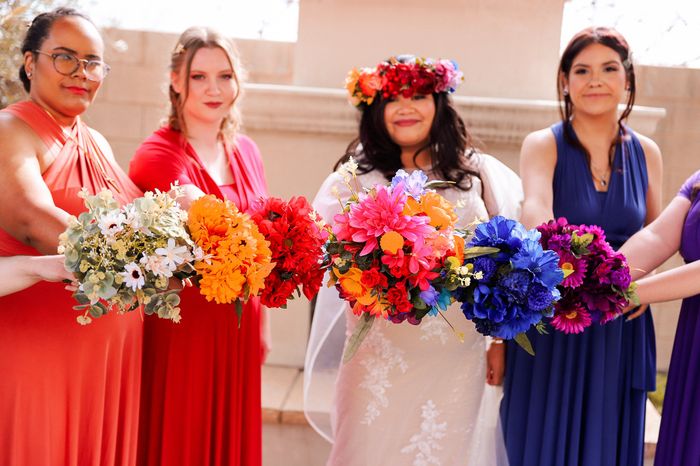 I have got to show off my wedding bouquet guys, my purple bridesmaid did a great job putting them together.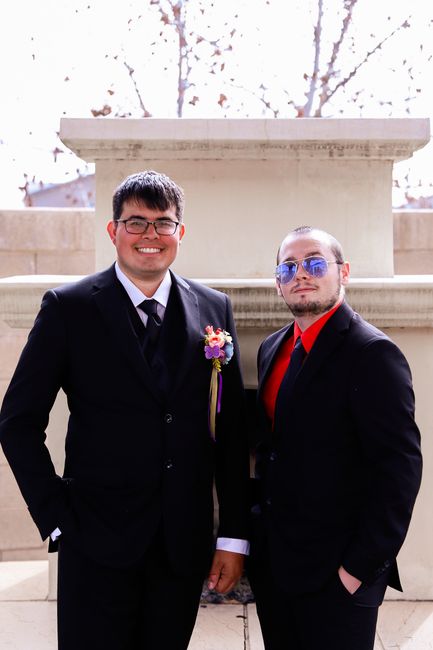 My husband and his best man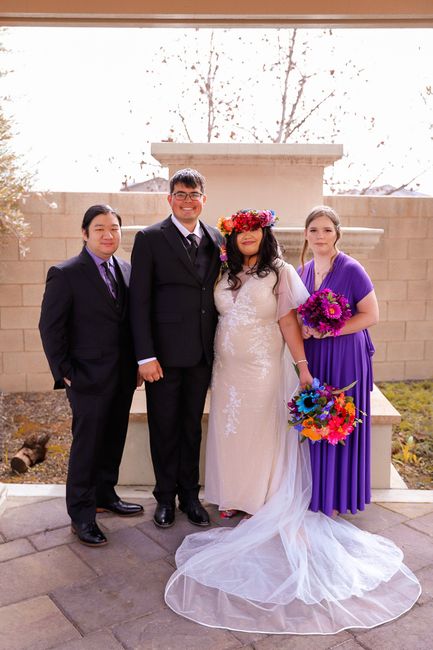 Purple bridesmaid and purple groomsman that did a lot of work to make my wedding perfect.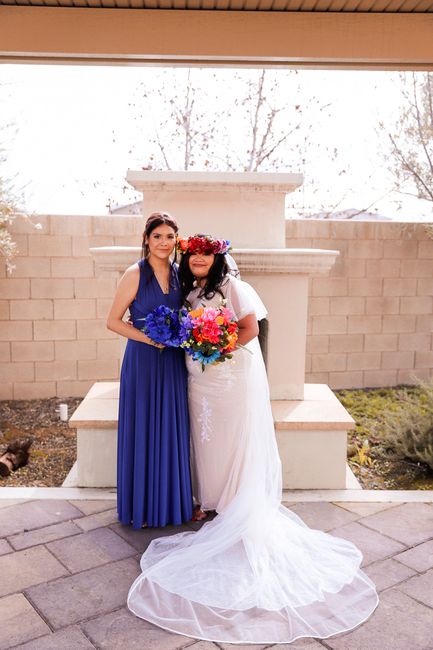 Me and my honorary MOH that planned my bachelorette party.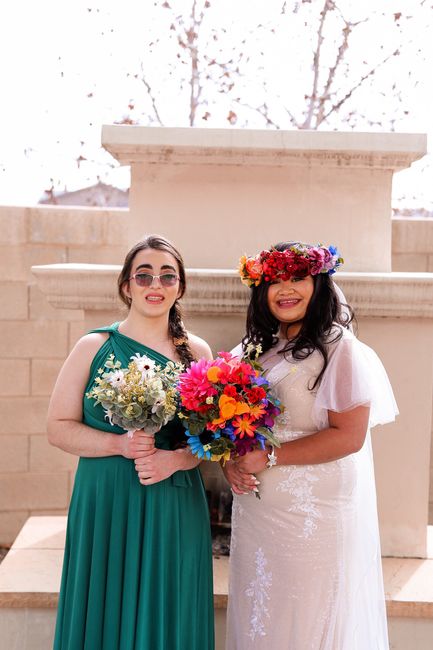 The green bridesmaid that made all the desserts. She did a phenomenal job,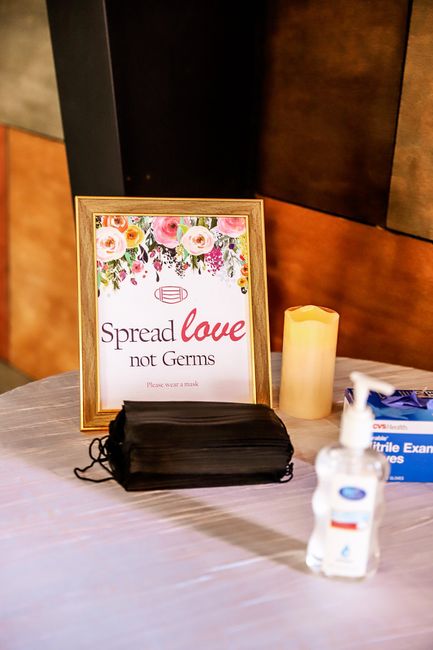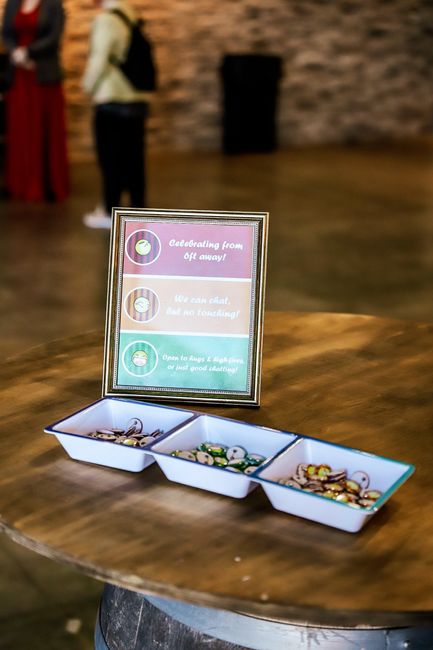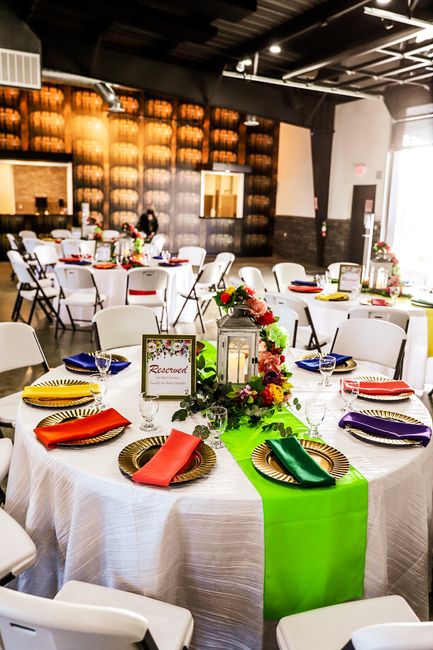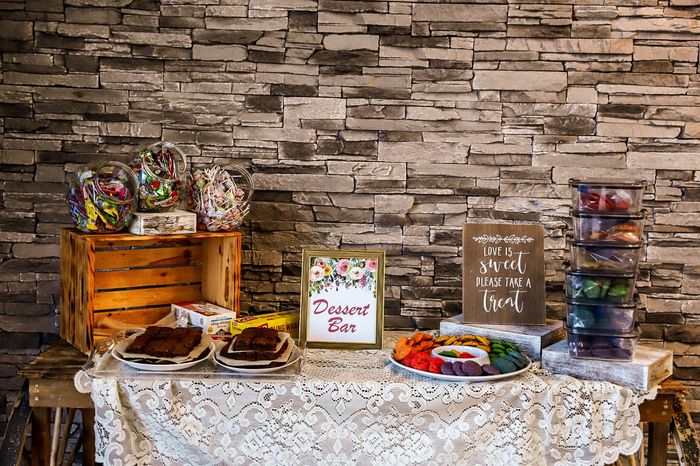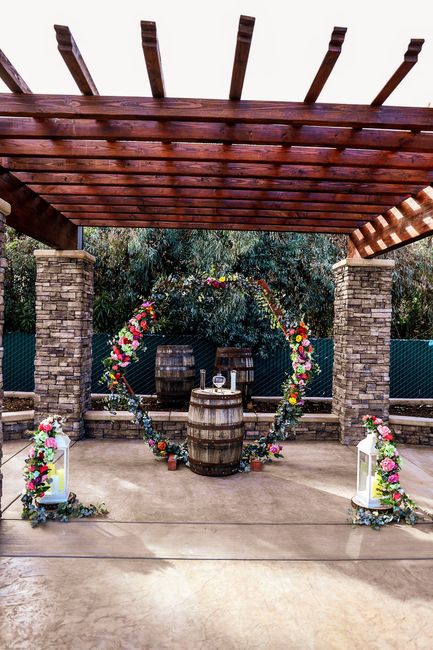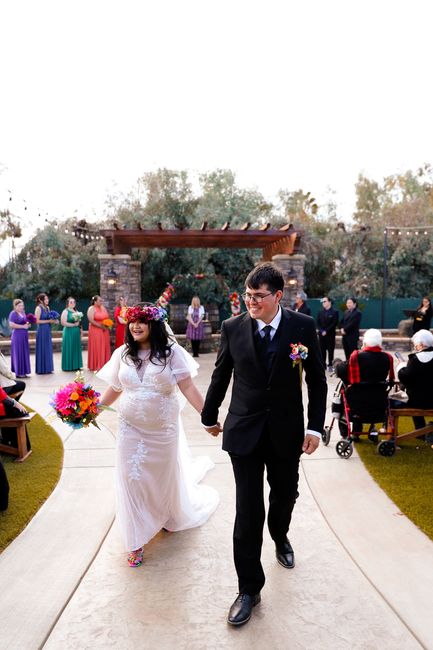 My aunt and cousin that made it to the wedding.