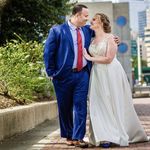 Just Said Yes
September 2021
Mom drama re: kid free wedding
Hi all! I need some help. We've been engaged almost 2 years (thanks Covid) and from the very beginning we've said no kids (wanting a small, intimate, adult party). The only exception is my niece and 3 nephews who will be in the wedding, eat dinner and then likely will leave since they're 6 and younger. My parents are divorced and all of a sudden my mom is pushing for my stepdad's 2 granddaughters to be invited (16 and 10), but if we make an exception for them it opens a whole can of worms on FH's side and we would feel obligated to invite a total of 6 more kids which completely changes the dynamic of what we want, plus hello $$! I'm still inviting my stepbrother and SIL (who I've met 3 times in 18 years by the way - there's 0 relationship there). My mom is paying for what she thinks is 1/3, but most of is actually coming from my dad. The drama and stress are way too much.. help!
Latest activity by Katherine, on June 26, 2021 at 10:35 AM
Just Said Yes

September 2021

Oh and I already talked to the girls' mom about our thoughts and she was totally fine and supportive with our plan! Not offended at all.

Stand your ground. Explain what you just said here - it will completely change the tone of your wedding. Don't bring money into it, that is not the point. Good luck!

Nope. I'm in almost the same boat so I completely understand. My standard answer is "I've already said no" cause at this point I'm just straight up annoyed lol. "No" is an entirely valid response. Stand your ground.

I'm not sure why you would want to invite people you've only met 3 times in 18 years, regardless of their age.

The fact mom is contributing a small % (or even for 1/3) doesn't mean she has the right to push you for her step-grandkids. She can only insist if she's contributing for 51+% ...

Chances are you won't see theses 2 often after your wedding, so why would you invite them and ... why would they even wanna come to a wedding of someone who is basically an almost stranger to them?

My fiancé has 2 step-bro,1 step-sis (6,12,16) , we see them 2-3-4 a month but we are NOT inviting them because we're doing a kid-free as well.

His parent's partners are unhappy but he made it clear that NO exceptions means NO but we're paying 100%, including welcome dinner so it helps to deny their requests.

The biggest problem with accepting people's money to help with the wedding is that they then think they get a say in the whole wedding, and think you have to do what they want. I would stand your ground and if she puts in your face about the money she is giving you tell her you don't want it if it comes with strings. And that it's your wedding and you will have it the way you want to have it and she just needs to accept that.

Just stand your ground. "No" is a complete sentence, and you don't owe anyone an explanation as to why you don't want any other kids at your wedding. The ones participating in the wedding are the only ones attending, and like you said, will most likely leave afterwards since they're younger.

Just because someone contributes financially to a wedding, doesn't mean they get free range over the guest list and other decisions. Not their wedding, not their choice.

Agreed with others. Stand your ground and don't let anyone (parents included) bully you into having a wedding you don't want or trying to buy special favors.

Drawing the line at "children in the wedding only" makes a lot of sense.

People say they're having a "child-free" wedding, but then... have four kids under the age of 6 in attendance?


Doesn't matter if they're in the wedding... I'm firmly in the camp that a wedding is either child-free or it isn't. Flower girls and ring bearers are still children. You aren't having a child-free wedding.

If I was told I couldn't bring my kid and then I showed up and saw four kids in attendance, I'd be pretty miffed. Wouldn't matter to me that they're "in" the wedding. That makes it not a child-free wedding.

You already opened the can of worms. You're just cherry-picking them.

You're free to do what you want, and you should only invite who you want there, but stop saying it's because it's a "child-free" wedding and say what you really mean: you don't want certain children there.

View Quoted Comment

I think there's a significant difference between having some kids in a ceremony and having them stay for the reception. You should be able to have a few close children in a wedding that you want there for the sake of photos and memories, but there's nothing wrong with sending them home after and not allowing guests to bring their kids. Some reception spaces aren't good for children, it is what it is. And kids are going to get bored anyway, best to send them home after and not keep them around the whole night.

I would invite zero children or include them. I remember being about 8 and thinking my uncle and his gf hung the moon. Traveled to their home to spend a long weekend with them and my great aunt /great uncle. Had the time of my life. When their wedding came and Dad was getting ready to go to the airport to make their wedding and the rest of us weren't, it broke my heart. Even though nothing was ever spoken, it drove a wedge in our relationship. Logic got me over it but your heart never fully grows up so it still stings. (They've since divorced after a long 20+ yr run.)

I agree with the others, stand your ground with it. You could just say the rule is "immediate family's kids only allowed". We are only have my two nephews in attendance and made it pretty clear we love your kids, but please leave them at home. Does your mom already know you talked to the kid's mother? I would make that clear to her as well.

Hello Dear

First, CONGATULATIONS ON THE BIG DAY!! Now, I see your "concern" but not "your problem!" Get it? Your day is just that, YOUR DAY, so if you chose to have an ADULT AFFAIR....LEAVE IT AT THAT!! No changes need to be made because then it becomes their day and not solely yours.

I can say this only because I am also doing an all adult affair for my upcoming July wedding 2021. I told my love and he stood by me. We want the "grown folk" to enjoy themselves without the hassle of yelling, chasing, bribing and nagging from any children and that includes our own! Yes we have 2 smaller ones (2 & 3). They will be happily taken care of. My grands (9,6,4 ) are in the wedding party but must leave as soon as they are announced back in for the reception and get a plate ....TO GO!! We have been parents for 35 years and this is the one day I will not be anyone's parent, babysitter or watch tower. My day, my way

WE are taking care of all arrangements out of pocket since his parents are both totally disabled and mine are deceased, they also don't need the hassle of watching NO KIDS! Yes I did get someone to call 2 months after they were to R.S.V.P. and said they still want to come, but guess what? Yup, deleted! and with a smile Not trying to steer you in any inconsiderate way, just take this thought - if you change the rules YOU planned for YOUR day, then YOU WILL have to change the plans for EVERYONE else at the last minute. This will leave you back to the drawing board by refiguring, re-planning, re- seating, re-arranging and RE - GRETTING YOUR INITIAL DECISION! Stick to your original plans and the day must go on huntay

We didn't want any children either because of breakage with too many kids there all of our grown children have kids some may can find a sitter others will not. Do what works for you and your guest are responsible for there kids. It should not be any hard feeling but understanding

Just Said Yes

September 2021

View Quoted Comment

I totally hear what you're saying, but the big difference here is I've only met my stepbrother 3 times in 18 years. We barely know them and they don't really call or visit that much and I highly doubt we'll see them again until there's another wedding or funeral sadly. They're nice people but my FH has much stronger relationships with kids on his side and we have closer relationships with our friends' kids than we do with these 2 girls. That's what makes it hard.


View Quoted Comment

Oh ok that's great so you have no worries just now continue with your plans Congratulations again on up coming blissful day

View Quoted Comment

She's inviting her niece & nephews…that's totally different. It's not like she's inviting some random friends kids but not allowing others to go. They are immediate family….huge difference. You can have a "child free" wedding with the exception of a few that are family.

Stand your ground. Don't let anyone try and change your mind even if it is your mom. Even if she is helping with the wedding, doesn't mean she can try to bully you into invited other kids.
WeddingWire celebrates love
...and so does everyone on our site!
Learn more
Groups
WeddingWire article topics