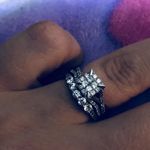 Kay jewelers is making me nervous..
So the day after I got my new wedding set, we sent it off with Kay jewelers to be sized... they said it takes 10 business days.. okay. So it SHOULD have been here Friday, but Good Friday, understandable... but then they said Saturday... then Saturday came around, now they're saying TUESDAY!? What the hell.. I'm getting worried that they may have lost my rings and are scrambling to recover them.. I've also recently read some not so good experiences people have had with them. Have any of you guys had any issues sending jewelers off with them? Plz tell me it's fine, & ease my mind 😩
Sorry for the typo. *sending jewelry off with them

I sent my e-ring off with them and the quoted me 3 weeks and it took every bit that long. I won't be sending it with them ever again. I dropped it off at Jared yesterday morning to get the diamonds tightened and i picked it back up last night, and it only cost $65 which is more than free but not bad.
I hope you get your ring soon. I'd send a message to corporate. They read them, they responded to me.

I had my ering sent off by Zales to get a stone replaced and it showed up a few days early and I don't notice any issues with it. Hope this eases your worry, I know I was worried with it not being on my finger.

View Quoted Comment

Thank you! Yes, I agree with you. I won't ever be sending mine off with them again. I'm definitely going to message corporate because they just keep extending the time.. and can't really give my husband & I a valid reason as to why.

View Quoted Comment

Yes! Lol I think that may have a lot to do with my worry, just because it's not on! Part of it is me being impatient & wanting my new sparkly rings back, & the other part is genuine worry that something happened.

Sorry you are going through this. More reasons to buy from a local jeweler

I honestly had the worst experience with Kay's. I lost a stone 13 days after fh proposed. Took them TEN WEEKS to repair and return my ring. When I got it back, the replacement was larger than the five others it would match and at a weird angle. My ring was a custom design, however, I should have been able to go more than 3-4 days without my stones coming loose. We have now spent an additional $1100 to have a local jeweler repair my ring and thankfully they are warrantying it for life. All Kays offerred was a $100 and a refund of the $200 warranty. We will never go back. I'd recommend finding a local jeweler.


We sent my e ring to be sized through Zales on December 10ish....they said it will be back on the "19th". I didn't get a call and was waiting. I then told myself maybe they meant January 19th so I gave it some time. On January 20th I called them and they said they had it back on December 17th and called and left a message with FH. He didn't have a missed call and never got a VM from them...It was my fault for not calling much sooner but you'd think they'd call a second time if they still had the ring after 2-3 weeks! They told me 2 weeks for my band to be sized and both to be soldered together but I'll be taking them in next week!

View Quoted Comment

Oh dear. Yea, my husband has been calling them every day since the 30th. I'm going to just show up there Tuesday cause they're giving us the run around it seems

When I first sent off my engagement ring to be resized at Kay's, I was given two weeks I believe. It should've been ready a few days before Labor Day weekend and when I called to check on it, they kept pushing back the date, claiming the holiday weekend was pushing them back (when my ring should've been resized before the weekend anyway). I wouldn't worry just yet if they lost or damaged anything. They're just notoriously bad about delivering on the promised date. But I would definitely show up tuesday just to get some face to face interaction and hopefully a clearer answer.

We use kays because my ring has the lifetime guarantee there, and itll take ALL of the alotted time, if not more. There have been a few times I've gotten my ring back, and had to send it right back in because it wasnt right. I wouldn't have used kay personally but it was in FH's budget so it is what it is. Our local store has gotten to know us and will work with us to solve any problems at least.

Ironically Zales, Kay, and Jared are all owned by the same mother company (Signet) so saying one is better than another may only be true at a very local level. I have not had a bad experience but I know others have. I hate that it takes forever for them to do something that a local jeweler could do in half the time but at a cost. I would call Tuesday and if they don't have your rings, ask for a manager and go up the chain of command until you get a satisfactory answer.

View Quoted Comment

They are the same parent company, but Jareds has a jeweler on premise. So, your jewelry doesn't get sent off. The lady i talked to yesterday told

me Kays and Zales actually send their repairs to them.

And even though the same parent company, the people at Jareds are always nice and take the time to clean and inspect my jewelry. I took my ring to Kay's to get professionally cleaned, the guy wiped it with a paper towel. I took my grandmothers ring to Jared to get cleaned (purchased YEARS ago from who knows where) and the steam cleaned it and polished it up.

I got my rings from jareds. Got my engagement ring sized in under an hour and my wedding band sized in maybe 3 hours because it was busier at that time

I will most definitely be finding myself a local jewelry store... I've learned my lesson! Lol

Mine took almost a month, don't stress!

View Quoted Comment

Just to be sized!? I wonder why it take soooo long? I know they send them off, but dang that's a long time, especially when PP said hers took like an hr

View Quoted Comment

Yes just to be sized! They said they would call when it arrived and it had been awhile and never heard anything so I called and it jad been there. No one called to tell me it was ready. I was furious. The ring is gorgeous my FH did a great job picking it out but I was disappointed with service.

My aunt had a horrible experience with them. She purchased a set from there and the side diamonds kept coming loose. She sent to to be fixed and it kept happening. A year after purchase they actually had her ring more times out of the year than she actually got to wear it. The issue was never truly fixed and she ended up just never wearing the ring(which was a replacement for her initial one that went down a drain). It was a mess and there was a lot of others complaining about the same issues as she had

Yes everything will be fine and work out! I had a similar situation where I sent them, said two weeks, got a call a month later but no voicemail. Called back numerous times and everyone refused to even look to see if they were back or not. Long story short the rings were at the store since the original call date at the month out. I would give them 7 business days (if you have the time) and if you don't hear anything I would speak with the manager and get it resolved. And hey if they lost it it's on them, they would legally have to replace it anyways
Related articles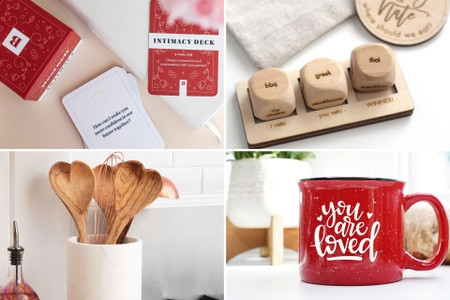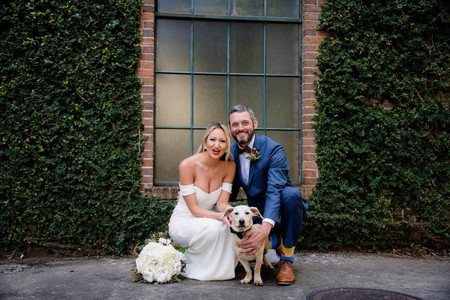 WeddingWire celebrates love
...and so does everyone on our site!
Learn more
Groups
WeddingWire article topics