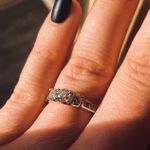 January 2020
Any other brides having a January 2020 wedding? We're going with January 19th. It was going to be October 2019, but the military decided to that was not going to work out. Looking for date twins and theme ideas! My colors will be navy, gold, shades of blush and Marsala/burgundy.
Latest activity by Ellie, on December 30, 2019 at 8:59 PM
I'm already married, but we got married January 19th of this year!

We did a winter wonderland(ish) with navy, light blue, white and silver.

Here are some ideas I thought looked nice for although for the greenery I'd do something like dusty miller to give it an icy look. If you don't wanna do florals you could also use branches and tons of candles.


Floral decor

wintery low centerpiece




January 26, 2020 in Seattle! Our colors are also navy and gold with burgundy accents! I can't wait! I love that we have the same theme! What are you working on currently?

WeddingWire Administrator

May 2015

I'm sorry you have to postpone but at least that isn't too long to have to wait. Did you have insurance? That's frequently a good idea for military couples who dates are subject to being changed.

Have you looked in our Real Weddings section for January wedding ideas? These are the winter burgundy weddings but you can change up your filters and look at lots more options

View Quoted Comment

I do not have insurance. Thankfully all my vendors are local or friend of friends and are being very accommodating!

WeddingWire Administrator

May 2015

View Quoted Comment

I'm so glad! And on the bright side you have more time to make decisions on colors and style now

WeddingWire Administrator

January 2025

Hey Christina!! How is your wedding planning coming along? Have you made any exciting wedding decisions recently?

Just Said Yes

January 2020

Ours in Jan. 25th 2020 and we are also navy blue, burgundy with gold and blush accents! Getting married in Columbus, OH

View Quoted Comment

Oooh! I have the same date and color scheme. The day is rapidly approaching how are things looking for you! We're still scrambling with some last minute details.

Just Said Yes

January 2020

View Quoted Comment

Same here! In freak out mode trying to get things organized. We're having a small wedding but still seems like a lot! I just finished making our bouquets tonight. Whew

View Quoted Comment

You're way ahead of me I'm working with a florist and we're still trying to finalize exactly what's needed! I'm also freaking out. I'm excited but at the same time can't wait to RELAX!
WeddingWire celebrates love
...and so does everyone on our site!
Learn more
Groups
WeddingWire article topics