We have only one concern of our favorite venue. (We haven't decided it yet). I'm not sure if it's a major problem and should definitely kill it because of the problem or we can accept it and/or find a way around. The venue is right next to the lake, with beautiful grass. When the weather is good, we have a nice dinner outside under the sunset and there are defnitely enough space to setup the table outside. The food, the price, the flexibility of the venue are all very good.
However, when the weather is not good, we probably need to seat everyone inside. There isn't a hall to place everyone. Three rooms look like this.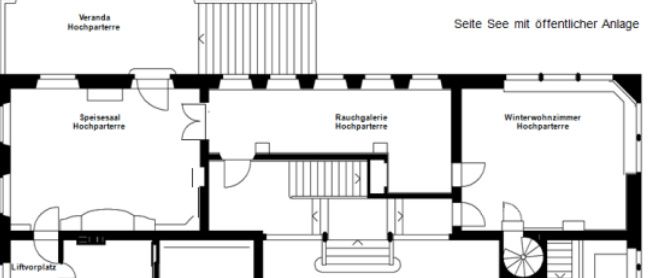 The right most room is 7 m*
6 m, enough space for 40 seats. The couple and our parents will probably be there.
The long corridor in the middle has enough space for 25-ish seats
The left most room has space for 16 people.
In reality it looks like this (looking from the end of the right most room. Behind the wall of the chockboard there is the left most room)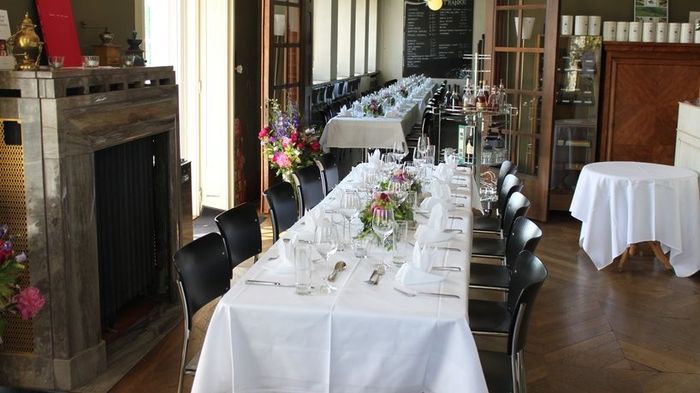 The restaurant has a work-around to this problem. (They don't really think there is a problem and they don't call it work-around. But to me this is a work-around solution) Of course, people can still freely walk around during the dinner. The restaurant offers something really nice and special called "flying dinner". Basically it means small portions of food are served periodically together with the forks. This makes it possible for people to move to another place and still get food/fork and eat there. Because it's small portion, for each course, people can have it once, twice or even more if they want to.
But I still cannot have a clear picture of what will happen. Maybe I am just too narrow minded. It looks to me that there cannot be any speech/toast between the courses. Everyone would just enjoy their dinner at their seats with their old friends. They will be a lot more movable. We (bride and groom) would probably also move around and to say hi and thank you to everyone. Ok, this seems fine but no speech/toast at the dinner, emm, isn't that necessary? Isn't the toast what the wedding all about? Maybe we do the toasts before everyone is seated? and afterwards when everyone is in the party hall? There is a nice big hall for party for dancing, but not big enough for catering 60~70 people.
So this is the problem, even if only it only happens in bad weather. I want some suggestions. Do you think it's a big problem, "no, no, no" just because of this inside seating problem or you guys think "flying dinner" sounds like a good idea and this kind of room plan is ok? Thanks!