So I bit the bullet and decided on doing my own florals for my wedding and I wanted to share how they turned out! Overall, I don't regret it one bit and I saved so much money by choosing this option. I spent approximately $600 on florals altogether. We had about 12 centerpieces, 7 bridesmaids bouquets, florals for our sweetheart table and arch as well as my bouquet.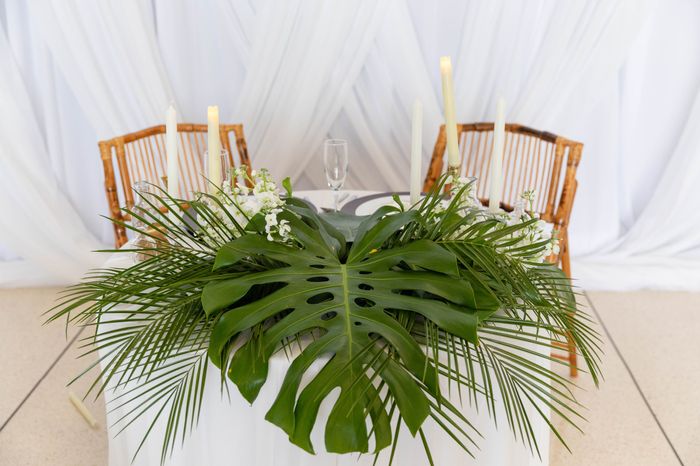 My theme was tropical modern so I ordered a majority of tropical greenery from Fabulous Florals. I knew I did not want to spend too much money so I skipped out on flowers for the centerpieces and instead, went all greenery. Since I live in FL, I even went to my parent's house and cut some banana leaves and incorporated in as well! Throughout the venue in places like the welcome area or guestbook area, I mixed greenery with store bought flowers and fillers I purchased from Whole Foods and Trader Joes. I purchased large monstera leaves from Whole Foods for $5 each!
I watched A LOT of youtube videos on prepping and storing the greenery. Here's a pic of how my room looked when I unboxed everything lol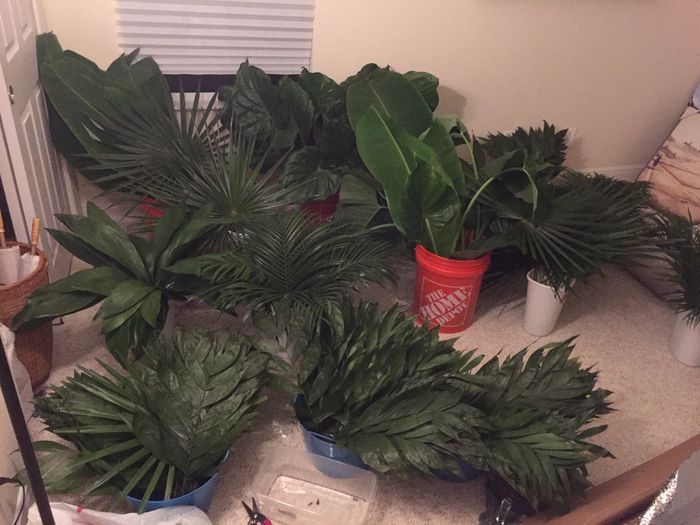 For my centerpieces, I kept it very simple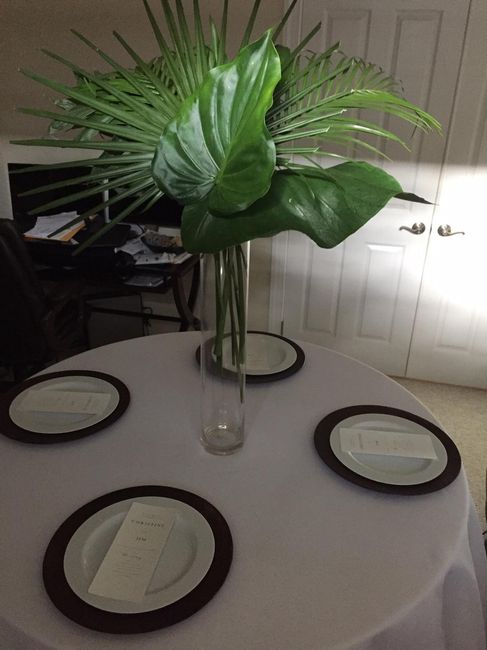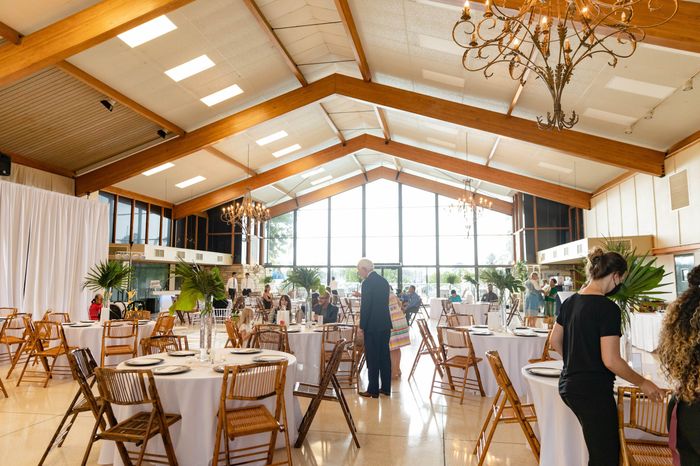 For my bridesmaids, I went all faux and assembled greenery and faux calla lillies I purchased from Michaels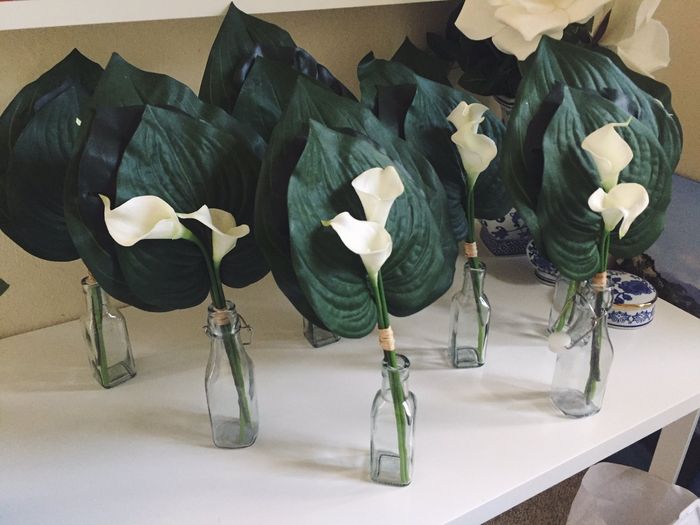 For my bouquet, I mixed in faux flowers (white roses, cala lillies) I purchased from Michaels with real greenery and flower filler. I had a few people come up and smell my bouquet because they thought the flowers were real haha!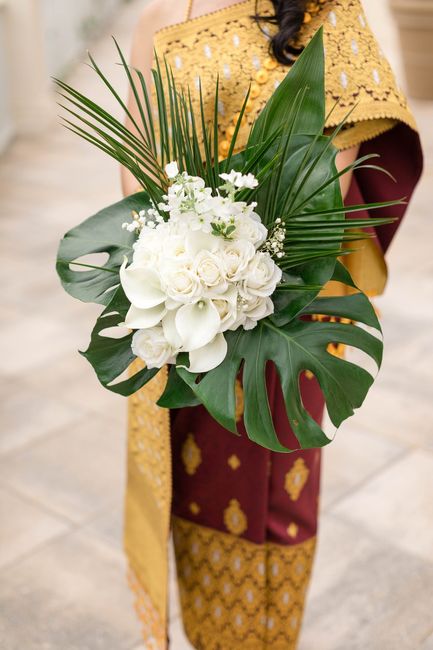 My sister-in-law arranged florals for our arch...this was her first time arranging flowers and I think she nailed it!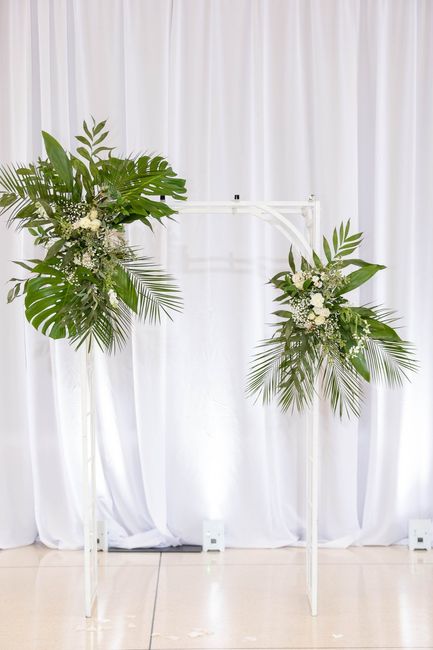 I can only speak for tropical florals (mostly greenery) but here is some tips and advice I would impart:
1. If you are ordering florals from a website and you think something is off when they arrive, just take a picture of it and contact the company right away.
Many floral websites have a short time frame of when you can voice concern about your delivery. A large batch of my palm leaves looked dry but I did not email them because I thought they would perk up on its own once I gave it water. Thankfully, I had enough of other greenery to compensate but I threw a good amount away.
2. Purchase enough bins to store the florals in. One advice I got was to purchase small trash bins for like, bathrooms. I ended up purchasing several from the dollar store and larger bins from Home Depot
3. Consider buying plant food. I had my greenery delivered to me 4 days in advance (I think the recommended time is 3 days before your wedding) just because I knew it would be a tedious project to take on. In the interim, I wanted to make sure my greenery stayed fresh so I kept it in a dark room and mixed in some plant food in each bin.

4. Think about the logistics of the venue. Can you bring in items the day before the wedding? My venue would not allow us to decorate until the morning of which was stressful and took a lot of effort planning the logistics. Keep it simple or designate people to help you. The last thing you want to worry about the day of your wedding is transporting and arranging your centerpieces!
5. Have a bin of just random flowers and greenery. You never know which flowers you'll need to change out because they're looking a bit sleepy
6. Make sure to do research on your florals. How long will your florals last?
7. Spend time on your bouquet or your arch. These two things will be heavily photographed so take the time to make it exactly how you want it
8. Don't be afraid to ask for help! This is a BIG project and is time sensitive.
If you have any other advice, please share!!