Post content has been hidden
To unblock this content, please click here

Honeymoon in Fiji
Has anyone ever been or planning on going to Fiji? Fiancé and I would like to get a general idea of the cost. If this is too private to response up locally, please feel free to DM me, thank you!
Latest activity by Jocelynn, on November 23, 2020 at 12:58 AM
My husband and I went to Fiji in January 2019 for our honeymoon. The total cost which included flights, hotel, transportation, and food was about $6,000 for a week. We went to one of the small island off the mainland of nadi which had the white sandy beaches you usual see (got there by ferry). If you stay on the mainland the resort type hotels don't have the nice white beaches as they are built on old mangroves that were reclaimed, but I recommending staying at least one day on the mainland and doing the mud pools those were a blast! The hotel (paradise cove) was the only one on the island and the food was amazing and changed every 2 days. We stayed in an adult only area and when we went there was no more than 10 people total at our island. We had access to 3 pools and got snorkel gear for free. If you have any specific questions you can let me know

I'll be following this. I've always wanted to go!

View Quoted Comment

Omg, thank you soooo much, Samantha for such a detailed response!! The price you paid, was it per person or total. We are looking at staying on one of the private adults only island called Likuliki...however you spell it. What was the weather like? We are planing for the end of May. Also, is food expensive??? We want to enjoy ourselves by being prepared for everything.

View Quoted Comment

From my research, it's very beautiful and exciting.

Happy to help. That was the total cost for both of us (I know flights were about $1200 each from Denver). Food for our hotel was required to get their package and it was $100/day per person but the food was amazing and I would easily go back just for the food and after we got there it was well worth the price. Dinner was like a 6 course meal and it was all delicious and breakfast we had the buffet type meal and you got to pick something from theenu so there was no shortage of food. Alcohol was not included but we didn't feel we needed it. The weather was really nice, in January it was summer there so I guess it was on the hotter side but we loved it since it is snowy during that time back home. Plus it was easy to jump into the pool or ocean to cool off. The people were very nice and honestly there were maybe 2 or 3 kids when we went and they were quiet and didn't both us or impact our experience at all. We thought it was gorgeous and would pick the south pacific area over the carribean any day. We saw a ton of fish and even saw a shark which was really cool.

View Quoted Comment

Oh wow, I'm getting really excited!!!! We have plenty of time to plan and save, but we are definitely making Fiji our Honeymoon vacation.

The ferry ride to the island we were at was about $90/person round trip and our adult only room was about $285/night but had a 25% off coupon from somewhere so it was a bit cheaper. Also paid for a spa package there and you could pay for a few extra activities as well.

View Quoted Comment

Yeah Fiji was amazing and we would love to go back. I think it was definetly worth the money and would save up for it! Here was the view from the hotel where we stayed

View Quoted Comment

That's not bad. We are going to do an all inclusive package to make the costs more manageable

View Quoted Comment

Breathtaking!!!!

View Quoted Comment

Yeah ours was inclusive more or less and we just about everything paid for by the time we left. But definitely look into the mud pools on nadi those were a huge highlight for us!

View Quoted Comment

Samantha, you have me wanting to move up our date just so we can get to the honeymoon quicker, lol

View Quoted Comment

It will be worth the wait don't worry!!

View Quoted Comment

I'm excited 🤗🤗🤗

I live in Australia and our cruises go to the South Pacific (Fiji, New Caledonia, Vanuatu etc) or New Zealand because of where we are located in the world.

The cost of getting to Fiji will depend on where you are located, but, having been to Fiji numerous times, I will say that it is very reasonably priced. I can't tell you exact costs because there is too much involved (i.e. how long you will stay, where you'd stay, what you'd do etc) but you can get some excellent deals there on accommodation, and food and activities are generally cheap.

If cruising is your thing, I'd highly recommend flying into Sydney and taking a cruise to the South Pacific. Not only can you see a lot more of the South Pacific (all the while relaxing) but it'll be cheaper in terms of flights. You can do 10-14 day cruises of the South Pacific from Sydney for less than $1500 USD pp.

View Quoted Comment

Thank you so much for the plethora of information. I've been seeing the prices and you're right, they are reasonably priced. We are very much looking forward to our trip.

Just Said Yes

October 2021

I occasionally see deals on Travelzoo for fiji. I live on the east coast and the flights alone are 2,000 per person. So im not sure but it is a dream of mine and a lovely location.

View Quoted Comment

Thank you, Stacey!! I'm trying to to find every deal I can to save money, lol
Related articles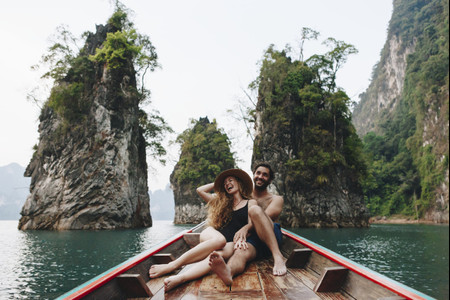 WeddingWire celebrates love
...and so does everyone on our site!
Learn more
Groups
WeddingWire article topics