So my wonderful aunt who is extremely talented at floral arrangements was kind enough to make my floral arrangements for me. But there are a few tweaks that need to be made. Namely, she decided that my bridesmaids bouquets needed a "pop of color" and added these rust colored flowers. No where else in the wedding or in any of the floral arrangements do these show up. Now, for my original early October date (2019...we postponed to 2020 due to my dad's death among other things...and then 2020 happened) the rust would have made sense. But now we're looking at mid-late November or January - depending on venue/photographer/family availability. (I have vetoed December as I already have a birthday, proposal anniversary and Christmas during that month. I will not add a wedding anniversary as well). Now the rust is making less sense. And my fiance dislikes it as well. I should add my aunt made it clear she would not be offended if I didn't like something - and switching out flowers is not a big deal. We're already adding some blue baby's breath to my bouquet because I wanted some color in mine, and probably removing/moving the cascade since I'll be putting my dad's ring on my bouquet handle and no one will have a prayer of seeing it under a cascade.
Here is my bridesmaid dress and flower girl dress (hopefully it still fits the kid...that'll be another post...)
And my bouquet for reference: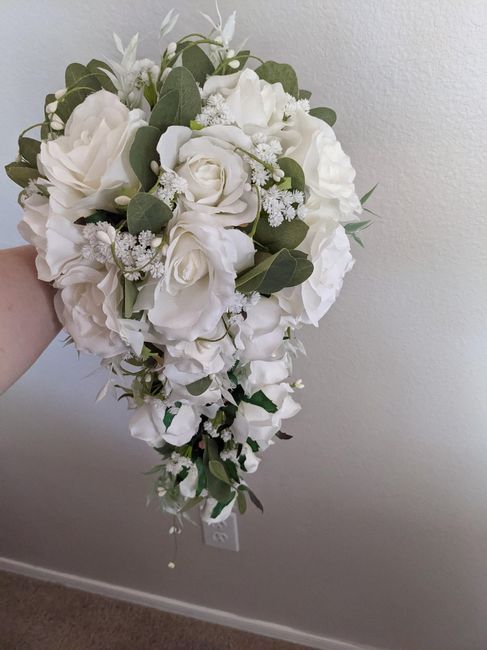 Here is one of the three bridesmaids bouquets as is: (a little wonky from storage - the lavender is not a color we're using, I just really wanted lavender as a flower incorporated and it reads like a blue)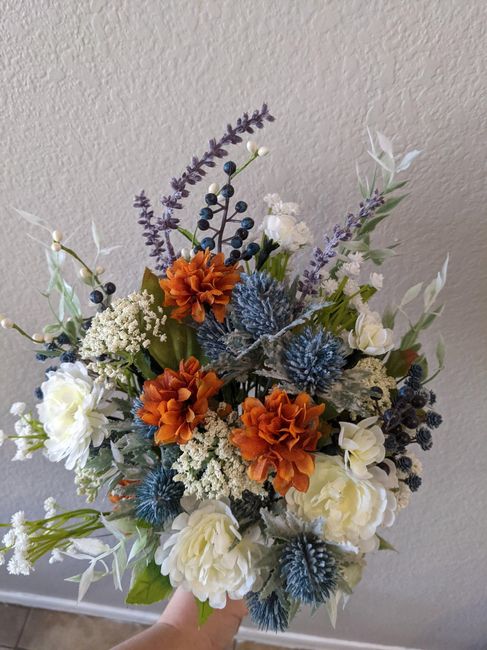 I tucked away and hid all the orange - no pop of color.
Then we were playing around with fake flowers at the house - these are a dusty pink berry thing - they kind of match the pink tips on the leaves. I'm not much of a pink person but I'm also at a point where I may have to resort to putting my flower girl in pink if she doesn't fit her dress so maybe this would make it make sense?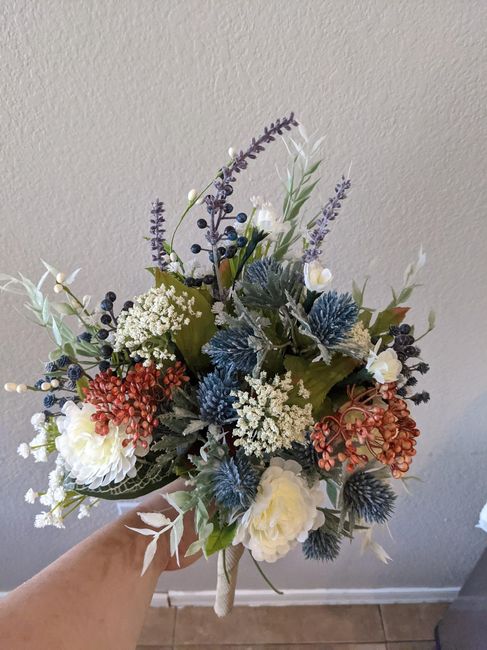 I don't know about these flowers specifically, but the burgundy kind of looks nice. We very well may be having our reception at an old firehouse (my fiance is working on going to the fire academy) so the red might be a nice touch. Maybe in a small tea rose?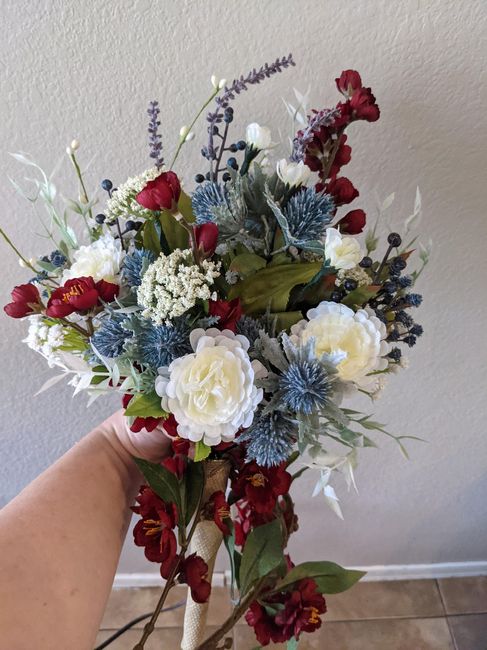 Our theme is kind of old books/library (I'm in school to be a librarian so of course I'm a sucker for a Beauty and the Beast reference). Our save the dates were bookmarks asking people to "Save the date for our next chapter" and "consider themselves booked" and our RSVP cards looked like old library due date cards. When we send out change the dates, I'll probably do something with "Overdue" and "Reprint" on a postcard. Our ring bearer's pillow is very likely going to be a copy of Lord of the Rings (as he proposed by asking me to wear the one true ring to rule his heart, like the cheeseball he is) - if that gives you any context.

Do you think we need a pop of color/accent color other than dusty/steel blue? (bridesmaids are in DB's steel blue)
I also considered metallic gold, or just bare brown branches, but I don't know. What do you think?