🤔🤔🤔 First Look?
Are you doing they "first looks" or waiting til you walk down the aisle (to see each other) ????

At first I was going to wait till I walked down the aisle but I decided it might be better to have a more intimate first look. Just me and him I think the photos will be so beautiful.

I'm going to wait. I don't want him to see me until I'm walking down the aisle.

View Quoted Comment

That's definitely a good idea.

I'm really thinking about doing the first looks.

Just him and I 💜 plus I think it would calm the nerves too .

View Quoted Comment

Awee.

Yeah I'm kinda on the fence lol.

I'm really not sure what I wanna do yet lol

Ive originally also imagined seeing him for the first time at the aisle but doing a first look worked out better for us. We're taking all of our pictures before the ceremony so after the ceremony we can go right into the reception instead of doing a cocktail hour in between. We're trying to save as much money as we can so by cutting out cocktail hour, we now don't have to pay for appetizers, drinks and entertainment. 😌 Also, our wedding starts at 7pm so, I wanted to go ahead and get the festivities started early.

We are doing first look because we want to get all bridal party pics done before the ceremony. It saves money on cocktail hour and guests are not sitting around bored. We will still have a 1 hour cocktail for family photos and allow us to mingle with our guests before the reception.

View Quoted Comment

Yea it might calm your nerves by seeing each other. Plus we are signing the marriage license before the wedding so it will be easier that we both see each other and then sign the license.

We're doing a first look, in order to get some pictures out of the way and not eat up time that we could be interacting with our guests. Also, we don't have a bridal party. So after the wedding there will only be a few posed family pics.

We are waiting. We both like the idea of first seeing each other at the alter. But also, I am not a morning person and didn't want to have to get up and get ready extra early in order to do the first look 😆 I wanted to make sure I got plenty of rest so I wouldn't be tired for our reception or after party, and didn't want to get hair and make up done too early and have it look bad before we even got to the ceremony.

View Quoted Comment

I agree it would also be more intimate

We are not doing a first look. I was okay with either, but my FH was adamant that he wanted the first time to see me to be walking down the aisle. His reasons were because he personally feels like it's more special that way and everyone is included in the reaction of seeing each other for the first time vs. a more private moment and he always loved being a part of that feeling at other parties. A lot of people love the first look because it gives a really intimate moment before the crazy of the wedding starts and it helps with time for photos, so I don't think you would go wrong either way!


We did a first look and absolutely loved it! It was really special to have the moment, just the two of us, before our ceremony. Also, it did not take away any of the emotions we both felt walking down the aisle.

At first, I didn't think I wanted to do a first look, but after talking with our photographer, we decided that we will do a first look, and I'm so excited for it!! It'll allow us to get most of the pictures done before the ceremony (so that we can attend cocktail hour), and it gives my fiance and me a moment to spend time together before the ceremony.

We did first looks! we wanted to because logistically taking photos before was better for us

We're waiting until I walk down the aisle to see him. First looks are mainly to get the reaction shot from the groom which from the dozen of pics I've seen don't ever turn out super well or how the bride envisioned.


We also didn't like that if we took all our photos before the ceremony (as many do directly after doing the first look), our wedding photos would be of me and my fiancé, not me and my husband. I want our wedding photos to show us wearing our bands, and be of us actually married, but I guess that's not a big deal to most saying as how popular taking pre-ceremony photos are so to each their own!

Just Said Yes

August 2022

I plan on letting my fiancé see me for the first time down the aisle. I do however want to have my photographer capture the "first look" that my dad gets. I think those pictures will be priceless

100% first look! You get nerves and pictures out of the way and get to go straight to your cocktail hour to spend time with guests.


A friend of mine got married a couple years ago and she was very anti first look but the photographer persuaded her to and she said looking back doing a first look was the best decision. Because she said they were both calm during the ceremony as a result and there was no magic lost while walking down the aisle.

View Quoted Comment

I agree. We were on the fence about the 1st look. We had never planned on it, but photographers really push it (I guess because it gives them more opportunities for pics & a timeline that isn't as tight). But after comparing videos/pics of both, we decided that waiting for the aisle would definitely be a better fit. For us, it wasn't about tradition but about letting anticipation and excitement build up (and also sharing that moment with our guests). I can understand though why some ppl might feel more at ease (& therefore enjoy their ceremony more) by doing a 1st look.

First look all the way. I think waiting is silly and don't think "tradition" is a good reason when the tradition of not seeing each other is super sexist to begin with. I do understand wanting the reaction photo but you may or may not get that either way, same as the first look reaction, you can't plan emotions. Most people say their first look didn't take anything away from the walking down the aisle moment. My partner is my favorite person and I want to spend the majority of our wedding day with him not wait til 4 or 5 pm to see him. Plus logistically speaking it's way better: you get more pics of you and your SO, you get to spend more time with them, you get the majority of the photos out of the way so you can spend more time actually at your wedding, and you're way more at ease. We'll also take sunset photos after the ceremony so you do still get photos with rings on and stuff. I don't think photographers push it just because it makes the timeline easier since it also adds more work for them to look through more photos. They genuinely want you to have the best experience. I think it's just more beneficial all around and have yet to hear a compelling argument for waiting.

View Quoted Comment

Omg that is a great idea I should think about doing that.
Related articles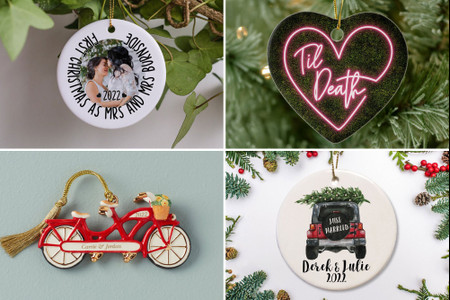 WeddingWire celebrates love
...and so does everyone on our site!
Learn more
Groups
WeddingWire article topics