Your wedding day is the one day where you are the star, the center of attention, the main attraction! This day holds so much significance and you want to ensure you look and feel absolutely breathtaking from head to toe. When it comes to dresses silhouettes, it can feel daunting trying to find the perfect dress with how many options are out there. This guide will help you determine which silhouettes are best suited for each body shape.
https://www.maggiesottero.com/sottero-and-midgley/blaine/11839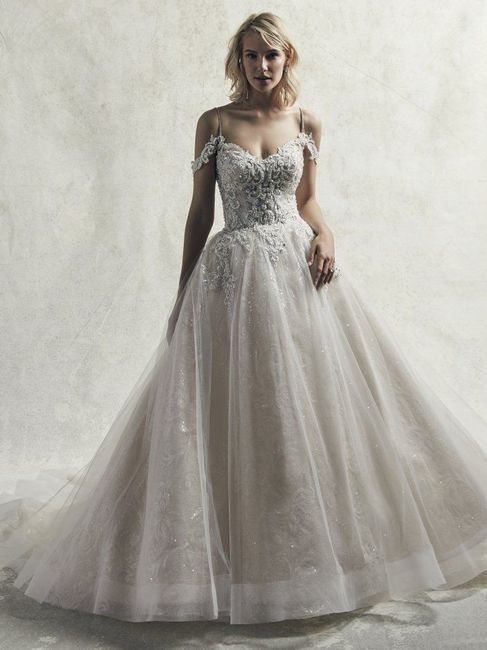 #1: Ball Gowns
The ball gown style has a fitted bodice and a dramatic full skirt. While this style can accommodate most body types, the ball gown is ideal for slender or pear-shaped figures as the full skirt helps to accentuate the waist and hide the lower body. If you have a large bust, this style will help to create the hourglass look since it emphasizes the waistline due to the fitted bodice and natural or dropped waist.
https://www.essensedesigns.com/stella-york/wedding-dresses/6862/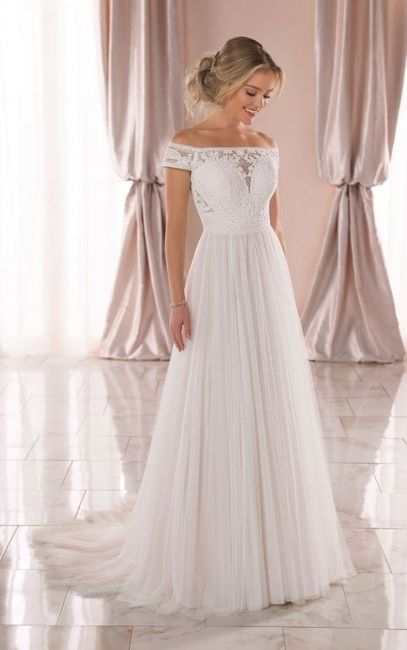 #2: A-Line
This style is fitted at the bodice and flows out to the ground with an unbroken line. Due to its classic and simple style, the A-line dress is appropriate for any occasion, from a quiet backyard gathering, to a traditional church ceremony. A great shape for all figures, in particular those with a larger bust. The full skirt of the A-line can also hide a larger lower body, or create the illusion of curves on a narrow frame. Since the A-line dress is so versatile, simple modifications to the neckline, waistline, or fabric can accentuate your best features and hide the ones your not so fond of!
https://www.essensedesigns.com/martina-liana/wedding-dresses/914/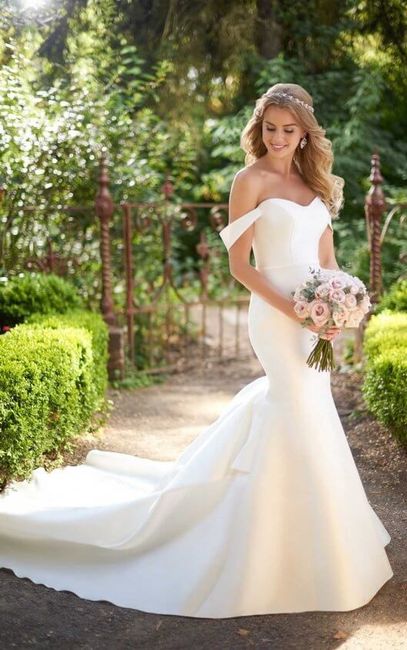 #3: Mermaid
The mermaid silhouette contours to the body from the chest to the knee (or lower), then flares out to the hem. More fitted than the trumpet, this is a very sexy look that highlights every curve so you must be confident and comfortable in your skin to pull off this look. The mermaid cut is not for everyone. This daring design is best worn by slender figures, both short and tall and it is not particularly well suited for those brides with fuller figures. However, if you are on the voluptuous side and want to accentuate your curves, this is the perfect dress for you. The most important thing to keep in mind when considering a Mermaid style dress is whether or not you will feel comfortable wearing it on your big day. You may have a flawless figure perfect for this type of dress, but if you do not feel confident in it, it is not worth choosing.
https://www.justinalexander.com/justin-alexander/collection/wedding-dresses/88087/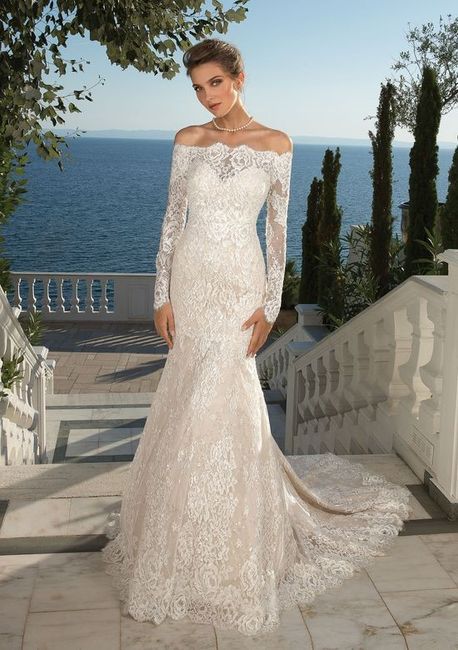 #4: Trumpet
The skirt on this wedding gown style flares out just below the hips, creating a semi-full skirt (shaped like the bell of a trumpet) without extra volume and bulk. It is often confused with the mermaid style as they are quite similar only is not quite as fitted as the mermaid silhouette. The trumpet silhouette is ideal for those with small waists, such as hourglass and petite frames.
https://www.maggiesottero.com/sottero-and-midgley/canton/11526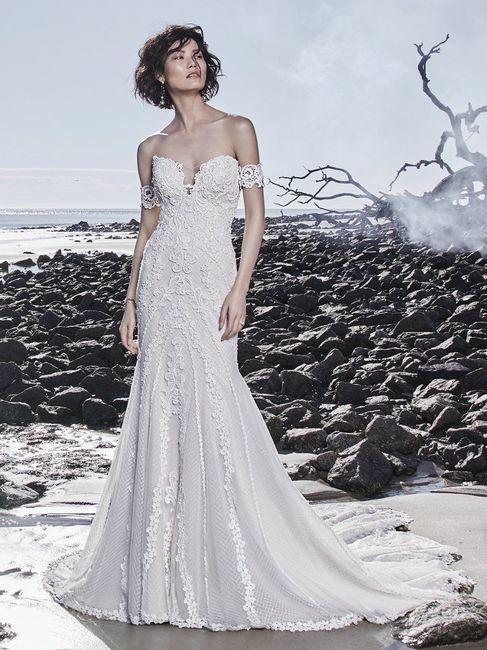 #5: Fit and Flare
A fit and flare dress is one of the most flattering silhouettes for all body types. This type of dress hugs the body and flares off just below the hips, accentuating the waist, or at the knees beautifully showing off your curvaceous body. Fit and flare is the term that encompasses several styles including A-line dresses, mermaid gowns and trumpet styles. Ideal for the pear and hourglass shape, this glamorous style is perfect for highlighting your best features. Despite the common misconception, petite brides can also wear a fit-and-flare dress, as long as they get the dress altered to fit their proportions perfectly. Sometimes all you have to do is raise the skirt starting point just a bit higher in order to create length in the torso and legs. For maximum elongation, the dress should be fitted through your hips and flare out just above the knee.
https://www.essensedesigns.com/all-who-wander/wedding-dresses/rowen/
#6: Sheath
This style fits very closely to the contours of the body from head-to-toe (also known as column style) Similar to the mermaid style, the sheath dress is best worn by lean figures, both short and tall. The elongating nature of this design will help petite brides appear taller. However, the column dress does not allow much room for hiding problem areas, such as a larger lower body. It can conceal minor flaws if you opt for a constructed style that will stay in place, but the slip style will be unforgiving. Also, boxy figures that do not have natural curves may consider accenting the waistline with a separate bodice or sash to create the illusion of a defined waist.
https://www.allurebridals.com/style/9610
#7: Empire
Empire style is defined by the raised waistline which sits just below the bust from which the rest of the dress flows down to the hem. Skimming over the hips and tummy area, this silhouette is perfect for pear-shaped brides. While the empire dress fits well on most body types, it is especially suited for brides with a smaller bust since it draws attention to the neckline and creates definition. Added accents and fabric embellishments, such as capped sleeves or delicate bead work, will help to draw attention to your chest and neckline, and therefore create the illusion of a fuller bust. In contrast, this cut can also work to conceal a large bust by controlling and minimizing the size of the bust due to the traditionally square neckline of the empire dress. The design of the empire dress is perfect for covering other unwanted body features such as a long torso, short legs, or a pear shaped figure. Since the dress flows from the bust line, it can easily leave these areas undefined. Note that the silhouette of the empire gown suits pregnant brides since the fluidity of the dress can accommodate a growing belly.
When it comes to shopping for your dream wedding dress, as a bridal stylist, I always recommend to not limit your preferences, even if you feel confident that you don't like a certain silhouette, try one on just so you can see it and whole-heartedly have an opinion on it. Who knows, you might end up in a silhouette you never expected (I know I did)! No matter the dress silhouette, you will look and feel more beautiful than ever in your wedding dress.