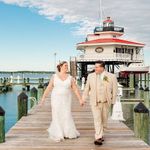 Buffet or Plated
Just curious to know how many are doing buffets and who is doing a sit down?
We did a buffet as well as an appetizer table. There were 3 waitstaff to replenish the trays when they ran out and help if anyone had questions. It worked really well!

View Quoted Comment

We're doing a sit down

We're doing family style at the tables!

We're doing a plated service. So we will be having meal cards and servers bringing out the entree picked by the guest.

View Quoted Comment

We're doing a sit down, because the best man is a vegetarian and I have two bridesmaids that are gluten-free

View Quoted Comment

We also have allergies and diet preferences. When we first started even talking about getting married my fiancé made it very clear he really wanted a plated service. It didn't really matter to me so we're doing a plated service. Now that we are full blown planning and making our vision come true Im so happy I trusted his decision to go with a plated service.

View Quoted Comment

Yes my stepson has a friends that is highly allergic to nuts

View Quoted Comment

My cousins wedding back in October of 2020 during COVId they did a buffet and all I got to say is what a disaster. And I'm not sure if you did your dance and speech before or after. But i have a 90 somewhat year old grandfather who was getting impatient to a point where my fiancé had go get them their plates. It took us a good amount of time to get our food. And our caterer was telling us a horror story of where a fob got belligerent and started telling some sob story

View Quoted Comment

For us the plated service also came out costing less than if we had chosen a buffet.

View Quoted Comment

I read the buffet is more expensive

We're doing family style at the tables, the caterer will know about everyone with allergies and dietary restrictions and bring them out a separate portion if needed.

We are doing a buffet line however the catering staff are the only people allowed to handle the food.

We're doing buffet so it's an excuse to get people moving and mingling and meeting each other 😁

Plated meal - it was on my 'must have' list. It is actually going to be cheaper than a buffet, which I didn't care about. What was most important was that everyone gets served their meal, rather than having to go stand in a 'cafeteria line' ( I don't care HOW many servers or how nice the buffet is done up, to ME it is High School throw back time) Just my 2 cents.

View Quoted Comment

This is what we are doing. It was $1K less than plated.

We're doing two buffet lines (served only by venue staff), it was cheaper than plated with the same number of options. Any dietary restrictions/allergies we let them know 3 weeks ahead of time and they make appropriate plated portions of food for those guests. (Ex: my FH's cousin has celiac and is a vegetarian, so she'll get a vegetarian entree, and they'll have made all sides gluten free for her, and to avoid contamination, they serve it to her at her table). My FH has dietary restrictions as well, so he actually got to custom order what he wanted and they'll serve that to him, while I'll be served a small portion of everything I want from our buffet without having to get in line myself

Buffet all the way. We are super casual people so plated seemed too out of character plus, I couldn't come up with some kind of dish that would please the majority, so a taco bar it was!


We are doing a sit down plated dinner.

I'm doing buffet with servers. I personally don't like plated meals at weddings

View Quoted Comment

If you saw photos of my venue you will see it's not a place you would do buffet at. It's like your in the 1920s/30s.
WeddingWire celebrates love
...and so does everyone on our site!
Learn more
Groups
WeddingWire article topics