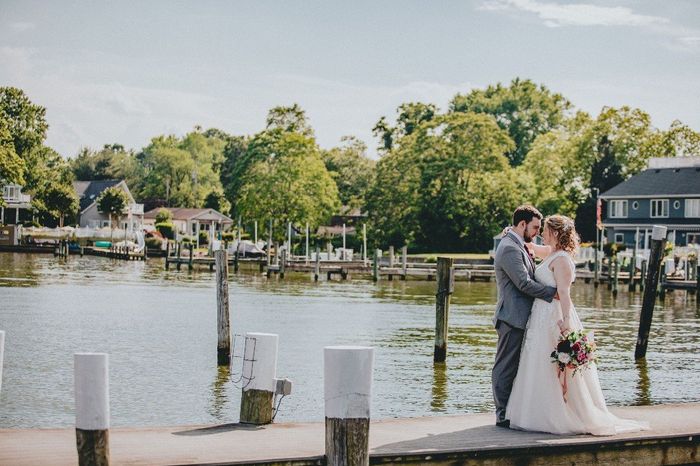 Hi everyone, we got married the Sunday of Memorial Day weekend, May 26th. Here is how our day and planning went and a budget breakdown. Sorry this is a lot longer than I expected lol.
We planned a formal night wedding on a river off the Chesapeake Bay in Maryland from 6 pm to 11 pm. When planning my most important things were food, view, and photographer so those are what we splurged on the most. We found the perfect venue with amazing high windows, a covered porch (so the ceremony would always be outside), and mostly all inclusive (to make it easier on us). Most of our wedding was paid for by my parents, some things were paid for by us but almost everything was paid for by them as a gift to us. My husband's parents paid for our rehearsal dinner and made us custom corn hole boards and all of our wedding signs.
The entire week leading up to the wedding I checked the weather everyday (okay 3 times a day). It went back and forth as to whether it would be storming or sunny. The day of the wedding I woke up, checked the weather and right at 6 pm when our ceremony started it was at 75% chance of rain. I was freaking out about the rain all day, finally 4 pm when we were getting ready to leave we checked the weather and the rain got pushed all the way back to 10 pm! The skies opened up for us and we ended up with beautiful weather for the ceremony. The weather was actually perfect because I did want rain at night so we could get some awesome rain pictures and we did!!
Food:
We did passed and stationary appetizers during cocktail hour. Then a plated salad and duet plate entrée with a crabcake and cilantro lime chicken. For our cake we had a three tier cake, first two tiers being lemon with butter cream icing, the bottom being chocolate cake with raspberry filling and butter cream icing. For our bar, as per my mother's request, we did beer and wine only. My extended family can get wild, and I mean wild, my mom wanted to limit it to no hard liquor to decrease the probability of some stripping occurring (luckily there was no stripping). Everyone seemed happy with the choices, there was a good selection of red and white wines, moscato, domestic and foreign beers, and I added in Angry Orchard for those like me that don't drink beer, everyone likes Angry Orchard.
Invitations and other Printed Items:
We went with Minted, I am a graphic designer so the printed materials were actually pretty important to me, especially because we were having such a formal wedding. I didn't want to design my own invitations purely to save myself some stress and I wanted foil, which would be expensive to do custom from my local print shop. We decided to go with Minted because they had a foil design I loved and addresses the invites FOR FREE! I did not want to be addressing each card, I do not have the time at all, and that was my biggest push to use them. I am extremely happy with the quality and design of all of our print items we received.
Photographer:
I dabble in photography myself so photos are the most important to me, I didn't want to hire some cheap photographer that didn't have experience and didn't know what they were doing because it is one day and I can't repeat the day. We went with Lisa Robin Photography in Maryland and she was the best decision I made in our planning. Lisa was so amazing and committed, her goal was to get epic shots and that's exactly what I wanted. I was honestly willing to do anything to get an amazing shot and so was she. By the end of the day my dress was trashed; I went in the dirt, in a bathtub, in the pouring rain, laid down in my dress. It was all worth it because we got some great shots.
Ceremony:
I was way more nervous than I ever thought I would be; I was actually shaking from the moment we got to the venue and even after the ceremony. I am not someone who puts their feelings out there, me and my husband never show any PDA, and I just don't talk about love or my emotions. I made the decision months ago that I wanted to do our own vows and that is what was making me so nervous, to put myself out there in front of everyone. I am happy we did them because it was a special moment for us and I ended up crying a lot. Our ceremony was only 6 minutes total, short and sweet. We had my husband's uncle officiate and he did great, he kept it mostly non-religious as we requested and spoke beautifully. We did unplugged and everyone honored that wish and kept their phones and cameras away.
Flowers:
We made all of our flowers, I was leaning towards real flowers because I love flowers and I always envisioned real for my wedding. My mom said no we are doing fake because then you know what you are fully getting and will be happy with what you have for the wedding, she was paying so of course I accepted the gift and said yes as well. We purchased the highest quality silk flowers we could find, they were individual stems from JoAnn's that were $8-$10 each. Once we started getting a lot we found out that JoAnn's was discontinuing the flowers, I panicked because we didn't have enough, we bought all of them from every single Maryland JoAnn's and all of the online stock they had but still didn't have enough. My mom is really amazing, she travels for work all around the country so every state she went to she went to JoAnn's and bought the flowers!! She had her Uber drivers and taxis take her to JoAnn's to get my wedding flowers. My mom honestly should be getting an award from JoAnn's because without a doubt she has been to the most JoAnn's stores in the country.
We spent months putting together everything from the centerpieces, bouquets, and our arch arrangements. I was extremely happy with the outcome and am happy with the choice we went with and the story that comes along with them.
Advice:
Let things go, this is coming from someone with OCD and anxiety, I can never let things go. I stressed myself out too much over things I couldn't control or were too late. Let things go and go with the flow, you will be happier in the end. Also speak up if something is not how you like/wanted it. I had some issues with my venue and I was scared to speak up, but finally I did. I ended up with a cake I didn't order and so I had to let it go the day of so it wouldn't ruin my night, but after the wedding I spoke up and I got a refund for the cake. Also make sure to eat and drink water! I didn't eat for days just out of nerves; I was STARVING on my wedding night, so hungry we ordered food at the hotel lol. Also if anyone is looking to lose weight before their wedding, don't wait like I did. I decided to wait until September, 7 months before the wedding, to start losing weight and lost 65 lbs, yay lol, but I ended up last minute in March needing to buy a new dress and quick so make the decision before buying the dress so you don't end up spending money on 2 like I did. Oh and get a Cricut!!! You can do soooo much with it. I made all of our wedding signage, shirts for my bridesmaids, custom shot glasses for the groomsmen, and so much more!
Budget Breakdown:
Save The Dates and personalized stamps: $350.99
Invitations (with rsvp cards, details cards, belly bands, personalized stamps, and glitter wraps): $882.91
Venue (Including catering, cake, bar, and space rental): $15,474.89
Rehearsal Dinner: Gift from Husband's Parents
Hotel: $515.88
Photography & Videography: $4,006.80
DJ (Discount because family friend): $1,300
Photobooth (with unlimited prints): $699
Officiant (done by a family member, we gave a gift): $400
Marriage license: $50
Cake topper and serving utensils: $110.79
Dress: $999
Alterations: $850
Veil (Used from Poshmark and beaded by sister): $45
Shoes: $100
Accessories: $171.83
Rings: $500
Bridal hair and makeup: $200
Bridal Party Hair and makeup: $750
Groom's suit rental: $180
Groom's accessories (shoes and cufflinks): $92
Flowers: $3,500 (estimate as they were all DIY and purchased as we found them 40+ orders lol)
Groomsmen and Family Boutonnieres and Corsages (Only Real Flowers We Had) $500
Misc Decor: $300 (estimate as everything was collected as we saw it)
Custom Corn Hole Boards: $75 (handmade for us by husband's parents)
Photo Guestbook: $241.99
Card Box: $80.10
Day of Printed Materials (Escort Cards, Table Numbers, Menus, Programs): $735.93
Favors (Koozies): $167.37
Wedding Party Gifts: $775
Thank you cards: $217.14
Tips: $900
Total (estimate as many things were not accounted for): $35,171.62
Guests: 102
Getting Ready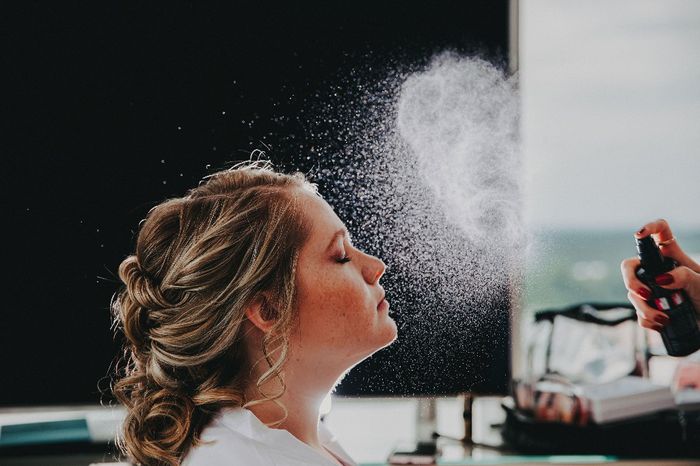 The Bridesmaids getting Ready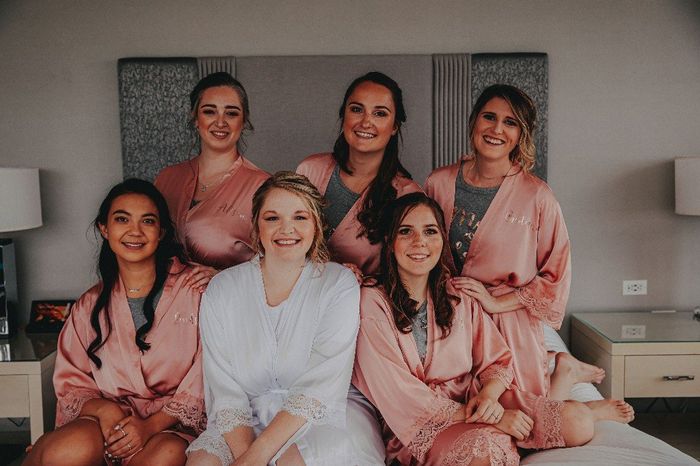 My Dress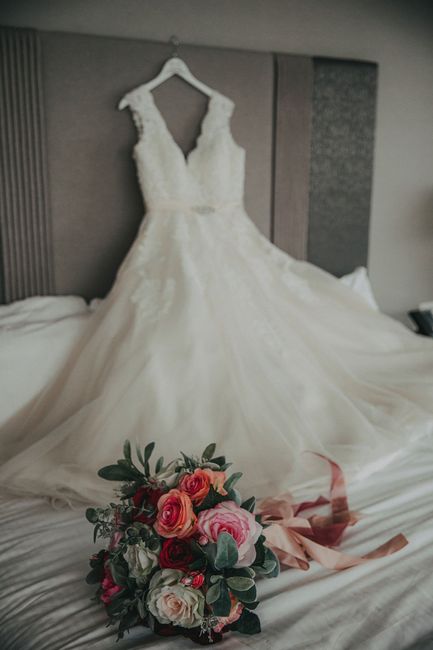 The Details - Invitiaton, Rings, and Accessories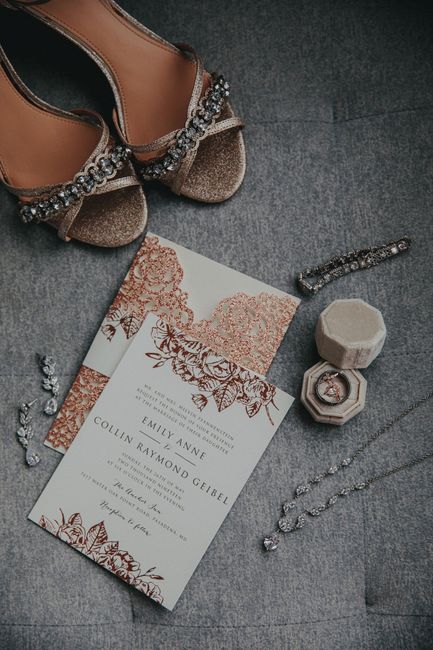 Our Epic Bathtub Shot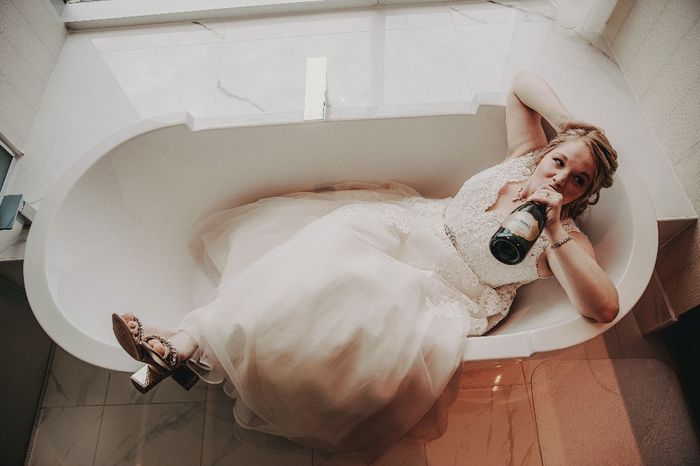 One of our more artsy photos
At the casino before the wedding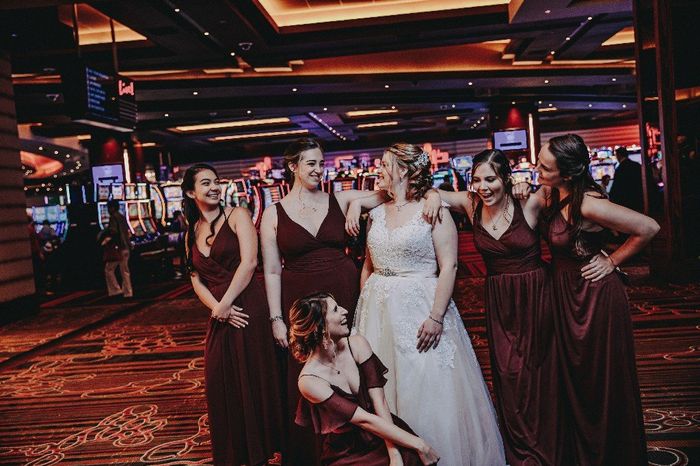 another one of our artsy photos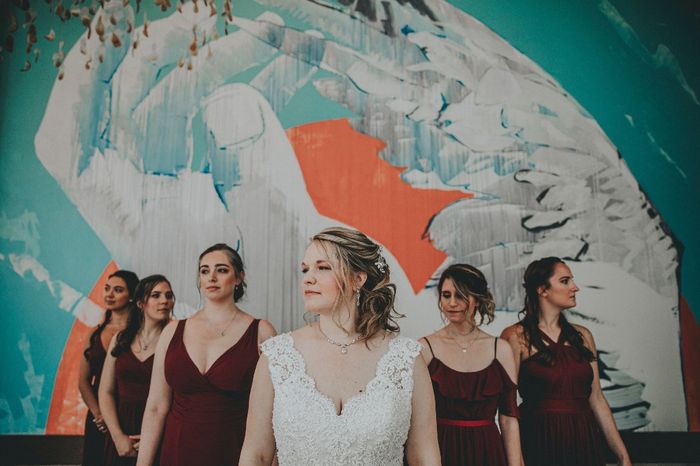 The Groomsmen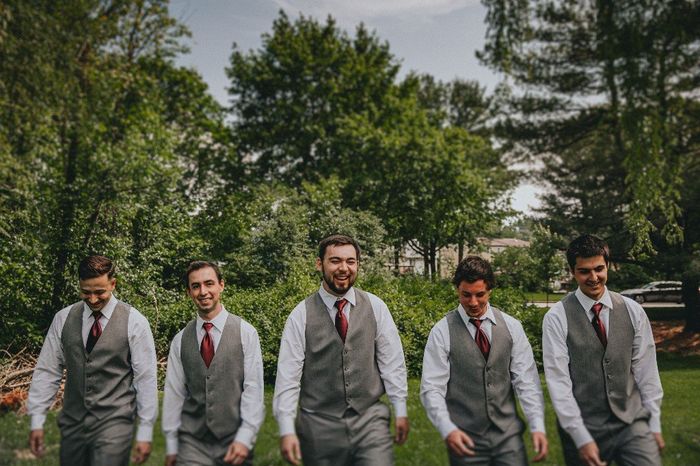 Our First Look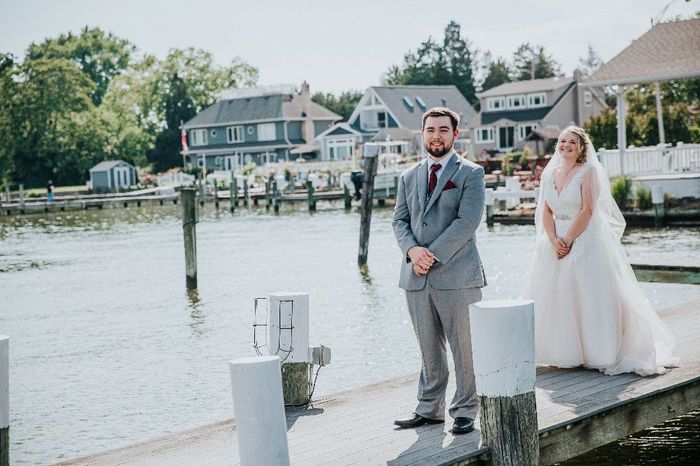 The Complete Bridal Party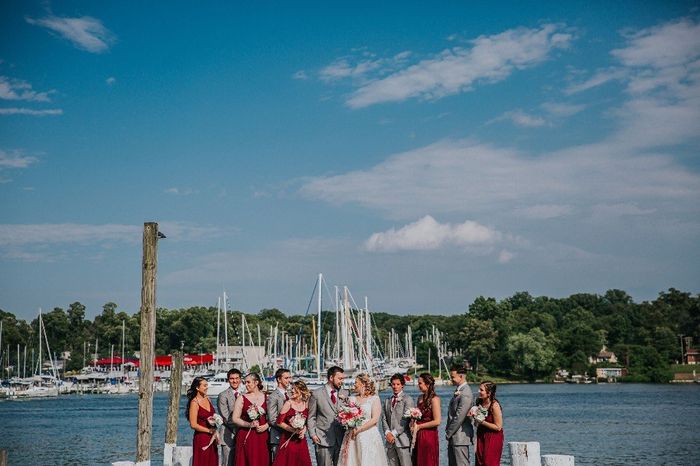 Our Welcome Sign (made by me and my husband's parents)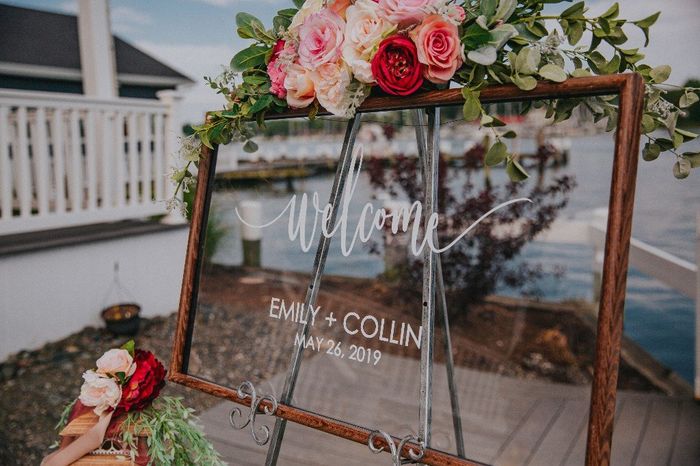 Reception Decor (We kept it pretty simple to keep the eyes on the view)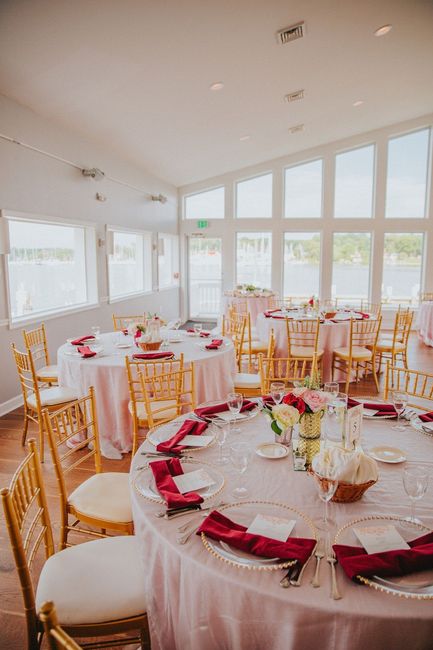 Our Ceremony Arch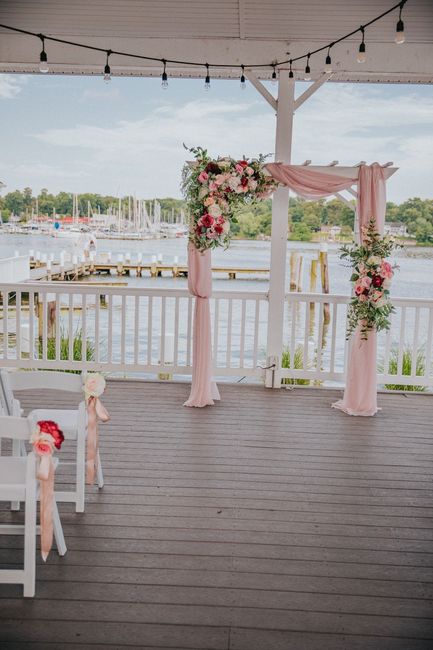 Our Cake (Wasn't what I ordered but it still looked good)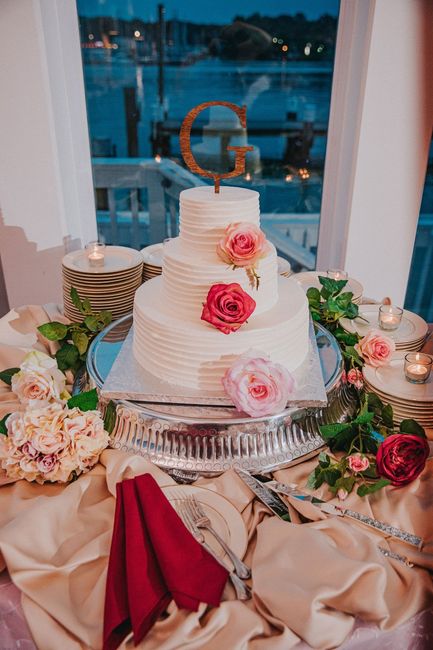 Me and Dad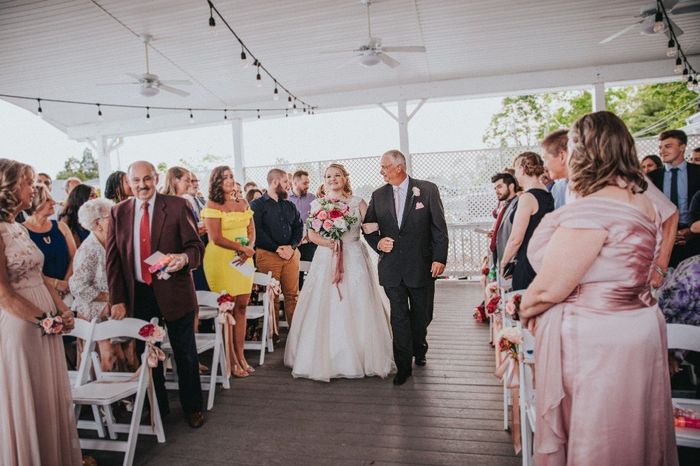 The Kiss!
Veil Shot 1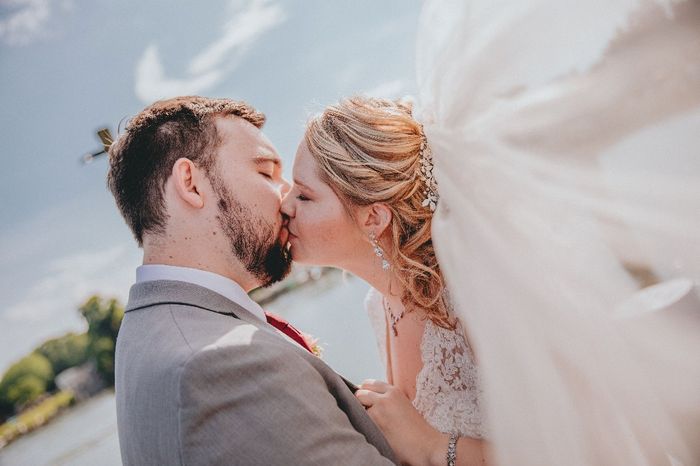 Veil Shot 2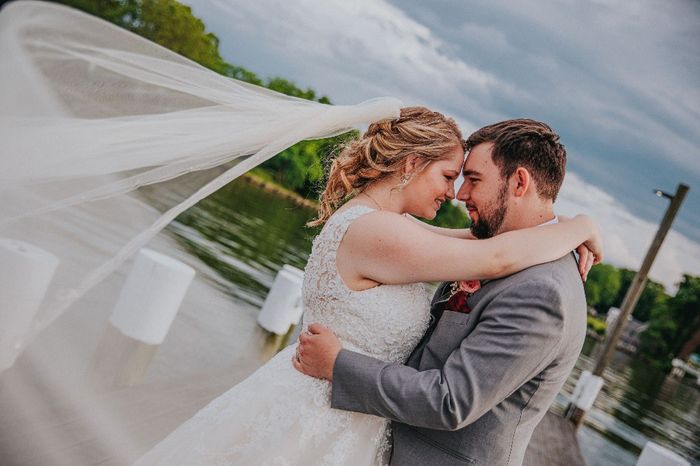 A Look at Our Venue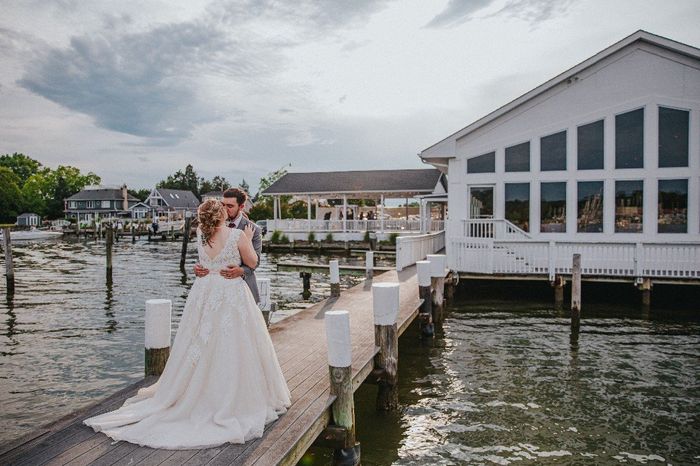 Epic Drone Shot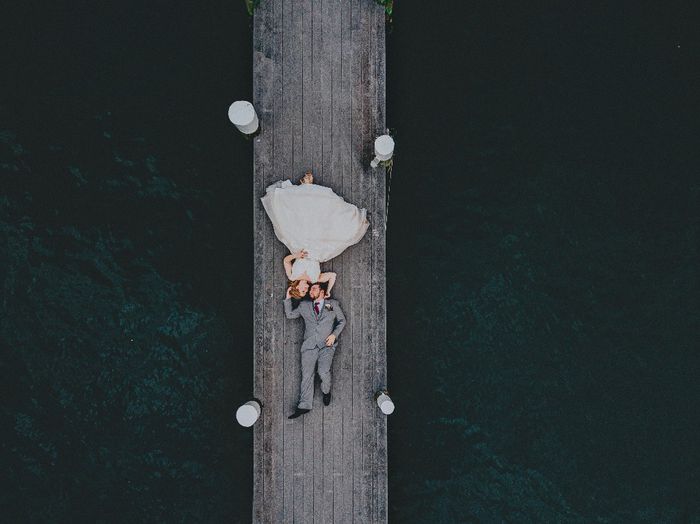 Somehow got my husband dancing
Rain with the umbrella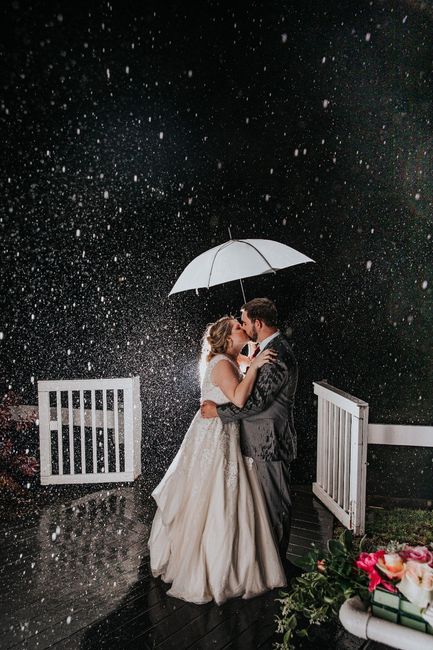 rain without the umbrella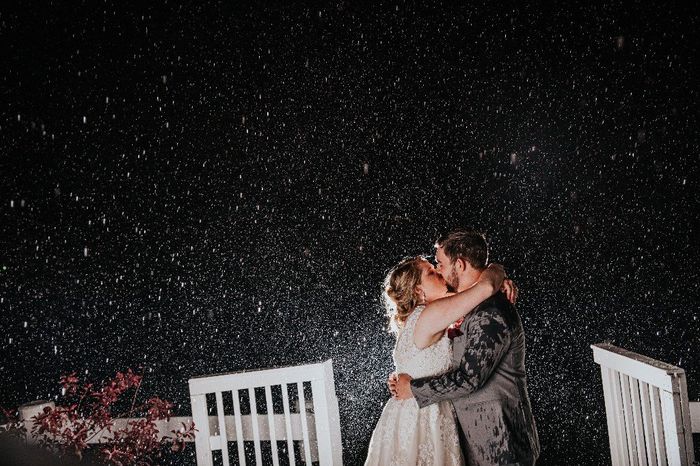 My Favorite Shot