Hi friends.
I thought I would jot down my thoughts and lessons after getting married during COVID-19. I tried to be as specific as possible, but please let me know if you have anything else on your mind! I'll share anything I can with you from our experience. We're in this together.

First: this was a team effort. FH, families, all the bridal party, vendors, everyone. . . <Thanks zoom for the meetings!>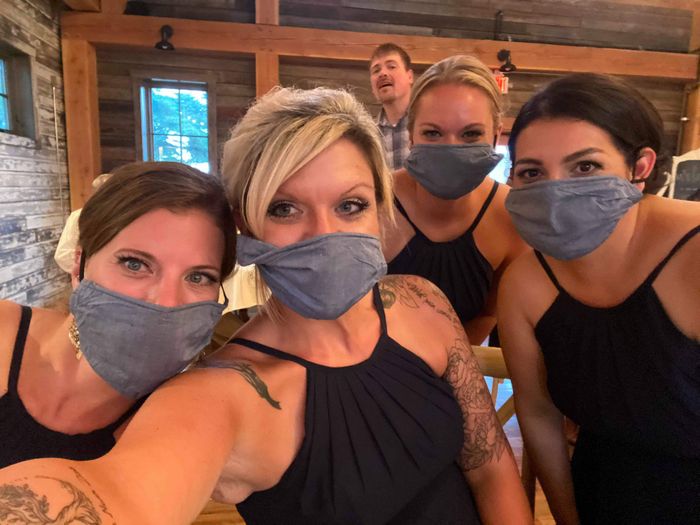 I kept in contact with our vendors as our situation in Minnesota unfolded. Initially we had 2 backups planned and spoke to our vendors about if they would participate in Plan C <a backyard event> where, for example, a 9 hr photography package would be reduced to possibly 4hours. So in each backup we knew who and what we would need to supplement. Most of our vendors were "IN" no matter what. Fortunately, we didn't need to use B or C in our state.

Realizing we were a GO, we again communicated to our vendors. I sent out an update to our vendors stating "we are still on!" And simply inquired if they had any changes in service or additional accommodations we needed to be aware of. We found out one of our professionals was barely 8 weeks pregnant. I was conscious not to greet her too closely but otherwise, we had no changes from our professionals.

I also used these industry professionals for any observations they had from the few events they were having before our wedding.
We learned our venue held a wedding where each guest picked their own colored bracelet. There was a basket and sign but the gist was a green bracelet means come talk to me in my bubble and you can hug me, red keep your distance. There were other colors, but you get the idea.

We learned and listed vendors that had been thru and received COVID-19 specific training (like our caterer!). And made sure we included that on our website for all our guests to know and understand and help them make informed decisions.

We learned our videographer, at no charge, would help us stream our ceremony for those not able to be onsite in person.
We kept our guests informed. We included a COVID-19 insert with the formal invitations that (1) assured them we understood if they can't celebrate with us now, but we feel their love and (2) directed them to our website for updates. On the site we had a tab dedicated to COVID-19 that we kept updating. We included the date on this page so guests knew, as of YESTERDAY'S DATE our ceremony and reception were ON and at XX venue. Lucky for us, we never had to change this message!
We were married August 7th in Alexandria, Minnesota, on our original date at our original venue. Our guests list included travelers from Charlotte, NC to San Francisco, CA, thus not everyone was local. Again, a lot of conversations with the people that mean the most to us to ensure our decisions were vetted and sound. We selected an all-in-one location for photos, the ceremony and full reception.
We invited 191 guests. Even amid the pandemic we invited everyone on our original guest list. Following our governor's guidance, our venue accommodated approximately 130 guests post-Covid. Our venue indicated they allowed supplemental outside tables/tents. But they only had tables and chairs, not any tents. <That cost would have been by us. We had it quoted so we knew our cost and availability should we have needed one or two tents.> Before sending invitations we spoke to our parents and decided we would use supplemental tents outside if more than 130 guests RSVP'ed Yes.
We waited until the very last minute to send out formal invitations.
119 RSVP'ed Yes and 119 showed up. (No additional tents needed!)
First. Let's talk money:
Less RSVP's (191 versus 119) equaled less cost for food and beverages. However, we switched to a server buffet and butler-style appetizers which equaled more service cost. Overall, food came in slightly under budget.
Seating. Table seating was spread out so we ended up with more tables (even with less RSVP's) which equaled more centerpieces. I felt our printed seating plan started looking cluttered so I printed 2 and rented 2 easels. Flower cost and printing cost went up. <Both of these were my preference, not necessary>
Favors. We were originally skipping favors but instead added mini hand sanitizer and "Spread Love Not Germs" custom stickers. Cost not originally budgeted. Stickers from Etsy.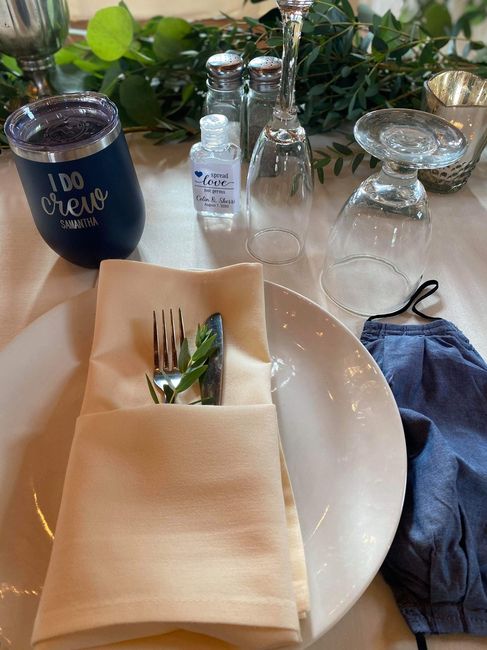 Masks. We provided disposable masks (optional) for our guests and cuter ones for the bridal party. Cost not in original budget, but we can use the left-overs all fall season long.

Day Of Coordinator. My coordinator, a longtime family friend, was unable to travel. I backfilled with a cousin who was happy to step in. We were re-using outside ceremony decorations to double as inside decorations. I hired our florist to simply come back during cocktail hour to move these things around so our cousin could participate in cocktail hour. The florist did so at a very fair and reasonable price. This put us over our flower budget, but in our case this was the easiest option.
Bridesmaids Dresses. I can't believe I am going to disclose this. My bridesmaids wore dresses from Amazon. When I started looking for their dresses, there was a virus in China affecting dress deliveries and in my area, girls were ordering dresses but not receiving them. Without panicking, I started looking at other options. My MOH was the brave one and she ordered hers first, raved about it and we all zoom'ed together and the other girls all ordered the same dress. No one knew these were cheap(er) dresses. Saved the girls $$!
Travel. For those traveling, they did experience cheaper flights.
Printing: We added a 3"x5" COVID insert, so our printing fee increased. We could have chose to double side another insert to reduce this cost.
Other things we did:
Went to an online RSVP to give guests the maximum time to respond and to negate delays in the mail. (Saved $$ on pre-paid postage for RSVP's).
Ensured guests that we understood if they were unable to celebrate now with us and encouraged them to celebrate at a later date.
We had an outdoor ceremony.
We held our first dance outdoors.
Appetizers at cocktail hour were served butler style and everything was on a skewer.
Averaged 4-5 guests per table for dinner. Seating households and coworkers strategically together to separate pods/groups of people.
All guest dancing was out on the patio. We had the DJ set up on the deck so music was heard everywhere - inside and outside.
Our venue allowed and encouraged us to keep doors wide-open. This reduced door handles being touched and encouraged everyone to move around.
Used disposable cups at the bar.
Dinner, as noted above, was all served.
Disposable masks provided on the bus and at the card table next to the programs.
We provided hand sanitizer favors at each dining spot.
Vendors, servers and bar staff in masks.
Hand sanitizer dispensers were provided by our venue. We supplemented with some big pumps in a couple areas, like at the guest book.
Gloves were worn when folding napkins.
Our rehearsal dinner was fully outside and was at our private venue the night before our wedding.
We had our officiant announce there would be no formal receiving line, but we would be around to speak to everyone. He also released rows following the ceremony to keep the queueing of lines down.
Took our obligatory photos of the bridal party with our masks on.
Remained flexible and adapted as we went.
Tough things we had to do:
Accept that this decision was right for us, but not right for everyone.
Have real and raw conversations with FH and future in-laws and my parents. (Honestly, this made us a better couple as we really had tough topics to cover.)
I had to attend my dress appointments alone. Super sad my mom couldn't be with me, but my FMIL was able to go when I picked up my dress to learn how to bustle it up!
Due to work (nursing), a bridesmaid had to be replaced. So (1) I lost her and was devastated and (2) I had a very open but awkward conversation like 40-days before our event asking someone else hey, ah, do you want to step in and be a bridesmaid? This friend absolutely jumped at the opportunity and didn't even hesitate.
We had two grandma's not attend.
We post-poned my out-of-state shower.
My FH's bachelor party turned into a chill lake party with some friends.
Remember everyone has a very different and unique situation. Remember a majority of your vendors are small businesses that have been equally impacted. Remember to be kind (which ironically was what I put on bridesmaids shirts in October of 2019 in their boxes).
Regardless if you're trying to move forward in uncertainty or patiently postponing, marrying your person is worth it. 2020 brides are full of grit and grace.
If you're interested, here is a sneak peek of our day:
All the best,

Sherri