Post content has been hidden
To unblock this content, please click here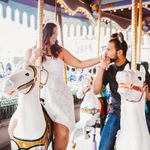 Bachelor Party Issues
So my fh is pretty much having to plan his own bachelor party. ☹️ Is it absolutely wrong for me to try to get everyone together for him? I know exactly what he wants to do (Dave and busters and just hanging out with the guys) I feel bad he's the one having to plan it and get everyone together.
Latest activity by MrsD, on September 23, 2019 at 12:39 PM
Typically if someone doesn't offer to host a bachelor(ette) party for you, you just don't have one. It's considered rude to throw a party to honor yourself.

As previous person said everyone will say that-_- but if you want to plan it for him i dont see whats wrong with that

View Quoted Comment

Thank you 😀 he really just wants a casual get together. I was just curious of thoughts on it. It's not like he's planning his own party and getting money or gifts from it. They are not stepping up and I feel like he deserves one.

View Quoted Comment

Thank you for your opinion. I'm not sure I agree With that being that gifts or money is not involved but I did want others thoughts.

I think it's ok for you to try to gather them together to get something done.

January 2019

Rather than either of you actually "planning" it, can you reach out to his BM or one or more of the GMs and see if they are "looking for ideas"? I think there is a fine line to walk between a future wife "looking out for his interests" and seeming to be micro-managing what should be a guy-driven event. (You probably don't want to be seen by his friends as the overly controlling wife....) But, I do think guys take all this a LOT less seriously than women do, and the "etiquette" is definitely less defined. You and FH know the players best; if you don't think they'll be offended it probably doesn't matter.

No. Let him do it. Don't jump in and take over like superwoman. He's got it!

View Quoted Comment

I'll try this!! Thank you

View Quoted Comment

You don't think it's odd for him to plan it?

View Quoted Comment

A bachelor party does not typically involve gifts. I see nothing wrong with planning something as simple as Dave and Busters and a night out for yourself. As the bride though, I wouldn't get involved.

To the poster, can you imagine you FH planning a bachelorette party for you? It comes across as overbearing. These are guys. If he wants to go to Dave and Busters with the guys he can just tell them. Everyone typically pays for themselves anyways, if your man plans it he should assume he's paying for himself but we are probably talking about like a $100 night? Tell him to tell his friends that's what he wants to do, if the best man doesn't want to "plan" he can easily set up a guys night out himself. It's not rude or inappropriate for him to plan his own guys night out, the bachelor party you're talking about is much more of a casual night out that he shouldn't feel bad about setting it up. But I would definitely stay out of it. If it's down to the wire and nothing is planned and your man is seriously upset than yeah of course I'd get involved then but it seems pretty simple for him to just text the guys himself

I mean I wouldn't get too involved with it. This is his friends and their dynamic. If they don't want to hang out or get together you jumping in the mix is just got to make them feel obligated.

I know now you want him to get what you feel he deserves but if it doesn't happen it's not the end of the world.

May 2017

Not at all, sometimes as wife's you have to step in and ease the load off

View Quoted Comment

Yes and no. It is wrong to throw a party in your own honor, which includes having others pay for themselves, and / or bring gifts or supplies. It is not, even at wedding time, wrong to plan a party for you to celebrate with your friends, provided like any other party you would give as host, you pay for everyone. The food, the booze, any entertainment. And if you are someone who hangs out with some people not invited to your wedding, because of distance, or numbers, or because you know them in only one way - gym, work crew, neighbors- but want to invite some of them, that is okay too, provided you do it in the last month before the wedding, after every invitation is out near RSVP date, so it is clear to people that they are or are not coming or even invited to the wedding. . . Don't call it a bachelor party. . . My hubby's friend threw one recently, a "last stand for a single man" party, typical for them, poker tables and 2 home pool tables. Cards, snacks, small sandwiches, and beer, soda, and something they were spiking coffee with ( which hubby had too much of, likely coffee liqueur Kamala ). . . . I wanted a party that was not what I heard a few local friends were planning, limo and clubbing, hard drinking and not me. I had had 4 small showers in different areas, close friends and my generation family. And FMIL. But having worked lots of overtime for months , thus not seeing friends much, I had a women's weekend. Come one evening ( 1 did) or a day and overnight (1) or 3 days 2 nights(11 ). And rented a couple suites at a resort motel on a small lake. Wintertime ski place, cheap in summer. And invited local friends, none of BP whom I saw only once during my 5 month engagement ( FMIL near them, shower). Some women invited to wedding. Half, not But I paid the lodgings, food to cook, and to cookout, hammocks and kayaks, small boats. I paid for Concert tickets one night, theatre another. People I frequently camped and hiked with a few musicians I play with here and there, old roommates. It was great. I called it my women's weekend, and did not have ( because I do not like) the bachelorette stuff and provided for reasonable drinking, not heavy drinking. It was worth e ery cent. And where people had limited my showers to wedding invited folks, no limit here because I paid , for guests and me . And did not make it an all-about-my -wedding thing. More a social gathering of various people I hang out and do things with regularly. . . . This is fairly common amongst my hubby's friends, and mine, though totally different cultural and ethnic groups, different locations. But lots of people getting married do not want one more thing restricted to wedding guests. And want a simple, hang out, sandwich plates and appetizers at a pub, or cookout evening or afternoon. Or trip to someone's family cottage. . . . So I agree, no giving showers or bach in your own or FI's honor. But still, a party to celebrate one last low key, hand out at a local place where you pay your own way and host your limited guest list, an affordable thing like 10 friends with Max 4 drinks, plus sandwiches or apps) for a few hours, is fine. Or something home based.

Its thoughtful for you to want him to have a great experience. But if his friends haven't offered there might be some underlying reasons as to why.

I'd suggest reaching out to his best man and one other groomsman, keeping it low key. Ans just simply asking if they have planned anything for him. And that you've heard him mention some things that might be fun if they'd like a few suggestions.

But otherwise I would leave the planning up to the boys. If they don't plan him something.. then you can bring him to dave an adbusters yourself for a fun night.

I'd talk to his guys and ask what they're planning on doing for him. Maybe give them a heads up what he wants to do and hopefully that's their cue to plan it.

Monique, that is your man and your lives. Please do not worry what others think, because at the end of the day its about you two and what you want. And no else is paying your bills, do as you please. I am planning my fiancé's bachelor party! I wish someone would tell me I am wrong for making my man and future husband happy! Do you sweetie


Looking at it from the opposite perspective— id rather have planned my own bachelorette than have had my husband plan it!

I planned my "bachelorette party" but called it girls night out since none of my bridesmaids really started planning one and I wanted something to do while H and the guys were at his bach party (best man planned!) My SIL stepped up to help decide what we could do and we went and painted pottery.
I personally think the only party it's rude to throw yourself is the bridal shower. Like you said, sometimes people just want a low key thing and I dont really consider the bach parties gift giving events so....i say let FH plan it if he wants!

My husband's best man reached out to me. I plan a lot of our group parties, vacations, etc. so he knew I would be good at it. I didn't step in until I was asked, but after he asked for help I found the rental VRBO, called fishing boats for quotes, helped the best man draft group texts or Facebook event posts, designed the snapchat filter, and put together the favors. I didn't want my husband to have to do anything so I 100% understand where you are coming from. His best man is also one of my best friends and I knew all his groomsmen so it was easier for me to be involved.
WeddingWire celebrates love
...and so does everyone on our site!
Learn more
Groups
WeddingWire article topics