Post content has been hidden
To unblock this content, please click here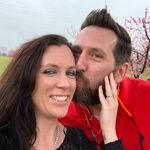 April 1, 2023
Set for April 1st of next year...people keep asking if we are joking. I get it, it's April fools day but still!! Anyone else getting married on this day? Lol.
A good friend got married on April 1st a couple of years ago and I know she dealt with that ("are you joking?") some during the announcement/engagement period, but it has died down and now that she's married, it's no big deal.

Just Said Yes

October 2023

We are 🤗 "Two fools in love on April Fools"

View Quoted Comment

Love it! Lol

My fiance suggested it (it's a Saturday so I didn't care too much) and said, "yeah sounds good". I told a friend and she laughed, "oh yeah? April Fool's Day does fit y'all's personalities!"
My brain did not remember that April Fool's Day was a thing lol


View Quoted Comment

I'm hoping that's the case. Been together since 2017...youd think they'd be expecting it by now lol

We are getting married and two foolsinlove is our hashtag

View Quoted Comment

Haha I did the same. I'm in GA so was aiming for not freezing but not hot and came up with this...then was like oops. Oh well! Lol

View Quoted Comment

AWWW! We don't have a hashtag...I'm old enough to know it's a pound sign lol. Plus my SO would say "huh??" 🤣

I always do some sort of public prank for April Fool's, so when I saw it was a Saturday, I couldn't resist! I definitely want to plan a prank of sorts for my guests (nothing mean-spirited or cliche though, like no runaway bride! I've seen some funny first look ideas I might go for).

View Quoted Comment

Hmmmm. I may have to think about that!

View Quoted Comment

I honestly, just wasn't paying attention when we picked the date 🤣

My fiance and I are! We're jokesters anyway, so we love the obvious puns and knee slapping jokes. The flowers will be gorgeous in our North Carolina town!

Yes!!! Its been our dating anniversary for 6 years, and next year it will be our 7th. We love it so much we aren't changing for anything 🥰 it suits our goofy lives

Lol knowing some of my family members, I could never 😂

Congrats on picking your date!

My other half is a comedian so April 1, 2023 is perfect for us.

View Quoted Comment

It's my dating anniversary as well so it's perfect!!!

View Quoted Comment

AWWW yah! That's awesome!!

Just Said Yes

October 2019

That is my parent's wedding anniversary. They always joke that many ppl did not make it to their wedding because they thought it was a joke

View Quoted Comment

Aww!! ♥️ It's definitely a day people don't expect!
WeddingWire celebrates love
...and so does everyone on our site!
Learn more
Groups
WeddingWire article topics