Back1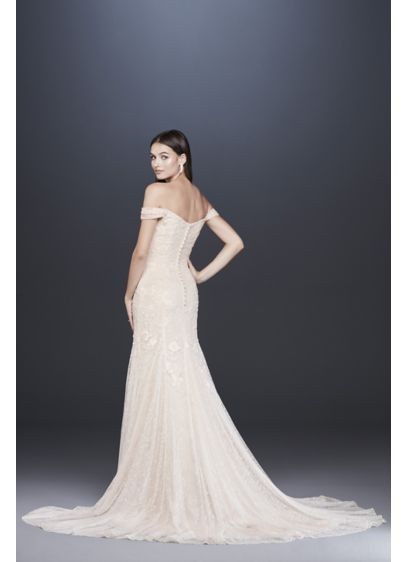 Front
Hi all, first time posting here (and it's a long one!).
So I bought my dress from David's Bridal and had a great experience (stock pics attached). I just love my dress! However, because I have really big hips, I had to buy a size 4 to fit my hips. My waist and chest are close to a 0. So I have to have some major alterations done in the waist/chest area. I also need a hem, a few bustles, and a belt sewn in. My DB attendant girl, who I really loved, assured me that buying up a size and having the waist taken in would be easier than buying down a size and having the hips let out.
I went to a local seamstress who owns a small boutique bridal shop here in town. She has great reviews on Yelp, Google, etc. I've heard how expensive David's Bridal can be with alterations, so I thought for sure she would be reasonable. She quoted me $200 to take the waist in, $250 for a hem, $15/bustle, and $20 for the belt. I was very shocked! I know it's probably due to the amount of work and all the layers, especially the lace, but I was expecting (maybe naively) between $200 and $300 for everything.
I have a consultation appointment next week at David's Bridal to see what their costs will be, but just speaking with someone on the phone in their alterations department, she said their hems cost between $90-$190, and to take in the waist will cost $70-$170. That's already somehow cheaper than the seamstress.
I've tried looking around elsewhere in town for other well-reviewed seamstresses but somehow there just aren't that many seamstresses around here, and the others I have found have bad reviews and I don't want to risk it with them. So these are pretty much my two choices.
I also asked the seamstress if I exchanged the dress for a 2 and instead needed the waist taken in less and the hips let out a little, if that would be cheaper. She basically said it's six of one, half a dozen of the other. So it makes no difference. My hips are my problem area, so I really need to accommodate them! (Ha.)
I'm a little frustrated with myself that I didn't think in advance about the cost of alterations. I almost wish I went with a dress that gave my hips freedom and only needed minor alterations in the waist (like a ball gown or something), but I can't go back now. And I really love my dress. It just sucks. I guess this is the cost of being a bride, lol.
So what would you recommend? Should I go with the seamstress who may end up costing more? Is David's Bridal really that bad? If DB ends up being cheaper, should I just go with them? I firmly believe you get what you pay for but if I can save even $50 to $100 between the two, it seems I should just go with DB.
TL;DR: Alterations through David's Bridal will cost as much or less than a local, well-reviewed seamstress. Is DB so bad that I should just bite the bullet and pay more for alterations with the seamstress, or in this case, can I trust DB so I can save $50 - $100?