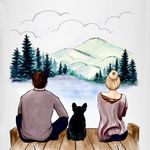 Aisle Decorations
How will you (or did you) decorate your aisle?



We're using a runner and lining the aisle with flowers

I have several ideas, but can't make up my mind! We are getting married in the evening, so I definitely want to line the aisle with candles of some sort. Not sure if I want to just do glass candleholders with pillar candles or use some sort of lanterns.

Since we are getting married in a lush courtyard with lots of greenery, I've also thought about adding some sort of greenery to the aisle as well

Autumn is my absolute favorite time of year, and Halloween is my favorite holiday. Since we are getting married in the Fall shortly after Halloween, I am still very tempted to maybe add pumpkins to the aisle

We're not exactly sure yet, though one of the ideas we keep coming back to are lanterns with fairy lights in them. We want something simple and easy to setup/tear down, since our ceremony is outdoors. Possibly something along these lines, though with fairy lights in them instead of candles.

Mine was super simple and super cost effective haha

i honestly didn't want much so we just did it like this:

super inexpensive ribbon tied in my color scheme. i didn't do the rose petals though because too much for self clean up after

View Quoted Comment

This is so perfect for a summer or spring wedding! It's giving serious festival vibes, which is so on trend right now!

View Quoted Comment

These are cute! Will your ceremony be in the evening, so they would be lit up?

View Quoted Comment

Ceremony is late afternoon/early evening. Per venue rules, our ceremony has to be completed by a specific time, so it unfortunately won't be dark enough for these to be lit up like the first inspiration photo you posted (though I totally wish!! That looks gorgeous). The lights should still be visible though!

View Quoted Comment

Would you reuse them for your reception decor then? I've seen really pretty centerpieces with lanterns and fairy lights.

View Quoted Comment

We're having an outdoor ceremony right around sunset in December and are doing something similar to this! I've already gotten our lanterns (ours came with built in battery operated candles) and we're trying to figure out the shepherds hooks (We're going to get them and have my fiancé and his father do some customization so we can keep them and use them in our garden later). Our lanterns are going to be pulling double duty - as they will also be used in our centerpieces (were going to be grabbing the lanterns and placing them on the tables after the ceremony). I'm going to be getting more electronic candles to put around the base of each hook and our "alter" has a built in arch that we are going to be covering in flowers and fairy lights. I'm not sure yet about the actual aisle (do I do flower petals, just leave it alone? Who knows!) I've been stock piling lights these past few weeks as they are all on crazy sale from the post-christmas season!

View Quoted Comment

We would for sure use them in our reception decor as well! We've already planned to incorporate them into our centerpieces, and we were thinking that we will have them relocated from the ceremony space to the reception space during cocktail hour. We're hoping to do a trial run of our centerpieces sometime in the next few weeks, I'll share a picture once we set it up! Do you have any inspiration photos of similar centerpieces that you've seen?

We lined our aisle with pillar candles in glass holders and it was... less than ideal. Guests kept running into them - some got knocked over (one glass holder broke) and one guest's purse strap caught fire! If I were to do it again, I'd use LED candles and and acrylic holders or a different type of holder instead

We wanted to keep it simple, so we just lined the aisle in flower petals

View Quoted Comment

I love the idea of being able to use decor in multiple ways! I didn't save any lantern centerpiece inspo pics, just because I knew we weren't going to be using lanterns in our centerpieces or on our tables. But I know I came across a TON of them when we first started planning!

View Quoted Comment

Oh yikes! Thank you for sharing this! I am planning on using glass holders along our aisle. I will definitely have to brainstorm on how to make sure they don't get kicked over or start fires!

View Quoted Comment

Sometimes nature is all the decoration you need! I think it was a smart idea to keep the aisle decor simple at this venue. And totally off topic, but I absolutely adore your veil! It's beautiful!!

We are doing petals down the aisle, and then a big barrel arrangement and a ... half-arch? thing? Kind of like one of these:

plus the barrel:

View Quoted Comment

I loooove the

crescent moon arch! 🤩

View Quoted Comment

It's pretty, isn't it! I'm not sure if ours will be as curved, or more up and down?

Originally I wanted two sticks of different heights, like this:

but my fiance is a VERY tall man and we were worried they wouldn't really be seen, so decided on the barrel, which is a bit broader and more flexible too - the arrangement on top can be moved inside and popped into the centre of our fireplace mantle decorations.

But then my friend the florist said she had to make the sticks for another couple who are getting married in feb anyway, so she'd make us something using them again, if we wanted, and we figured why not, since we really do love the look of them! Hopefully they'll work well and my fiance can be on the barrel side, to make sure you can see SOME decoration behind him

I'm using shepherd hooks down the aisle with an LED battery operated lantern and a hunter green chiffon sash tied to reach one I got lanterns on sale from Bed Bath and Beyond. I wanted something simple that didn't take much time to set up but would make an impact. Our ceremony will be right at golden hour and I'm hoping the lanterns will add that magic touch.

We will be using the artificial flowers at the altar, on our pews, and on our welcome sign for easy set-up and clean-up.
WeddingWire celebrates love
...and so does everyone on our site!
Learn more
Groups
WeddingWire article topics