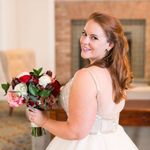 Lynnie
Hi!! I'm your WeddingWire Community Manager! I'm here to help you navigate the Community and answer any of your questions about WeddingWire! Can't wait to... View More
Hi!! I'm your WeddingWire Community Manager! I'm here to help you navigate the Community and answer any of your questions about WeddingWire! Can't wait to get to know all about you and your wedding plans!
WeddingWire Administrator

Honeymoon in Charlotte... any tips
Laura
, on August 15, 2022 at 7:52 AM
I was wondering if any of my fellow wedding wire folks know of things to do in Charlotte during a honeymoon? We are also stopping at Myrtle Beach.