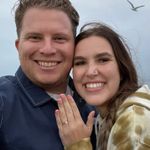 Chandlaur
Hi! I am a licensed Medical Master Esthetician and I love what I do! Nic and I have 2 fur babies, Ella and Indy. Nic and I were set up by his family and... View More
Hi! I am a licensed Medical Master Esthetician and I love what I do! Nic and I have 2 fur babies, Ella and Indy. Nic and I were set up by his family and one of my friends and it was definitely love at first sight.
🕐 WEDDING COUNTDOWN...
October 30, 2023

Sustainable Wedding Ideas
Hello friends, I want to make my wedding as low waste and sustainable as possible and would love to to hear any ideas you have!

Genderless Name Ideas for my Bridal Party
I have a few friends who don't identify under she/her and I'm trying to find a fun, creative name to call the whole party instead of just them. So far I've come up with Friends of Honor, and Brides...