Wedding dresses
Paizley
, on November 11, 2021 at 12:17 PM
Let me see y'all's beautiful wedding dresses, here's mine !! ❤️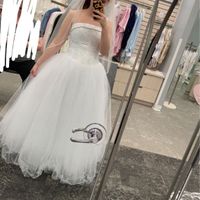 Rent or Buy Suits?
Brittany
, on November 27, 2021 at 3:01 PM
My fiancé and I are in between having the men buy suits or rent them. Which do you think would be cheaper? Especially right now with the sales I would think buying would be the cheaper way, what do...

Nichols Wedding Hashtag Help!
I need some ideas for my wedding hashtag for October 2022! Here's a little back story. My fiancé and I met in college October 2016 at the library! (Yes at the library in college! LOL) We are very...