Saranicole
My other half and I are renewing our vows on 09/10/2023. We got married in a courthouse when I was 6 months pregnant with our 2 year old. We're finally... View More
My other half and I are renewing our vows on 09/10/2023. We got married in a courthouse when I was 6 months pregnant with our 2 year old. We're finally having the wedding I've always wanted.
🕐 WEDDING COUNTDOWN...
September 10, 2023

2023 Brides - Show us your ring!
Lynnie
, on February 18, 2021 at 12:58 PM
Congratulations to everyone who is wedding planning for 2023!! ✨ Now that they've put a ring on it, we'd love see your new bling! Share a ring pic and show off your new sparkler below! 💍💎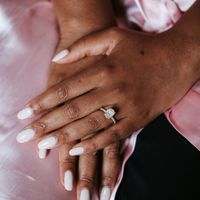 How Did You Decide On a Wedding Date?
LeKisha
, on July 28, 2021 at 5:39 PM
I wanted to get married on a date that neither one of us could forget. We decided on Jan 22, 2022 which translates to 1.22.22. It just seemed right and memorable. New Years was another option but far...