Reviews
5.0 out of 5 rating
Quality of service

5 out of 5 rating

Average response time

5 out of 5 rating

Professionalism

5 out of 5 rating

Value

5 out of 5 rating

Flexibility

5 out of 5 rating
100%
Recommended by couples
14 User photos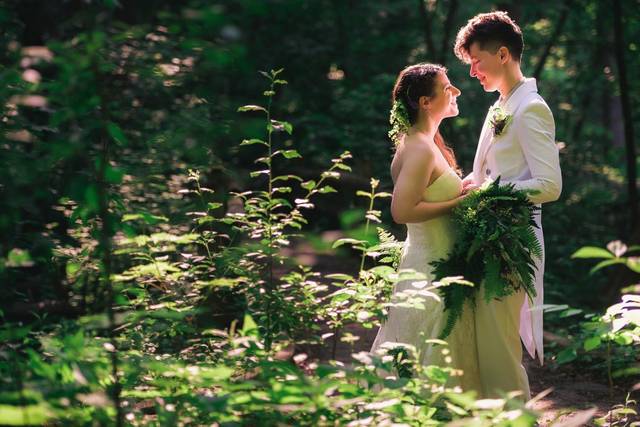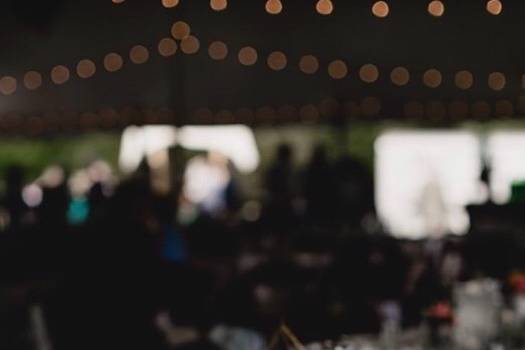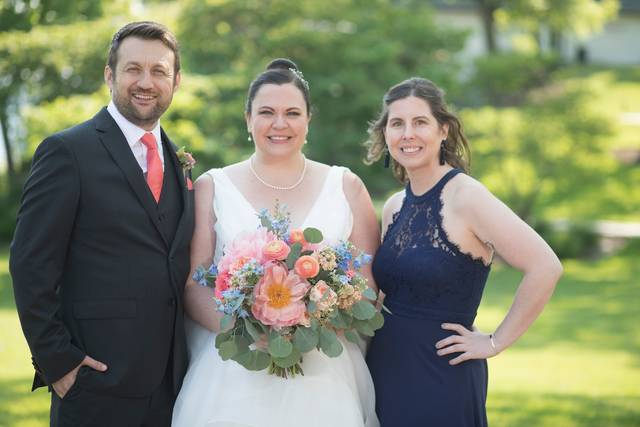 + 10

photos
Sophia T.

Getting married on 12/31/2023

Veronica is an amazing breath of fresh air!

Stop searching! Veronica is the one!

From our first meeting, working with Veronica eased my existential and practical anxieties--she is so real, down to earth, visionary, utterly pragmatic, kind, responsive, and very flexible.

She made planning the wedding a paced process. Under her guidance, I never felt rushed or overwhelmed. I had been having a pretty hard time imagining myself as the Bride, and she patiently talked with me as I considered what it all meant to me, and how I wanted to move through the day.

The day of she was the first person there, organized the other vendors, communicated thoroughly and kindly with everyone, and gently nudged, guided, and coached my partner and I through all the rituals and schedule we had planned while also being utterly ready to improvise.

A few days before the wedding we were talking on the phone, and she said, "Any of these plans an change up until they happen, if you need them to." And that ease with which she was able to handle the microscopic details as well as the less clear feelings really allowed me to be present with the beautiful party we had organized, and deeply enjoy the rite of passage with my partner!

We really were so lucky to have Veronica. I recommend her to everyone and couldn't imagine doing it without her.

Matt A.

Married on 09/09/2023

Excellent Service

Veronica was a huge help in planning the wedding and serving as the day-of coordinator. She worked well with the other vendors and helped ensure the day ran smoothly

Taylor J.

Married on 08/19/2023

Perfect Day

We could go into lengthy detail of how great Veronica and her team were for our wedding, but to keep the review effective we will try to shorten it. Veronica and her team were incredible. When planning for our wedding, my wife and I were afraid of how our wedding would flow on the day of, thus why we looked at a day of coordinator. My wife and I had the perfect wedding, in large part due to Veronica and her team taking care of everything behind the scenes. The whole day ran seamlessly and we received lots of compliments from our guests on how everything flowed. It takes a village to make a fantastic wedding, but if my wife and I were to give out awards, Veronica would be our MVP. Her services were invaluable to us on the day and we were extremely grateful for how much she helped us plan final details ahead of the wedding. We would highly recommend Veronica to anyone considering going with a day of wedding coordinating service. Best decision we made.

Are you interested?

Send a message

Caitlin W.

Married on 08/05/2023

Highly Recommend

One of the best (if not the best) decision I made when planning my wedding was to hire Veronica. From the start, she was just incredible. She was quick to offer guidance and/or just let me vent about my anxieties, even a year+ out from our wedding. As we got closer to the day, I felt as if I was able to genuinely enjoy the final planning process and get excited rather than nervous as Veronica could not have been more supportive and responsive to myself and my vendors. Every step of the way, I could tell that she truly cared and was committed to how our big day was going to go. I literally do not know how I could have done it without her. I cannot recommend or thank her enough.

Aleshea H.

Married on 06/23/2023

Veronica Rose Planning - Day Of Coordination

We hired Veronica for her month-of coordination package for our June 2023 wedding. She and her team were the best investment my husband and I could have made for our wedding day. Although we hired her for month-of coordination, she was always willing to help if we had questions/concerns prior to the wedding. She was responsive, professional, attentive to the details (which were alot!!), personable, and overall just a great helping hand before and during our wedding day. Additionally, her help and expertise during vendor meetings were integral in relieving some of our stress leading up to the big day! With Veronica's help we didn't have to worry about anything which allowed us to be fully present for our special day!

Amina M.

Married on 06/17/2023

Fantastic coordinator!

Veronica was fantastic coordinator to work with! Ahead of the wedding she provided us with a list of vendors, was available via email to answer my many questions, and kept us organized month off as we finalized the flow for the day. She went above and beyond to help set up our DIY potted flower centerpieces. Our day ran so smoothly with her help, and we were able to fully enjoy every moment of our special day!

If you are looking to be highly involved in picking out the vendors/details for your day while having expert support for recommendations and executing your vision, Veronica is perfect for you!

Shannon G.

Married on 06/02/2023

Veronica Rose Planning, Day-Of Coordination

Veronica was absolutely incredible - she was professional, timely, knew exactly what she was doing, and answered questions for us that we didn't even know that we had. There are so many little details that go into a wedding that we didn't even know to think about, but Veronica made sure that absolutely everything was put into place and taken care of. Having her there let us all just completely and thoroughly enjoy the day, without having to stress about the timing and all the other details that go into the day. And on top of all of her fantastic professional qualities, Veronica is simply a wonderful, kind and caring person, and it was always a pleasure communicating with her, and then having her there with us on our wedding day. Investing in a phenomenal planner was one of the best things that we could have possibly done for our wedding day, and Veronica is absolutely, 100% worth her weight in gold and more.

Jessica D.

Married on 05/27/2023

Cheers to Veronica Rose Planning! Simply Perfect!

Veronica and her team were simply amazing! My husband and I were truly able to relax and enjoy our wedding day because we knew she had everything covered. We hired Veronica and her assistants for her day-of coordination. Leading up to the day she was always available if we had questions or needed a recommendation for MKE vendors. She kept us on time, helped clean up everything at the end of the night and made our day incredible. She was also there to help us if we needed advice on how to deal with other vendors, tips, etc post-wedding. She was an imperative part of our day and I couldn't recommend her enough!!!

Catherine B.

Married on 05/06/2023

So helpful!

Veronica was truly incredible and I could not have done my wedding day without her! She was worth every penny in making my wedding day go smoothly and ensuring that everything turned out perfectly. I didn't worry about a thing that day, and she went above and beyond coordinating my vendors and assisting with set up. Her organization, demeanor, and timeliness cannot be beat. I cannot recommend her enough. Thanks, Veronica!

Amalia H.

Married on 04/15/2023

Amazing Team

I highly recommend Veronica Rose for wedding coordination and planning. I hired her for the month of package, and it was immensely helpful for my wedding planning process. Before we hired her, we knew Vernonica was not available for the day of our wedding, but she scheduled Meg Voss, her lead planner for our wedding day and she was nothing short of amazing! The month of planning was great, Vernonica was so knowledgeable and helpful with creating the timeline for our ceremony and the whole day. She was able to create a floorplan layout for us and gave great suggestions on things we had questions about. Communication was open and she was quick to respond to anything we needed.
On the day of the wedding, Meg took charge and was available at our venue when we couldn't be there. She ran errands for us and helped with set up. She translated and executed our had written notes and scribbles to exactly want we wanted at the venue. She held on to things for me, so anytime I asked her, where's this, who has my phone, where did I put this, she was on top of it! I mean she knew where my spare shoes were, got them and even put them on my feet, now that was going above and beyond! She helped us keep to a timeline and did everything behind the scenes we needed her to do. And she helped with clean up! Meg was amazing and we would have been lost without her. Again, I highly recommend hiring Veronica and Meg for your wedding needs, they were truly the best!

Kaylin C.

Married on 11/19/2022

Highly Recommend

We cannot say enough positive things about working with Veronica! She was absolutely instrumental in bringing our vision to life and making sure our wedding ran smoothly. We hired her for the "6-weeks out" package and it was the best decision we made in our wedding planning process. We had different vendors for every single component in our wedding and Veronica was the force behind getting everyone on the same page. She created a master timeline document that we were able to share with all of our vendors and wedding party and was the point person day-of. She even attended our meetings with other vendors in the weeks before the wedding to familiarize herself with our vision, their process, and provide direction and guidance for the logistics leading up. I cannot stress enough how little we had to worry about on our wedding day because Veronica was there to put all the pieces together. Even our families and guests raved about her after the wedding day. Highly, highly recommend hiring her for your big day!

Carrie M.

Married on 11/11/2022

Flawless wedding thanks to Veronica!

Veronica was truly phenomenal and made our wedding day so smooth and carefree. We really cannot say enough positive things about her and her team. From the moment we booked, Veronica went above and beyond to make sure all our requests and concerns were taken care of. Our wedding day was magical and it would not have gone off as perfect as it did without Veronica! Every detail small and large was accounted for, and she even took so many photos and videos of the whole day that she uploaded to our google drive so we can cherish them forever. If you're looking for a planner that will truly make sure you have the best day ever, book Veronica Rose Planning immediately!

Mariana R.

Married on 10/23/2022

Simply the best!

Veronica is the best! She went above and beyond to plan the whole event in just 2 months. She even thought about the simplest details that made a huge difference on our wedding day. She was there for us at every step making sure that everything was beautiful and stress free for the big day. Thank you for making such a fun, enjoyable, awesome and impecable memories for the rest of our lives.

Clau & Mars

Hannah T.

Married on 09/17/2022

Amazing Planner

Veronica was amazing as our wonderful Day of Coordinator! She was so precise on every detail and many of the small things I forgot about! From day one she was always quick to respond to email questions with great details and wonderful advice that was budget friendly as all matched perfectly with our overall aesthetic! Overall Veronica saved not only our sanity but also made sure we were making smart choices with our vendor selections!


Alicia K.

Married on 09/03/2022

Made our day absolutely flawless

On more than one occasion during the wedding day, I said (and genuinely meant) that I may marry her instead of my husband. She was somewhere everywhere at once and made sure everything ran so smoothly. Any issues that arose I wasn't even aware of until much later because she was on it. She was also super helpful leading up to the wedding day, helping organize vendors and having check-in meetings about what we needed, put together a flawless itinerary for the day, and ran everything for us. Her personality meshed with ours perfectly and she helped us bring our wedding day vision to life. All we really had to do was show up. She also had a lot of decor available to rent so we saved a ton of money – she brought everything and set it all up; all we had to do was pick it out in her online store. Cannot recommend her highly enough!

Cassie D.

Married on 08/20/2022

She is the best!

Veronica was amazing and such a huge help! We honestly don't know what we would have done without her. She was so quick to respond, organized the other vendors, and managed all the small details. I really don't know how she did it all, but she did! Highly recommend booking her. She is also very affordable. We only booked for the day/month of but she was available as a resource throughout the whole process.

Lauren S.

Married on 07/16/2022

You don't need to look any further - Veronica is amazing!

We cannot recommend working with Veronica enough. My wife and I are overjoyed with how smoothly our wedding went and how happy we are that it was the wedding we truly envisioned happening and that is in huge part thanks to Veronica and her team.

Veronica clearly has the experience and temperament that makes her extremely effective at her job. We chose the day-of package, and in the weeks leading up to our wedding, would frequently consult with Veronica about any number of details. She was constantly open and available to our questions and offered her honest feedback and it was just immensely helpful. Veronica is attentive, responsive, informative, and reassuring throughout all of it and it's because of her that we get to look back on our wedding with nothing but happiness and satisfaction.

Having a wedding coordinator goes a long way in figuring out how to pull off the wedding you want to have and you can do no better than Veronica. She is amazing and she will not let you down.

Katie C.

Married on 06/26/2022

Hire Veronica, she is the best!

I was skeptical as to whether I should hire a day of coordinator, but wow I am so glad I did and even happier it was Veronica. From our very first phone call she was attentive, genuine, and ready to offer amazing advice for some aspects of the wedding I was unsure of. The day of the wedding she went above and beyond any expectations I had. She remained out of the way of the celebration while somehow being everywhere at once and making everything go perfectly. We could not have had a better day and I know a lot of that is due to Veronica. If you are looking for someone, hire her.

Adam B.

Married on 06/18/2022

Bride & Groom

When we started planning our wedding we didn't think we would need a coordinator, but we couldn't have been more wrong. Choosing Veronica was the best decision we could have made. We cannot say enough about everything Veronica did to make our day the perfect day that it was. She was always available to answer any questions we had leading up to our wedding. She kept us on track the day of (despite the many distractions) and made sure everything went smoothly. She helped us with setup, made sure everyone had what they needed and that everything was clean and organized at the end of the night. We literally could not have done it all without her. If you're looking for a coordinator don't look any further, Veronica is the one

Lindsey B.

Married on 06/07/2022

Absolutely Essential and a Joy to Work With

I couldn't imagine our day having gone NEARLY as smoothly, stress free, and on time if it weren't for Veronica and her assistant. My gosh, what a life saver! We would have been lost adrift if it weren't for her expertise, organization, hard work, and amazing ability to make sure everything was going smoothly. She got our attention when it was time to dance or cut the cake while we were trying to socialize with every family member and friend that we could, made sure music played at exactly the right time, helped set up and tear down and both of our venues. What a freaking rock star, we can't thank you enough! 10/10 would recommend to anyone who wants to be able to enjoy their wedding day with the support we definitely needed to make it as stress free as possible, as well as planning before hand, finding vendors, rentals, the works!

Molly M.

Married on 05/29/2022

The best!

We hired Veronica for our day of coordinator, and wow we would of been lost without her! She was super helpful in making sure everything was running smoothly. She went above and beyond to take care of everything so we could just enjoy our wedding day. She is seriously just the best!

Bailey A.

Married on 05/14/2022

The Absolute Best!

Veronica is the absolute best! During our engagement she reviewed all vendor contracts, provided recommendations and supported us through the wedding planning process. She was responsive and provided great insight to whatever comments, questions or concerns we may have. We fully believe we would not have had such a smooth, stress-free and enjoyable wedding without her. On wedding day she created and maintained a realistic and achievable timeline, set-up all of our decorations prior to guests arrival, was the perfect resource for us and our guests, moved the event along and cleaned up afterward. I highly recommend her and wish we could work with her again!

Caryn D.

Married on 12/10/2021

Awesome coordinator!

We hired Veronica as our Day-of coordinator and she was so much more than that! She has so much knowledge and it was wonderful to have someone help us leading up to our big day!
The last month before the wedding she kept in touch, helped organize our day-of schedule, and answered any questions we had. She walked us through our rehearsal, took and delivered all items to our wedding venue and helped set up. She also delivered our cards and gifts to our hotel room and helped clean up.
She made our day run smoothly and I trusted her completely to get the job done - and she delivered! I am so happy we had her help, it was so worth it!

Maggie C.

Married on 11/19/2021

Hire Veronica immediately; She's the best there is

Between a Covid-postponement, a cancelled photographer

Elizabeth S.

Married on 09/11/2021

The BEST planner out there

We threw just about everything you can at Veronica - a pandemic postponement, very early guests, two different venues - and she never broke a sweat. We felt so confident in her abilities that we got to enjoy every minute of our special day. I would recommend her to everyone I know without hesitation!
Are you interested?
Send a message