Reviews
4.9 out of 5 rating
Quality of service

5 out of 5 rating

Average response time

4.8 out of 5 rating

Professionalism

4.9 out of 5 rating

Value

4.8 out of 5 rating

Flexibility

4.9 out of 5 rating
97%
Recommended by couples
Awards
20 User photos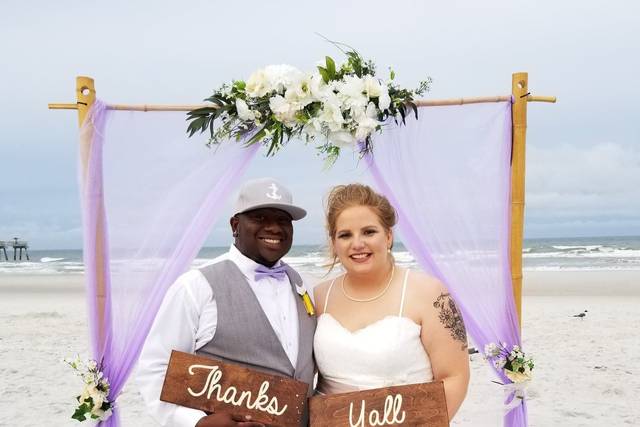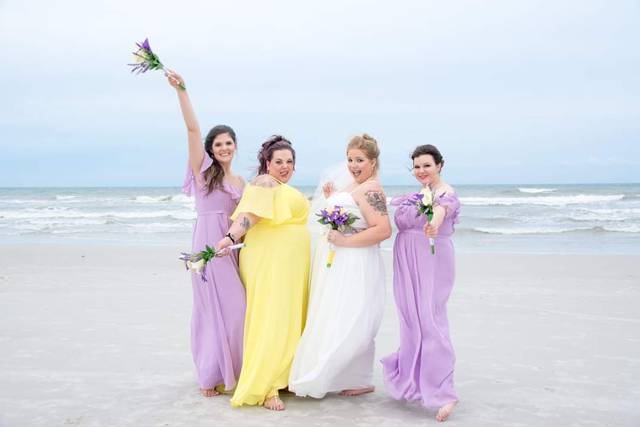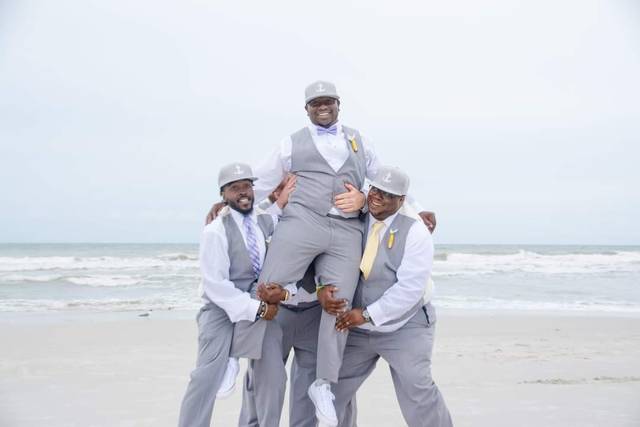 + 16

photos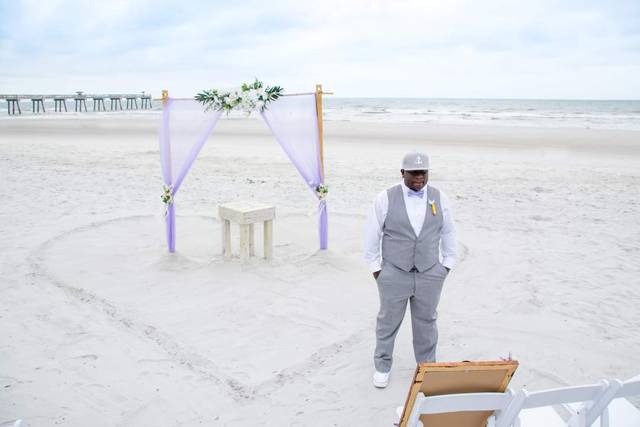 Ashley G.

Married on 05/19/2018

The perfect day!

When I first started looking into companies for our destination wedding, I had trouble finding one that offered packages with reasonable prices. Then I found Better Together. Their prices were fantastic. Their staff was helpful and answered all of my questions.

Our special day was perfect!!! The arbor was beautiful. The photographer captured the moments PERFECTLY. The officiant was professional. They even took away stress after the wedding by making sure our marriage license was filed! So thankful we chose Better Together Weddings ❤❤❤❤

+ 3

photos

Lynn

Married on 07/22/2017

Mike, at Better Together Weddings, was very accommodating and professional. He made sure we were totally satisfied. The service was beautifully written and performed. We were so happy we chose them to perform our most special day.

Chanika

Married on 03/24/2017

Better together weddings were the best when came to planning my beach wedding. Everything was perfect, the pictures were great even though it was very windy that day. I loved and enjoyed every minute of it. I will highly recommend them to anybody that wants a stress free beach wedding. Everything went smoothly and it was perfect, my husband and I is very grateful.

Are you interested?

Send a message

Courtney

Married on 03/11/2017

Best wedding ever! I did nothing but tell them what we wanted & it was there waiting for us! It was beautiful, the pics didn't do it justice! Thanks to you guys for making our special day more beautiful than we could of imagined! The Ponce Inlet Park was Perfect.
Angie & Gary Rogers

My husband and I were both lost we had no clue where to start... after doing our research we decided to go with Better Together Weddings and I MUST SAY IT WAS THE BEST CHOICE! EVERYTHING WAS SO DETAILED AND BEAUTIFULLL!!!!

Tran

Married on 05/11/2015

Better Together Weddings did an amazing job with our wedding. It was extremely personal and quiet, just me and my wife. Brent coordinated everything in 2-3 months for us and it was the easiest process we've ever had. He was generous, courteous and a pleasure the deal with. The only small issue I had was due to his busy schedule, he sometimes would take a little more time to reply back to messages, but that's to be expected, to be honest. Our biggest thanks was his ability to get us an Ordained Minister/Pastor. We were VERY adamant on that, because we don't want "just an officiant" who is Christian, it was something very important to us and we almost lost hope until Brent finally found us one. That, in itself is a 5 star effort.

We thank you Brent and Better Together Weddings. We will let anyone and everyone know about this great business.

Michelle

Married on 11/07/2014

I can't describe how grateful I am to have stumbled upon Better Together Weddings when searching for our last minute (5 weeks) elopement. They surpassed all of my expectations.

We had planned a large wedding, contacting and working with multiple vendors. When the wedding grew to be bigger than us, we made the switch. With sureness: working with Better Together Weddings was far easier than anything we had previously planned.

Better Together Weddings made planning simple, without missing a beat. The staff (our Coordinator was Brent) was professional, detailed, communicative, and responsible. After one email exchange with Brent, I knew we made the right decision. Also, our Officiant (Ann) was incredibly sweet and delivered exactly what we had hoped for- a perfect sunset ceremony.

The customization that Better Together Weddings provides makes the experience unique, memorable, and most important: all about the love that brought you there.
Our wedding was perfect due, in large part, to this company. If I could start all over, I wouldn't change a thing. I highly recommend Better Together Weddings.


Camille

Married on 08/13/2014

I can't even tell you how pleased I am with Better Together Weddings! They went above and beyond what I expected and I would tell anyone and everyone to use them! It was like they could read my mind. Everything was exactly as I hoped it would be. And more!

Nicola

Married on 07/24/2014

Highly recommend better together weddings. Brent was was very helpful and responsive, always got back to me prompt with emails. He arranged the vow renewal on cocoa beach for my parents at very short notice and the whole ceremony was beautiful. As we live in the uk and had arranged this via email, we really didn't know what to expect, however we were delighted! So pleased we chose better together weddings for the ceremony

I currently live in Los Angeles, and my then fiancé recently relocated to Dubai. We wanted to meet in Florida and were looking to have an intimate ceremony together, before I joined him in Dubai. Brent was a pleasure to work with and happily answered all of our questions in a timely manner. The a la carte options were perfect for stress-free planning. His team arranged a beautifully seamless ceremony, with all the perfect details exactly the way we imagined them to be. My husband and I are beyond thrilled with the photos of our special day. Brent was able to capture the fun, loving, lighthearted essence of the day we married. I highly recommend Better Together Weddings to any bride in search of a smooth, headache free wedding.

Brent was wonderful to work with! He was very responsive to emails and calls and helped us along every step of the way. When the weather forecast changed to rain he worked with us to find a solution. He set up a beautiful beach wedding for us and the ceremony was absolutely perfect. I would highly recommend this company to anyone one wanting a special beach wedding.

Jennifer

Married on 11/29/2013

Brent was awesome... I couldn't have chosen better vows even if I wrote them myself. I would highly recommend better together weddings :)

Kristina

Married on 11/22/2013

We are so happy that we chose Better Together Weddings They are very friendly and worked with us on every part of the wedding. Brent answered our questions quickly and helped us choose the best package. It was every thing we dreamed of and more!

Jason

Married on 04/18/2013

I just wanted to say that the services we recieved from better together weddings was superb. Everything went off with out a hitch. This was very relieving because my wife was worried about so much that day and Brent made sure that she was at ease. I highly recommend better together weddings. Thank you for making or special day memorable and unique.

Sincerely
Jason Varner

Rita

Married on 09/06/2015

Better Together was very helpful with planning my beach wedding. They are very knowledgeable and gave terrific advice on location and preferred beach areas. Even though there was rain on my wedding day, Brent and his staff set things up perfectly. I would definitely recommend their services.

Charmaine S.

Married on 10/26/2018

A day to remember

The company was amazing with arranging my husbands and my wedding in just over 2 weeks. Brent kept letting me know the ceremony was set multiple times when I sent him an email. The night before travelling to the destination, Brent and I spoke on the phone and discussed a brief overview about the day and reassured us that THE day was our day and we have nothing to be worried about. The day itself was more than my huaband and I could ever ask for. The flowers were beautiful, we were introduced to the reverend and photographer. Brent started a conversation to help reduce the nervousness which was really thoughtful of him. Reverend Jon did the same whilst walking down to the beach.
Reverend Jon was amazing, he gave us the option of him sending the license back to Miami or us taking it back ourselves. He said we could call him if there was any problems when we returned to Miami and he stayed true to his word. He said he will record the ceremony so we could have something to look back upon and asked if we would like the ceremony to be sent to us either dropbox or YouTube. We chose dropbox as it was personal. Reverend Jon picked a lovely spot on the beach to perform the ceremony and begun recording. The ceremony was very emotional and more than I expected. During the placing of the rings, Reverend Jon said he would hold my flowers so I could place the ring on my husbands finger which was extremely lovely of him. He also recorded the second part of the ceremony which was blessing of the stones. At the end of the ceremony we took a couple of pictures with Reverend Jon which he sent to us also. They were beautiful with the sunrise. He thanked us for letting him perform the ceremony and wished us all the best for our marriage. I would highly recommend Reverned Jon to perform the wedding ceremony as he is a lovely bloke and only wants whats best for the bride and groom's day.
The photography after the ceremony was amazing and fun. The photographer was amazing also. She made us feel relaxed whilst taking the pictures and had a laugh at the same time which was really good. She took various up clsoe pictures, some in various poses that she recommended, and some of us walking up and down the beach. My husband and I did some natural moves and poses that we have always done when being together and she took pictures of those and if she missed a shot, she asked us if we could do that pose again. The photographer said we natural being around each other and doing our own thing during the photo shoot. That was really nice to hear dince we had been together for almost 10 years.
The whole ceremony was perfect and more than we could have ever asked for.

Nicola A.

Married on 10/31/2017

We're from the UK and decided to get married as a surprise on a family holiday to Florida (you can read more here: https://www.kinetique.co.uk/simon-and-nikki-fastest-engagement-ever/). We were really impressed by Better Together's website and social media. They were fab at getting back to us (even if occasionally it took a day or two over e-mail across the Atlantic - we're all busy!). The day itself went perfectly, we were met by the beach and introduced to the photographer and officiant who were both lovely and had an amazing sunset wedding on Clearwater Beach. Thank you so much to all the team who were involved!

+ 7

photos

Ashley

Married on 05/19/2018

Brent was great about answering all of my questions, even before we booked. He was also extremely patient with the changes we kept making throughout the process, including when we changed our phone numbers two days before the wedding. Our officiate was professional and he coordinated well with the person we brought with us to do our reception. Our photographer was phenomenal! I'm so excited to see all the moments he captured throughout our special day. We originally planned for both the groomsmen and bridesmaids to be getting ready in the same hotel. The morning of, we moved the girls to a hotel that was two doors down and our photographer went above and beyond to make sure we got the getting ready photos we paid for despite the last minute change. Décor was exactly what we asked of them except the ceremony sand. (The beautiful arbor they provided is in the picture below). Overall my experience with Better together was great. Planning a wedding out of state is difficult but they helped put me at ease and carried out our wedding vision gracefully.

Nicole

Married on 04/15/2016

Brent was so nice and easy to deal with an he always answered my questions in a timely manner. The day of my wedding in Daytona Beach, the winds were terrible and it even rained a little. Through the entire ceremony he was friendly, positive and never stopped smiling. He made my day perfect even though the weather wasn't! I would definitely recommend to anyone looking for a wonderful wedding experience.

Stephanie

Married on 10/14/2017

Brent and Mike were awesome. Mike communication with me was great. I was to have a beach wedding but the forecast was so unpredictable so I had to make the decision on moving it inside and even though they did the setup inside it was still beautiful and guess what it never rained..however they did great and I'm glad I was able to work with them. Thanks guys.
Are you interested?
Send a message