27 Reviews
Recommended by 100% of couples
Quality of service

5 out of 5 rating

Average response time

5 out of 5 rating

Professionalism

5 out of 5 rating

Value

5 out of 5 rating

Flexibility

5 out of 5 rating
3 User photos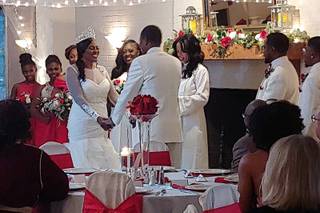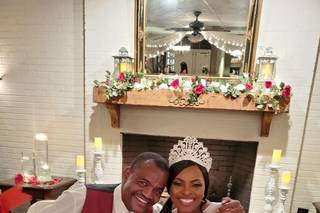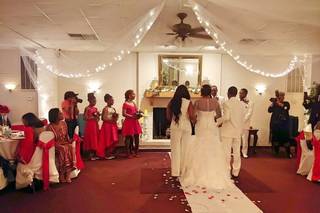 Marie M.

Married on 05/02/2022

Wonderful place to have a wedding or any event

My husband and I had our wedding last Saturday on 2/22/2020.
Our wedding planner Mrs. Deanna made my day. When we first met her for the first consultation, she made us feel at home and until the last second of our wedding day, she was there to support us. The venue , the food, the decorations, the flowers, the cake, the DJ, her staff and the personal attention was wonderful. She re-assured us that everything was going to be fine and we trusted her and all my family, guests were very impressed with her professionalism. So if you are going to have any event call her and you will not be disappointed. Her personality, her caring spirit and her love for making people happy will never be be forgotten by us.

Debi

Married on 09/19/2019

We had our consultation with Deanna and loved that everything is included. Also how she takes care of it all. She was very nice and kept my fiancé attention. We have changed our wedding date but are still having it there. Very nice venue. And we're excited to have our wedding there. I give 5/5 for the value and consultation!

Judy

Married on 12/18/2018

Spectacular Surprise Birthday Party

I have been a guest at several weddings at The Lakes and have always enjoyed the events! The gardens, gazebo, and lakes are just beautiful and allow for great photo opportunities. My husband told me he was taking the kids and I out for my birthday but, pulled into The Lakes to meet one of his clients for something. He then told me to run inside someone wants to meet the kids. Surprise, it was a birthday party for me. The food was amazing, I became a little emotional when I saw a three-tier cake, I felt so special. Deanna kept up with me the entire night, always had a big bubbly smile and made sure the evening was perfect for everyone. Every single staff member was smiling and attentive. It was an evening I'll remember forever. Can't wait for the next event at The Lakes.

Are you interested?

Send a message

Tiffany

Married on 10/24/2014

Deanna and Doug went above and beyond to make our wedding day special. If you want a stress free day, and wedding planning process this is the place to go. Deanna's attention to detail is amazing. Everything down to our bouquets and boutonnières were absolutely beautiful and everything was better than we imagined it would be. And the food is delicious. Our family and friends still talk about how delicious the food was. We would recommend The Lakes to anyone, and promise you will not be disappointed.

Amanda

Married on 10/18/2014

We had an amazing wedding thanks the whole Lakes staff! We absolutely love Deanna!

Dee & her crew are absolutely amazing. She made my special day a dream come true!!!

Holly

Married on 09/07/2014

Deanna and her staff were wonderful! She was great to work with and made our wedding perfect. Everything was the way we wanted and they took great care of us and our guests the whole night. She decorated the venue beautifully and even used some of the homemade items we brought it. She booked the dj, cake, catering, and dj for us which made our wedding planning so simple. We were excited at how stress free the experience was and how we were able to really enjoy the wedding and reception because she took care of everything. I tell everyone how wonderful she is and recommend her to everyone I meet who is getting married.

Margaret

Married on 04/11/2014

Deanna and her staff are amazing!!! Everything for my wedding was absolutely perfect!!! The location is also so beautiful!! The owner Deanna helps with a lot of the planning which takes a lot of the stress off!!!! Hands down best place to get married!!!!

Wendy

Married on 08/09/2013

My groom and I had an awesome experience. It was all about us and what we want.

Karen

Married on 06/29/2013

Deanna and staff a pleasure to work with. Everything was just as planned and even more . We will recommend this venue to others!

Vicki

Married on 06/28/2013

Deanna, Doug and the entire staff at The Lakes are wonderful! Whether taking a year to plan your wedding or only a few weeks, as in my case, they are a one-stop-shop and make everything so easy! I highly recommend them for any special event. I had so many compliments about how nice the staff was, how fantastic the food was and how everyone loved Doug and his DJ/singing skills. The only thing they can't control is Mother Nature....but a back-up plan is always ready. Thank you for sharing in our day and making it fun and memorable!

Joann

Married on 05/18/2013

Deanna made our last minute planning easy, and took so much stress off of us, by being prepared and having everything in place. It was a rainy day, but it was a beautiful day for a wedding. The food prepared by she and her staff was awesome. It's a shame we can't have dinner there more often. I loved the venue, and made a great friend by working with Deanna and her staff.

Melissa

Married on 04/28/2013

Deanna and her staff are awesome! They made a rainy day feel like it was full of sunshine inside. Deanna planned all of my flowers, cake, etc based upon emails between us since I live out of state and it all turned out even better than what I had imagined. Her staff is friendly, customer-service oriented and treated us all like we were family. My entire wedding party and guests loved the wedding and reception and haven't stopped talking about it. Not only did we wind up with an awesome wedding, but we gained friends out of it too. I would recommend the Lakes to anyone looking for a beautiful venue and folks that do it all and make you feel like family while they are doing it. You can tell that Deanna, Doug and her staff love what they do and it shows in every little detail. Thank you again for all that you did for us to make our day special!!

Ray

Married on 01/19/2013

We held a wedding rehearsal dinner at The Lakes on January 18, 2013. The decor, food, and staff were excellent! Guests all complimented us on how well done the event was. Deanna and her staff did a great job working with us, which meant a lot since we live well out of town and had to count on them to handle everything.

The cost was excellent for the value and quality of the service. I would highly recommend The Lakes for any event in the Kannapolis, NC area!

Laurie

Married on 09/21/2012

My daughter, Megan, was married at the Lakes on September 21, 2012. It was perfect. Deanna Winstead helped us plan the wedding and she took care of all the details. We didn't have to worry about anything. It made the entire process completely stress-free. Everyone at the wedding was wooing and awing over everything. All I could say was "Deanna took care of it and that was included in the price." I could never have decorated for a reception like she Deanna on the budget we had in mind. It was beautiful. I strongly recomment Deanna and the Lakes for a stress free wedding. It would not be a nightmare for the bride or the mother of the bride.

Don

Married on 06/16/2012

We had our daughter's wedding reception here on June 16, 2012 and everything was great. Deanna is both professional and personable. Everything we wanted, she made it happen, and things we weren't sure about, Deanna had great suggestions and they all worked out. The food was delicious, and the servers were pleasant and responsive. The outdoors was picturesque including the newly painted deck. Definitely a 5-star event. Thank you so much for making Amie and Jesse's day so very special.

Lorna

Married on 06/24/2011

I have used Deanna for multiple private events and her attention to detail, total professionalism, quality of food, flowers, and decor, are second to none! It's a "one phone call" deal, which I love. There is nothing she can't handle, and the events are completely "stress and worry free" for the guests AND planners!! I HIGHLY recommend The Lakes to anyone and everyone looking for a gorgeous location for ANY event!!

Linda

Married on 05/27/2011

Our daughter was married at The Lakes a couple of months ago so this review is begin given through a mother's perspective. If you are looking for a beautiful, peaceful setting for a garden wedding, The Lakes is the place to go. If you want an outdoor wedding, but need a Plan B in case of uncooperative weather, then please consider The Lakes. Our daughter's ceremony ended up being held (rain-free and air conditioned) indoors, but it was beautiful!!! Sitting inside The Lakes facility, with all of our best friends and family surrounding us, our little Cinderella married her prince. The ceremony was very initimate and beautiful.

The food was absolutely divine........oh my gosh.........the cake was gorgeous and delicious and everything we could have wanted. The flower arrangements were just stunning and so were the bridal bouquets. Most of our guests stayed the whole time and we had a ball. When our daughter & her new husband arrived back in town the next week we talked about how we wished it could have lasted for about two more hours because it was so much fun.

Through out the weekend, following the wedding, my husband and I got quite a few phone calls from our family and friends complimenting the wedding and saying how wonderful the food was and how pretty it was on the inside of the building.

I cannot say enough about Deanna.....she is such a joyful person with a sparkle of creativity that lends itself to event planning. I found her to be a calming force as you know how moms of the bride can get a little hyper. Her suggestions and ideas were wonderful--she is delightful to work with and if we had another daughter getting married we would not hesitate to utilize the services of The Lakes.

If you are getting married, or have a daughter getting married please consider making an appointment with Deanna and taking a trip up to Kannapolis and you will see for yourself how very beautiful The Lakes truly is.

Jennifer

Married on 03/12/2011

A wonderful one-stop shop for all of your wedding needs and wants. I loved not having to worry about anything. They will take your dream wedding and make it a reality!

David

Married on 07/17/2010

Deanna was great to work with and handled all the details beautifully. I would highly recommend The Lakes to anyone looking for an all inclusive location at a great price.

Karen

Married on 06/26/2010

Wonderful!!! Deanna the wedding planner was fantastic. The ceremony was held outside in a beautiful setting. The Lakes provided quality service. Five stars is not enough. We were treated like royalty. I would recommend The Lakes to anyone planning a wedding, party, anniversary, or any special event. They do it all.

Jessica

Married on 06/06/2009

I had an amazing experience at The Lakes. It was so less stressful to have so many aspects of our wedding taken care of in one place. Deanna is a pro and was so easy to work with. The outside venue for the actually ceremony was my favorite, the place was beautiful! I highly recommed The Lakes for your wedding!

Jinny

Married on 11/22/2008

Deanna does an amazing job with your ceremony, reception and everything in between! I highly recommend her to any bride who is searching for that perfect place. The food, flowers, decorations, music, location and everything else is absolutely amazing!

Nicole

Married on 08/30/2008

The Lakes was not only our wedding venue for both the ceremony and reception, but they provided the DJ and music services, bar services, a FABULOUS dinner with choice of hawaiian chicken or prime rib, vegetables, dinner salad, roll, and champagne toast. They acted as wedding coordinator with other vendors (we had a horse and carriage too!), directed the wedding program perfectly, handled all of the outdoor decorations for the ceremony and all of the indoor table decorations for the reception. They took care of setup/cleanup ...all we had to do, literally, was SHOW UP and get dressed and get married.

It was a beautiful venue, and they provided excellent service for a very reasonable price. I got the entire wedding taken care of here for the same price another venue wanted just to CATER the event - and the menu at the lakes was prime rib for that price, while the other venue was doing ribeyes or barbeque. Quite a difference!

The food was excellent ...everyone raved about the food and service. It was a beautiful event.

Star

Married on 04/19/2008

deanna was a pleasure to work with. Quality of service...excellent.
Are you interested?
Send a message