73 Reviews
Recommended by 100% of couples
Quality of service

5 out of 5 rating

Average response time

5 out of 5 rating

Professionalism

5 out of 5 rating

Value

5 out of 5 rating

Flexibility

5 out of 5 rating
30 User photos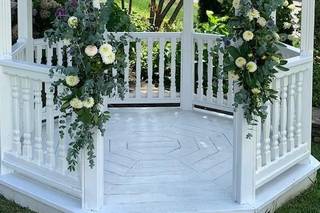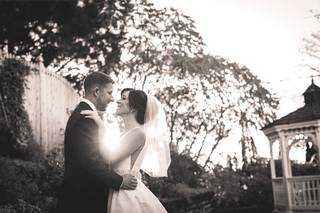 + 26

photos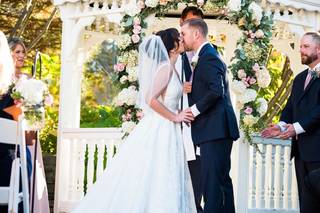 Paula T.

Married on 12/31/2021

The Way a Wedding Should Be

We cannot recommend the Inn on Peaks Island highly enough. We had our small wedding on New Year's Eve so made use of both the Bay View room and the attached heated/covered patio. Jayson and his team were meticulous in helping us think through every detail of the day. Jayson is in a tier of his own when it comes to service professionals. Over the 13 months, we were planning our wedding, he was responsive, kind, and resourceful. We had our families and wedding party stay in the Inn which has been beautifully renovated. We had a brunch wedding with an incredible spread: the food is delicious and thoughtfully prepared.

This is not a venue that is trying to give you a cookie-cutter wedding - they offer everything that you could need, but also want to ensure that your vision comes to life. A few examples: a few weeks before the wedding we asked if we could add a stout to our beer list. The bar is stocked by Shipyard and they were not able to get any in for the wedding. Jayson generously offered to go out to the grocery store and buy us some Guinness to ensure we had a stout on the menu. He was there on the 6:45AM ferry the morning of our wedding to open the salon and ensure my wife and her bridesmaids had breakfast. Finally, we had a few gluten-free guests and asked if they could mark which food was gluten-free: Jayson proactively offered several gluten-free options including making their signature lobster rolls with lettuce wraps so all of our guests could enjoy some Maine lobster. My parents flew into town back in October and we showed up on Peaks Island unannounced. Jayson dropped everything and gave my parents a full tour of the Inn on Peaks - they told us it was the highlight of their trip.

We researched so many venues along the Maine coast but as soon as we walked in the doors of the Inn on Peaks, we knew it was the place for us. If a one-stop-shop wedding venue on a quaint island with whole-hearted Maine hospitality is your cup of team, then book The Inn on Peaks.

Jennifer H.

Married on 07/09/2021

Tour of the Inn

From the moment we stepped in the door Jayson and Olivia were so very helpful. My heart and mind are at ease in my plans to work with them for our wedding day! Very excited to begin this process!!

Kate B.

Married on 06/26/2021

Amazing Wedding Location

As anyone reading through reviews will quickly learn, you cannot talk about the Inn on Peaks without talking about Jayson and his team. From the first day we met him he was nothing short of a delight, and he truly orchestrates the perfect wedding weekend. He was an amazing partner in decision making (covid delays, vendor recs, etc.), provided seamless coordination with vendors, and made our whole Peaks experience wonderful. Even our tasting was incredible with him playing host!

The venue is stunning, the grounds are impeccable, the food is superb, the bartenders made our guests laugh - there isn't a single wedding element that the Inn on Peaks doesn't completely hit out of the park. With that as a base, and Jayson running the show the Inn creates the ideal wedding for any couple.

We can't cover all the incredible effort and sublime care that Jayson and the team put into our weekend in this review but trust us, and the litany of other glowing reviews, that working with Jayson and the Inn on Peaks is a no brainer. You're thinking, is he really that incredible? He really is. THANK YOU JAYSON!

Are you interested?

Send a message

Kelly D.

Married on 03/08/2021

Outstanding!

Planning and executing a wedding during a global pandemic was certainly not easy but we did it! Jayson and Olivia handled every single detail to ensure that our daughter's wedding was absolutely perfect! They were very flexible with all of the changes that occurred and adapted without hesitation. The food was outstanding - our guests continue to reach out to tell me what a great time they had. The venue and newly renovated rooms are beautiful. The grounds are a gorgeous backdrop. I highly recommend working with Jayson and his team for your wedding! Wedding 8/15/2020

Gabriella G.

Married on 09/26/2020

Highly recommend

I truly cannot recommend the Inn on Peak's enough for your wedding. From the first day we toured the venue, through a COVID postponement and right through our wedding night, Jayson and his staff made us feel like we were the only wedding on their calendar. Jayson was responsive and incredibly helpful with every email and request we had for 2 years. Your tasting is a personal experience and every time we visited the inn Jayson gave us a hug, poured us a drink and took the time to chat with us. The inn was incredibly accommodating and considerate when COVID changed our plans. On wedding day, Jayson and Kiersten not only made everything easy for me, my groom and family but even laughed cried and danced with us. The inn is a beautiful setting, the food is phenomenal and the staff there will make your day absolutely perfect in every way from beginning to end.

Look no further for the BEST Maine wedding venue!

Samantha R.

Married on 11/16/2019

Best day ever.

Reflecting back on our recent wedding at Inn on Peaks Island, this was truly the best day of our lives! Jayson helped to ensure that all my planning came to life and the place had the look and feel I intended. Actually, it was BETTER than I had even envisioned, which was amazing. The space was perfect for our group and I liked having the rooms segmented for the different chapters of the evening. My guests were comfortable and enjoyed the boat ride over and the true "Maine Experience" of traveling to the island for our special day. Jayson was helpful in coordinating with all my vendors the day of, which cut down on a lot of potential stress. It was also really convenient (and cozy!) to stay on site at the Inn with my wedding party and family. I really enjoyed our beautiful and spacious bridal suite where I got dressed for the wedding. The food was delicious and the service was excellent...they even made our own specialty cocktails that I enjoyed throughout the evening. I'd do it all over again if I could and make all the same choices.

C.v.

Married on 11/02/2019

No complaints!

No hidden fees, what you see is what you get in the package. Throughout the entire process it felt as though we were the only wedding at the venue. Beautiful reception space and food was actually delicious!

Kaitlin

Married on 10/19/2019

Amazing- perfect Maine venue

We've loved our experience with the Inn so far! We can't wait to get married there in October.

Kaitlin P.

Married on 10/19/2019

The best! Get married here..

Jayson and the team we're AMAZING. It was truly the best wedding experience we could have hoped for.

Megan C.

Married on 10/12/2019

Thank you! I wish we could give more than 5 stars

Jayson and his team at the Inn on Peaks could not have done a better job for us. We cannot recommend them highly enough. Jayson made things incredibly easy for us both before the wedding and the day of. That we did not need to hire a wedding planner at all speaks to the level of service he provides. The Inn itself was the perfect space for a wedding of our size (~165 guests), and we were able to hold our ceremony on the front lawn - no guest transportation necessary. We also loved the food, both during dinner and cocktail hour. What we tasted was truly what we got on the big day. Overall, we felt like we were incredibly lucky that our wedding was so stress-free. Thank you Jayson!

+ 8

photos

Laura M.

Married on 10/05/2019

Best ever!

We started planning our wedding a year in advance and had a couple venues set up to view. The inn on peaks was our first and only venue we looked at. We fell in love instantly. It had that backyard feel, met our price range and ocean views! Planning our wedding was flawless with the help of Jason. The food, the ferry ride, the inn was all perfect. Everyone at my wedding raved about it and how it was a perfect wedding! I can not recommend the inn on peaks enough!

Erika

Married on 09/13/2019

Magical & Wonderful!!

The Inn On Peaks Island was the PERFECT wedding venue for my husband and I. Jayson and his team made our day flawless and we would HIGHLY recommend them to anyone.

Amanda

Married on 08/17/2019

Dream Wedding Venue

My husband and I got married here this summer and we can not imagine having our wedding reception anywhere else! We got married at a church nearby and then had our reception and our entire wedding party stay at the Inn for the weekend. It was perfect- highly recommended! Jayson was a huge help and somehow managed to answer our hundreds of questions prior to the wedding. The food was amazing as well, a great chef! Being from the area we have high expectations for lobster rolls and they were definitely better than any other wedding we've been to- their mini lobster rolls were huge! The price for this venue is well worth it- if anything we were surprised how low the cost was for everything that is included! The ferry was a fun experience for all of our guests although it did add a little stress given the ferry only runs once an hour, I was concerned some of my older relatives wouldn't make it but everyone did even in the height of tourist season! Overall an amazing experience and highly recommended!

Aly

Married on 07/13/2019

The best decision we made

We cannot say enough great things about holding our wedding at the Inn on Peaks Island. Working with Jayson from start to finish was an absolute dream. He was a true professional and responded quickly to all my many questions. He and Victoria made the whole planning process simple, easy, and dare I say enjoyable. It was great having the entire day in one place and not having to shuttle between locations. My guests are still raving about the food (the mini lobster rolls in particular) to this day - 8 months later. If you are considering a wedding within the Portland area, do not overlook the Inn on Peaks Island! The cost of the venue is well worth the service and everything else you receive. You will not be disappointed.

+ 6

photos

Adam S.

Married on 07/06/2019

Tremendous Experience!

We could not have been more happy with our Inn on Peaks Island experience! Beautiful location, great food, and amazing staff. Jayson (Wedding Director) was tremendous throughout the whole process - inviting us out to visit whenever we wanted, answering questions promptly, and even engaging with our parents and relatives prior to the big day. Despite dubious weather conditions the day of, we had complete confidence in Jayson and his team to take care of things (and they did, despite getting soaked). We will always be grateful to Jayson for making this such a wonderful occasion for us, and we highly recommend the Inn on Peaks Island!

Christy T.

Married on 06/28/2019

Couldn't have asked for more

The Inn on Peaks Island was perfect for us. We wanted a venue near the Portland airport for friends and family traveling from away, something with good natural light, and reasonable pricing for a roughly 120-person guest list. What we didn't expect was such an amazing coordinator (Jayson)--we couldn't have asked for more. It was a perfect set up for a couple who didn't have a wedding planner and were doing a lot on their own, but didn't want to worry about who was going to be in charge of logistics on the day of. Would HIGHLY recommend the Inn on Peaks Island. (The only thing to be aware of is travel logistics to/from Portland proper, especially for guests with limited mobility, but there are golf carts and taxis for when golf carts aren't available, but the .3 mile walk from the dock is easy for most.)

Meg

Married on 06/22/2019

Summer Wedding Bliss

I can't say enough wonderful things about our incredible wedding reception at the Inn on Peaks Island, and the supportive team.
I'm a very Type A bride who planned 90% of the wedding remotely. Jayson was so easy to work with - always very quick on responses, provided clear explanations, and had everything that we needed to plan for our wedding. He provided guidance from other weddings without being too pushy, and even though I probably drove him crazy with all of the questions, he never acted like I was bothering him or an inconvenience. Especially on the days leading up to the wedding, Jayson and team were so extremely helpful! On our wedding day, Jayson did an incredible job keeping us on schedule, seamlessly following from activity to activity. I was blown away by his wedding coordination and really couldn't have asked for anything better. As someone who was so nervous about the schedule and coordination for the day of, I definitely shouldn't have been, as I felt taken care of the whole day.
For the Inn itself, it is a really beautiful location, with plenty of room to dance, sit outside, play games, etc. It was great that our guests were able to relax how they wanted. There was a lot of decorations that are included as well, which is great for saving money on purchasing decorations. The food was absolutely delicious as well - I would highly recommend the late night food if you are able to include that. Our guests are still talking about the late night lobster rolls and pizza.
The only downside is that it's hard to see from the dance floor, for the cake cutting and the first dances, but was small in comparison to all the amazing pluses of the venue.
We also loved the approximately to the beach (we had some great photos) and the Inn rooms on site!
Honestly, you won't be disappointed if you have your wedding at the Inn on Peaks Island. I would 100% recommend!

Ib Miller

Married on 06/08/2019

Nothing short of amazing

The Inn on Peaks was the most wonderful wedding venue imaginable. Our guests had the unique experience of seeing Portland, boarding an quick ferry, and visiting Peaks Island, a picturesque Maine Island. The Inn itself is a beautiful venue with great attention to detail. The food served is excellent; our guests raved about the lobster rolls in particular. Jayson, the wedding coordinator at the Inn, is probably the best thing that could happen to a couple planning a wedding. He is so friendly first and foremost. He is also excellent at his job - incredibly knowledgeable about weddings with the most helpful tips for logistics, he is patient, responsive, and takes care of everything. If something went wrong at our wedding, we have no idea, because all we saw was a perfect wedding, and we credit that to Jayson and his team. From start to finish it was a dream.

Edward P.

Married on 06/01/2019

Beautiful Early Summer Wedding

My wife and I were fortunate to celebrate our June 1st wedding at the Inn on Peaks Island. As soon as we saw the Inn from the very charming ferry -- we knew we had chosen the right venue. Jayson and the entire staff at the Inn made us feel welcome and at ease from the menu tasting earlier in the year, to the ease of communication and booking leading up to the big day. We said our vows in front of family and friends in their beautiful outdoor ceremony space overlooking the water. The restaurant, bar, and event meals were fantastic throughout. Service was professional but very warm and comfortable. We really couldn't be happier with Jayson -- he was on top of things we hadn't even thought of, all while making us feel like we were old friends. 10/10 would get married there again. We already plan to visit on our 1st anniversary!

Ann A.

Married on 05/26/2019

Absolutely perfect!!

Jayson and the whole team at the Inn on Peaks Island handled all the details for our wedding so seamlessly—and always with a smile. A joy to work with. The location is fabulous! Our guests who didn't stay at the Inn enjoyed a beautiful sunset on the ferry ride back to Portland. A "destination wedding" on the gorgeous coast of Maine. Couldn't have been better!!

Lindsay Q.

Married on 05/10/2019

Best day of our lives!!

Thank you so so much to the entire staff for making our wedding the most amazing day of our lives. HUGE thank you to Jayson for seeing our vision through and providing endless support with all of our vendor partners who made our day magical.

The venue specialist was wonderful. The promoxity to the ferry is great. The stsff were splendid.

Jasmine M.

Married on 10/20/2018

Wedding 10.20

This venue was absolutely amazing. The wedding planner, Jayson, was so organized and handled everything that came up. I would not change a thing and I would 100% use this venue again. It was everything I wanted and more.

Marissa

Married on 10/13/2018

Words Cannot Describe

Just breathtaking when I saw everything come together! Jayson and his team at the Inn and the beautiful space make the entire experience easy and perfect for a New England wedding. Do not be intimidated by the ferry. It is so easy to just provide the instructions with the ferry time etc in the invitation/wedding website. Everything worked out smooth, vendors and guests all arrived without delays. I recommend telling guests to stay in airbnbs on the island, book in advance. Both of our families stayed at the Inn (rented out the entire place), which was so amazing and gave us the opportunity to spend the weekend together and make memories that were so special. It is not just about the wedding day but the entire wedding weekend. The Inn is so accommodating and the communication throughout the year of planning was just fabulous. And, the FOOD (which is one of the most important things at a wedding ) was just amazing. Highly recommend this venue!!!

Ralph

Married on 09/15/2018

Had a great experience at my daughter's recent wedding at the Inn On Peaks. Jayson and the entire staff were great, professional and friendly. I heard many guests very complimentary of the food as well. The location and set up were beautiful. The Ferry's are a complication but - in a way - a fun complication. I will never forget my daughter peaking over my shoulder from her balcony room watching about 125 well dressed guests coming up to the Inn from the Ferry a couple of hundred yards away. It is quite a sight - it did seem that many guests enjoyed the novelty of a ferry ride. Thanks to all the staff at the Inn - it could not have been better.

Are you interested?
Send a message