269 Reviews
Recommended by 98% of couples
Quality of service

4.9 out of 5 rating

Average response time

4.9 out of 5 rating

Professionalism

4.9 out of 5 rating

Value

4.9 out of 5 rating

Flexibility

4.9 out of 5 rating
228 User photos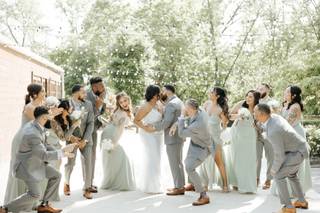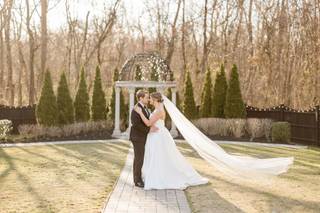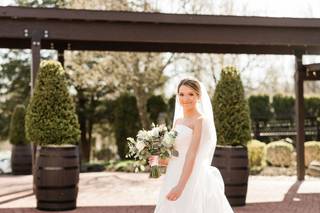 + 224

photos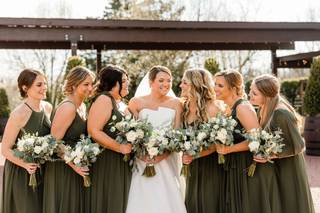 Tenae G.

Married on 05/18/2023

A Dream Come True

Hamilton Manor was everything we imagined and more!!!

Kristina

Married on 05/05/2023

Speechless

The food, the service, the venue… indescribable. Couldn't have pictured getting married anywhere else. It was perfect ❤️

Casey K.

Married on 04/28/2023

Amazing!

4/28/23 Wedding and I am still dreaming about the day and how sad I am that it is over!!!!! I cannot recommend the Hamilton Manor enough. This was the first venue we went to back in September of 2021. One step into the ballroom and I knew it was the place for us. I had a very specific goal of finding a ballroom with no carpet, so the Hamilton Manor was an immediate possibility. After our tour we sat down and found out there was SO MANY things included. It was a no brainer. We were told there were no dates available in 2022 so we went with early 2023 and in my head I said "great more time to plan!". Well, I really didn't have much planning to do because of how much the Hamilton Mannor included. Shannon was our coordinator, and she was amazing, giving prompt responses to my many one-off questions! In November 2022 we had our tasting, where we got the full experience of what to expect and it only made us more excited. When it came to the day of the wedding, it was torrential down pouring all day. I truly did not even notice and it didnt make a difference, other than missing out on a few outdoor picture locations. Everything was even more perfect than I could have imagined. I was not stressed out for a single second on my wedding day and that is all thanks to the staff. Everyone was so amazing and accommodating. The bridal attendant and maitre d made sure that my husband and I had everything we needed at all times. There wasnt a second where we didnt have drinks in our hands. They reminded us to eat, took care of any possible mishaps before they even happened, and especially took care of some of our older guests who needed some special assistance throughout the night. The food was incredible. Everyone was STUFFED after cocktail hour but still found room for the amazing dinner and desserts. We had 245 guests, so I was nervous about the bar and potential back up, but with 5 bartenders there was never a line, and all the drinks were delicious. The ballroom was absolutely stunning. Truly, I have not one bad thing to say about the day. Everything was perfect, stress free, and fun. I could not be happier with the Hamilton Manor!

Are you interested?

Send a message

Nicole F.

Married on 04/23/2023

The best venue!

The Hamilton Manor is so beautiful and it is a wonderful place to have your big day! We had our wedding there on 4.23.23 and it was awesome. The people were great, the food was amazing and there are so many places to take photos. We loved our Wedding Director, Shannon and all of our guests had a great time! The barn such a great place to have a ceremony and the ballroom is really enchanting. Can't imagine having had my wedding anywhere else!

Jess E.

Married on 04/08/2023

Absolutely wonderful!

The Hamilton Manor is the perfect place to have your dream wedding. Our wedding was smooth start to finish. Our wedding ended and I immediately wanted to have another wedding. Erin, Olivia and Lloyd were so wonderful and helpful during our event. Our guests keep raving about the food and how fun it was! Highly recommend having your wedding or next event here!

Brianna G.

Married on 04/07/2023

Best venue ever!

I cannot say enough positive things about the Hamilton Manor as as venue and the staff. From the second we walked into the Hamilton Manor for our tour we knew it would be the perfect place to have our wedding. Diana, our coordinator, was absolutely amazing to work with. She answered all of our questions throughout the planning process and helped to make our dream to come to life. Lloyd and Olivia, our maitre d and bridal attendant, were awesome. They, along with Diana, made our day so perfect and seamless. We really cannot thank The Hamilton Manor enough for giving us the best day ever!

Stephanie B.

Married on 03/10/2023

The best!

The Hamilton Manor exceeded all of our expectations. We booked in January 2021 with Melissa and I couldn't have been happier with her. Planning a wedding is so stressful and Melissa was there through it all. She truly felt like a friend during this whole process. Olivia and Lloyd were AMAZING the day of our wedding, they were always by our side. Our guests were SHOCKED at the amount of food at cocktail hour and they couldn't stop talking about how beautiful the ballroom was. We had the perfect wedding at The Hamilton Manor.

Shanna T.

Married on 03/02/2023

absolutely amazing!

i can't say enough good things about the hamilton manor! they were so easy to work with and the venue is gorgeous. great food, great drinks and overall perfect day. diana, lloyd and kristen were absolutely the best!

Patrice H.

Married on 02/26/2023

Great day!

We had our wedding last weekend 2/26 and it was absolutely beautiful! Diana was amazing throughout the entire process and the day was so perfect. Even our bridal attendant Jade and maitre D Lloyd were excellent making sure that everything ran smooth. I couldn't ask for a better team!

Amy

Married on 02/23/2023

Magical and unforgettable!

My husband and I just got married about a month ago and couldn't be happier with choosing Hamilton Manor. We were in communication with a wedding director throughout the planning process and there was not a thing to worry about they day of the wedding. You know what to expect from the information they provide to you and all the enhancements that are available to you. The wedding director, maitre d', and wedding attendant were all very attentive to our needs. Our guests loved the appetizers and entrees as we did as well. Bottom line, the services, food, and venue were a 10/10!

Hannah A.

Married on 02/17/2023

Amazing experience

People cannot stop saying how amazing the food and entire wedding was. More than I could have expected

Jennifer L.

Married on 02/11/2023

Amazing venue - Hamilton Manor

I can't say enough about Hamilton Manor.  The facilities, food, atmosphere, professionalism, communication - everything is amazing.  All our guests left our wedding marveling at the venue.  They loved how each section of the venue was so different but full of character, and they really enjoyed all the food.  Melissa, our wedding coordinator at the Hamilton Manor, worked with us since day 1 of our wedding planning.  She answered all our questions promptly, gave lots of suggestions to help aid our planning, and was very flexible.  On the day of our wedding, my husband and I had such a smooth stress-free day, and it's really thanks to Melissa, our bridal attendant, and our maitre-d.  They did all the set up, made sure we were taken care of throughout the night, and took care of any little situation that came up.  We highly recommend Hamilton Manor to anyone who wants to have an unforgettable wedding! 

Amanda M.

Married on 02/10/2023

The best day at the best place!

I can't say enough wonderful things about The Hamilton Manor!! We had our wedding here on 02/10 and it was everything we'd hoped it would be! Diana, our wedding coordinator, was there with us from the beginning and she was amazing! Super easy to get in touch with and she answered all of our questions and concerns. We fell in love with the venue right away & booked immediately. Our day of team, Diana, bridal attendant Olivia & maitre d Lloyd made sure our day went off without any issues! They were super attentive to not only us but our guests as well! We always had fresh drinks and felt like we were the center of attention all day. Our guests are still raving over the food and the beauty of the venue overall! We had THE BEST day and we wish we could do it all over again!

Jessica C.

Married on 02/03/2023

Absolutely Incredible!

We had the most incredible and unforgettable wedding at The Hamilton Manor, and we couldn't be happier with the venue and staff! Shannon was our coordinator and from the day we booked to the very end of our wedding night, she was there every step of the way. She answered any and all of my questions and guided us seamlessly through the whole process. Olivia was my bridal attendant. She was so sweet and made sure I had everything i could possibly need and more. She even gave me her own scarf while we were outside taking photos in the cold. Lloyd was our maître d'. He made sure we had a drink in our hand as soon as we stepped out of the ceremony. He was on top of everything and didn't miss a beat! From the moment we arrived, everything was perfect. The Barn, where we had our ceremony, was rustic and charming, while the Sapphire Room, where we had our cocktail hour, was elegant and sophisticated. And the Grand Ballroom, where we danced the night away, was absolutely breathtaking. The attention to detail throughout the venue was impeccable, and everything was organized and on time, thanks to the amazing staff. They truly went above and beyond to ensure that our wedding day was flawless. We can't thank The Hamilton Manor enough for making our day so special, and we would highly recommend it to anyone looking for a gorgeous and unforgettable venue for their wedding!

Allie K.

Married on 01/15/2023

A truly magical day at Hamilton Manor

We had a truly magical wedding day at Hamilton Manor on 1/15/23! We first fell in love with the venue and its mix of rustic meets glamour meets modern from our very first tour and booked on the spot. The mix of spaces (garden gazebo, barn, ballroom) will bring any bride's vision to life. An added bonus was everything that comes included with your wedding date (table number options, choice of centerpieces, wedding cake, open bar, etc). There are also a number of cool enhancements you can add on at an upcharge. Our coordinator Melissa was so helpful and responsive throughout the entire planning process and made sure everything ran smoothly on wedding day. My bridal attendant Kristen was amazing, and my husband (!) remarked on how impressive it was that she seemed to be everywhere all at once the whole day, making sure we both always had a drink in hand. Overall, we had the absolutely picture perfect wedding. Thank you Hamilton Manor and staff for such an amazing experience we'll never forget!

+ 2

photos

Chris L.

Married on 01/14/2023

Best Wedding Reception Ever!!!

Everything was completely wonderful for our wedding reception on 1/14/23! The issues that cropped up were due to our mistakes and were solved immediately by their staff. Our wedding director Shannon was very responsive and helpful throughout the 18 months we planned this wedding with her. On the night of our event, Olivia (our bridal attendant) and Lloyd (our maitre d') were attentive and anticipated everything we needed throughout the night. Our guests had a total blast and loved every moment of cocktail hour downstairs and the ballroom for the reception. They were exclaiming especially high praises for the food throughout the night. Again, such a wonderful experience. Thank you to Hamilton Manor for everything!

Jennifer C.

Married on 01/07/2023

Best venue ever

I had no idea what to expect during the wedding planning process or even on our big day, but the Hamilton Manor was an absolute dream come true. Erin was our coordinator and was such a pleasure to work with. She was always available whenever I had questions and made the planning process and the big day run smoothly. The venue is gorgeous. There are so many different places /vibes for pictures ( barn, foyer, speakeasy cocktail hour, gazeebo, gorgeous reception area). Our guests are still talking about what an incredible wedding and what a beautiful venue we chose weeks later, and how accommodating and friendly all of the staff were. The food was incredible, bar was great, scenery is amazing, it was simply the best day ever. If I had the opportunity, I would choose the Hamilton Manor 1000x over again. Can't thank them enough for everything!!

Danielle D.

Married on 12/30/2022

High Recommend The Hamilton Manor!

Our wedding was on December 30, 2022 and it was incredible! Everyone at the Hamilton Manor was professional, accommodating, kind, and had every detail down to a science.

Our journey started with Shannon when we booked two years ago. Right from the beginning she was attentive and helpful. Throughout the planning process she always responded to my emails quickly and was specific with her responses.

As we got closer to our date, we were able to coordinate so that we could drop off our decorations and details and it was so quick and easy. I was continuously surprised by how efficient everything was. We also decided to use vendors that were recommended by the Hamilton Manor. This made everything even easier as they all knew the venue and the team well.

The day of the wedding we had the ceremony in the barn (absolutely stunning!) and the reception in the ballroom. We paid for additional add ons (waterfall wall, LOVE light up letters, ceremony lanterns) and they really made a difference. People took so many pictures by them and it really brought everything together.

Our guests could not stop raving about the food! We have a big Italian family and the cocktail hour was the talk of the night. Some of us he guests thought that was the entire dinner because there was so much food! People also could not stop taking about the braised rib and mashed potatoes with the sit down dinner. We also did the boardwalk station for dessert with fried Oreos, churros , and funnel cake as well as the Italian dessert bar and people were gushing about how good it was. I cannot say enough about how good the food was. Honestly, the food tasting did not do the actual night justice! The team put together a cocktail hour sampling for us to eat before we went to the reception and everything was sooooo good!

At the end of the night, the team packed up all of our stuff and had it on our shuttle without us needing to do a thing! Seriously, they have every detail down.

This venue, without a doubt, was the best decision we made. It is STUNNING. The staff is beyond professional (I cannot say enough how great Shannon the wedding director and Olivia the bridal attendant were) and made sure we were taken care of the entire night. Even the owner went out of his way to talk to us and thank us at the end of the night. There are so many places for pictures and special moments. I would highly recommend the first look package as we had time to take all the pictures that we wanted (and there was additional food!).

During our venue search, this location had it all. Really reasonable prices, incredible location, amazing additions, and the outstanding service really solidified our choice. I would HIGHLY recommend The Hamilton Manor!

+ 5

photos

Grace T.

Married on 12/22/2022

Simply the best!!

From our first interest meeting to our wedding day we couldn't have been happier and more satisfied with The Hamilton Manor. The looks of the place alone speaks for itself but the food and the STAFF bring it to a whole other level! Shannon is incredible at what she does and will do everything in her power to make your day unique and all you want it to be while comforting you through the entire, stressful promise. Best decision we made throughout the process was this one!

Alyssa L.

Married on 12/09/2022

Amazing and Flawless

We can't say enough good things about The Hamilton Manor!! Everything was literally flawless from start to finish. Diana was our wedding coordinator and was always more than happy to answer any questions we had throughout the entire planning process. She was on top of everything the day of the wedding and just has the absolute best attitude always!!! Olivia was my bridal attendant and got me everything I needed all night without question. She was amazing!! The food is AMAZING!!! You get so much food for your money. Every single guest that attended the wedding couldn't stop saying how it was the prettiest venue they have ever seen and how amazing the food was! When we walked into the barn and ballroom the day of the wedding, our jaws dropped. They made sure every piece of wedding decor was placed perfectly throughout the venue. You don't even need much because the venue itself is just flawless. I cannot say enough good things about this place. You will not regret booking the manor for your wedding venue!! 100000/10 recommend!!!

Brittany B.

Married on 11/05/2022

Beautiful Barn Wedding

My husband and I fell in love with The Hamilton Manor immediately. We had our ceremony by the gazebo and reception in the barn. Having your reception in the barn is 100% worth the extra money. It was exactly the vibe I was going for! Our wedding coordinator, Diana, always answered our questions and was extremely accommodating. Thank you hamilton manor!

Cali F.

Married on 10/22/2022

Cali & Samanthas Wedding- 10/22/2022

What is a wedding without the venue? The Hamilton Manor hit all of checkmarks. We were able to have a rustic style ceremony in the barn, wine cellar feel for the cocktail hour, and the elegant atmosphere for our reception. There are so many photo shots throughout the entire grounds. Right from the first time we walked through the venue all the way until the very end of our wedding night… the grounds were everything we ever hoped and wished for! Shannon was our wedding director and so helpful throughout the entire time process! We had so many questions and some may say a little annoying but Shannon did not mind at all. She was always willing to explain details and quick to respond! During the food tasting, we were able to sit with her to go over the final detail options. The Hamilton Manor makes it super easy since they offer different linens, centerpiece options, table number styles, etc. We did the first look package, so we had access to both the bridal / "groom" suites. They had drinks, sandwiches & light beverages for the bridal party set up in the suites. Our bridal attendant (Hannah) was fantastic and so sweet! She was always there throughout the night for anything we needed along with Shannon. The maître d' and other staff was always available and on top of any task no matter how small it was. The bartenders were great and made phenomenal drinks all night! You get some much food that is included… and on top of it… the food was delicious! This venue has so much to offer for a reasonable price! The food, service, and staff were top tier for sure!

Jamie J.

Married on 10/20/2022

Incredible!

I would recommend The Hamilton Manor to everyone! Shannon and the entire staff were nothing short of professional, caring, attentive, positive, upbeat, detail oriented and top of the line!

Our experience was a dream. Shannon took the lead of the day and really made our ceremony perfect. I can not put into words how incredible the cocktail hour and dessert stations were.. we still have family and friends raving about it.

We dreamt of this day for almost 2 years and the entire staff delivered excellence! Every single person working there helped make it perfect. We are so great full for you all!

Gina Z.

Married on 10/09/2022

Exceeded expectations!

I am speechless! My husband and I got married Sunday 10.09.22 and we were OVER THE MOON with our experience at The Hamilton Manor! For two years we worked with Melissa planning every single little detail ! Melissa has been a pleasure to work with and she made sure everything was absolutely PERFECT for the big day! Our bridal attendant Kristen went above and beyond the day of our wedding (she would not let me hold or help her with anything lol) she was absolutely amazing in every way! Our maître d' was incredible as well !! the two of them always came up to check on us and made sure everything went as smooth as possible! We truly cannot thank The Hamilton Manor enough for everything! They truly exceeded our expectations!!!

Erica N.

Married on 10/01/2022

Beautiful Venue!

My husband and I loved the Hamilton Manor. From the day that we toured it we knew this was where we wanted to get married! Melissa was our wedding director and she was fantastic to work with! We live out of state so she tried to be accommodating in any way possible with us. She also answered my million questions no matter what they were and I really appreciated that! We had our ceremony in the barn, cocktail hour downstairs, and our reception was in the ballroom. Every room was beautiful and we couldn't have asked for better food, service, or venue!
Are you interested?
Send a message