Reviews
4.8 out of 5 rating
Quality of service

4.8 out of 5 rating

Average response time

4.8 out of 5 rating

Professionalism

4.8 out of 5 rating

Value

4.8 out of 5 rating

Flexibility

4.9 out of 5 rating
96%
Recommended by couples
21 User photos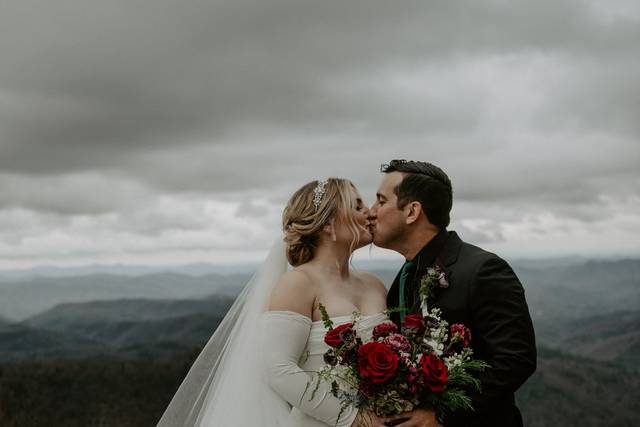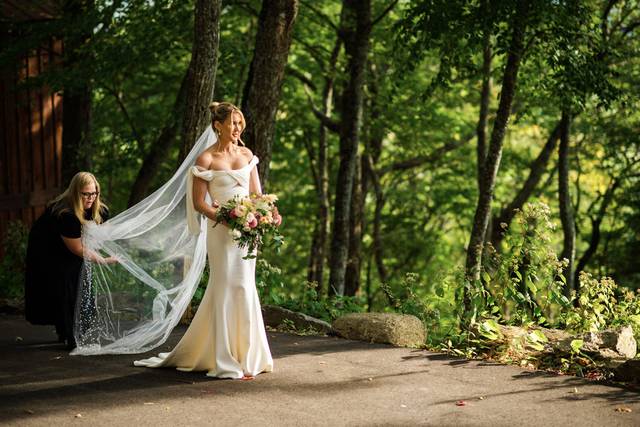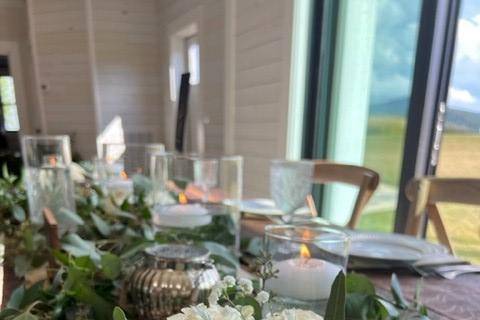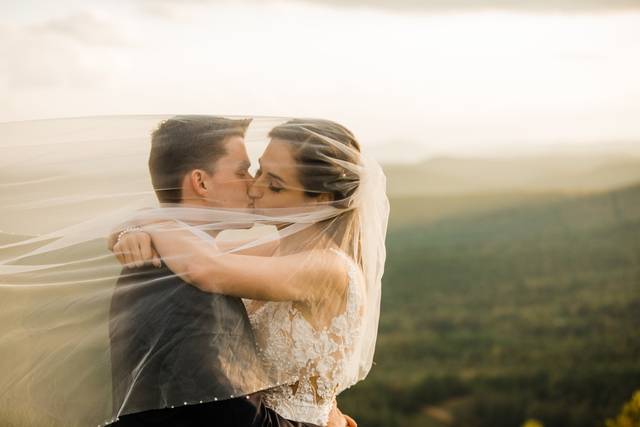 + 17

photos
Sharon R.

Married on 08/26/2023

Top Notch, Professional Planner

We hired Megan Drake and team from Elegant Events to assist with my daughters wedding on 8/26/2023 at Overlook Barn on top of Beech Mountain. Megan provided above and beyond every single thing promised and contracted for, and then some. Mountain top logistics can be a challenge and boy did they come through - experienced suggestions - detailed and thoughtful, professional execution. Wedding day was relaxing - seriously!! and beautiful - things ran like a top. Megan and team even bustled Cassie's dress for cocktail hour and reception (who knows where I was). Highest of recommendations for Elegant Events and Megan Drake. Almost (almost), wish I had another wedding to plan.

Mariel G.

Married on 11/12/2022

Chetola Wedding November 2022

If you need a competent, calm, and fabulous team, hire Megan! She is always on top of everything. She provides sage advice, but lets you control the day to ensure that it's exactly how you and your spouse want it to be. We had some weather issues (coming off Hurricane Nicole) and Megan was instrumental in helping us make a calm, informed decision. Megan and her team executed all the very special, small details perfectly. I could not imagine the day without her and her team!

Allison

Married on 10/15/2022

Wedding with bad weather

The Elegant Event did a great job assisting in the planning of our wedding as well as the day of management. We got married in the aftermath of Hurricane Ian in NC. By the time the ceremony started, the weather was awful and only got worse. The Elegant Event handled the situation beautifully and remained calm and organized the entire time. We had some changed the the schedule and curveballs throwing there and it did not faze them.

Are you interested?

Send a message

Emma R.

Married on 10/14/2022

Absolutely the best

Megan is the person you want on your side through the wedding planning process and on you day. She will ensure your day goes smooth and answers any questions you have along the way! She has my highest recommendation.

Brooke

Married on 10/10/2022

Flawless from start to finish!

Megan with Elegant Events was the sweetest person and extremely easy to communicate with. As a same sex couple, it can be difficult to find someone to work with who not only accepts you, but will also treat and help you like they would anyone else. Megan and her team far exceeded our expectations and made us feel so loved and supported. She was honest and gave some of the best advice and she also helped us in a time of crisis. We had so many questions about placement of certain things for the reception, since this was a destination wedding and we were planning a North Carolina wedding from Florida, and she instantly calmed our nerves by telling us to trust her that everything would be perfect and work out. Being able to trust her was super important, and at no time during the year-long planning process did we ever question her trust. If we wanted something to happen, she made it happen. Arrange a rainbow donut wall desert table? For sure! Set off 7 smoke bombs for a photo opportunity? Absolutely! She truly is amazing at what she does and we would recommend her to anyone. If you have the privilege to work with Megan and her team, jump on it, you will not be disappointed! Without her we wouldn't have been able to have the dream wedding that we had!

Nikki

Married on 09/29/2022

Mountain Wedding

I am still gushing to friends and family about the fairy tale that was last Thursday! Our wedding had a venue outdoors so we had to work with Mother Nature… Megan brought us all relief after quickly pulling together the vendors to be inside a tent when the temperature dropped at night. Most of all, Ihad no worries on the day of my wedding!
Megan is kind, can multitask, is prepared for last minute changes and handles herself gracefully. She helped pull together the best night of our life. ☺️


C Baumel

Married on 09/29/2022

Carolyn (Brides Momma)

I met Megan at absolutely the most glorious event and knew that should any of my girls want a NC event - there's only ONE MEGAN!!!!!! And yes, Megan went above & beyond for all of our wedding events. I only hope that my other daughter will want a wedding in NC. Ask me anything - The Ekegant Event is the Best!!! Love you Megan & your crew too❤️❤️❤️❤️❤️

Leanna P.

Married on 09/25/2022

Best Wedding Planner/Coordinator!

Megan is an exceptional wedding planner/coordinator! She has everything down to the minute to make for an extremely smooth wedding experience. Megan helped us choose vendors and is super quick in responding to any question or concern. Megan's expertise is astounding and I couldn't be more happy with our wedding and working with her. I highly recommended working with The Elegant Event.

Matthew A.

Married on 09/10/2022

Megan Drake

Megan is a rock star. Always available, always responsive and made our event run like clockwork without any additional stress and all the while keeping it fun.

Kate B.

Married on 07/22/2022

Best Wedding Team!

Thank you! Megan for keeping us calm during the mix up at the church and ready with alternatives should we need to make a change! To ensuring the day went smoothly and keeping us all on track. Sarah, the set up of the space and s'mores bar was perfect! As was the entire venue space. And thank you for putting my mind at ease to the point that I was actually able to enjoy the day

Maura M.

Married on 09/26/2020

Stress Free Day!

Megan and her team did an incredible job managing the planning, vendors, and timeline of our special day. Having Megan as our wedding day-of event coordinator allowed us to sit back and enjoy our wedding, while she seamlessly managed every detail in the background. She provided insight from her many experiences, and was able to help us navigate the replanning of our downsized wedding and venue layout during COVID. We were so thankful to have Megan and her team, and we would highly recommend The Elegant Event!

Sarah

Married on 09/12/2020

the BEST wedding coordinator

We had the BEST experience with Megan Drake from The Elegant Event. We originally booked Megan for a wedding in May and, due to COVID, pushed it to September. She was extremely flexible and we wouldn't have survived the wedding date change without her. Not only did she answer any and every question we had, she provided advice on how to improve safety during the pandemic and reached out to other vendors to ensure they knew all the details for the day of. On the day of the wedding, she took care of every single question we, and other vendors, had and made sure things went smoothly. I cannot recommend The Elegant Event enough- worth every penny!!!

Katie

Married on 07/31/2020

Incredible!

Megan from The Elegant Event was incredible to work with. I knew from the first phone call that Megan was the right person to help with my wedding coordinating needs. She was so kind and answered all of my questions so quickly! We had to adjust our wedding plans from 100+ guests to only 15 due to COVID19, and she made sure every detail was still exactly what we wanted and envisioned. On the wedding day, her and her team made everything go so smoothly! I can't recommend The Elegant Event enough!

Elizabeth T.

Married on 11/02/2019

LOVED my experience!

I am very much a type-A personality and I thought that would carry over into my wedding planning. What I found instead was that I had a crippling anxiety and decision fatigue that made me feel so overwhelmed and not know where to start.

Enter Megan and her team. From my first conversation with her, I KNEW she was the one to help me with this process. I lived in a different state and didn't meet her until halfway through my planning, but she was incredibly helpful and always available to answer my questions. More importantly, she was always willing to talk to my parents, who in all honesty, did a lot of the planning and legwork for me. She answered their call every time they had a question and wanted to bounce ideas off of, even meeting in person several times since they are local.

When she found out partway through my planning stage that she was pregnant, I was honestly nervous. Who would be there on my big day? Everyone recommended The Elegant Event specifically because they thought Megan and I would click. I was so nervous but Megan's team was amazing on the big day.

Wedding planners/coordinators are expensive, but The Elegant Event was worth EVERY PENNY.

Simona

Married on 10/12/2019

Charlie's Angels Have Nothin' On You...#dreamteam

On October 12th, we had the wedding of our dreams and I cannot imagine our day without the Elegant Event team. We booked them as our day-of-coordinators and it was the best decision we ever made! During the planning portion of our wedding, we had ongoing communication with Megan Drake. Our wedding venue was near Boone, NC but we had to plan our big day all the way from Boston, MA. This process was seamless thanks to Megan! You guys, her knowledge, professionalism, reliability and down-to-earth nature are everything you need in an excellent wedding planner. Megan will go above and beyond for you! That's just who she is. Days after giving birth to her beautiful baby girl, she was at our rehearsal to make sure everything went smoothly. Can you believe that?

On our big day, the day-of-coordinators, Liz and Lara, were phenomenal! They took such good care of us – physically and emotionally! They handled all the little details and were in ongoing communication with our vendor team. We did not have to worry about a single thing and had the time of our lives! Charlie's Angels have nothing on them! Absolute dream team! Thank you from the bottom of our hearts, ladies! ☺


+ 4

photos

Anna S.

Married on 09/07/2019

Amazing!!!

Megan and her team did an amazing job. I hired her for my "day of" coordinator but she was available to speak via email and on the phone leading up to the wedding. She also attended all my meetings with my wedding venue. She did not work my wedding herself but two of her talented team members did. The day was so smooth and flawless! I've never been to a more well executed wedding and I get to say that about my own. If you're questioning getting a planner, do it! The Elegant Events services were worth every penny!

Teresa S.

Married on 06/22/2019

Absolutely the best!!

Megan Drake is an absolute angel! We hired Megan for a "Day of" wedding planner and she was worth every penny. She took charge and handled every aspect of my daughters day so we could enjoy every moment of it. It was supposed to be an outdoor wedding and it started to rain and get windy... just two hours before the ceremony. She simply asked if we'd like to move it indoors and then completely changed everything to perfection. She is more than capable and needs only to be left to work her magic! The ceremony couldn't have been more perfect and my daughter never even noticed the difference, in fact, she said it turned out better than what she imagined. We can't thank Megan and her staff enough! They were a MUST for the overall success of the wedding.

Akila M.

Married on 05/18/2019

Provides Structure and Grace

Megan was a wonderful planner for our wedding. I am so happy we chose her. We found her services through Wedding Wire and The Knot as a highly recommended Boone, NC area wedding planner. When I think of how to describe her work, three words come to mind: Peace of mind. She will put you at ease if there are any complications, she'll answer any questions you have in great detail, and most importantly keep you on track during the planning process. She also responds well to quick changes of plan and is able to keep you calm yet on track of the timeline as you enjoy your wedding day. She is very accommodating and professional. Highly recommend.

Marie

Married on 10/13/2018

A Grateful Bride and Groom

I'm writing this review because Megan deserves SO MUCH PRAISE for all her hard work. She was always so kind, responsive, helpful, and supportive throughout my wedding planning process AND wedding day. It felt like a dream the whole time, and it was the kind of dream that wouldn't have been a reality without Megan. I am not only grateful for her expertise, but for her friendship as well. I have been referring Megan like crazy since Mark and I got married. I was actually referring her to others BEFORE our wedding day simply because of the service I was receiving! Overall an awesome experience. Mark and I continue to brag about her and keep in touch with her. THANK YOU MEGAN, YOU ROCK!!!

Lyndly

Married on 09/16/2018

Wonderful Experience!

Working with Megan and her team was such a great experience! We hired Megan to be our day of coordinator, however, it felt like she was involved in so much more than just "day of planning". We talked via email and phone months leading up to the wedding, she met with us for a final venue walk through and even the rehearsal. We actually had to move up our entire wedding in one day due to a hurricane in our area. Megan took care of everything while remaining so calm and efficient! She called all of our vendors for us and made sure everyone was on board with the new plan. Megan and her team were a joy to work with and so professional. She was very thorough and all of her wedding documents kept us really organized. Highly recommend!

Melissa

Married on 09/01/2018

Megan was so amazing to work with. I hired her as my month of planner, but she was always willing to answer my questions whenever I needed her. She was there the day of working with all my vendors to ensure everything went smoothly. She even did an additional boutineer when they got delivered and I realized that I ordered one too few. Thank you Megan. I am so happy that now I get to share my anniversary with you.

Blyss

Married on 08/18/2018

Megan Drake and her assistant Kristin Schonover made our son and daughter-in-law's destination wedding week end at Twickenham House and Hall, ceremony, and reception exactly what they dreamed it would be. We contracted with Megan for the Partial Wedding Planning package and it was perfect! Her recommendations for potential vendors to interview and consider were spot on. In particular, she did a superior job of matching us with spectacular photographer, florist, caterer/cake maker, and DJ, and wedding officiant. The combination of these vendors, along with Megan's direction and expertise brought the wedding of Hannah and Dylan's dreams to life. She clearly listened to Hannah's ideas, visions, and dreams, and gave her the direction and help needed to make it happen. Megan is very responsive and timely in answering questions, and easing concerns and doubts throughout the process. None of the bridal party, or family had to lift a finger the day of the wedding. Everything was done for us and it was seamless and looked spectacular. We have a couple of friends that have kids getting married in the next year, and my advice to them is to hire a wedding coordinator, and if its in the High Country, it must definitely be Megan Drake and The Elegant Event! We are forever grateful. Thank you! Thank you! Thank you! #CheerstotheAlloniers!

+ 4

photos

Mary

Married on 06/23/2018

Working with Megan and her team was awesome. We hired them for day of coordinating services and they went above and beyond to ensure everything ran smoothly. We chose the Day-Of option as my mother and I wanted to be heavily involved in the entire planning process, but would recommend full planning services to avoid wedding planning stress for other brides! Highly recommend!

Sarah

Married on 06/22/2018

Megan was AWESOME. Everything was sent out and done perfectly before the wedding. I had a few bridezilla moments on her on the day of the wedding (I'm easily stressed) and she took them all in stride and made everything happen according to plan! I couldn't recommend her more to anyone looking for a planner. She is super responsive to email, text, you name it (even if you book her only for the mid package). DO IT, you won't regret it! -)

Alex

Married on 10/21/2017

We had a fantastic experience, and highly recommend The Elegant Event. Megan made our wedding day so special, every detail was perfect. All of the vendors she recommended we loved, the whole process was very enjoyable. There is no way we would have pulled off the wedding without her. We cannot say enough good things, and we would absolutely go back to them for any type of event planning!
Are you interested?
Send a message