Reviews
5.0 out of 5 rating
Quality of service

5 out of 5 rating

Average response time

5 out of 5 rating

Professionalism

5 out of 5 rating

Value

5 out of 5 rating

Flexibility

5 out of 5 rating
100%
Recommended by couples
13 User photos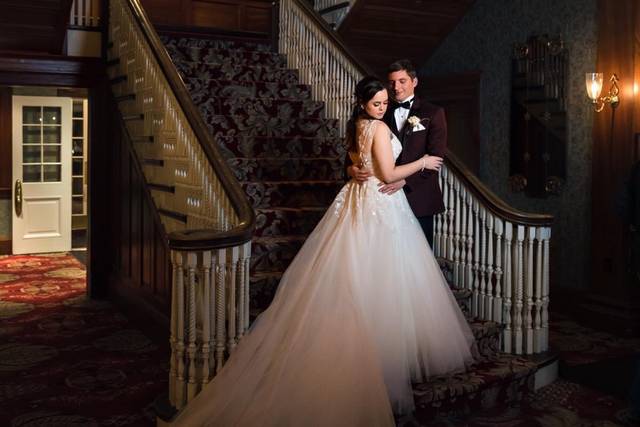 + 9

photos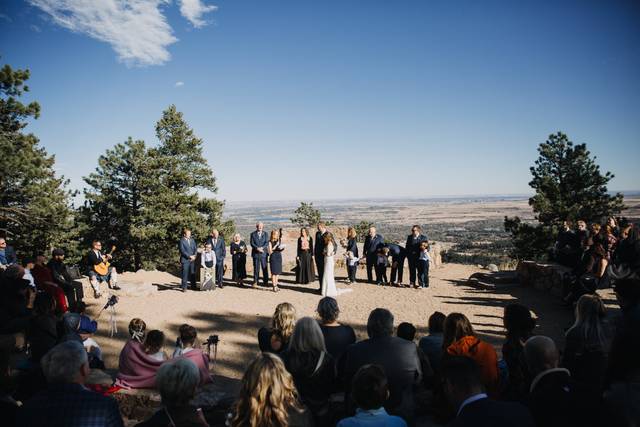 Sarah A.

Married on 05/02/2022

The Day-Of: best wedding planners ever!

Courtney and the Jessies were everything I could've hoped for in a planning crew, plus a bunch of things I didn't even know to hope for. They met me exactly where I was at: uncertain how to pull together an event that felt true to me and my husband. Courtney made my family feel comfortable enough to express their desires and anxieties and somehow coaxed out of us an absolutely killer night. Attending my wedding felt like showing up to a party someone else was throwing for me, but that I had designed.

Leading up to my wedding, people kept asking me if I was stressed. Honest answer: not at all. Thanks Courtney and crew, for giving me the best night of my life.

The Day-Of's reply:

Holy Moly, we love Sarah and Mikey, #dreamcouple! We so enjoyed the entire planning process with the two of you and your families. I felt like it was a true team effort, everyone was a contributor, spoke their minds and was respectful and most of all, we had a total blast working together! Your day was PERFECTION, and we were so honored to be a part of it! We wish you all the love in the world, and please stay in touch! We love you! Xoxo, Courtney and the Jessies

Joan H.

Married on 06/20/2020

Do you want a perfect wedding?

Courtney and the team at The Day Of were absolutely indispensable at my daughter's recent wedding. Every last detail was coordinated perfectly and attended to meticulously. I could not possibly recommend The Day Of more highly. While I thought I was doing great finding and scheduling all of my vendors a full year in advance, that was the easy part. As the wedding approached, The Day Of coordinated all of my vendors and handled everything whether the task was theirs or not. They work to make the wedding absolutely perfect from Rehearsal to the last dance. Hiring Courtney and The Day Of was, by far, the most crucial and rewarding aspect of my wedding planning. They are absolutely the best!

The Day-Of's reply:

Thank you Joan! I loved working with your family on this, and Kelsey and Mike are the cutest! It was a magical day (complete with gorgeous snowfall during the ceremony) and I can not wait to help plan your youngest daughters destination wedding, so I can see you all again! xoxo, Courtney

Kate W.

Married on 10/19/2019

Adventure Wedding Coordination!!!

My husband and I needed help putting together our challenging wedding idea. We had 150 out of town guests, with a shuttle service for a mountain ceremony, followed by a city brewery reception, with a pizza & bbq food trucks, plus a bags aka cornhole tournament etc etc etc. We had a couple of other Coordinators turn us down because it was too much, BUT NOT THE DAY OF! They took on this challenge with us and made it look easy! Thank you so much The Day-Of (Jessie & Mike)!! To this day, we still get compliments on our 10/19/19 wedding adventure.

+ 6

photos

The Day-Of's reply:

Mike and Jessie still rave about this amazing wedding and fantastic humans! Thank you for entrusting this awesome day to us, it was one for the history books! Lots of love!

Are you interested?

Send a message

Chelsey

Married on 09/28/2019

Best Money Spent

Courtney and Lizzie made our day so freaking easy. I had the month of package and once she took over it all happened so easily and quickly. I would absolutely recommend her for anything! Their attention to detail is perfect. She was personable. Learned our families names. She was everywhere and no where at the same time and so incredibly helpful. We could NOT have done it without them both.

The Day-Of's reply:

Hooray for Chelsey and Justin! Thank you for this review, and we truly loved getting to know you two and your favorite people in the world! Plus the most dangerous donuts I have ever eaten + killer music and dance floor = tons of fun! xoxo, Courtney

Daimi

Married on 07/27/2019

Courtney and her team were life savers!

When we first started hunting for a wedding venue and setting a date, we quickly realized that this was going to be a pretty daunting task (planning a wedding!). We both work full-time, and I was in school full-time as well, which makes it pretty difficult to call vendors, interview them, and get quotes, etc. I had a friend recommend getting a wedding planner, and I started my research. Courtney and her team had high reviews, and after chatting with her on the phone, I knew she'd be perfect for us.

She was on top of everything! She would fire off emails to different vendors to get us quotes. She made recommendations and suggestions on vendors she's worked with, came up with ideas on how to fully execute our comic book themed wedding, and made sure we were calm and relaxed, knowing that she and her team could handle anything that would come up. Our wedding went so smoothly, and there wasn't a single disruption. I was never bothered with any issues on the day of, it was so amazing to see everything come together, and just enjoy our day.

I loved the fact that she was our advocate! She made sure that in all the craziness of the big day and the planning, that we had time to ourselves and enjoy the event. She was so full of energy, which is definitely something you need when feeling overwhelmed.

The team was quick, responsive, made our epic planning sessions fun and exciting, and everyone was an absolute pleasure to work with. I'm so glad we found her, and had her on our team. We couldn't have done it without her, and her team at The Day-Of. Jessica and Meagan were so helpful and amazing, as well! Thank you, Day-Of Tribe! :D

The Day-Of's reply:

Thank you for your eloquent review, Daimi! We had a total blast planning your comic book themed wedding, and can not wait to see the photos! We miss you and Aaron, and being able to have our fun planning sessions! Congrats again! xoxo, Courtney and The Day-Of Tribe

Jen D.

Married on 06/24/2019

Have FUN at your DREAM wedding!

Courtney, John and the entire crew at The Day Of made our wedding an absolute dream and FUN event! The vision we had for our big day was not traditional but instead a strolling cocktail event with delicious and healthy foods, great music, incredible cocktails (we are an Irish and Polish crew), and surrounded by Colorado nature. We had the most amazing time at our wedding and we got to enjoy the cocktails, food, and our guests with NOTHING to worry about. Yes, the Bride and Groom actually got to enjoy the event too!

The common theme for guest feedback was "This was the best wedding ceremony I ever attended!"

We had a wonderful experience working with Courtney and John and we know you will too!

The Day-Of's reply:

We love Jen and Steven! Thank you for taking the time to write this, and we had an absolute blast planning your wedding with you over the last year! From our epic tasting days (Cake! Food! Cocktails- oh my!) to having John officiate your wedding (shameless plug - he can officiate yours too!) and hearing all the joy and seeing all the love that surrounded you on your day, we could not have asked for a better experience. You two are not just clients, you have become dear friends! Thank you for entrusting us with your amazing day! Xoxo - Courtney and John

Jenny W.

Married on 03/28/2019

Absolutely the best!

Courtney and her team at The Day-Of should be a no-brainer if you want a no stress, fun, beautiful wedding. She helped us put together our wedding when we were coming from another state and it couldn't have gone better. Her professionalism and organizational skills coupled with a great vibe and positive attitude we're exactly what we wanted. She stayed with us the entire day and we didn't have to lift a finger. Thanks, Courtney!

The Day-Of's reply:

Hooray for Jenny and Paige! It was the best to have the honor of planning your wedding, and also getting to know you two. Your connection is so special and you two are just flat out rad! Your day was amazing and that dance floor was so fun! Keep in touch and I am sending so much love! xoxo, Courtney

Sonya G.

Married on 03/23/2019

Best wedding planner ever!

Our wedding was very custom… The father of the groom painted a picture of us. Father of the bride created a wedding song. All the decorations - starting with centerpieces and ending with tablecloths and napkins - were created by the mother of the bride. For some reason we thought that having 2 hours for setting everything up at our venue and getting ready would be enough. How wrong we were…

If it would not be for Courtney and her wonderful team - we would not even remember to get ready for the ceremony. Courtney made sure that the set up process was initiated and all the vendors and wedding party members that were assisting with it were on board with what goes where. After the most decorations were placed and guests started showing up, Courtney sent us all to start getting ready and helped to finish decorating the venue, dessert table and making sure that our guests were comfortable before the ceremony began.

Our venue had 3 levels, and it felt like Courtney was on all of them at once. Throughout the whole event Courtney knew when she was needed. Before the ceremony, she was magically showing up at the bridal suite when I needed water, band-aid, or just a hug. At the same time she was helping the groom and his friends with finding their boutonnieres. During all the time, her assistants were making sure that all the vendors are following their timeline and the guests are finding their seats for the ceremony. After the ceremony, she helped me with the dress on the stairs and then let my new husband and I enjoy a few minutes alone while she got downstairs and was helping guests to get ready for a petals toss.

The timeline that Courtney created for us really helped us to have a wedding of our dream! She knew about all of our expectations and concerns, and she made sure that everything goes the way we planned. Don't know how - but Courtney was staying calm and cheerful throughout the whole evening. She made sure that the bride and the groom were staying hydrated and worry free while she and her team were doing their magic.

Since our wedding involved so much setting up, Courtney invited one of her interns to help us even though the contract stated that Courtney would have only one assistant. The wedding went even better than we planned, and everyone who had been celebrating with us had an amazing time. We are so happy that we found Courtney, and would we recommend her? Oh yes!!! Beginning with meeting and picking the vendors and finishing with helping us with cleaning up after the wedding - Courtney and her team were extremely helpful, professional, kind, easy to work with, and so passionate about what they are doing. The wedding went even better than we planned, and everyone who had been celebrating with us had an amazing time. We are so happy that we found Courtney, and would we recommend her? Absolutely!!!





Shauna B.

Married on 03/16/2019

Wonderful planners!

Courtney and Kristin were fantastic! They took charge of coordination and communication among all of our wedding vendors during the last month of our engagement, taking a huge task off of our plates. They both have an eye for those tiny but important details that we overlooked, like where our cake cutting and serving utensils would come from. They communicated with us frequently and thoroughly, and made sure my now-husband and I were part of every decision. They asked clear questions and acknowledged and incorporated every request we sent in, and they expertly handled the inevitable wedding bloopers and kept things running smoothly on our big day! If you're in search of a wedding planning service, I can't recommend The Day-Of more highly!

The Day-Of's reply:

Thank you Shauna and Chris! It was so great to have to opportunity to work with you two and your families on your wedding day! So glad we were able to take the load off, and your wedding was so sweet and wonderful! Congrats again, lovebirds! Xoxo, Courtney and The Day-Of Tribe

Amber

Married on 03/15/2019

The absolute best!

Courtney was amazing from start to finish. I was recently married and she was our month-of coordinator. Her warm personality and close attention to detail was apparent right off the bat. Once I "handed things off" to her a month prior to the big day, it was like a huge weight has been lifted and I knew I was in good hands. The day of Courtney and her assistants killed it. She made sure that my husband and I had a great time and we didn't feel pulled all over the place or bothered with the details of potential kinks in the plan. We highly recommend using her...you will NOT regret it.

The Day-Of's reply:

Hooray for Amber and Silver! I adored working with you two, and your wedding was so beautiful and your love so palpable. From the Hanpan ("not hand pan!") player to the stunning florals and your thoughtfully curated lounge area, the day was magical. I will miss seeing your cute faces all the time! xoxo, Courtney

Lauren

Married on 12/30/2018

Wedding Planner Dreams Came True!

Courtney is an angel from wedding heaven! I was looking for a planner who could help me keep the budget down, could take charge when needed, and help this inexperienced-with-weddings bride plan the perfect day! She helped me find vendors who were trusted and affordable. She provided an extremely detailed timeline and kept in touch with all my vendors. My husband and I were so impressed! The entire event was flawless, and I felt like I was a guest at my own wedding. Thank you The Day Of!!!

The Day-Of's reply:

Hooray for Lauren + Alex! The two of you are so amazing, and I just loved all our time spent planning this epic day. From the pre ceremony champagne to the hilarious photos with your groomsmen lifting everyone up, the day was just a blast. So much love to you both! Xoxo, Courtney

David

Married on 08/11/2018

Courtney was the bomb, so warm and professional and engaging, from start to finish. She offered us ideas based on her experience, but truly let our own vision shine through. Our wedding itself turned out great with no mishaps. Just fun, fun, fun!


The Day-Of's reply:

Thank You David + Neal! I adored being a part of your day, and your ceremony entrance is still the best ever! xoxo, Courtney

Peter

Married on 07/28/2018

Courtney made our entire wedding journey a seamless and stress free process. From the moment we hired her to help out with planning and prep, we immediately knew we made the right decision. She had creative and fun ways to make our special day unique and memorable all within our budget. She had a deep bench of vendors and assistants to help us out in a pinch and even planned our special day down to the minute. I would highly recommend her to anyone looking for a truly unique and awesome wedding experience!

The Day-Of's reply:

Thanks Peter! You and K were so wonderful to work with, and I just loved our planning journey from beginning to end. And you had the hands down most epic dance floor...Ever! Keep in touch and so much love to you two! Courtney

Pamela P.

Married on 07/28/2018

Courtney was the best! She is very personable, flexible, efficient, comprehensive, attentive, responsive and affordable. She listens closely to her clients, gets to know them and creatively inserts their personalities into their events. Being the mother of the groom, I had less input on some of the wedding details, but she made sure that I felt included and updated on all the specifics. She has great, fresh ideas and is also very fun to party with! I recommend her highly!

The Day-Of's reply:

Thank you Pam! I think you all are the best, and just loved celebrating your families with this once in a lifetime wedding weekend! Keep in touch! xoxo, Courtney

Kristin

Married on 07/28/2018

I love Courtney! She's enthusiastic, professional, knowledgeable, and really got it done for us. We had no clue what we were doing but from the moment we decided to hire Courtney, we could tell progress was being made. She does a great job of listening to what you want out of your weekend/day and does a great job of making sure that everyone's expectations are managed. Courtney has amazing vendors that she works with on a regular basis so that was a breeze.
Working with Courtney truly made the whole process easier and even enjoyable. She's really great at taking the load off and her timelines are a thing of beauty. It was so nice to show up to our wedding weekend knowing that she had everything under control. We didn't have to worry about a thing!
I highly recommend Courtney. You'll have a great time planning your wedding if you do so and you'll look back on the entire process and remember nothing but joy! I'd hire her again but alas, I will not be getting married again! I miss her already!

The Day-Of's reply:

I miss you already too! I can't tell you how
much I loved getting to know you and Peter and your amazing families- we worked on your wedding for almost a year, and it really never felt like anything but joy! And thank you for mentioning my timelines- you know how I geek out for them!! Your wedding was so epic- from monsoon to the best dance floor I have ever witnessed, it was a magical day, and I adore you all! Xoxo, Courtney

Michelle

Married on 07/21/2018

This was the best money we spent on our entire wedding. Hiring Courtney with The Day Of was the best decision. She is top notch: knowledgeable, kind, fun, warm, and professional. She put together our timeline, coordinated all the vendors and made the day run smoothly. Do yourself a favor and get yourself a coordinator - and hire The Day Of! You will not regret it.

The Day-Of's reply:

Hooray for Michelle and Jeff! I loved working with you two on your wedding - it was such a wonderful day and all the live music (3 separate bands!) kept my feet moving all night long! Thank you for your kind words, and keep in touch! Xoxo - Courtney

Christine

Married on 06/09/2018

Courtney did a great job of helping my (now) husband and I plan our destination wedding in the mountains! We chose the "day of" package along with the "partial planning" hours to help us with any extra things that might arise. Planning a wedding is very tedious and for me, a tad stressful. Courtney was incredibly helpful with any questions I had leading up to our big day. Honestly, I was still stressed during the majority of the planning...until our big call with Courtney. All the stress melted away once we went through all the details and I saw how much time and thought she'd put behind every part of the day. The day of our wedding, everything was absolutely perfect. Whether there were issues or not, my husband and I never knew about them. All we know is we had the best time with our closest family and friends. Courtney and her assistant, Rachel, even decorated our hotel room before we got there with all of our flowers and decorations. Courtney is the bubbliest person you'll ever meet and you can just feel the energy and excitement she has for her business. My husband and I very much enjoyed our experience with Courtney and highly recommend her and the Day-Of crew!

The Day-Of's reply:

Hooray Christine and Scott! Thank you for having us be a part of your big day - it was such a beautiful day, and I will always remember sunscreening your hubby to be's nose and the sweet dance moves your group had! xoxo - Courtney

Christina

Married on 06/02/2018

Courtney at The Day-Of was absolutely fantastic to work with—it was one of the best decisions we made when starting our wedding journey (aside from saying Yes! to my now husband). She helped guide us and keep us on track for all the big and small details; her relationships with solid, trustworthy, quality vendors made picking our band, DJ, florist, officiant and photographers super easy and anxiety-free (does looking through an endless list of potential vendors keep you up at night? Look no further, Courtney has done the hardest part for you and can provide you with the best options to choose from to fit yours needs, personality and goal/feel for your special event!). Aside from the support and great brainstorming-capacity of an awesome wedding planning team, Courtney is a genuine, kind person who cares about how your event goes—that you and your future spouse get to enjoy your own special day and that your guests have a wonderful time without realizing the work you've all put in for months leading up to the day (read: you'll have so much fun you'll want to turn back time and relive it again). Having Courtney help us leading up to our wedding and the day-of was like having your best friend by your side without actually giving your best friend the job of coordinating your wedding (which they thank you...). If you want to enjoy the process and have fun with planning one of the best days of your life—then Courtney and the team at The Day-Of will be your best first wedding decision!

The Day-Of's reply:

Christina + Brandon - Thank you again for having me along for this journey! I loved every meeting we had, and it never felt like work when I was with you two - we laughed so much and got to eat/drink like kings (thank you Solitaire!), and watching your vision come together was so rewarding. I really feel like we became amazing friends through this process, and the tears were real when you walked down that aisle- I still get chills! And nothing beats when you took a bite out of your cake before cutting it- classic! Congrats you two love birds.
xoxo - Courtney, John and The Day-Of team

Cara

Married on 05/20/2018

Simply wonderful! Courtney was there whenever I needed her. We had some pretty major set-backs the evening before the wedding and she stepped in and took care of EVERYTHING!!! We had a fairly small and intimate wedding, best way to go in my opinion, and Courtney helped me with it all. She's a ball of loving-spunky energy and is so insightful and caring. Would definitely recommend her husband, John, who was our officiant!! He wrote the most beautiful script for us which we later framed. Their a dynamic duo!

The Day-Of's reply:

It was such a pleasure to work with you two and your amazing family and friends- I sure can feel the love you all have for each other and the night was a blast. I loved every meeting we had and how the family
Banded together to make lemonade out of what could of been a lemon! Xoxo Courtney

Emilie

Married on 10/28/2017

Courtney is absolutely fabulous!! From the moment my fiancé and I met her, we knew we needed to hire her!! She has an infectious smile, full of energy and truly passionate about what she does. We hired her for day of coordination, but I felt like she was a huge light in the process every step of the way. She put me on a timeline of when I should meet/hire vendors, let me email her endlessly, you get one on one planning sessions and all of her attention with the day of timeline, rehearsal, and day of! I told her that all I want from this day is for it to be calm. I don't want to wake up and have to run errands, make decisions or do anything other than drink champagne and get ready with my girls. She helped me achieve that goal and more!! It was such a relaxing day all because of her. Courtney is the best in the business because she is passionate and works hard to make your day absolutely perfect!!

The Day-Of's reply:

Thank you so much Emilie for the thoughtful review! It was an absolute joy to celebrate your wedding with the two of you and your wonderful families. I'm so glad we were able to make your wedding vision a reality! XOXO

Dominick

Married on 09/24/2017

Courtney and I worked together at an event back in late September of 2016. She was absolutely prepared, efficient, friendly and very professional. I felt like I was a part of her team and she was the captain. She knows how to interact with guests in a way to help things move along, but also have fun in the process. Choosing a wedding planner is a crucial part of the planning process and that is why I would not hesitate 1 second hiring The Day-Of to help plan any event!

Dominick Miller
Epic Functions Owner/DJ

The Day-Of's reply:

Thank you Dom! We love working with Epic Functions and can not wait for our future events!

Christina

Married on 09/23/2017

Courtney and her team are great! We needed some support for our mountain wedding, and are so glad we hired them. She was the best point of contact from the get-go, doing all the wrangling, making sure things were organized and in-line...going way above and beyond. Her communication was great, and every time we had a planning session or a call I felt relieved. On the day-of itself, she kept things moving smoothly, and while nothing went to our original plan (freak early snow storm, mariachi band late, husband's cell went off during the ceremony), she kept it all calm, moving, and easy. So thankful for their team!

Everything was beautiful, and I highly recommend them. I even got calls from both my dad and my sister post-wedding saying how great they were! Thanks, ladies!

The Day-Of's reply:

Thank you Chris and Jon! We adored your wedding and were so honored to be a part of it - and the snow storm made the wedding!! XOXO

Libby

Married on 09/17/2017

The day of was absolutely amazing. John our officiant took so much time to learn about my husband and I. And our lead planner Lilly made sure my day was perfect. Thank you all so much for making our special day perfect.

The Day-Of's reply:

Thank you so much Libby and Jack! We loved celebrating your special day!

Erica

Married on 09/03/2017

From the first phone call to when we had to say our goodbyes, Courtney and her crew at Day-of had my back during the whole wedding planning and coordinating process! My main goal was to be a guest at my wedding and that is exactly how I felt! You know how people warn brides that something will go wrong on your wedding day? Well, because of Courtney and her crew, nothing went wrong! Everything was flawless and there was a perfect flow of the day and night. My elegant rustic mountain wedding in Durango, Colorado was everything I dreamed about. I couldn't have had my wedding dreams come true with out Courtney and her crew!!

The Day-Of's reply:

Thank you Erica! We had an absolute blast celebrating you two in beautiful Durango! Congrats again and so much love!

Kate

Married on 08/19/2017

From the moment I first talked to Courtney on the phone I knew that she was the best decision I was making in all of my wedding planning. She was so enthusiastic and ready to start planning. Not only did she listen to my ideas but she had great ways to improve them as well as amazing ideas of her own. I loved that she wants to meet early on and then again for an entire planning session with both of us. It really helped us put it all together and see it as a layout and not just bits and pieces. It's so hard to know what you need and want when you have never planned a wedding before. She had suggestions from where to get my flowers to how to call our tables up to the buffet. Courtney took our ideas and wants and put it all together which really helped us picture how it would flow and especially helped my fiancé start really understanding all that I was planning.

Then there's the big day! Courtney was there for the rehearsal in order to get everyone prepped and know their places. Also, I did a lot of DIY which means a ton of set up. Courtney took it all away the night before so I wouldn't have to worry about it on my wedding day. That alone is why I started looking for a Day-of Coordinator. I just really wanted show up to my wedding and have fun. Setting up your own decorations and getting everything in order is not what you should be worrying about on you Wedding Day. Courtney was able to take my vision and make it happen. Everything was perfect. There were a few hiccups with the bar and not being able to hear music at one point, did I know or care? No, because Courtney took care of it. When my bustle was too long and was in my way of dancing, Courtney took care of it!

In summary, there is a lot of planning that goes into your wedding day. So much that if you try and take it all on yourself you will never fully enjoy your day. Courtney was amazing every step of the way and my Wedding and the day was better because of her! I can't recommend her enough.

The Day-Of's reply:

Thank you Kate! We just adored your wedding and were honored to celebrate with you. Congrats!
Are you interested?
Send a message