40 Reviews
Recommended by 96% of couples
Quality of service

4.9 out of 5 rating

Average response time

4.8 out of 5 rating

Professionalism

4.9 out of 5 rating

Value

4.7 out of 5 rating

Flexibility

4.7 out of 5 rating
Awards
3 User photos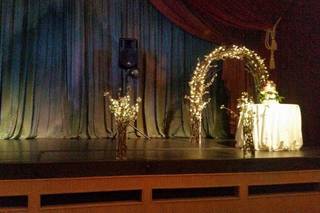 Stephanie

Married on 09/28/2019

Unique venue and incredible staff!

The Barns at Wolf Trap was the one venue my now husband and I toured that we walked out of and he immediately said "Book it!" The Barns is unique with a ton of character, and it makes you feel like you're far outside of the city in the country (what we really wanted, but couldn't accommodate conveniently with mostly out of town guests) when really you're incredibly convenient to transportation, lodging and tons of vendors! Our local guests were excited to check out a place they hadn't been before and didn't realize was able to be rented for weddings. The space has recently undergone some renovations that we didn't see completed until after we booked, but it is incredible! You can tell there is pride in the space as a whole and making it the best it can possibly be.

There is a list of caterers you are required to pick from due to the more complicated setup and historical nature of the venue, but we were able to find one that suited our needs. Additionally, alcohol must be purchased through the venue, which means it ends up being a little more expensive, but the selection of beers in particular was excellent (local and delicious!). The fact that the venue is more commonly used for concerts and performances gives you some incredible lighting options and the character of the barns themselves means you don't really have to decorate the space much to make it feel grand, warm, and inviting.

Working with Ginger, Jordann, and Angela was an absolute pleasure. Their response time to any/all questions was very quick, and helpful. They made planning our wedding and the rehearsal/day-of a breeze. We couldn't be happier with our choice of wedding venue!

The Barns at Wolf Trap's reply:

Thank you so much, Stephanie! Ginger and I couldn't be more pleased that you and David had such a wonderful experience at The Barns. It was our pleasure to get to know you both, and your families and to help you with your day! Best of luck to both of you!

Angela


Krystina

Married on 05/13/2018

We loved having our wedding at the Barns at Wolf Trap. Having booked a live band, once seeing this space, it was hard to top it. The stage and acoustics of the room were fantastic. The staff was very helpful and responsive. Having 2 spaces for cocktail hour and reception was so great and the outdoor courtyard area was great if you needed fresh air. Abundant free parking was also a plus!

With this venue, you have to have The Barns at Wolf Trap provide the alcohol. Although packages were pricey, and they provide a more limited beer selection, the service of the drinks was great and there was never a line for the bar.

This venue is fantastic, but they only have a limited amount of days available for weddings depending on the season because of concerts. We had to have our wedding on a Sunday due to limited availability. If this venue is of interest inquire about availability right away!

The Barns at Wolf Trap's reply:

Thank you for sharing your story, Krystina! We loved working with you two and wish you many wonderful years to come. - Ginger & Jordann

Jackie

Married on 04/21/2018

My husband and I loved our wedding at the Barns at Wolf Trap. A beautiful mix of elegance and rustic charm, and very conveniently located. Because the Barns are already gorgeous, we found we really didn't need that many additional decorations at all. The venue did the work for us, and as a result our flower and decoration budget didn't need to be very high. Also, the staff was very friendly and communicative and answered even the silliest questions with had with patience and kindness. (Thank you Ginger and Jordann!)
Furthermore, they made a lot of things easy with their recommended vendors list which has a large variety of businesses in multiple budget ranges. Also, it is nice that they have their own bar, bar staff and liquor license; so, having an open bar there was not as expensive as other places I looked at in the area.
All in all, we were thrilled with the venue!

The Barns at Wolf Trap's reply:

Jackie – We loved being a part of your big day (and loved your cake design also!) Best wishes to you both for a wonderful life together and hope to see you around the Park! – Ginger, Jordann & Angela

Are you interested?

Send a message

Sarah

Married on 09/09/2017

The Barns were an absolutely beautiful venue. I think I would have been hard pressed to find something as beautiful in this area. Maybe Meadowlark Gardens? But the problem with Meadowlark is that you don't get to choose your caterer so it ends up being far more expensive and the food would have been nowhere near as good as the caterer I chose for the Barns!
They do have a preferred vendor list, but they are willing to work with you. The vendors on their list are all pretty great too, and there is a variety of vendors for every budget. I ended up choosing a lot of their preferred vendors and was extremely happy with them all. I had chosen a vendor and the event manager was very honest about her experience with that vendor and said they were probably going to be removed from the list. I appreciated that honesty.
I was a little concerned when the event manager for the Barns I had been working with suddenly left three months before my wedding, but Ginger Dockery was extremely reassuring and made sure that nothing unravelled while she trained the new event manager. I was extremely pleased with the response times on all emails and phone calls--they are very professional and easy to work with!
The wedding was absolutely beautiful and so many people loved the venue! They do limit decoration, but the lighting options and beautiful finished interior are really lovely on their own (it's not a dumpy barn, its absolutely stunning inside). Because the Barns needs no decoration or lighting vendors, you can focus your decorative energy on tables cloths, flowers, candles, and centerpieces instead :)
Because it's a national park, alcohol is an onsite thing handled by the venue only. They have different bar package options, and it's definitely pricey, but they are serving craft beers, excellent wines, and familiar brands of liquor.
This is definitely not the cheapest venue option, but I am so happy I was able to snag it for my wedding reception because it was fantastic!!!!

The Barns at Wolf Trap's reply:

Sarah, Thank you so much for your lovely review. We were so honored to be a part of your celebration and loved working with you, your family and your new hubbie! - Ginger & Jordann

Laurie

Married on 05/07/2017

Our wedding at Wolf Trap Barns was absolutely everything we had hoped for -- Kaitlyn Salizar rocked it!! The list of preferred vendors were also superior -- they all knew the venue and knew exactly what to do and what was needed. Just another one of the many reasons we continue to support the mission of Wolf Trap!1

The team at the Wolf Trap Foundation created an expertly executed event. My attendees all left saying how much they loved the location. It's a hidden gem! They are flexible and attentive! The parking is easy and close by. It happened to rain the evening of my event so it was nice to have the coat room right there. The optional outdoor area would have been great if the weather cooperated! I would recommend using them for any kind of event.

Kathryn

Married on 04/10/2016

The Barns at Wolf Trap was the perfect venue for our rustic southern spring wedding. We loved the meaning of the two barns being rebuilt and joined together, which we felt was a symbolic location for our wedding. We also love that we can come back for shows around our anniversary! Jackie and team at Wolf Trap are extremely professional and great to work with. They have a list of suggested vendors that know the venue and deliver exceptional services. All of the suggested vendors are top notch and made our search extremely easy. We chose almost all of our vendors from the provided list. Jackie communicated the guidelines for holding an event there clearly and we never felt like there were any unknowns or surprises. Jackie and the vendors worked well together and ensured that our event was flawless. If we could do it all over again, we would absolutely choose Wolf Trap. We loved every moment of our wedding there and highly recommend Jackie and her team at Wolf Trap.

I booked the Barns at Wolf Trap for my January wedding. We walked through the venue before booking, and the intern that gave us a tour was very knowledgeable and professional. The Barns is a gorgeous venue! The rustic nature of the wood allowed us to decorate very sparsely with candles and Christmas lights. The layout, with two adjoining barns, was great for having the ceremony, shuffling guests to the other barn for a cocktail hour, and then back into the main barn for the reception! There's also plenty of parking and the venue is super easy to get to.

After booking, we mostly communicated with Jackie, the rentals manager. She was very responsive to my questions, and extremely reassuring when we did our final walkthrough. I was stressed and worried about the logistics of the day of, but she took her time and walked us through the layout, setup, flip, and breakdown. Afterwards, I felt much calmer! It really helped that they have a recommended list of vendors that they work with frequently. Because Jackie was familiar with our caterer, the day of went extremely smoothly. I could not have been happier! Thank you Wolf Trap!




Anne M.

Married on 12/11/2015

The Barns at Wolf Trap was the perfect venue for our wedding! Jackie was awesome to work with, and helped us with each step along the way - from figuring out the bar package, to explaining the holiday decorations - she was extremely responsive and proactive during the year leading up to the big day, and was there until the end of the wedding reception! The Barns was decorated beautifully during the holiday season, which made it perfect for a winter wonderland themed wedding - Would absolutely recommend Jackie and the Barns for a wedding reception or any other corporate event.

This is an absolutely beautiful venue. We loved every moment of our wedding here. Jackie and her team were responsive and helpful with everything from timeline planning to recommending vendors. Highly recommend!

Kristen

Married on 10/11/2015

Jackie and her team at the Barns made our October wedding seamless, and an evening we will never forget. The Barns itself are beautiful, and Jackie is a pro. If you're looking for a cozy, rustic space for your wedding, the Barns is it, our guests were raving about it!

Laura

Married on 10/10/2015

I just received my wedding photos and it reminded me of how happy I was to have my wedding ceremony and reception at the Barns at Wolf Trap. In looking for venues, I was looking for a site that would accommodate an average size guest list but would allow us to host both the ceremony and reception at the same location. More importantly, I was looking for a unique space that would be a colorful background for photos. The Barns at Wolf Trap accommodate both of those requests, and many, many, more! Jackie and her team were wonderful to work with! All of my questions were answered very quickly and always with a pleasant attitude. I'd be happy to host another event (thought this will be my only wedding!!) at Wolf Trap.

Stephanie

Married on 09/19/2015

The Barns at Wolf Trap was a beautiful venue for our wedding last month. We used the English Barn for cocktail hour and the German barn for both our ceremony and reception. They also had an outdoor courtyard area, which was perfect to use for guests that wanted to enjoy their cocktails outside in the beautiful weather. We received a lot of compliments on how beautiful and unique the venue was. It's in a very convenient location for local guests as well as our out of town guests. Jackie was absolutely wonderful to work with! She was very responsive, professional and accommodating when it came to scheduling time for us to do a walk through as well as helping set up a time for us to do our ceremony rehearsal the day before our wedding. Emily was there on both our rehearsal day and wedding day to ensure that everything went smoothly for all of our vendors. She was a big help and made sure that everyone had what they needed. There are quite a few outdoor locations to take wedding photographs. We just received our photos back this week and they turned out beautifully. The Barns was a great location and we couldn't have been more happy with our choice. I would highly recommend this venue for an event or a wedding!

Kathleen

Event on: 05/16/2015

We had a party to celebrate a number of events -- our anniversary, several birthdays, my retirement. We loved the venue and were very happy with the recommended caterer (Main Event) and the DJ (through Olivera Music).

Brittany

Married on 05/15/2015

Wolf Trap was the perfect venue for our wedding! They even worked with my fiance to allow him to use the stage to do a secret performance for me! It was absolutely stunning and a great event! Our guests have been raving about how beautiful it was! I would highly recommend it!

The Barns was awesome. It was a perfect venue for our wedding reception. The German barn was a perfect size for 160 people. It was really cool having the band on an actual stage and the sound quality was great. The light levels were perfect the whole night. The dance floor was just the right size. Not too big, not too small and totally packed the whole night. Having the two barns was actually a perfect set up. It allowed people to float back and forth between the bar & photo booth and the dance floor. The bar was awesome as it was the entire length of the long side of the room, so there was very little waiting for drinks. The outdoor courtyard was also a great feature for people who needed to catch some fresh air. The overall mood and vibe of the barns was perfect and just what we were looking for. They were super responsive with all of our questions and planning beforehand. The grounds outside the barns are perfect for photos, both in Wolftrap Park but also just outside the Barns venue. I highly recommend this venue for anybody around the DC/Vienna area. Couldn't ask for more.

This venue was amazing! The English Barn is perfect for cocktails while the German Barn gives you enough room for the band and dance floor. There's even a courtyard bridging the two where people can take a breather. It was truly an amazing place for a wedding - I highly recommend it!

The venue was helpful and kept the wedding very well organized.

Ashley

Event on: 12/16/2014

Jackie and her team at Wolftrap were so accommodating! They made our company holiday party so beautiful, relaxed and enjoyable.

Any questions I had were quickly answered and everyone she recommended -- caterers, dj -- were the perfect compliment to the beautiful venue.

Thank you so much Jackie!

User1874281

Event on: 10/15/2014

Jackie Dolan, The Wolf Trap Foundations' Event Planner, was very friendly, professional and accommodated all of our requests. Our Corporate Event was a success!

Christy

Event on: 10/14/2014

Jackie is very professional and quick to respond. I enjoyed working with her on my event.

Chris

Married on 09/27/2014

Wolf Trap was a perfect venue for my daughter's wedding. Everyone was just as courteous and professional
as they could be. Being the bride's mom from out of town, I had a lot of questions for the staff. They were simply wonderful and very patient. The Barns are beautiful! Our wedding guests kept commenting on how beautiful the setting was. My daughter's wedding was perfect!

Jennifer

Event on: 09/21/2014

Wonderful venue, beautiful location and Jackie their event coordinator is very responsive and easy to work with!

Andrea

Married on 08/10/2014

We held our wedding reception on the Terrace Deck at Wolftrap in the two hours prior to a concert. The venue was wonderful. The list of preferred vendors provided by Wolftrap was incredibly helpful and everyone whom we hired off the list did a perfect job. Wolftrap provided our bar service as well and it was done incredibly well. We were incredibly pleased with all the aspects of our event at Wolftrap.

Montine

Married on 03/23/2013

This was absolutely the perfect venue for my husband and me. Rosie, the woman who facilitates events at the barns, helped everything run very smoothly. The sound in the large barn was amazing. No one needed a microphone to be heard. This is a fantastic venue if you are looking for a rustic sort of feel. We loved it!
Are you interested?
Send a message