113 Reviews
Recommended by 100% of couples
Quality of service

5 out of 5 rating

Average response time

5 out of 5 rating

Professionalism

5 out of 5 rating

Value

5 out of 5 rating

Flexibility

5 out of 5 rating
48 User photos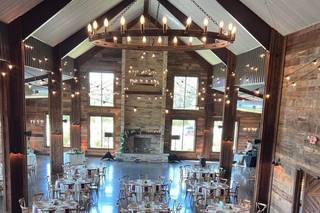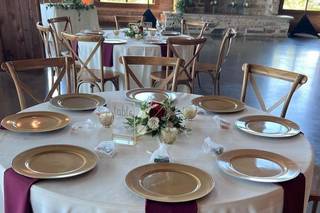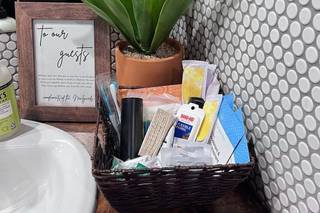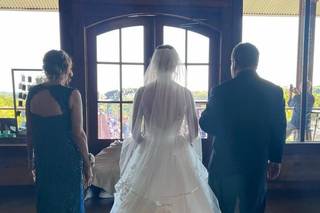 + 44

photos
Featured

Alex C.

Married on 11/12/2022

Review from Groom

I cannot thank Tina and her team enough for all that she/they did to make our day special. Tina is super organized and her experience in the industry was very apparent as she walked us through the months leading to our wedding. She put us in touch with some great vendors as well. As a team (along with some vendors we had chosen prior to booking with her) they all worked together to exceed our expectations of our day. She worked so well with our previously contracted vendors (wedding venue/creative director) and was great at coordinating all of the details for us. Truly a great experience. Day of she was super communicative and kept us calm. Cannot say enough great things about Tina and Serendipity Events!


Serendipity Events by Tina's reply:

Thank you Alex, you and Bill were such a pleasure to work with, We loved the unique style and timeline of your wedding. Aloft Downtown Dallas was the perfect spot for your beautiful wedding.

Kelly C.

Married on 01/21/2023

Tina and her team are a must have

We can't thank Tina and her team enough for all that they did to ensure the wedding weekend was exactly what they wanted. From venue trips to zoom calls to floor plans to stepping in to man the confetti canons - they will go above and beyond to take all the stress for you. I am so thankful we had Tina with us every step of the way to keep me sane and keep things on track!!

Serendipity Events by Tina's reply:

Kelly! Thank you so much. It was so much fun working with you and Andy also! Your Winter Wonderland wedding was amazing, and I hope your honeymoon was even more amazing! Thank you for choosing us to be part of your wedding! XOXO

Kelly C.

Married on 01/21/2023

Such an easy day thanks to Tina

Tina coordinated my sister's wedding, and she did such a great job we hired her for mine, too. Tina made the day go by so flawlessly, I didn't have to worry about anything. She got hotel blocks booked, suggested a great makeup artist, and made our grand entrance a perfect experience.

Serendipity Events by Tina's reply:

Thank you Kelly! I just love working with your entire family! Whenever you are around, fun just follows. Thank you for letting me be part of your wedding.

Are you interested?

Send a message

Kayla S.

Married on 12/02/2022

Thank you Tina!!!

Tina is a true gift. We truly could not have done it without her and I'll forever be thankful! We paid for one of the smaller packages and I still feel she went above and beyond for us and our 12.2.22 wedding. It may be small (and maybe silly of me), but coming back to our table every now and then after I'd exhaust myself on the dance floor and seeing my drink always refilled, I felt truly cared for and it warmed my heart. Knowing I could just enjoy our day and Tina making sure everything was taken care of- the relief, peace, and joy I felt! Especially after all the hard work and time put into planning with all of life's other challenges. As we all know, wedding planning is WORK, so I am EXTRA appreciative of how Tina guided us with our to-do's, answered any questions we had, made amazing suggestions, gave extremely helpful tips, and checked in on how we were and our progress. I hope she gets all the recognition she deserves because she is astounding and beyond amazing at her job. I absolutely recommend Tina and know you won't regret it!

Stacy N.

Married on 11/19/2022

Excellent!

Working with Tina was fantastic! She is kind, professional, responsive, very flexible, and made sure our wedding day was perfect! We found our florist through Tina as well, and were able to receive a discount through our connection with Tina, which saved us a good amount of money.

Even though we hired Tina for day-of coordination, she regularly kept in touch with us throughout the planning process to make sure we had everything we needed. When our DJ backed out a week before the wedding, Tina came to the rescue with options and facilitated us finding a new DJ in less than 2 days (who turned out to be AMAZING). On the night of the reception, she made sure everything was beautiful, coordinated all of our vendors without issue, and even handed me glasses of water throughout the evening when I was having an ~extra~ good time. As someone who likes to typically handle everything myself, I was able to enjoy my night without even thinking about logistics because Tina was there to organize everything!! All I know is I had the best night of my life, and all of a sudden everything was clean and things were put away into the appropriate cars without me even knowing! Had an absolutely worry-free, fun day/night. Could not recommend her more.

Megan A.

Married on 10/02/2022

Dream wedding accomplished, stress free - thank you Tina!!

If y'all are looking for a wedding planner, choose Tina! Looking back on it all, it was the best decision and money well spent throughout the entire wedding planning process. I thought I would be able to plan a wedding all by myself but a month in I realized I needed help because, oh boy, it is seriously overwhelming! I had Zoom calls with a handful of planners but Tina was the one who stood out to me as the most experienced, well-organized, and forthcoming about her plans leading up to and the day-of the wedding. I knew I would be in great hands, and I was right! She helped us stay on track to the personalized timeline she created for us, helped us find all our vendors, whom were fantastic!, and all while staying within our tight budget. And whenever I had any questions, Tina was very prompt to reply to my emails and texts. As for the day-of, she executed everything perfectly. From coordinating with all the vendors to stick to her customized day-of itinerary, to setting up the decorations and making the venue absolutely beautiful, and also checking in with me to make sure I was doing ok. That meant a lot. I ended up having the time of my life and was totally stress-free! There were even some minor complications that came up, which I didn't find out about until after the wedding, because she was so quick to jump on them and take care of them without me even knowing. That just showcases her professionalism to handle these events, which really helped me remain stress-free and to have a great time. Thank you so much, Tina, for everything and for making our dream wedding a reality :)
(P.S. she takes awesome behind the scenes pictures :))

+ 2

photos

Bailey B.

Married on 09/24/2022

Wedding Planner

Tina was amazing throughout my wedding planning experience! She sent amazing vendor recommendations, created detailed budgets and to do lists. By the time it was my wedding week, I wasn't worried about anything because I knew everything was done. My wedding went very smoothly and all the vendors were excellent. Tina is top notch and I would recommend her to anyone that wants a stress free wedding!

Jeanne B.

Married on 09/24/2022

Tina is the Perfect Planner!

I am sharing my experience as a Mother of the Bride. We started working with Tina a year before my daughter's wedding date. She provided great vendor recommendations and was super responsive to all of our questions along the way. Tina provided a detailed wedding day timeline and coordinated with all of the vendors in the last weeks approaching the big day. I am a very detail oriented person, but I did not think twice about any wedding day details once the day started. The wedding day was flawless and we received many many compliments on both the ceremony and reception. After the reception, my husband and I just drove our car around and Tina and her team loaded up the personal items into our vehicle and we drove away. It was stress free! Thank you to Tina and her team for making the day just PERFECT!

Maria M.

Married on 04/29/2022

Calm, professional and incredibly well-organized planner

Tina Danel was OUTSTANDING as she planned our daughter's wedding for 125 guests at The Eagle in Hillsboro! Tina's checklist, patience with this nervous mom, excellent resources including several of the vendors we used, and attention to detail, really saved the day. Her assistant, Sophia also brought such great energy to the day, and both truly made everything work super smoothly. Tina was readily available to answer questions and she is incredibly organized- loved the HoneyBook!

Serendipity Events by Tina's reply:

Thank you so much for your kind words! It was such a pleasure being part of Sofia & Austin's wedding. Everything turned out beautiful and I was so happy to see Sofia & Austin relax and enjoy their day, even if they did lose their voices the week of the wedding!

Maleeha

Married on 03/27/2022

Amazing planner

Tina and her team were absolutely amazing! She is the reason we were able to have our dream wedding. She was so easy to communicate with, offered amazing suggestions, did damage control and was able to keep up with vendors that I was feeling frustrated by. For the wedding day she was on top of everything. Not one thing was out of place. My guests literally told me it was the best wedding they had been to. Her team was the sweetest and everyone was so professional. If I could go back I wouldn't do anything differently. I highly recommend Tina for your event. You will not regret it. My husband and I are so grateful for her and her team. Thank you so much for making our perfect day happen.

Grace K.

Married on 12/12/2021

Definitely Recommend!

I would encourage anyone to use a wedding planner or day of coordinator, but I would encourage everyone to use Tina! She was incredibly helpful throughout the wedding process and day of. She answered any question I had and made it so my family and I could enjoy the wedding day stress free!

Serendipity Events by Tina's reply:

It was our pleasure! From the minute I met you (and found out you proposed to Sam) I knew it was going to be a fun wedding. After rescheduling two times due to Covid and having to change venues, due to the first one closing, it was wonderful to be able to celebrate with you and Sam! Best Wishes, as you start your life together!

Tracey B.

Married on 12/05/2021

We had an excellent experience

I am the mother of the groom. Experience was amazing

Serendipity Events by Tina's reply:

Tracey, it means so much t have a mother take the time to review us. We appreciat you taking the time to do that We are so happy you loved our services!

Gladimar P.

Married on 12/05/2021

High recommend!

Sarah was amazing she answered all my questions before the day and made sure the wedding went smoothly and handled any issues that needed to be handled! She did amazing and would definitely recommend to anyone! She is very sweet and i loved having her there that day!

Serendipity Events by Tina's reply:

We are so glad that Sara and her team were able to take care of you and help to make your wedding stress-free. She loved working with you and is so happy you were happy with her services. ZThank you for taking the time to share your experiance with her.

Katie G.

Married on 11/07/2021

The perfect planner

Tina and her assistant helped make this day so special. The amount of work that goes into a wedding could not have been done without her and her team. Thank you Tina and Assistant for making my day so special.

Houman K.

Married on 10/31/2021

Amazing day of planning

Tina was the most clutch wedding planner of all time. I wedding at the potential for absolute chaos given our Halloween theme and somehow Tina and her team kept it together so seamlessly. We literally had no snags thanks to them and I give them with the highest recommendation I can for their planning and organization. Additionally, they totally participated 100% with the mandatory costume portion of our Hallowedding, so they get extra points as far as we are concerned

Serendipity Events by Tina's reply:

Houman! You and Hillary had such a fun wedding. I always LOVE helping make a theme come together. Your wedding at Hall of State was the perfect Hallowedding, with contortionists, stilt walker, fortune tellers and amazing decor. It was a amazingly fun time fowing with the two of you to help make your vision come to a reality.

Hillary O.

Married on 10/30/2021

Exceptional Service

There aren't enough words to describe how much my husband and I appreciate Tina and her team. She was amazing to work with through COVID and is the main reason I'm still sane after canceling and rescheduling our wedding. She kept us on track when I was too stressed to plan anything, and her vendor recommendations were absolutely spot on. She thought of all the little things that weren't even on our radar and helped me follow through with all of my hair brained ideas. Wedding day coordination was *exceptional*, and I literally didn't have a single thing to worry about. Tina was the perfect accompaniment to our perfect day, and I can't recommend her enough.

Serendipity Events by Tina's reply:

Hillary! Thank you for your kind words on your review of us. I can not say how happy we are to know we were able to make your wedding dreams come true. The amazing skull wall you made for the photo booth backdrop was so cool. The pinatas with adult treats inside were such a fun touch. Than you for having the trust in me and my team to organize and run your Hallowedding! XOXO

Kristin D.

Married on 10/22/2021

Excellent and LGBTQIA+ Affirming

Serendipity Events is amazing! We hired them for a wedding at the Perot museum which was logistically tricky since we had limited setup time and had to herd guests to different floors for each portion of the event. Tina, Sofia, and Sarah were on top of it all day and our wedding was seamless! We couldn't have done it without them!

Additionally, my wife and I are queer and it can be difficult and scary to find queer affirming vendors in Texas. Serendipity Events celebrated and affirmed our identities and helped us find other LGBTQIA+ affirming vendors as well.

Claudia C.

Married on 10/17/2021

Problem solver!

Tina was wonderful and very helpful in the final wedding planning process. She was meticulous, organized, and detailed just like I had hoped! The day of the wedding, many problems arose, and Tina along with my wedding party were quick to problem solve and get things figured out. They worked on every issue without me and everything was absolutely PERFECT in the end. Her assistant on the day of was so helpful with the decorating and set up. There was a lot to do and things were rushed but they did an amazing job. Would definitely recommend!

Serendipity Events by Tina's reply:

Thank you, Claudia! You and Troy had such a beautiful wedding at The Olana! I am so glad you were able to trust us and not worry about anything! I can;t say I was not worried when we could not get the sprinklers off at the ceremony area, but I am glad it was able to be fixed and we could get the area dried before guests arrived! That is something I will not ever forget! I got to see the photos from the photographer and they are betiful! Best wishes on your new life together! XOXO

Matalin H.

Married on 10/16/2021

Amazing! 10/10 would recommend!

Tina and her team did a fantastic job of making our wedding day run smoothly. Although we only hired her to help with the day of, she went above and beyond to make sure we had everything we needed, gave us vendor recommendations, and ensured that everyone knew the itinerary. I had quite a bit of trouble getting into contact with some of my vendors, but Tina took care of it all for us. She and her team did an amazing job of letting us have fun and enjoy our wedding, and reminded us when we were about to start the ceremony, cut the cake, complete the first dance, etc. Additionally, she made sure we always had a drink in our hand and were the first ones to start eating. I truly can't recommend Tina enough! She is very kind, easy to work with, and hardworking.

Serendipity Events by Tina's reply:

Hi Matalin! I appreciate you taking the time to review our services. Even though you booked me so close to your wedding, I am glad I could help with some of the preperation details and assist with communication with some vendors. You and Justin are just adorable and your wedding was such a great reflection of the two of you as a couple. It seems as I will be seeing you at some of your friends weddings in the near future! YAY!

Katherine D.

Married on 09/18/2021

Making the dream a stress-free reality

When I was looking for a wedding coordinator, I knew there were certain things I needed and some things that were unnecessary. When I talked with Tina on Zoom (she offered in-person as well), she was relatable and helpful. We discussed the plans i had in place and with that, she knew where she could support me in the planning stages and the day of. I appreciated that she also had a "look book" of things I could rent if I didn't want to buy decor (table numbers, card holder, etc). I also appreciated that we could design the layout of Union Station on a program and she could work with that the day of to know where things go. Closer to the day of, Tina was responsive to my texts or emails, and she was working with various vendors (based on contracts and her experience) discussing logistics and things I wouldn't have thought of; not to mention, things I "didn't" want to have to discuss. Friendly, professional, responsive, flexible, and knowledgeable are words to describe Tina! She was flexible with her offerings and ultimately price based on what I needed for my wedding. I highly recommend Tina as your day of coordinator. The day went off without a glitch and she was hard at work, often behind the scenes where we didn't see her, and that's exactly what you want in a day of coordinator.

***While your event space may have a "coordinator" or someone there the day of your event, you still want to look at a day-of coordinator who can go above and beyond what the event coordinator may do. It's the best thing you can do for yourself and your family so you ALL can enjoy the day.

Thank you, thank you, Tina! We loved working with you!

Serendipity Events by Tina's reply:

Katherine, Thank you so much for your kind words. You and JP had such a fun wedding at Union Station Dallas and it was a pleasure to be part of it. The band was a big hit and the food stations made dinner more fun and interactive. Best wishes to you and JP and your future together! XOXO

Paula K.

Married on 08/11/2021

Excellent and Amazing!

Tina was the best investment we made for our daughter's wedding! Especially when we had to postpone the wedding from May to November due to COVID-19! She helped us get all of our vendors rescheduled and made the postponement as painless as possible.
Tina also gave us excellent recommendations for vendors! She helped us narrow the field of choices and every vendor we chose came with her endorsement.
The result? A fabulous, fun, beautiful wedding with very little drama, angst or issues for the bride and the mother of the bride!

Thank you TINA!!

Serendipity Events by Tina's reply:

Thank you Paula! You and Carys were so great to work with. I am so happy that you chose the vendors I recommended, we made a great team!

Tinapaph A.

Married on 08/06/2021

Exceptional!

We had a low cost contract with Serendipity Events by Tina. Most of our communications were via text and her responsiveness was always within reason. She was an absolute pleasure to work with! As the MOB I appreciated that she was able to continually reassure the bride throughout the COVID-19 ups and downs. On the day of, she had to handle a couple of difficult issues with other vendors and was able to find a quick solution that was acceptable for the bride. She also provided us candid photos that she had taken throughout the wedding day -- something that I didn't expect. Additionally, she advised us on how to handle a difficult vendor during the days that followed the event -- we very much appreciated that. My only regret was that I wished we would have put more of our budget into her services so that she could have handled so much more! Thank you Tina for making our daughter's big day the success that it was!

Serendipity Events by Tina's reply:

Tina thank you for your sweet review. It has been such a pleasure to work with you and Hillary over the past two years of wedding planning. I am glad I was able to provide the Custom Day of Package for Hillary and Frank. We know this is a crazy time with COVID-19, so I am glad I was able to help them through some of their fears and we were able to have a beautiful wedding.

Sabrena S.

Married on 07/05/2021

Making Dreams Come True

Before meeting with Sara from Serendipity, we had a bad 1st experience with another wedding planner that was recommended by our venue. Not only did they stand us up on our 1st meeting, they didn't even contact us until the following day and did not have any valid reason for the "no show". When we met with Sara from Serendipity, we thought we only needed a professional to facilitate the vendors on the day of the wedding. We had no idea of the "million" little things we would need help with. We chose the "Happy Discoveries Package" and couldn't be more pleased. Sara went above and beyond the call of duty in helping us every-step-of-the-way and gave excellent advice. Her relationships with cake and flower vendors made the entire process smooth, enjoyable and affordable. Our wedding day was literally "stress free" because of Sara from Serendipity Events by Tina. It was like having a big sister take care of everything.

Serendipity Events by Tina's reply:

Sabrena! Your wedding at Dr. Phillip's House was so beautiful and perfect. That grand exit with the horse and carriage is engraved in my memory, to beautiful! Thank you for choosing me as your wedding planner!

Christine J.

Married on 04/18/2021

The wedding could not have gone any better.

Tina at Serendipity was unbelievable. She handled everything for us, nothing fell through the cracks. She made the wedding flow so easily. Months before the wedding she had kept up with our budget, spoken to all of the vendors consistently and double and triple checked everything. I never had to worry that I had forgotten anything because she had it under control. She was organized, disciplined, readily available our wedding could not have gone any better and coming from the Mother of the Bride, that means something.

Veronica L.

Married on 11/16/2020

Wonderful!

What can I say...Tina did an amazing job! Our wedding was perfect! Stress free! I highly recommend her to anyone that needs an event planner. ❤

Serendipity Events by Tina's reply:

Veronica! Thank you for letting us be part of your big day! Everything was so beautiful. I love all of the little details you added everything was so nice. I hope you had a blast on the honeymoon!

Are you interested?
Send a message