50 Reviews
Recommended by 100% of couples
Quality of service

5 out of 5 rating

Average response time

5 out of 5 rating

Professionalism

5 out of 5 rating

Value

5 out of 5 rating

Flexibility

5 out of 5 rating
62 User photos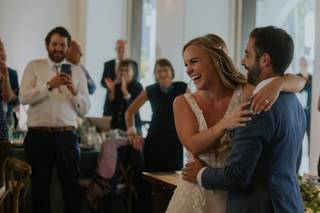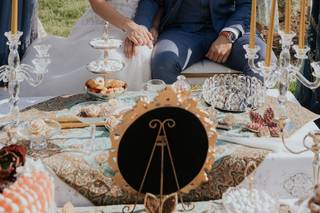 + 58

photos
Cassy G.

Married on 11/19/2022

Janet is phenomenal!

Janet is an angel on earth! She made our planning experience super easy and enjoyable. If you're on the fence about hiring a planner, I promise you it is 100% worth it! Not only was Janet exception throughout the entire year-ish of planning, but she and her team treated us like absolute royalty on the day of the wedding. I promise you I didn't have to worry about a single thing because I knew Janet had it covered. Everything went absolutely perfect and Janet's team is largely responsible for that! 100/10 recommend!!

Kristen L.

Married on 10/29/2022

Fantastic Experience

Janet Tacy with Sandcastle Celebration was amazing! She helped us navigate what to do leading up to a wedding, providing amazing vendor recommendations, and a great, relaxing day of environment. Would definitely recommend

Isabelle F.

Married on 10/22/2022

So much love for Janet!

Janet from Sandcastle Celebrations helped us plan our wedding in SLO and I cannot say enough good things about her. She was professional, organized, funny, and so helpful. We couldn't have done it without her!

Are you interested?

Send a message

Maggie H.

Married on 09/17/2022

Knowledgeable and organized

Janet and Madi were amazing to work with! Janet's services were included in our contract with our venue and we were so lucky to have her! Janet is very knowledgeable of the wedding industry on the Central Coast, from suggesting various vendors to providing general wedding tips and tricks. Janet invited Madi onto our planning team about 2 - 3 months before our wedding day and together they asked all the questions necessary to iron out the details before our big day. They brought up so many things I hadn't even thought about and wouldn't have planned for without their guidance. I was so grateful for their insight, recommendations, and availability to talk over the phone or meet in person when needed.

On the day of, everything went very smoothly to my knowledge - which is what you want when you are the bride! Madi coordinated every minute of our day and I was not troubled with any small details so I was able to soak in our wedding day. Madi and her team set up all of my décor, placed each name tag for our guests, coordinated vendor arrival times, and packed up all of my belongings at the end of the night.

My biggest takeaway would be that Janet and Madi are very organized, personable, and have wedding planning down to a science! Their experience in the industry makes them some of the best people to work with and I would recommend them to anyone.

Dana T.

Married on 09/04/2022

Janet is an absolute dream wedding planner & partner!

Janet and her team made our wedding dreams come true in the most beautiful and seamless ways! As most brides do, I had a pretty big and specific vision and she was my partner for over a year leading up to our big day to make it all happen. She was collaborative, insightful, well versed in all of our options in the Central Coast (and had incredible relationships with everyone), and extremely kind and positive throughout the chaos & stress I was carrying as a bride! I am so grateful to have had her by my side throughout the year of planning and especially on the day of -- I didn't worry about a single thing that day except for marrying my guy and enjoying every moment with our friends and family, which was possible due to the calm composure and attention to detail that Janet has- I knew we were in the best hands and I didn't have to worry about anything not going exactly to plan.

In addition, we ended up having a very unexpected and unusual heat wave (not common at all in the SLO area) and not only did Janet make sure everyone was comfortable and hydrated (more so than we had planned for without having to stress or ask!) but when a few of our elderly guests had felt ill, her team stayed by their side to make sure they were OK, and without missing a beat for anything else happening throughout a jam-packed day. I truly can't imagine having a better wedding day or partner in the planning process and recommend Janet and her incredible team at Sandcastle Celebrations to any and all Central Coast brides to be!

+ 17

photos

Karlee G.

Married on 08/20/2022

Amazing! The absolute best!

I'm not an expert in wedding coordination and I never needed to be. Janet had everything handled and on our big day, ensured we had a perfect day!

When we asked for a German beer garden style wedding Janet said, "I'll make it happen!." We could not have done it without her. She made our vision come to life!

Janet was an absolute joy the day of, continually reminding us that we were the most important people and helping us resolve small things that came up out of our control.
10/10 service!

+ 2

photos

Hayley B.

Married on 08/16/2022

Look no further!

We worked with Janet with Sandcastle Celebrations for our wedding this year and I cannot say enough good things about her team. She helped us find our venue, assemble our entire team of vendors, handled all details, and was really helpful with design details. She worked with our budget and went over and above to ensure we were prepared for our big day. She brought our vision to life perfectly and we definitely could not have done it without her. Not only is Janet and her team extremely professional, detail oriented, and talented, but Janet is truly a wonderful person. She has such a positive and warm energy, and we always looked forward to our phone calls and in person meetings with her. When the wedding weekend ended we were so sad we wouldn't get to see each other regularly anymore! During the wedding and thereafter, we had multiple guests tell us how awesome she was and how this was one of the most thoughtful weddings they had ever attended. I could go on and on, but I'll end with this. Look no further, this team is the dream team and will ensure that everything goes perfectly on your wedding day.

Sofia J.

Married on 08/06/2022

Janet and her team are fantastic!

Planning a wedding is daunting and there are so many details to consider and choices to make. Janet's expertise is obvious and she is a wonderful guide, we couldn't recommend her more. We were planning our wedding from a distance and she was happy to hop on Zoom with us, answered all our questions, and always made us feel calm. Her professionalism and positivity made the months, weeks, days leading up to our wedding less stressful and then the day of the event we were free to enjoy ourselves. It was truly spectacular and we couldn't have done it without her!

She's also great at last-minute emergencies or changes of plans. For example, we decided at the last minute that we wanted to do a version of a wine ceremony (but with tinto de verano) and she immediately helped us with that.

Photos by Alexandra Wallace

+ 3

photos

Sandcastle Celebrations's reply:

What a pleasure it was to collaborate with Sofia, her mother and delightful groom. Thank you for your kind words. It's always such an honor to assist couples plan and organize such a momentous occasion. I am so happy we were able to execute your vision seamlessly. Wishing you both the very best.

Ashley M.

Married on 07/09/2022

Absolutely excellent

Janet and her team know every vendor on the central coast, and will give you fantastic recommendations. They will review every detail of your wedding planning so thoroughly to make sure nothing is missed. And above all else, they will do it with incredibly positive attitudes and smiles on their faces. They are such a joy to work with.

Caitlyn O.

Married on 05/15/2022

Most important wedding vendor!

Never under estimate the power of an amazing coordinator. Janet and her team were everything to me leading up to and on the big day. Every conversation I had with Janet was inspiring and reassuring. She has a way of putting you at ease and understanding your ideas while you try to make sense of it all as well. A few days out from the wedding I knew she understood my vision and on the day of I had no worries that everything would come together. Literally on the day of the wedding I directed everything to her and her team. I was well taken care of! I had someone to hold my bouquet during pictures, hold my hand while I waited to walk down the aisle, someone was always around to make sure I had what I needed, and make sure we were on time and we had a team to clean up after the party. Also a huge shout out to Maddie who helped with the rehearsal and was the one taking care of me (keeping me sane) while Janet made sure everything else ran smoothly. Also little reminder! Make sure to get pictures with your vendors!! I didn't and I regret it!

Cassie A.

Married on 02/26/2022

AH (clap) Maz (clap) ing (clap)

Janet Tacey! I don't know how you came to be a wedding planner, but this path of life was meant for you! Janet and her team were amazing! We got married at Villa Loriana and we live in San Francisco. I would not have been able to plan this wedding without her! Every time we spoke on the phone she was so enthusiastic and I could feel her smiling through the phone. Every conversation left me feeling productive. I always knew what was needed of me to help her through her process. The vision I had for our wedding was simple and fairly minimal, but Janet and her team put all the little touches in there to make is beautiful and memorable. For all the stress that I never felt the whole time I was planning the wedding with her makes her worth every single penny! She always responded to emails within a couple days. She always let me know if she was going to be unresponsive because of another wedding or being out of town. She communicated with all my vendors and let me know what communication I needed to have with the vendors. I can plan a small dinner party of 6 people and that's difficult LOL Janet KNOWS how to plan a wedding of 200 people and make it run on time! Our day was absolutely PERFECT! Janet! I love you!

Dani S.

Married on 02/19/2022

Janet at Sandcastle is the best!!!

Janet was nothing short of amazing, she is the absolute best wedding planner out there and we couldn't have done it without her!!! Cannot recommend her and her team enough!!!

Linzy S.

Married on 02/02/2022

A dreamy dark wedding come to life!

Janet & her team truly made my not so average wedding vision come to life! It was the most beautiful day and I had to worry about nothing thanks to Janet!

Sandcastle Celebrations's reply:

What a dream to create this stunning wedding! It was absolutely magical. Thank you for trusting my team with your vision. Wishing you and Jon a lifetime of happiness.

Arielle T.

Married on 10/23/2021

Hire Janet ASAP!

I don't even know where to begin - you need Janet on your team! Janet and her team were my lifeline throughout my wedding planning process. She helped me navigate TWO postponements due to COVID and seriously kept me sane. She has impeccable taste, is so easy to communicate with, incredibly kind and has great connections with all of the vendors in the SLO area - making planning from a distance (based in LA) so easy. Since we moved our wedding a few times, Janet ended up being booked on our new/final date and had Jessica be our lead for day of. Jessica was seriously PERFECT day of. She kept me calm during some crazy wind before our ceremony started, kept the day moving perfectly on time, made sure our LARGE and loud bridal party/family knew where they needed to be and seriously made everything feel and look so perfect. People always say that small stuff will go wrong day of and not to sweat it -- truly nothing went wrong that I knew about. If there were hiccups, Jess did a great job of handling them without me knowing or having to stress about anything that day. Its been two months since our wedding and I miss my chats with Janet & Jessica -- Cannot recommend them enough!

Whitney C.

Married on 09/10/2021

Professional, Detailed, and Attentive

Janet and her team were fantastic. They took great care of us leading up to and on the day-of our wedding. Living in the San Francisco Bay Area, far removed from our wedding venue, we leaned on Janet for vendor recommendations. She always gave us great options and helped us navigate our decisions.

Sarah P.

Married on 08/28/2021

Janet was more than we could have ever asked for.

Janet was more than we could have ever asked for. She provided us with great vendor recommendations and was communicative throughout the whole process. I don't know what we would have done without her. The day of was everything we wanted and we owe a big part of that to Janet and her team. We would not change a single thing.

Charlene S.

Married on 05/30/2021

A mother's Blessing

I would highly recommend Janet and her team. She was the biggest Blessing to my daughter & myself. She was so organized, had every detail planned out. She was there for us as we had questions, concerns. She really cares about the Bride and Mother of the Bride. And tgst was very apparent.. I felt so relaxed on the day of the wedding, I was able to just embellish my daughter which for a mother is a dream come true and to focus on nothing else but my daughter and her big day. As problems came up at the wedding she handled them all and I can't thank Janet and Jessica enough for all they did. They are truly my Blessings💜💜🦋🦋

+ 3

photos

Libby R.

Married on 04/09/2021

Love Sandcastle Celebrations

I am always so relieved when I see Janet Tacy & Sandcastle's name listed as the coordinator for my couples' weddings. I then know that my wedding will run smoothly and there will be clear communication for the entire event. I also love that Janet trusts me with determining my own delivery times, etc to suit what is best for my product and the event.

Sandcastle Celebrations's reply:

Always a pleasure to work with Libby from Just Baked SLO. Her flagship cookies are my favorite and I can't skip a visit to her bakery when I am in North County. Highly recommended for all your dessert needs.

Taylor A.

Married on 04/03/2021

More than 5 stars

Janet and her team are AMAZING!! I would highly recommend Sandcastle Celebrations. It such a wonderful feeling as the bride and groom to know you can trust your coordinator to execute what you've envisioned for months and know that their touch will probably make your day even better. Every time I would mention to my other vendors that I had Janet, they would relax and say "oh you're good to go! she's wonderful to work with" and I believe local vendors are the best resource to find the "best of the best". Janet was flexible to work with and she is a get things done kind of gal. I mean, we did our venue walk-thru on a weekend and on her birthday and we didn't even know it until later! She is calm, collective, professional, and fun! She has great recommendations for local vendors, has a high attention to detail, and good recommendations for your timeline for a wonderful day!! Coordinators can sometimes be optional, but they really shouldn't be. It was 100% worth the investment.

David N.

Married on 03/04/2021

Janet and her team are AMAZING

Janet and her team were amazing. They helped make our Son's wedding a perfect event. We used to be in the floral business and have been involved in hundreds of weddings and Janet made this look easy and we know it is not. We would highly recommend Janet and her team. Thank you Janet !!

Sandcastle Celebrations's reply:

Thank you for the kind words! It was such a pleasure to work with your entire family to produce such a stunning event. I am so happy for Ryan and Danielle. It was a magical wedding. Wishing you all the very best.

Karina B.

Married on 08/22/2020

Do not hire anyone else!

My fiance (now husband) and I had the pleasure of working with Janet for over a year before our wedding. She kept us on top of things, and made it so easy to choose vendors and make our ideas come to life. She made the experience of planning a wedding stress-free and exciting. She was available for phone calls and text messages whenever we needed her. When it got closer to the wedding, Janet even took the reins and made sure that we weren't getting taken advantage of by other vendors. Not only is she a true professional but she became our trusted friend along the way. Jessica, our Day-Of Coordinator, was absolutely incredible as well. She was very organized and went above and beyond to help us feel comfortable and not stressed on our wedding day. They are excellent at what they do. I HIGHLY recommend hiring Sandcastle Celebrations for your wedding. You will not regret it. It was a day I'll never forget.

Natalie F.

Married on 10/06/2019

Sandcastle Celebrations is AMAZING to work with

Janet Tacy is hands down AMAZING! We first met Janet on our site visit and she was personable, organized, attentive to all the questions we had and created a vision as we walked through the property. I thought to myself, she is just like me with her attention to detail and being on it and I knew I had to work with her! Janet helped coordinate site visits with our vendors and gathered a few quotes for us as we lived out of town.

During the wedding planning process we actually ended up changing venues and she was there every step of the way. She was so helpful with the transition and making sure everyone was on the same page. Janet was available for phone calls, replied quickly to emails and was available to have a few more site visits with different members of our family at the new venue.

During the process she was open with our concerns, questions and a sounding board. I can't stress enough how nice it is to have a Wedding Coordinator on the day of, not to mention taking over 30 days before.

During our wedding rehearsal we worked with Jessica as Janet was coordinating another wedding. Jessica was also amazing as she was personable and organized. On our wedding day we had an A+ team of Jessica and Janet! With the coordination of all the vendors, they made my husband and I not have to stress or worry about anything.

I can't say enough good things about my experience with Sandcastle Celebrations. We would highly recommend them to anyone with an event/wedding in the Central Coast!

Ryan H.

Married on 09/21/2019

Simply the best in the business!

My wife and I booked our wedding reception for the Casitas Estate, and Janet coordinates the vast, vast majority of the weddings there. She was available for our weekend, so we requested her immediately and we're so glad she did.

Janet was so great to work with. She's incredibly organized and has valuable experience to draw from. This allows her to both help in the planning process and make any necessary adjustments on the fly. She is willing to go above and beyond to make your day a success!

For instance, our caterer had a complete breakdown with understaffing and a bartender calling in sick, etc. Janet and her assistants are the only reason this didn't completely ruin the day. She truly cares about you and is invested in your wedding.

We're so grateful for all of the time and energy Janet spent on our wedding. We highly recommend hiring her for your big day. She is simply the best in the business!

Sheri W.

Married on 09/14/2019

A must have!!

A wedding planner is something new to me but I couldn't have imagined the importance of having one! I was able to just be there for my daughter on the day of her wedding, completely attending to her, all the while Janet was taking care of the details outside, and I mean every detail. Our breath was taken away and tears to ours eyes on how beautiful and perfect it was. We even had a pretty significant issue, actually two, and Janet and her team took care of it only to address it at the end of the night, allowing us to just enjoy the day. I would highly recommend her!

Francesca D.

Married on 08/30/2019

Awesome coordinating team right here!

I could not have asked for a better coordinating team! From the moment I booked my venue at the Casitas Estate up until wedding day Janet at Sandcastle Celebrations was with me the whole way. She made me feel comfortable and confident that my special day would be just how I imagined it. They were professional, organized, patient, quick to answer all my questions and able to make adjustments easily.

Not being from the area I leaned on them help assemble my vendor team, with vendors they trusted and that were within my budget. Planning a wedding no doubt can be stressful but with the help of Sandcastle I knew I was in good hands and the week of my wedding I felt so calm and confident. They took the pressure off my by dealing with my vendors, drop offs, set up and everything else behind the scenes.

The day of all I had to worry about was getting ready and walking down the aisle. Our wedding day turned out exactly as I had imagined filled with love, laughter and lots of dancing. It was a perfect day and went off without a hitch thanks to Janet and her team! I highly recommend Sandcastle Celebrations for making your special day extra special!

Sandcastle Celebrations's reply:

Thank you for your kind words! It was an absolute pleasure to assist you and Josh. Wishing you both a lifetime of happiness.

Are you interested?
Send a message