Reviews
4.4 out of 5 rating
Quality of service

4.3 out of 5 rating

Average response time

4.2 out of 5 rating

Professionalism

4.4 out of 5 rating

Value

4.4 out of 5 rating

Flexibility

4.5 out of 5 rating
87%
Recommended by couples
32 User photos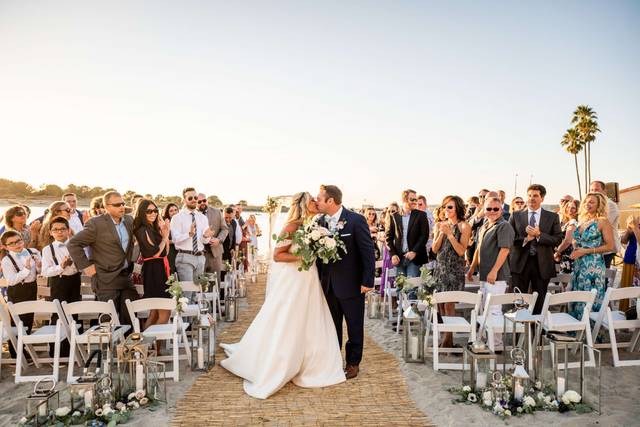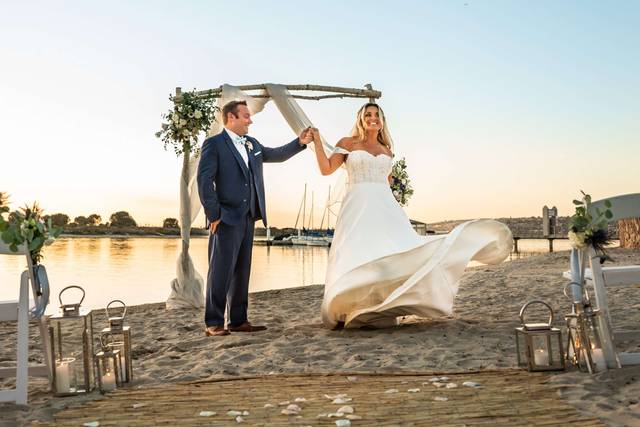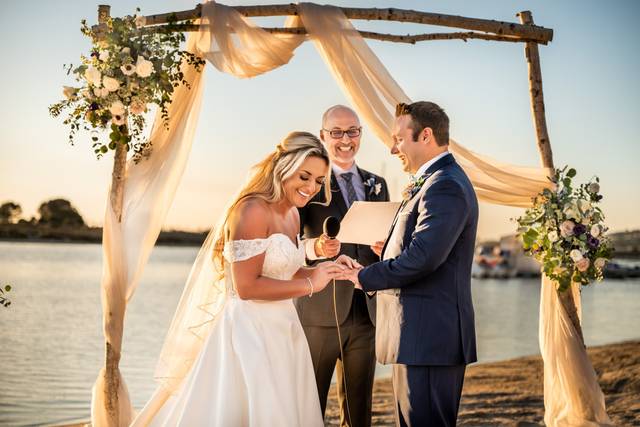 + 28

photos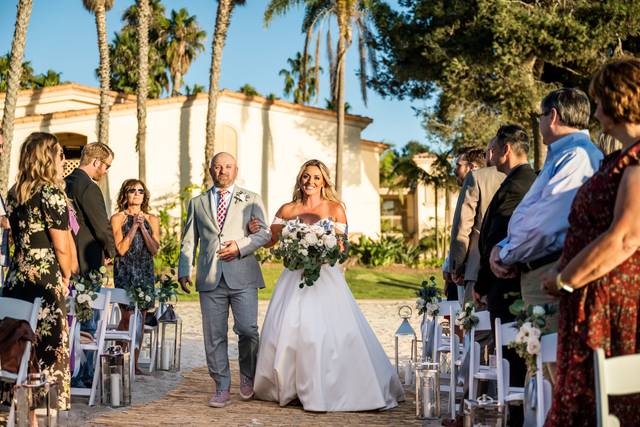 Grete H.

Married on 10/16/2021

Awesome resort and wedding venue!

I can't say enough amazing things about San Diego Mission Bay Resort. The resort coordinator, Donna, was a pleasure to work with and she went above and beyond to make sure that our wedding day went smoothly. My wedding guests loved all the amenities offered by the resort. Highly recommended!

+ 2

photos

Sean

Married on 09/11/2021

e will We will be returning for our 5yr and 10yr anniversaries!

We booked our Sept 2021 wedding originally in Nov 2019 due to COVID. We fell in love with the venue with the beach.
Venue was great with us in downsizing and rescheduling. The resort was renovated, staff was uber friendly and accommodating, everything from handing out all my 120 guests gift bags, to special needs for a 10 piece band! to setting up a UNI (Sea Urchin) STATION and a FRESH COCONUT station!
They made us a custom dessert petit 4s that fit our theme. The venue coordinator Donna has been doing this a long time, she is responsive and was personally there every single event and even rehearsal and took care of every hiccup before they actually occurred.

The went way above and beyond just what their banquet offerings and accommodated ALL my custom orders as we wanted to stand out!



+ 9

photos

Mk Bu

Married on 05/11/2019

Beautiful venue, amazing experience from start to finish!

We simply cannot speak highly enough of Bobby Fader and his team at Hilton San Diego in hosting our fusion Indian American wedding this past May 2019. From the very first moment we met with Bobby, to the weekend of our wedding and after, Bobby was consistently one of the most professional, considerate, and supportive people we worked with in planning our wedding. In working with many vendors, we learned Bobby is well known and highly respected in the wedding planning world in San Diego, and he completely lived up to these expectations. Bobby's catchphrase is "I hate the word 'no'," as in, he will always try to accommodate your requests to help you get the wedding you want, and we found this proved to be absolutely true in working with him. We could share countless examples, but it might be easier to just say that he was able to satisfy even the most demanding of Indian family members in getting every detail just right. Bobby was probably the single most reliable person we worked with in our wedding planning—his communication was excellent, he was always quick to follow up on our questions and requests, and by the time of our wedding weekend we really felt like every detail had been covered. And throughout the stressful process of planning our wedding, Bobby did such a great job of being a calming and supportive presence: he was never fazed by even the most frantic of anxious calls or last-minute changes, and he often reminded us that at the end of the day, our wedding was going to be special and fun because of who was there, and he helped us not to sweat the small stuff (which came into place perfectly anyway with his help). In summary we would unequivocally recommend working with Bobby Fader for your wedding or any other event. You will not be disappointed!

In terms of the Hilton San Diego itself as a venue, we were beyond happy with how beautiful our outdoor ceremony space and indoor reception space turned out, and the large beachside hotel/resort was perfect for accommodating our guests visiting San Diego from all over the country. The site is very near to many major attractions and to the Trolley station, which many of our guests took advantage of. As a couple, we felt very taken care of… the day before our wedding we realized we had some very noisy neighbors and the staff at Hilton immediately responded and quickly moved us to an even better room overlooking our ceremony site. It was perfect! Almost all of the guest rooms have been recently remodeled as of 2019, and the hotel staff was exceedingly professional in helping us ensure our wedding party had a great experience. We would gladly choose the Hilton San Diego again for our wedding venue.

Are you interested?

Send a message

Winifred H.

Married on 04/20/2019

Top notch service start to finish

I was mother of the groom, MOG, and cannot say enough about how wonderful the event was. Every detail.well taken care of. We were 130 people ages 3mobths to 83 years and the Hilton had something for all of us to enjoy. Thank you!

San Diego Mission Bay Resort and Spa's reply:

Thank you Winky for the lovely review. It was great fund working your son and now daughter. I agree, family style dining was fun. It was also fun seeing you jog around our resort in the morning:). I think I saw you do 8 laps....that's a lot!. Please feel free to stop by anytime.

Erica

Married on 11/10/2018

Great Wedding Venue!

We choose the Hilton San Diego Resort and Spa/ Hilton Mission Bay for our wedding last November and we are so happy we did!

We looked at about half a dozen venues in person before deciding to book with this Hilton. We set up an appointment to see the property with Bobby about 10 months before our wedding date. The property was so beautiful and Bobby was so kind and helpful we booked with them the same week.

The price per person was very reasonable. It included quite a lot, including a plated dinner, a wedding cake, water, etc. A one hour cocktail hour with complementary bar was included in the price; it was especially nice because the cocktail hour was at this bar/ lounge area near the pool area called Frescos.
We chose the have our ceremony at the gazebo, which the staff repainted a couple days before the wedding to make sure it was beautiful for our wedding day.

Bobby was very helpful in the months leading up the wedding. Picking out the linens and seating arrangements was so easy. My husband and I also were able to have a tasting at the hotel before choosing our menu. We ended up choosing the beef with duck confit ravioli and roasted chicken, which all our guests loved. Bobby and the Hilton were also very accommodating with special food request. We had quite a few vegans; Bobby provided us a few options for them. They also served them dairy-free sherbet during the reception, which was a really nice surprise. It was really thoughtful of the staff to do that.

We chose to have a hosted bar up to a certain dollar amount which was a good choice. Whatever you don't spend, you get back. The drink menu is really customizable; we were able to include beer, wine, and a signature cocktail in our hosted-bar menu.

We had a lot of guests from out of town. We were able to make a very reason hotel room block for our guests. The staff were really helpful to everyone with their bookings and throughout their stay.

The entire staff did such a great job making us, our families, and our guests feel welcome at their property. It's such a lovely hotel and we're so happy we chose it as our venue for our big day.

+ 3

photos

San Diego Mission Bay Resort and Spa's reply:

I was so impressed by the flower stands your dad made as well. I wish I had that talent. It would be great to see both of you again. Please feel free to stop by to say hi and maybe a cocktail or two:).....Bobby

Annie

Married on 08/18/2018

Me and My husband planned a quick weekend get away to San Deigo to elope on the Beach......
i contacted Maribel from the Hilton resort and spa who lead me to Mary from www.Maryselements.com
Can I tell you how amazing Mary was to work with?
We texted several times over the last two months and talked on the phone too…..she is SO personable and sweet and made it into EXACTLY what I wanted for our little elopement on the beach. I had 100% CONFIDENCE in her!! She made me feel that for sure….
It was just my fiancé and I. She met us on the beach early early morning at sun rise.. Saturday 8-18-18 at 6:ooam. She brought a witness….all 4 of us shed tears….and hugged!
She made our moment better then I envisioned. It was more than perfect! It felt like her words were written for us and our relationship. She also brought me the most beautiful Bouquet! :) I will be recommending the Hilton and Mary to anyone that is thinking about doing this…….:)


+ 2

photos

Luna J.

Married on 11/23/2014

The resort is beautiful and the location is great! There is a lot of good outdoor spots for pictures (beach, garden, dock, etc.). The staff was very friendly and responsable.

Carly

Married on 07/13/2014

Thanks to the Hilton San Diego Resort and Spa, Laura, and everyone else on staff, we had the most incredibly magical dream wedding we could have ever imagined. It exceeded all of our expectations.

Erin

Married on 03/15/2014

Laura is the best! She was so helpful and I couldn't have asked to work with anyone better to plan the wedding of my dreams.



Demetra

Married on 06/03/2012

Everyone was so friendly to myself and my guest, the staff really took care of us and made us feel very welcome to stay at the Hilton. The staff at my reception was very helpful and alway there to help!

Lisa

Married on 07/17/2010

Gorgeous location, incredible staff, and the food was phenominal!! Everyone complimented me on my choice of venue!

Rose

Married on 09/08/2018

My husband and I had the most perfect wedding reception at the Hilton San Diego Resort and Spa, at the Bayside Terrace!!
We had our ceremony at a different location in a church, but the Bayside Terrace was a perfect location for our reception. I wanted to either be outdoors or have a view of water for our reception. Although there is no direct view of the water from this venue, the water is right there, and I loved feeling the fresh breeze from the bay. Bayside Terrace was also such a beautiful venue to be in, and it shows in photos, as it is surrounded by palm trees, with a beautiful rock water feature right behind where our sweetheart table was.

We had about 140 guests and the space felt perfectly sized. We were originally expecting closer to 200 people, which would still have felt comfortable, as there was still plenty of space on the sides, but the reception layout still felt nice and almost intimate.
We also loved that the Hilton had some outdoor games available for us to use, so that guests were able to play games like corn hole and ping pong right along the side, if they wanted to take a break from dancing. This was especially useful for entertaining the young kids that were there.

We don't live in San Diego, we are located in Los Angeles, so we did have to manage the planning from afar, but Maribel Beltran was great about making sure everything was covered. We, including our family and friends, also booked hotel rooms at the Hilton for wedding weekend and additional days leading up to the wedding.
Maribel made sure we were comfortable the entire length of time we were there, and we truly appreciate all she did for us, along with everyone else at the Hilton who contributed to our big day!


Chelsea

Married on 08/09/2014

Overall, my experience of having my wedding at the Hilton was amazing! It was beautiful scenery to have our wedding outside, and great for pictures. The food was amazing, and the Hilton staff were extremely attentive to our needs.

Annamarie

Married on 09/03/2011

3/5 for value simply because it was a pricey place, but Katie definitely worked well with us to get our menu to someplace we could afford. Still, a 22% service charge on top of what we're already paying when you have 174 guests is stillll painfully pricey.

4/5 for responsiveness because it was sometimes hard to contact people, but our main contact was on maternity leave for a bit, so we understood.

Otherwise, loved the grounds and the venue. Katie was awesome in working with us, giving us a personal taste test and working with us on "special" orders (changing the menu packages a bit). She also gave us the idea of a signature cocktail which ended up being champagne and some kind of blue alcohol to go with our "SD Chargers" theme which ended up being a hit! They let us use the room the day before to start getting things set up which was a HUGE help, and Katie kept things rolling for us when myself or our bridal party in our haste, forgot things that we needed for the reception.

The staff was awesome--helped us set up our personal decor (even though they didn't have to) and when we had our open bar, really accommodated our guests even when they asked for shots for 25.

Thanks, guys!

Loquawna H.

Married on 12/17/2019

Love is in your heart

Thank you if y'all can please help me out

Kathryn H.

Married on 08/21/2021

Great food and view

All of our guests said they enjoyed the view and the food was amazing. We did the luau buffet and the food and service staff were so friendly and covid conscious when serving us.

Lisa

Married on 05/20/2014

For our wedding my mum and dad flew out to surprise us and also stayed at this hotel. When they went to check out the last morning they were giving an extra bill for some services thing and also for their car that they had hired to park it which they were not informed about the charge when they were parking at the hotel. It was a bit disappointing after such a lovely experience we that there for our wedding. But apart from this we had a fantastic experience there.

Erik

Married on 06/24/2012

We recently had our wedding at the Hilton and had an amazing day. First, the positives… The venue is beautiful! We had our ceremony in the garden by the bay in the pergola and needed to add very few floral arrangements because it was already covered in bougainvillea and other colorful flowers. The cocktail hour was in Fresco's Bar, which is between the awesome pool and the bay, so very few decorations were needed there either because it is amazing on its own. The food is delicious! When we went for our tasting, we though the food was good; however, on our wedding day, it was even better. Even our guests raved about the quality of the food, which is quite a rarity at a wedding. Even our vendors told us how much they liked the food. We also got a lot for our money and were able to negotiate about price. The catering manager at the Hilton recommended our florist and we were very pleased with her work as well. Our bridal suite was a room with a bay view and a fire pit, so we were able to have parties around our fire with many of our guests who were visiting from out of town. We also had a great view of the Sea World fireworks every night we were there, including the wedding night. We have no regrets about choosing the Hilton and our pictures from the wedding are just breath-taking, in large part because the venue is so beautiful.

Now, the negatives… There were several significant difficulties along the way in our planning that we also feel are important to mention. First, we were working with one catering manager for over a year and found out from a different catering manager three weeks before our wedding that the one with whom we had been working would be going on maternity leave and she would be taking over. We had no idea and were pretty upset that the catering manager with whom we had been working for so long didn't just tell us herself. We also found that catering manager to be increasingly unresponsive to our requests for information or answers to questions as our wedding approached. When we first signed our contract, she was actually very responsive; however, once we were about 3 months out from the actual day, she would take weeks to respond to our emails and would often only respond to some parts, which would require us to ask her the same questions again and wait more weeks for a response. That was super frustrating. We had no problem with her getting pregnant and needing to go on maternity leave, but that was clearly not a last minute surprise. Had she given us more notice, we wouldn't have had to wait until the last minute to bring the new person up to speed on all the details we had been working on for the past year, and she could've been more responsive to us all along. The new person did as good a job as she could've done given the circumstances, but the whole thing should've been handled better. We also had been given what we thought was an accurate diagram of the reception room and had worked very hard to determine the table arrangements and positions of the dance floor, stage for the band, cake table, etc. On our wedding day, we realized that the room layout from which we had been working drastically overestimated how much would fit in the room and we had to work on revising the room plan hours before the wedding started. We had been to the venue several times over the course of the year and were irritated that this issue was not resolved during any of the many visits we made. We also were frustrated with the way the hotel treated our guests by the room sales department. Most of our guests were flying into San Diego from the East Coast and we had a large block of rooms. However, many of our guests reported difficulties when they attempted to book rooms as part of the block. For example, our guests complained that they were told that the block was sold out when it wasn't or that they were being quoted higher prices for rooms than were clearly listed in our room block contract. Once guests arrived for their stay, it was more of a mess, with several of our guests reporting that they were given less desirable rooms than the rooms they had actually booked when they made their reservation. The hotel also tried to charge them the rates for the nicer rooms they booked even though they weren't giving them those nicer rooms. It seems as though other non-wedding hotel guests were given their rooms because they were paying the full price and our guests were paying our room block rate. Probably the worst part was that we had attended a meeting a few weeks before the wedding, during which we established with the catering manager where I would be staying prior to the night of the wedding to ensure proper placement for getting ready and transferring items between guest rooms. When I went to check in, I was given a room that was in a completely different area than the one we had all agreed on. They tried to put me in several different rooms, none of which were what we agreed on, and after several hours I finally had to settle on a room that was as close to what I booked as possible, and even then I had to tell them that I expected to be charged for the room they gave me, not the one I actually booked. Also, despite having discussed with the catering manager several times that we wanted our guests to be charged the parking fee rates (which were ridiculously high) that were listed when we signed our original contract and not the newly raised rates (from $25 per night to $32 per night), we had to repeatedly remind all of the staff that this was the agreement and they were not to overcharge our guests. We had made guest bags to be delivered to our guests' rooms prior to their arrival to welcome them to town. We were charged per bag, which was ridiculous, and even after carefully sorting and labeling the bags, they were delivered incorrectly or not at all and we were still charged for them. Overall, it frequently felt like we were making an effort to communicate in an organized and detailed way, but it had no impact and we kept having to remind everyone what they had agreed to with us. Finally, we had 3 delicious hors d'oeuvres at our cocktail hour (which we completely missed due to pictures), and we were recently told by several of our guests that they never saw them. In fact, I have yet to talk to any of our guests who tasted the hors d'oeuvres, which clearly suggests that the staff was not making the rounds the way they should've.

All that said, we are still glad we chose the Hilton. If you have your wedding there, you won't regret it. Just be very clear up front about what you're getting and demand that you and your guests are actually getting the rooms you booked.


Bianne

Married on 09/15/2012

For the most part, the Hilton was amazing! I worked with Katie to begin with. She was super on top of things, got back to me in a timely manner which was super important since I was living in Phoenix. She went on maternity leave 3 months before our wedding and Lara took over. Lara was not as easy to work with. I had to constantly email and call to get a response from her! In several cases I was told one thing, and then a few months later told something different, nothing dramatic, just annoying. I know she was busy, they have about 3 weddings a weekend there, but totally being ignored is not okay! However, the day of went perfectly!!!! Lara was amazing running around making sure everything went smoothly! We were running late (what bride isn't), the hotel does not have valet parking, but they left my parents park their car in a 20 minute loading area for the entire night! Apparently there were random guest that snuck in and she ushered them out without many people noticing. The head banquet guy took care of my husband and me the entire night! He knew exactly what drink we wanted and had it waiting. Following the ceremony, during cocktail hour, Lara brought our wedding party drinks down to the beach where we were taking pictures. We definitely felt like we were special! Finally, the food was AMAZING!!! All of my guests loved the food and commented on it! The Hilton made a special meal for us. We got married on the beach and wanted a luau themed reception. They added roasted pig to the menu for us! We were also having a smaller wedding, so they worked with us on price. I do highly recommend the Hilton for your wedding, even having to deal with the lack of communication leading up to the event.

I held my reception at the San Diego Hilton spa and resort in July 2015. We used the outside spaces, Frescos and the South Pool Patio. Both locations are beautiful and have great views of the amazing Sea World fireworks in July. However, leading up the event getting information and communicating with the Hilton staff was difficult. In the end we needed to go down to the venue on the Monday before our Saturday wedding (5 days prior to the event) to request to get our dinner floor plan, our banquet event order (BEO), and to coordinate our final payment. I luckily had hired a day of coordinator (outside vendor) and would highly recommend that to anyone booking this venue. We had multiple (smallish) problems the day of the event and my coordinator had to find the banquet caption to get any of those issues addressed; at one point my now husband left our wedding reception to find a manager. Just to give a few of the days miscommunications: confusion on when the bar was to open; what drinks were being hosted by the bride/groom; only having access to community bathrooms for beach-goers/pool guests/wedding guests causing them to be sandy, wet, and having no toilet paper; lack of signs letting guests know that an event is in session one hotel guest got drinks during our cocktail hour. Many of our guests have told us what a great time they had, only noting confusion at the bar and commented about the bathrooms. So our guests noticed little that was going on behind the curtain. The Hilton staff has been communicating with us after the event to discuss the concerns we had, some of which are noted above.

Mike

Married on 08/12/2017

Nice resort, but over-priced in pretty much every respect, from parking fees to the cost of breakfast to the room rates. The staff was courteous but not very competent. The billing for our group was an absolute fiasco.
Are you interested?
Send a message