97 Reviews
Recommended by 97% of couples
Quality of service

4.9 out of 5 rating

Average response time

4.8 out of 5 rating

Professionalism

4.8 out of 5 rating

Value

4.8 out of 5 rating

Flexibility

4.9 out of 5 rating
16 User photos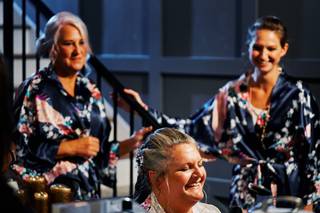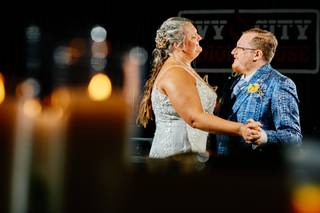 + 12

photos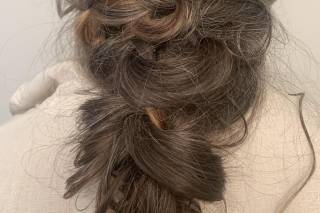 Polly J.

Married on 05/29/2022

flawless makeup & hair!

I loved my makeup/hair with Ky! She was so flexible during the trial to get exactly what I wanted, and spent as much time as we needed getting it right. I had some (very) minor comments with the makeup itself and she took the notes exactly and delivered flawlessly on my wedding day. I had so many compliments on my makeup and hair, and most importantly, I felt beautiful. The makeup also photographed so well. Ky is such a sweet and lovely person - she made sure to set a calming vibe at both the trial and on my wedding day, and was a pleasure to work with! Can't recommend her enough!

Elena K.

Married on 06/11/2021

Talented, kind, calming

Ky of "Modern Green Goddess" and her stellar team managed to complete hair/make up almost every female in my family the day of my wedding (Nov 2021). When I told her all of the people that would be needing her services, she didn't bat an eye and immediately coordinated with her colleagues to ensure they would complete the looks in time. Start time was 9AM and they were on time, professional, and communicated with us ahead of time on what they'd need from the hotel to ensure they could deliver on time and DID THEY EVER. Ky was a calming and fun presence on the day of my wedding and incredibly communicative in the weeks leading up. She reflects my ethos of clean, natural beauty and made me feel empowered to contribute to her work and advocate for my vision. Ky and her team were a part of the party and an unforgettable contributor to my dream wedding. I looked like MYSELF just a bit more enhanced thanks to Ky. Also: she specializes in mature makeup application, so she was able to ensure my grandmother was just as cared for as the rest of us. Thank you Ky!!

Evan M.

Married on 04/17/2021

Made my day relaxing and beautiful

Ky was suggested to me by my wedding planner and working with her was one of the best decisions I made. Ky was flexible and accommodating through the appointment making process. She was also super helpful in collaborating with me on a look, as I'm indecisive and don't wear makeup regularly.

Ky gave me the perfect "makeup-less" look I wanted that LASTED ALL NIGHT. Definitely recommend and will be using her again in the future. Thank Ky!

Are you interested?

Send a message

Noelle S.

Married on 05/09/2020

You won't regret hiring this Green Goddess!

I had such a wonderful experience working with Ky! One of my priorities for my wedding day hair and makeup was natural products as I had spent several years weaning out chemical-heavy beauty products from my routine. Ky was ready to meet that goal while also giving me a beautiful hair style based on my vision. Between being flexible during pandemic reschedules, to listening to the changes I was hoping for between the trial and the big day, Ky was responsive, creative, patient, and fun throughout the process! She also listened to the desires of each wedding party attendant, and made them feel and look special as well. I have and will continue to recommend her!

+ 3

photos

Paulette

Married on 10/12/2019

Ky is awesome and super nice! My wedding is in March 2016 and I can't wait for Ky to style my hair and my wedding party for my big day. I recently had my trial and I LOVED my hair and it was just a rough run. LOL! Ky listens to you and really goes out of her way to make sure she understands the look for your wedding day. She is patient and tries several looks and tweaks as necessary until she gets the perfect style. She also makes fabulous hair accessories. If I hadn't already booked a MUA for sure I would have booked Ky to do my makeup as well.

Stephanie

Married on 05/10/2019

Natural-Looking Makeup and Hair Styling that Withstood a Rain Storm!

I worked with Ky and Cynthia from Modern Green Goddess to provide hair styling and makeup services for my bridesmaids, my mother, mother in law and myself on my wedding day (May 2019). Throughout the whole process, Ky was a consummate professional and put me at ease, answering all of the questions that I had during the year leading up to the wedding and assuaging any anxiety that I had. I don't wear a lot of makeup in everyday life, so it was really important to me that I still looked like myself (albeit, a fancier version of myself), and Ky delivered. I am so happy with the results - my makeup and crazy curly hair, which usually frizzes up at any sign of humidity, stayed in place the whole night, even after we got caught in a rain storm during our photos. My bridesmaids and moms all looked beautiful and Ky earned high praise from my mother, who was possibly more nervous about her styling than I was. Beyond the actual hair and makeup, Ky, Cynthia and her assistant were so fun to chat with (Ky had to start styling at 7 am, due to the number of people in my party, so we ended up spending 6 hours together). They are wonderful and I cannot recommend them enough!

Deryn

Married on 10/06/2018

Ky did such a phenomal job on my hair and makeup! I stressed that i wanted a very natural look (similar to how i wear my makeup) and she blew me away! She did all of my bridesmaids hir as well. Ky only uses all natural products, so she even got the most stubborn hair (mine) to hold a style. Very impressed!!

Amina

Married on 07/02/2017

I was committed to finding a makeup artist consistent with my values in using toxic-free ingredients and I am so grateful to have connected with Ky through our mutual work with Beautycounter (safer products made beautiful). I have so much gratitude for Ky. She is one of the most generous and giving people I have met and when I was searching for a 100% "clean beauty" makeup artist and hair stylist for my wedding ceremony and reception event in July, I felt such PEACE when I spoke to Ky and connected with her about my "goddess" vision and making it a reality. We did an in-depth consultation and as the big day neared, we discussed and kept in contact with subtle nuances and ideas. I am so happy with the results and I feel her skill, makeup/hair artistry, and work ethic matched everything I could have dreamed.

+ 5

photos

Sanaa

Married on 07/01/2017

It was an absolutely pleasure working with Ky! She is such an amazing talent-- one who takes the time to understand her client and genuinely cares about their needs. I felt so beautiful on my wedding day and still felt like me! Ky is awesome and I highly recommend her services.

Frances

Married on 05/27/2017

Working with Ky was such a dream come true. She immediately understood the beautiful glowing, natural bridal look I was going for. I wanted to look like myself yet enhanced, and she designed a flawless makeup look and incredibly unique hairstyle for me in the 1st try at the makeup + hair trial. I have taken so many steps to be conscious about what I eat and what I put on my skin that I didn't want to have to make any compromises for my wedding day makeup. I was so thrilled to discover that Ky is the queen of natural makeup. She is an expert in sourcing non-toxic makeup and applying it in a way that photographs beautifully and lasts all day & night (even in the heat of our Memorial Day 2017 ceremony). The makeup felt weightless, like I was just my own skin. The products Ky used & her method of application allowed for my skin to be visible and breathe while also giving great coverage where I needed it, without being obvious. I felt so beautiful & radiant. I loved the look so much that I returned for a makeup lesson so that I could do the look myself for future events. Ky is a great teacher and has some amazing tricks for how to enhance your eyes and layering your makeup to last. On the wedding day Ky was on time & efficient. She did my hair and makeup, as well as the hair for my maid of honor and it was so great to start the day with Ky's calming touch and fun company as we were getting ready. I am so grateful to have found Ky, and hands down would recommend her to any bride.

I'm very glad I had Ky do the makeup for my wedding! I scheduled a trial a few months prior and she asked many questions and tried a few looks, recording and mapping my selections as we went. I was originally concerned about my ivory skin that can look orange with too much bronzer. However, I had nothing to worry about! She listened to my concerns and everything looked AMAZING. I love the final vintage look that we went with and everything was perfect for the big day. She also did the makeup for my mom and mother in law, the whole time sticking closely to the schedule but making sure everyone looked fantastic!! Everyone only has positive things to say!

Sarah

Married on 10/15/2016

Ky was amazing! I was lucky enough to be paired up with her through Bridal Artistry and from the trial, I was excited to have her do my makeup on my wedding day. She paid real attention to what was best for my skintone, handling my summer sunburnt skin during my trial like a pro, and really made my look come together. She gave me tips for taking care of my skin and taught me things about makeup as we worked out what I wanted together. Even 8 months later, I am so thankful for Ky and how beautiful she made me feel on my big day. My makeup on my wedding day was perfect, and I would not hesitate to recommend her. She even did it on her own anniversary! Thank you, Ky.

Caroline

Married on 10/14/2016

Ky takes the time to find a hairstyle that works for you. She did the hair and makeup of my daughter for her wedding as well as the bridal party's hair. My daughter looked absolutely stunning--her hair and makeup were flawless.
Everyone in the bridal party loved their hair.
Add to this, Ky has such a pleasant personality.
I highly recommend Ky to anyone who wants to look spectacular on their special day.

Steph

Married on 10/01/2016

Can't say enough great things about Ky. She was amazing!

Maggie

Married on 07/30/2016

Ky and her team are great. Make-up lasts all night long.... I had sooo many people compliment it.
Would definitely recommend her.

Karyn

Married on 02/21/2016

Ky was wonderful to work with. I honestly did not know what I wanted for my hair and make up. At my trial she asked questions, listened as I tried to answer, made suggestions and helped me choose what ended up being the final make up and hair style. This included needing longer hair, so I worked with her colleague to make extensions. The overall experience was fun and the end result was amazing. I have never felt so good and looked so beautiful. I was so happy to have the opportunity to work with Ky. Thank you for being patient, attentive and fun.

Alena

Married on 11/07/2015

Ky did an amazing job creating beautiful hairstyles for myself and my bridesmaids. It was a joy to have Ky bring our visions to light, and I could not have asked for better service on our wedding day. Thank you SO much!

Liz

Married on 10/10/2015

Ky did hairstyles for me and my 4 bridesmaids on the day of the wedding and she did an amazing job! Ky was great to work with from start to finish. We went to her studio in Springfield for my hair and makeup trial and we tested out a few different hair styles - two of bridesmaids came along and Ky was very accommodating to our constant chatter :) Ky was able to look at the photos on my pinterest and help me visualize what I wanted for my wedding day and then she took photos of each hair style from every side so I could remember what they looked like. I ended taking a piece of hairstyle A and a piece of hairstyle B and I was really happy with how it turned out. My hair stayed together the whole night, was comfortable, and looked great in pictures. Each of my bridesmaids' hairstyles also looked amazing. Ky was laid back and easy to work with throughout, she was fun to chat with as we got ready in the hotel suite and I would highly recommend her to anyone getting married in the DMV area.

Want proof? We had some "mishaps" on our wedding day and got stuck in an elevator before the ceremony with the entire wedding party! Did my hair get frizzy or fall out of its style - NOPE. Check out the photos at the link -

http://www.buzzfeed.com/juliapugachevsky/this-wedding-party-got-trapped-in-an-elevator#.fuDBbgErx

Jessica

Married on 10/03/2015

I'll start by saying I am a probably the worlds most indecisive person. I am known to change my mind multiple times and second guess everything. Which I did with a lot of things pertaining to my wedding. I changed my hairstyle 3 times after I met with Ky for my trial. Nothing to do with her work, I just kept finding new hairstyles I liked. I sent her several emails with pictures of what I wanted my hair changed to. I am sure this was annoying seeing as I already had my trial so she could not practice the styles on me before my day and I have thin, difficult to work with, hair. Ky was always so professional and polite in her return emails to me and reassured me she would do whatever style I wanted and not to worry. So the day of my wedding comes...well I changed my mind again! I pulled up new pictures on my phone of what I wanted. This could have been a complete disaster seeing as she was looking at a tiny phone. It turned out perfect! Ky did an AMAZING job on my hair for my wedding! My hair turned out even better than the picture I showed her! It was so beautiful I cried. I would highly recommend Ky!

Julie

Married on 09/26/2015

Ky was amazing and gave me the hair of my dreams on my wedding day in Old Town Alexandria. Highly recommend.

Ky was fantastic to work with, start to finish. She was really responsive from the start and was able to schedule my hair trial on the exact day I wanted. After we did the hair trial, she also styled me for my engagement shoot. On my wedding day, she showed up on time and did the hair for my bridesmaids and myself. Everyone was really happy with the work she did. Would definitely recommend to anyone!

Danielle

Married on 09/05/2015

Ky was fantastic to work with. She really listened to my thoughts for my wedding day hair and gave thoughtful feedback. She was responsive to emails, which was so calming to my type-A personality. My family loved meeting her, she was kind and patient with all of the ladies and made everyone feel special. She is flexible, too! We made some last minute changes to my hair style (day-of) and she handled it like a pro. Overall, I am a very happy bride!

Dinah

Married on 08/08/2015

Ky was fabulous at making sure our large wedding party looked fabulous. We were very happy with her efficient team. She was very responsive and listened to every girls requests.

Ky Washington of Richiemakeup was great. Everyone's hair and makeup was perfect the entire wedding even through all the rain. She was flexible, fun, and made communication easy.

My hair and make-up looked absolutely beautiful on my wedding day and for my day-after photo shoot thanks to Ky and Jacinda! Highly recommend!
Are you interested?
Send a message