Reviews
4.9 out of 5 rating
Quality of service

4.9 out of 5 rating

Average response time

4.9 out of 5 rating

Professionalism

4.8 out of 5 rating

Value

4.8 out of 5 rating

Flexibility

4.8 out of 5 rating
97%
Recommended by couples
52 User photos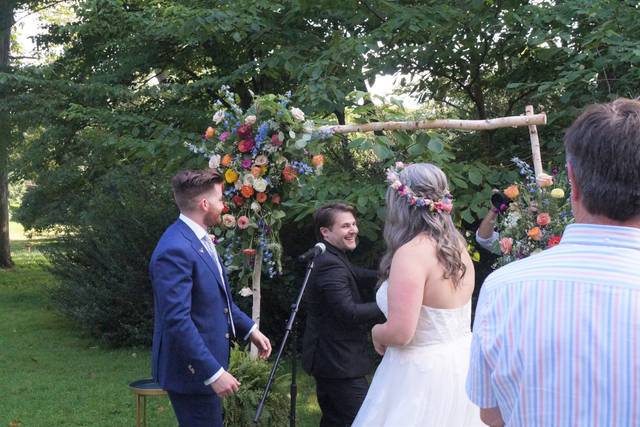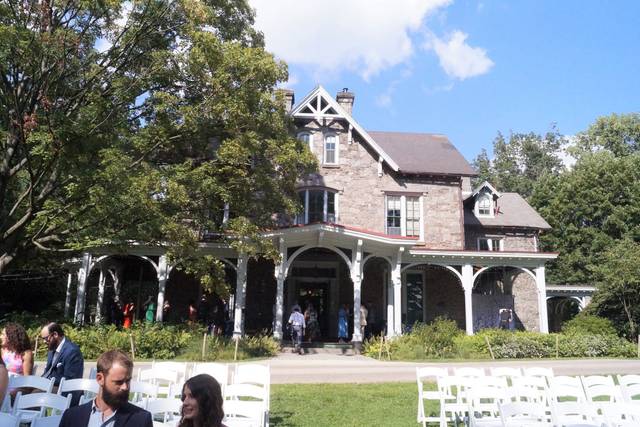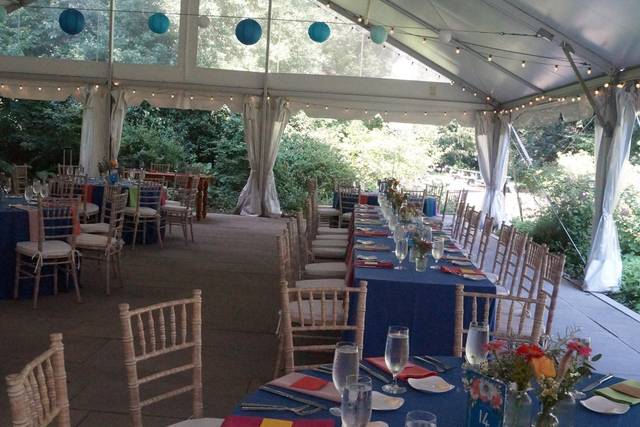 + 48

photos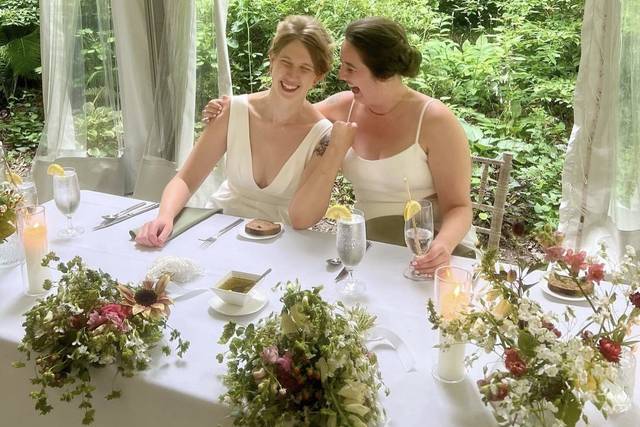 Featured

Oisin O.

Married on 08/26/2023

We love Portico!

I cannot say enough about how wonderful it was to get married at Portico! We got married here in August and everything was impeccable and beautiful. We had the absolute best time. As soon as we toured the venue we were sure we wanted to get married here. We loved the beautiful lush grounds and the architecture of the mansion and the way the venue was set up to have continuous flow throughout the house and grounds during the event. The Peachtree group was incredible to work with from the get go of the planning process. We were blown away at the tasting and enjoyed every bite and every person we interacted with. We told everyone that if at a tasting for 250 people they could make 250 lamb lollipops to temperature, we knew they could do anything and we could choose anything on the extensive menu and it would be fantastic. We loved how easily we could customize our choices to our tastes and the dietary needs of our guests. Our venue coordinator, Stephanie, was so fantastic to work with. We met her at the tasting and then had a more detailed meeting about our event in the weeks that followed. She was so incredibly helpful and easy to plan with. She helped us with getting every detail just as we had in mind and told us what she had seen work well and not as well. She gave us such great advice. The planning phases were fun and easy because of Stephanie. On the day of our wedding, everything was so easy and smoothly run and wonderful. From the moment I arrived to the bridal suite, the most delicious spread of food and wine was being set up. Our "dignitary," Karina, was such an incredible asset to have with us that day. She made sure we were fed and watered all day and as soon as whatever we were holding was empty, she was there with a new drink. Stephanie was so incredibly efficient and effective all day going above and beyond her job description to make things happen for us. Every bite of food and every sip of a drink we had was delicious and exceeded our hopes. Throughout the event, our guests continuously commented on how beautiful the venue was, how seamless the day went, how delicious the food was, and how wonderful the members of the Peachtree team were to them. We had an incredible day and we know it is all thanks to Stephanie, Karina, and the entire Peachtree team. We are so grateful. We would hire them again for any event and would recommend them so enthusiastically to anyone looking for a wedding venue and catering team!

Carlee J.

Married on 07/01/2023

Absolutely Perfect

My wife (!) and I were married at Portico last Saturday and — wow. There are simply no words for the joy we felt, to share such a beautiful day with our loved ones in such a gorgeous place. We were so grateful to the team at Portico (especially to Kelly, Grace, and Jen!) who made the day absolutely seamless; thanks to their incredible work, our wedding was both completely beautiful and a truly fun, simple, laid-back affair for us and our families.

We also want to celebrate the team for their amazing competence and inclusiveness. As lesbians who wanted nothing more than to have a big, gay party with our beautifully queer chosen family, we had some anxiety about choosing a spot where everyone would feel totally welcome — but the folks at Portico were phenomenal from start to finish. It meant so much to us to feel so at ease and to see the same ease in our loved ones.

In short — do it! Your wedding will be freaking amazing, joy-filled, easy as pie, and lush with gorgeous foliage!

Portico - Awbury Arboretum's reply:

Hi Carlee!
Thank you so much for your glowing review! It was a pleasure working with you both and we are so happy that you had a wonderful experience!!
All the best,
The Peachtree Team


Malou

Married on 07/01/2023

Portico was perfect for our micro wedding!

We recently hosted a micro wedding at Portico, and couldn't have asked for a better venue, food and team. This was a destination wedding for us, and we booked everything without a site visit, thanks to the videos and calls we had beforehand. We were not disappointed when we saw the venue a few days before the wedding (even in the winter!) The house and grounds are very charming. We had a great time, and our families kept commenting on how lovely everything was. Our event was completely Gluten Free due to a guest with celiacs, and the catering team pulled it off seamlessly. The service was excellent and the food was delicious. I really appreciated the individual attention as a bride, and the way the team helped pack up and break things down once it ended.

Portico - Awbury Arboretum's reply:

Malou!
We are SO happy that you took that leap of faith and booked your gorgeous wedding with us at Portico sight unseen! Your wedding was absolutely beautiful and intimate. Wishing you all the best in the future. We hope that we are able to work with you again in the future!

Are you interested?

Send a message

Amanda S.

Married on 06/24/2023

Wonderful wedding

We couldn't be happier with how our wedding day at Portico/Awbury Arboretum turned out. We knew we wanted something in an outdoor setting, and the venue is absolutely gorgeous, in a more wild, natural way. The outdoor ceremony set-up, reception tent, plus historic house with wrap-around porch were the perfect setting. Our family and friends couldn't stop commenting on how nice the venue was. Peachtree catering was amazing, and we had multiple foodie friends compliment all aspects of the catering service. Lindsay, Karina, and the entire staff were so friendly, professional, and competent, that they made it a wonderful experience. Even with the threat of extremely stormy weather, they were able to accommodate our wish for an outdoor ceremony (when it cleared), and were so flexible to work with us to include our 3 dogs in the outdoor ceremony as well. Our guests included children, and we had the option to set up lawn games in one outdoor area, which was great. Our coordinator Lindsay was amazingly helpful-- so organized, professional, and friendly. We are pretty low-key people and weren't sure we wanted a traditional big wedding and the stress of planning that goes along with it, but Lindsay's organizational skills and guidance kept us on track from the start. We really relied on her expertise during the planning process, plus her calm demeanor kept us feeling stress-free. All in all, we had the best wedding day, and highly recommend Portico.

Portico - Awbury Arboretum's reply:

Hi Amanda!
Congratulations on your new marriage and thank you for taking the time to write a review! We are thrilled that you had a wonderful experience working with Lindsay and Karina and glad the storms cleared for your outdoor ceremony!
Wishing you the best!
The Peachtree Team

Nate L.

Married on 04/30/2023

We loved Peachtree and Portico!

We worked with Peachtree Catering for our wedding at Portico – Awbury Arboretum, and we were delighted with how everything turned out. Grace Mycek was our venue coordinator, and she and the Peachtree staff ensured that our day ran even more smoothly than we could have hoped for. There were rainy skies on our wedding day, which Grace and her team handled effortlessly – they pivoted day-of to set up our ceremony inside the event tent, which managed to still feel magical and surrounded by the natural beauty of the arboretum. Our guests were kept warm and dry by heaters that were brought in to account for an unexpected drop in temperature. After the ceremony, our cocktail hour under the titular portico area was similarly kept dry and comfortable while the impressively organized event staff turned over the tent space for reception as our guests mingled and enjoyed appetizers and drinks. Our hearts are still so full after our big day, and we are incredibly grateful to Grace and the Peachtree team for making our Portico wedding such a beautiful success!

Sarah S.

Married on 11/11/2022

A wonderful venue with a wonderful team

Portico is a beautiful venue--no question there. However, the people working at Portico truly made our wedding day perfect. Our coordinator, Steph, was there for us every step of the way and helped us make decisions throughout the process. She was also very flexible with a few last minute details because of the downpour that happened on our day.
The day-of people were incredible as well. Ashley in particular made everything run smoothly in the morning and during dinner. I felt completely calm and totally confident in everything they were doing. I was able to just enjoy the day without worrying about a thing.
This venue is truly beautiful and even with the rain it ended up being a beautiful place to get married. We actually ended up liking our rain location on the porch better than our original plan to get married out in the yard!
If you're considering Portico for your own wedding, we highly recommend it. It's a lovely spot with lovely people working hard to make your day wonderful.

+ 3

photos

Portico - Awbury Arboretum's reply:

Sarah, thank you so much for your kind words! It was a pleasure working with you and your family! Your attention to detail and elevated decor enhanced our venue to create a spectacular day! Congratulations again!

Ashley H.

Married on 10/14/2022

Wedding Perfection!

This was the absolute perfect wedding venue for our garden-inspired, vintage wedding theme! Portico is one of those hidden gems that no one knows about but when they see it, you can't stop hearing about it. I cannot count how many of our guests said, "how did you find this place? It's beautiful!" Lindsay (our event coordinator) was wonderful to work with. She answered all of our questions timely and was very patient and understanding as we added and subtracted people at the last minute as well as additional beverages, added time to the bridal suite, etc. We also had the most exceptional wait staff, especially Ashley (our head server)! She was hustling all night to make sure my husband and I had any and everything we would need. She was always 10 steps ahead! Since I was completely clueless about wedding planning the best advice I can give is to accept that you are going to go over budget as there are little details here and there you don't count in. Also - if you're considering the outdoor market lights, DO IT. I was hesitant when I saw the cost but let me tell you, it made the whole experience come together beautifully. I regret nothing! I actually cried a few days after our wedding because I wanted to come back and do it all over again! Portico is a magical place with amazing staff. I would re-marry my husband all over again if it meant it would be at Portico - Awbury Arboretum!

+ 3

photos

Portico - Awbury Arboretum's reply:

Hi Ashley!
Thank you so much for your kind words and high praise of Portico and our Peachtree team! It means the world to us! We wish you a lifetime of happiness and we hope to work with you again in the future!

Shelby N.

Married on 09/24/2022

Perfect venue, amazing staff

I wish we could get married all over again just to spend more time at Portico. They made every single part of the process completely seamless. From booking to planning to day-of and after.

A huge part of our incredible experience was our coordinator, Stephanie Giuzio. From the day we met, I knew she 100% understood our vision for our day and did everything she could to bring it to life. Her prompt communication, professionalism, and obvious experience made her my go-to person for so many decisions. The day of our wedding, she kept me calm, kept our wedding party and family in order (no small feat!) and made the whole experience so fun, while also perfectly coordinating arrival times, set up, and tear down of all of our vendors. Our dedicated attendant, Jen, was also a godsend. She made sure my husband and I had everything we needed day-of, from making sure we ate to checking for loose bobbypins in my hair. She was poised, professional, and able to anticipate our needs even before we did. I don't know what we would have done without her.

The venue itself is STUNNING. My bridesmaids and I got ready in the bridal suite and it was so special. The grounds were meticulous, everything was so clean, and it was so easy for all of our vendors to set up quickly with no hitches.

Lastly, the food was AMAZING. Peachtree went above and beyond—we had so many guests come up to us during and after the wedding raving about the food and the service. We couldn't be happier with our experience at Portico and with Peachtree Catering. Would 10/10 recommend to anyone!!

Portico - Awbury Arboretum's reply:

Hi Shelby!

Thank you so much for this detailed and thoughtful review! It means so much to us to hear that you and your family and friends had such a wonderful experience! We have passed this along to Stephanie and Jen! Wishing you a lifetime of happiness and many more celebrations in the future!

Amanda F.

Married on 09/02/2022

Just Perfect..

Portico at Awbury Arboretum was a wonderful venue for my September wedding and I wish we could do it all over again! If you're looking for an outdoor venue in the Philadelphia area, Portico is a gem to consider.

My husband and I danced around several ideas early on in planning, from a destination elopement in Montana, to a wedding in Center City with cocktail vibes, but once we toured the Arboretum with Fallyn we felt at home and fell in love with the romantic woodsy setting. We liked the idea that our guests would have multiple spaces to explore, from the house, to the charming wrap around porch, the fire pit area, the tent in the backyard, and the magical grounds.

On our wedding day, both our Coordinator Grace and the Event Manager Kate made us feel at ease and ran everything smoothly. The food was excellent and the staff were so professional that our guests couldn't stop complementing them!

A quirky detail that we noticed while looking at other outdoor venues, was that most use plastic or wood folding chairs. Portico uses white folding chairs for the ceremony and solid chivari chairs for the reception. This was important to us as we were recently at a beachy tent wedding and 3 or 4 guests fell on the floor during dinner because folding chairs broke underneath them. You don't want that on your wedding day! Another detail we liked was that their flooring underneath the tent was a slate floor, vs. fake pop-up wood flooring or grass.

The venue is newer to the wedding scene, and you can see they have invested more into the property over the past few years. With that said, the only con we noticed about the space (which is an easy fix) is that the groom's suite needs an AC unit for Summer weddings! The main part of the house and the huge bridal suite upstairs are air conditioned, but the groom suite in the back of the house is not.

Overall we loved Awbury!

Portico - Awbury Arboretum's reply:

Amanda,
Thank you so much for this lovely review of Portico and our staff. It was an honor to be a part of your special day! We hope that you come back to visit the Arboretum in the years to come!

Also, we are getting AC in the groom's room this winter! :)

Melissa F.

Married on 06/05/2022

Portico and Peachtree were amazing!!

Portico was the perfect venue for our wedding - it's so beautiful! The Peachtree staff were attentive and helpful! Staff members checked in on me (and made sure I had a drink) throughout the night which was so thoughtful. All the tables looked amazing and them helping pack up our decorations at the end of the night was incredible. Lindsay was a great coordinator and helped us throughout the entire planning process! Amy, the wait staff lead, was also great and went out of her way to accommodate the bridal party and all our guests.  Our wedding day was a little untraditional and Lindsay, Amy, and their team went above and beyond to make what we wanted a reality.  The food was also amazing (especially the dim sum station)! Highly recommend Peachtree, Lindsay and Amy for your wedding.

Matthew S.

Married on 10/08/2021

Amazing Experience All Around!

I feel obliged to start by stating my Wife and I were definitely budget concerned when looking at a venue. After speaking with many venues, we found Peachtree and were promptly contacted by the team. Our budget was of their priority just as much, helping us to stay within our range the entire time. We elected to get married at Portico, based on the price and natural beauty of the grounds. Given the price comparatively speaking in the area, I had somewhat reasonable expectations for the space and event. Those expectations were blown out of the water, from the planning to the event itself. Not one email or call we made went unanswered, shout out Lindsay - You're Amazing. The food and space itself was beautiful, every guest had nothing but wonderful things to say. I would highly recommend this venue and Peachtree to anyone in the area!

Ellie M.

Married on 09/25/2021

Great venue!

Cannot recommend this venue enough! The Cope House is beautiful and full of character, and the outdoor space at Awbury is absolutely gorgeous. Fallyn and Lindsay were our contacts at Portico and both were incredibly helpful, friendly, and prompt in all of their communications leading up to the day. Venue staff was professional and friendly on our wedding day, and made sure my partner and I were fed and generally taken care of during a hectic day. Awbury was the perfect spot for the fun and low-key wedding of our dreams, and we are so grateful to the venue staff for their flexibility and support.

Sarah S.

Married on 07/10/2021

If you're considering Portico, I say go for it!

We had an absolutely perfect day at Portico. Our venue coordinator, Stephanie, and her team went above and beyond to make the day go smoothly. For example, it started raining at 4:00 and our ceremony was at 4:30. Stephanie was immediately on her weather app, looking at the radar and talking me through my options. And when it stopped raining at 4:25, the staff ran out and wiped off the chairs and made my outdoor ceremony a reality.

Listen, I know weddings aren't cheap, but you get what you pay for. We spent more than we had originally planned and I was constantly worried about how much everything was costing us. But at one point during dinner, my now husband and looked at each other and we both said "This was so worth it, I don't even care how much it all cost." And honestly, for how good the day went, we probably would have paid a lot more at another place. The venue is beautiful, food is tasty, staff is friendly and hard working, and the support I got from Stephanie in the months/weeks leading up to the event was unparalelled!

Sarah M.

Married on 06/01/2021

Wonderful experience at Awbury

My husband and I were so pleased with our wedding day at Awbury. We're not exactly great planners and felt pretty overwhelmed with the wedding process, but everything ran so smoothly on our wedding day and the staff at Awbury were the primary reason. Additionally, they were all so friendly and kind to us and a number of our guests commented on how wonderful they thought the staff were. Most importantly, the grounds were absolutely beautiful. If you can, get married in the fall there!

Kareemah

Married on 04/18/2021

My Fall Mirco Wedding at Awbury Arboretum

Our wedding was held at Awbury Arboretum on Sunday, October 18th, 2020 outside in the meadow! The location was beautiful, affordable, and very accommodating! Linsday Keane, my event coordinator at Awbury Arboretum was great - she had awesome customer service skills, was very responsive with all emails, phone calls, text messages and she was very professional! Lindsay went above and beyond! The venue also worked well with all of our vendors! Our special day in unfortunate worldly circumstances was nothing short of AMAZING!

Stephanie

Married on 12/14/2019

Stunning Location - Wonderful Service

Awbury Arboretum was the most amazing location for our winter wedding. The staff was flexible and attentive, there was nothing I had to worry about on the big day. Special thank you to Agi and her staff who helped put everything together to make my day so memorable.

+ 3

photos

Julia

Married on 09/22/2018

Charming venue for a country-style wedding with a truly excellent value!

Awbury Arboretum was the perfect venue for our medium-sized wedding of 60-something people. One thing that's so appealing about the venue is that there are multiple options for where to stage your ceremony, cocktail hour, and reception. We were able to have distinct sections of the day, each in their own spaces--the ceremony on the gently sloping front lawn, the cocktail hour on the large-wrap around porch, the reception under the big tent on the premises, and dancing, cake-cutting, and toasts in the parlor. There are also many beautiful spots within the arboretum, so you can do all your photos on the grounds of the arboretum if you'd like. It's possible to have a simple, beautiful wedding without decorating the grounds at all. We didn't have an arbor or any decorative touches for our ceremony and none were needed. With the green grounds, big trees as a backdrop, and the Quaker-style house, the setting exudes charm and allowed the focus to be on the people.

It was a dream to work with Branda, the Awbury manager. She got back to us in a timely way on everything and was attentive and responsible in every interaction. The partnership of the Awbury Arboretum with Birchtree Catering turned out to be a big plus in choosing this venue because Branda and the Birchtree staff are used to working together, and functioned as a team to make sure the wedding was set up as we wanted, and that the cocktail hour and reception went smoothly. The Awbury/Birchtree partnernship allows you the flexibility of customizing and personalizing your wedding, but they work with you and guide you, which was a huge relief for my husband and me and our families, as we weren't interested in a truly Do-It-Yourself wedding. We found the Birchtree food, service and day-of-coordinator support to be first-rate. (They even helped us work with the music and coached our wedding party on when each set of people should walk down the aisle.) Both the Awbury and Birchtree staff were organized and helpful throughout the process.

The venue turned out to be ideal for a medium-sized wedding, but would work well for a larger wedding too. In addition to the beautiful setting for an outdoor ceremony, there was a good alternative--a shorter ceremony on the wrap-around porch--in case of bad weather. This back-up plan gave us peace of mind when planning the outdoor ceremony. The big tent with an awning-covered pathway to the house makes for a good venue for a reception in rain or shine. Awbury has decorative lights for the porch and tent that are festive. The path between the tent and the porch is covered too. There was parking on the premises and there are adequate spaces in the house in which to get ready.

Awbury Arboretum offers the opportunity to have a gracious, old-fashioned, country-style wedding at a reasonable price in Philadelphia. It is a little-known gem. Our family stayed at the Chestnut Hill Hotel which we also highly recommend!





Portico - Awbury Arboretum's reply:

Julia, wow! Your kind words mean so much to us, and we are so grateful for couples like you. Congrats to you and Chris!

Chelsea

Married on 06/23/2018

Can't say enough good things about this venue. Branda is great to work with and was really helpful from day one. The space is beautiful, especially with the new tent addition in the back. The price is fair for such a large beautiful green space, tent, and house all to yourself. We had about 100 guests, and the amount of room was perfect. Birchtree is also great to work with, and their food is incredible! Having them cater is definitely the priciest aspect of renting here, but the food and service is worth it. We still have friends and family raving to us about how much they loved the food, and we got married a month ago. Birchtree's organization and attention to detail the day of was also seamless. We had a chance of rain, and transitioned into having our ceremony under the back tent instead of on the front lawn without any issues. Amazing venue, we'd get married here again in a heartbeat if we could!

Stephanie

Married on 05/20/2018

We absolutely loved our wedding at Awbury two weeks ago (May 2018)! Even with the late spring and the rainy week leading up to it, the grounds were stunning. Branda and her team have put a lot of work into spiffing up the grounds around the Cope house - with lovely new stone walkways, new wood chips, and blooming flower beds. There is also a semi-permanent tent now (which we didn't use but looks very nice). Our ceremony was on the freshly mown lawn in front of the house, and our brunch reception was inside in the parlor. The parlor has beautiful large windows that open up into doorways leading to the porch, and we were able to utilize the entire space. Our wedding was very small with 25 guests, and I couldn't imagine a more perfect setting.
Birchtree (their exclusive caterer) managed the entire set-up and clean-up, but all design and decor creations were our responsibility. If you are a DIY enthusiast, Awbury is the perfect place, the Cope house being very much a blank slate. With that being said, it is stunning in it's own right, and didn't require much more than a few flower vases along with our table decorations.
Branda was amazing to work with: so responsive and accommodating. Her coordination with the Birchtree team was so helpful and made planning so much easier.
I would recommend Awbury in a heartbeat, especially for the nature loving couple. The options for ceremony at Awbury are endless and every one equally stunning!

Portico - Awbury Arboretum's reply:

Thank you Stephanie! We loved celebrating with you!

Loved our wedding at Awbury! We had an outdoor ceremony on the last weekend of October and their trees were popping with color and gorgeous!

Branda was fantastic to work with throughout our wedding planning process and facilitated coordination between the different wedding parties for the weekend. She was very responsive and able to answer any questions we had. Day-of staff were also extremely helpful in coordinating the event and making sure things were moving along on schedule. We loved this space and it was everything we could have asked for.

Rachel

Married on 10/07/2017

We got married at Awbury on 10/7/17. We walked in and immediately knew it was the perfect venue. It has some indoor space, enough for about 60 guests, and ample area outside to cover with a tent in case of rain. It also has fantastic wraparound porches and great getting ready spaces, as well as a small kitchen for caterers.

Awbury is definitely a DIY venue. Though they provide some tables and chairs, you will need to rent more if you are having a larger wedding. Also, you are responsible for all setup and cleanup. This was not a problem for us at all. We had friends, family, and hired helpers who took care of setup/cleanup, but if you want a venue that does all that for you, this might not be a good fit.

Awbury seems to be doing more weddings and has changed some things since we first booked them. They have done a lot of improvements, such as building a beautiful blue stone patio out back which made a perfect area to set up a tent and dinner tables. We were able to bring in a buffet caterer, but they are now partnered exclusively with birchtree catering. They also now have a sound system (both an indoor one for music and outdoors for the ceremony) which we were able to use.

Branda, the events coordinator, is SO nice, responsive, and helpful. She answered all of my questions thoroughly and made me feel like my event was important to her. On the day of, Awbury provided a parking attendant who successfully guided our buses in and out, and an event staffer (Courtney I think?) who I didn't talk to much (I was a bit busy, heh) but it seemed like she was being helpful.

Overall, the space is GORGEOUS with a perfect flow for guests, and it was a breeze working with Branda to plan, despite having many moving parts. 5/5 would get married there again :D

Jessica

Married on 09/09/2017

We had a beautiful wedding at Awbury this September. We liked Awbury because it's close to our home, allowed us to DIY many aspects, and was a beautiful location. We liked the mix of indoor and outdoor spaces which created a nice flow to the day. We had our ceremony off the side porch, cocktail hour on the front porch, dinner in the tent on the patio, and dancing in the parlor. The property has lots of green space for photographs. Branda, their site coordinator, is a joy to work with and Robin was there the whole day.

Do keep in mind that you will have to rent most of your furniture and a tent. We had to do all of the setup the morning of, so consider booking extra time if you have substantial decor.

+ 3

photos

Erin

Married on 07/14/2017

We chose Awbury Arboretum for our ceremony. The grounds are gorgeous! It rained on our wedding day, but the inside of the Francis Cope house is beautiful. Awbury is an oasis in Philadelphia. Branda, the manager, is great at what she does! She responded to every email/ silly question that I had.

Nick

Married on 05/27/2017

Awbury Arboretum was the perfect wedding venue. The grounds and the Cope House are stunningly beautiful - you really can't ask for a more picturesque setting if you want an outdoor, rustic wedding. Branda, the manager, was really easy to work with. You can tell that she loves the arboretum and takes a lot of pleasure in helping people plan events there. The flexibility to bring in your own caterer really allows you to have a personalized wedding. The constraints of the kitchen space in the Cope House can be challenging for a caterer, but we spoke with multiple caterers from Awbury's list of preferred companies, and it wasn't a problem for us to find several different catering options. The combination of the indoor space in the Cope House, the porches surrounding the house, and the paved patio make for a really lovely atmosphere and allow you to have an outdoor wedding while still offering your guests some comforts of indoors. We got a lot of compliments from our guests about how gorgeous the grounds and Cope House were. The arboretum also has a really great mission, and it was cool to get married in a spot that values the surrounding community. This place is a hidden gem in the Philly wedding scene!

Anita

Married on 09/09/2016

I can only say this: definitely book your wedding here! The flexibility of being able to bring our own caterer was so awesome. The place is totally shabby chic--- and it decorates itself with all of the surrounding foliage and the beautiful Francis Cope House. My guests raved about it. I also loved that it wasn't as well known as the other venues in Philly, makes it feel really special. Additionally, Branda is totally amazing to work with. She's really laid back, but super responsive and knowledgeable. She saw the whole thing through from start to finish with total grace and professionalism. I can't recommend this spot enough!
Are you interested?
Send a message