45 Reviews
Recommended by 100% of couples
Quality of service

5 out of 5 rating

Average response time

5 out of 5 rating

Professionalism

5 out of 5 rating

Value

5 out of 5 rating

Flexibility

5 out of 5 rating
39 User photos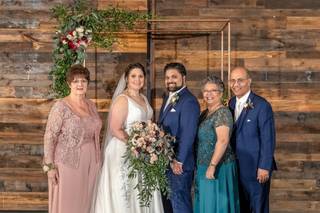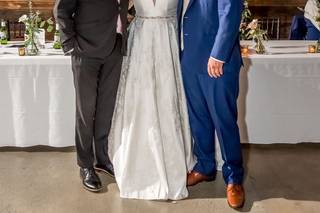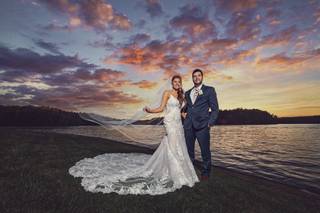 + 35

photos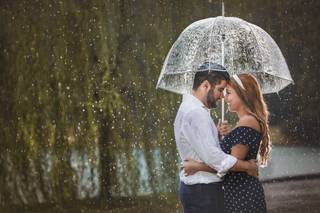 Featured

Charmaine

Married on 09/05/2020

Book them!

Where to begin with Clay and Dani! My husband and I met Clay and Dani through our venue Bella Collina. Prior to our meeting I was incredibly intimidated by his photography style but was intrigued enough to ask them to come for an interview at our venue. Through the interview process and beyond, Clay and Dani knocked it out of the park. There are many talented photographers out there but with Dani and Clay you really are getting something special. They are some of the most compassionate and passionate people you will ever meet and we are so fortunate to have met them.

They truly are a dynamic duo in terms of photography talent and business.

The day of our engagement shoot - the weather was nonstop rain. There was a moment a torrential downpour started and I thought we would all run for cover but Clay crouched down (without cover!) and took extraordinary shots. He never ceases to impress me with his ability to find the best photo opportunities regardless of the circumstances.

From our engagement shoot to the wedding day - Dani continued to check in with me to see how I was doing and closer to the wedding day provided helpful guidance for the wedding day, and asked for a shot list to ensure we were able to capture the most important shots. They day of the wedding, I was stressed and overwhelmed with a number of things that went wrong and when they arrived - they both consoled me and told me everything was going to alright and it definitely helped alleviate my stress. I really appreciated that affirmation and I think that speaks volumes to how caring they are.

I could go on and on but, in short- if you need a photographer for ANYTHING Clay and Dani are your people. Book them and you won't regret it.

Photos By Clay's reply:

Charmaine, it's Dani here
Oh my world... I am in tears here reading your sweet and so thoughtful words. My tears remind me of your wedding day, when we captured so many people crying of happiness and joy seeing both of you getting married.
But what makes me cry is to see that all our goals to have the 100% client satisfaction, and our efforts to make things happen are worth it. We are not perfect, but we always have the best intentions and we go above and beyond to always see the smile on our clients faces.
I can't thank God enough to have put you and Michael in our way. I can't thank Bella Collina enough as well for having us as their preferred vendor. I can't thank you guys enough for trusting us and for all the love that we feel coming back to us.
Love you guys! Can't wait to see you soon when we deliver your wall arts!
Dani & Clay


Kevin H.

Married on 10/02/2021

One of the industry's finest...

I've known Clay and Dani by reputation and I have admired their work for several years but it was only recently that I had the privilege (yes, privilege!) of working with them. Based on my 25 years of experience as an ordained minister and officiant, I have rarely encountered such a combination of consummate professionalism and outstanding interpersonal skills. While the choice of photographic style is a matter of taste and personal preference, in my opinion their work is always stunning and captures the very essence of a couple's wedding day. Most importantly, they are kind, warm personable and caring and willing to do whatever it takes to capture every moment of their couples' special day in the most captivating and artistic way possible. Clay and Dani have far exceeded even my very lofty expectations of their work. Get in line and book them NOW!

Photos By Clay's reply:

Thank you so much Kevin! It was really a blessing to part of this wedding. And I've never seen such a happy bride during her ceremony with you as her officiant! We definitely were happy to register those moments. We can't wait to work with you again as well. We are looking forward to many more moments like that!

Arleen P.

Married on 10/02/2021

Beautiful Memories

If your looking for a Photographer-photobyclaync-Clay and Dani - should be your only choice. I just finished looking at the beautiful pictures of my daughter and son-in-laws wedding in Feb. It took me 2 sitting to be able to see them without crying. They captured the day with such ease and friendliness they felt like family. From engagement pics, bridal portraits, and wedding day start to finish. So many pictures we will be able to re live the day for years to come. Thanks Clay and Dani was great to meet you both.

Photos By Clay's reply:

Arleen M. Peterson, thank you very much! We have no words to say how much we love the connection we created with your daughter and son-in-law and with you as well together with the whole family and friends. It was a perfect wedding day and we are grateful to be chosen to document such precious moments!

Are you interested?

Send a message

Kit F.

Married on 10/02/2021

Professional with attention to details

This February Photosbyclaync photographed my sons wedding in Raleigh, NC. Dani & Clay were marvelous in putting the bride, the groom and the bridal party at ease throughout the event. They moved around effortlessly and captured memories we will cherrish forever. They were sensitive to and respectful of the people involved in all aspects of this event. They worked their magic in spite of the wintery weather we experienced on the day of the wedding. They showed patience and talent in getting the flower girls and ring bearer to smile especially in group settings.
After reviewing the entire bridal/wedding shoot, I am having a challenging time to choose the highlights for my album. There is no doubt that Dani & Clay have captured the radiant essence of the bride and the debonair charm of the groom from every angle and lighting condition. I would sincerely recommend "photosbyclaync" as photographers who succeed in capturing the 'Special moments' of the bride, the groom, the wedding party, their families and guests.
This team brings their "A" game to all your special occasions and milestone events.

Photos By Clay's reply:

Thank you so much Kit! Since the first moment we met you and Angelo at the rehearsal dinner of your son's wedding we knew it was going to be an even more special wedding to us. And we were right. The love and support we received from you and Angelo were incredible! Other than loving documenting weddings we love this kind of connection we create with our couples and their families. Thank you!!!

Courtney H.

Married on 09/07/2021

Professionals that make you feel like old friends!

Clay and his wife Dani were the first vendors besides our planner that we booked, and we knew right away we had made the right choice. They invited us to their gallery home to show us their work, talk about their packages, pick out something perfect for what we wanted, and to get a feel for our personalities so they could make sure to capture those. Our engagement shoot was a freezing cold day but they were so accommodating with breaks and outfit changes that the pictures turned out gorgeous regardless. They even had us over for snacks, champagne, and a reveal of our guestbook with our engagement photos! On wedding day, Dani and Clay both played such a huge role in helping us capture every step of the process, and even though by the end of it I felt like I couldn't take another picture, their bubbly personalities and fun demeanor put me at ease that it was worth all the walking around and posing because I knew the pictures would be worth it! My husband and I had so many guests who all wanted pictures and family shots and Dani and Clay stayed the duration of the entire wedding, party, and send off to make sure everything was captured beautifully. Clay has such a great eye for turning any setting into a beautiful photo - his work combines drama, emotion, framing, and lighting in such a way as to really capture a single moment that feels so candid and intimate while really being a masterpiece of planning and execution. Dani's warm big-sister presence kept me feeling calm and she definitely helped us stick to the timeline! It was so wonderful to work with a husband-wife team that showed such teamwork, care, and passion for their craft. By the end of our day, we felt like we'd been photographed by old friends who happened to also be amazing professional photographers! I cannot wait to see the finished photos!

Caroline B.

Married on 07/07/2021

Incredible wedding photographers!

PhotosbyClay are an amazing team and go above and beyond to make the best experience anyone could hope for. They took the time to get to know us as a couple, are very easy to get along with, extremely patient, kind, and professional. They know all the details to capture, big and small, and go above and beyond in order to provide a memorable experience capturing life's important memories! I highly, highly recommend PhotosbyClay to anyone who not only wants their important life moments captured but who also wants to have the best time doing it!

Michele W.

Married on 01/12/2021

Outstanding Photography

Photos By Clay is an excellent husband and wife photography duo! They do a great job of working together to get the most amazing shots. I am a wedding planner who had the privilege of working with this couple and I loved every minute of it!

Clay and Dani made sure they were familiar with the venue before the wedding day and even came to the rehearsal to be familiar with the flow of the ceremony. They arrived the day of the wedding ready to go and knew exactly what shots they wanted to capture. They followed the timeline to a tee while being able to capture everything the bride and groom desired! I am impressed with their dedication to the couples they work with, responsiveness to other vendors and love for what they do. I can't wait to work with them again!

Eric M.

Married on 07/19/2020

Worth every dime!

Clay and Dani were awesome, and we are so glad we selected them to capture our special moments. Their experience, deep knowledge of photography & lighting, and likable personalities made for a very memorable and enjoyable experience. I knew the photos would be great long before the wedding was over! I highly recommend!

Scotty W.

Married on 07/10/2020

Dedicated Photographer, Fun Addition To Your Wedding!

Clay and Dani were an amazing team who made a wonderful addition to the day! I partnered with them in celebrating a couple and they were integral to the success of the day. I don't know that I ever saw them take a break because they were always on their feet capturing not just the couple, but their guests and loved ones in a number of candid situations! They were looking for shots all night and were incredibly dedicated to catching the bride and groom! I cannot wait to see how amazing their shots look because they worked so hard on the wedding day and it showed! I cannot wait to party with them again very soon, and would happily recommend them to anyone looking for committed professional photographers.

Photos By Clay's reply:

Thank you so much Scotty! We really appreciate your words and your support for our work! Photographing a wedding is hard work, but once we are in, every single moment counts and it is so worth it! :) Thank you!!!


Maritza O.

Married on 05/09/2020

PhotosByClay

Passionate photographer with attention to detail and above all they develop a personal relationship with the couple and parents. Clay and Dani are not just photographers, their photos will show you like a video all what you missed at the wedding because of all that is going on. What most touched me was that Clay helped my son Michael get ready as he was running behind. Unfortunately, his father is not in his life so this made me cry when Michael shared this with me.
Dani also brought Charmaine a gift at the interview and then when we went to see the photos there was champagne and these delicious Brazilian cheese bread appetizers.
I think of them as part of our family now because they spent nine plus hours with us on the wedding day as well as for the engagement shoot.
You will get more than what you paid for when you hire with PhotosByClay.

Meissa P.

Married on 02/22/2020

Just say yes!

Clay and Dani - where to begin!! We went to the Bridal Show January 2019. Our goal for the day was find a photographer and DJ. The bridal show was very hectic. When we stopped at Clay and Dani's booth - we spoke with them for about 5-10 minutes. In those minutes we never once discussed their services or pricing - Clay wanted to hear our story. How we met/engagement/ plans so far. That, in addition to their amazing personalities, made us choose Photos by Clay. With the welcoming feeling we had from them, not to mention their affordable pricing - they were our first choice. I feel like Clay and Dani were a part of our family. We got engagement photos, bridal portraits and wedding photos. The photos we have are truly a treasure to forever remember our amazing day. I would highly recommend this amazing team!! If we ever have a need for a photographer in the future they will be our first choice!

+ 2

photos

Photos By Clay's reply:

We are so thankful to you both for choosing us to be your wedding photographer. We are blessed to have met you and we felt so welcomed and comfortable with your entire family and friends who were so nice to us since the day before at the rehearsal and dinner until the last minute of the wedding day. We really appreciate your lovely words. Can't wait for our next adventure together :)

Renee I.

Married on 12/15/2019

Clay and Dani are dedicated to make sure you are completely happy with their work.

We hired Clay and Dani to photograph our December wedding. While speaking to Clay over the phone I could tell he immediately knew what we were wanting. Their professionalism is above par. They captured every moment of event and their work is captivating. If you review the pictures on their website you will see examples of the excellent work. What you don't see is their charming personality, which literally is the icing on the cake! I would HIGHLY recommend them for any event. I'm so glad I was able to witness their talent first hand!

+ 9

photos

Photos By Clay's reply:

Thank you so much, Renee! It was such a great honor to register this important moment of your lives. We loved everything about your special day! It was so happy and beautiful!

Laura L.

Married on 11/02/2019

Wonderful photographers for any occasion

Clay and Dani are very professional and caring photographers. They know how to capture the special moments with attention to detail and emotions. They photographed my daughter's maternity shoot, her wedding and will also shoot her son's first birthday. I can't recommend them enough. They are AMAZING and we love them!

Photos By Clay's reply:

Oh Laura! Thank you so much for your sweet lovely words. The love goes all back to you and your incredible family. We are so happy Kaitlin chose us to photograph her wedding and I had the chance to meet all of you! Thank you!!!

Shannon H.

Married on 10/20/2019

The best at what they do!

Clay and Dani are the best at what they do. Not only is the work that they provide top notch, they also helped us along during the wedding day with keeping things on time. They worked alongside the wedding coordinators to make sure things went seamlessly. I would highly recommend them. Their vision and knowledge are unmatched at capturing those perfect memories. We are so glad that we chose them to photograph our wedding!

Photos By Clay's reply:

Shannon, thank you so much! We really had an amazing time with you guys throughout the wedding planning, wedding day and after wedding moments! Thanks for trusting us and choosing us. It was an honor to photograph such an important day of your lives!

Jennifer S.

Married on 10/12/2019

My daughter's wedding

Photos by Clay did an amazing job at my daughter's wedding. They went way beyond our ideas and produced beautiful,tasteful photos of her special day. We definitely will use them again!!

Photos By Clay's reply:

Thank you so much!
It's an honor to us to receive a review from the mother of the bride ❤️
You and your families were so nice to us the whole time.
The Wedding of your daughter was beautiful. We will thank you all forever for trusting us to document this special moment of your lives. 🤗

Brittani

Married on 10/12/2019

Magical Wedding Day💕

When I started the journey of wedding planning I said that the one thing I would NOT play around with would be the photography. I searched and looked.. actually stumbled across Photos by Clay but having looked through some of the pictures I said to myself this guy is amazingggggggggg there's no way I could afford that.. a few months later my daughters gramma brought up the name again and I said to myself let me just check it out and Wow am I glad I did! This husband/wife duo was soooo patient with us and made us feel so comfortable during our engagement/wedding. They are sooo thorough and will keep going until they get the perfect images! Tonight we had our photo reveal and I was blown away at our images! Me and Clay want to thank y'all so much for your passion and for giving us the gift of these amazing images! We will be sharing the images soon!💕 if y'all need a wedding photographer this is IT!

Photos By Clay's reply:

So very thankful to be a part of this incredible day!!!
You guys were more than we could ask for! You have a beautiful family, and we hope for a bright and wonderful future ahead of you guys.
Once again, Thank You!

Krys

Married on 10/05/2019

Amazing..beyond expectations

His pictures clearly speak for themselves...but beyond the photos is a man who really values the intimacy of marriage and is able to capture those moments that cannot be spoken. working with them truly has been a dream. my finace and I get married this October and are truly impressed. weve had 3 meetings so for which really lets you get his vibe. hes relaxed and comforting even while under the pressure of taking hundreds of phots. we took out engagement pictures halfway in the rain and fog and he still made it work.
His wife is amazing as well. very helpful in helping me find any extra help I may need. and is ALWAYS in touch or checking in on you. really could not have asked for a better photographer.

Todd

Married on 09/28/2019

The BEST photographers ever!!!

I have worked with Photos by Clay at several weddings and they are a dream to work with. They also did photos for us. They make it fun and exciting to capture the special day! They are very responsive to emails and are available whenever you need them. Thoughtful and creative in capturing just the right shot. After looking through the pictures it was like they were everywhere. Wonderful personality and very professional! If you are looking for the best photographers you need Photos by Clay. If you hire anyone else just know that you got second best. Highly recommend Photos by Clay!!!

Krista

Married on 06/02/2019

Amazing!!!

AMAZING ! :))
In every way !! This is the photographing team you want by your side for any special occasion.
I'm a pro makeup artist and hairstylist For over 17 years. I love my job but it's talent such as theirs that really make me love what I do. Clay and Dani have this incredible energy. It's infectious and will translate in all your photos. They are talented, punctual, detail oriented, creative and enthusiastic.
You just can't go wrong.
It's always an honor to work along side such beautiful artists.

Alan D.

Married on 05/25/2019

Awesome husband and wife team!

I've worked with Clay and Dani with Photos By Clay on several weddings and shoots. Their professionalism and abiliity to capture the perfect shot is amazing. Unique to them is their ability to use darks and shades to contrast color. You see many photographers overexpose to white wash and soften, and Clay does this when appropriate, but he's a natural when using the edge to create stunning pops of color. The lengths they go through to capture the perfect angle with positioning and light is insane; it's not uncommon to find Clay laying on the floor with his camera and meter looking for the perfect shot. If you are looking for an uncompromising professional photographer with a flair, look no further.

Photos By Clay's reply:

Alan, thank you so much for your words on this 5-star review! We do the best we can to accommodate all our couples' needs and going the extra mile is always our first priority. Hoping for lots of more weddings working with you guys again!

Ernesto R.

Married on 01/12/2019

Affordable and beautiful photos just perfect for us

Clay and Dani were wonderful to work with. My husband-to-be at the time and I sifted through tons of wedding photographers on WeddingWire looking for example photos that would reflect our "style" at an affordable price, and we finally hit the nail on the head with Photos by Clay. This fun and professional husband and wife team met with us privately to discuss our needs, attended planning events with our wedding planner (Knot Your Average Events, also incredible, highly recommended!). Clay and Dani attended our rehearsal dinner to get to know the family before the wedding. We were extremely pleased with their ideas and the finished product! The extensive online photo gallery was available to us for a year after the wedding. We ended up purchasing an amazing slideshow that Dani put together with her own musical background, that we could share with guests and friends who could not attend, an album, and several metallic prints for framing and gifts. We brought our wedding album to our green card interview with USCIS and the interviewer was so impressed he called in a passing colleague to look at the album. Clay and Dani really captured the magic and happiness of our wedding evening such that these strangers were touched! My husband got notice that his greencard was approved the same evening. We still keep in touch and are friends with Dani and Clay; they are exceptional people!

Photos By Clay's reply:

Oh Christiane! Thank you so much for your adorable words.
I'm literally crying here.
We're all living difficult times. I think I'm even more sensitive than I normally am 😍
These words couldn't have come in a better moment. ❤️
Clay and I are grateful to have both of you as friends.
And the story about the green card interview and the album was really nice to read.
Thanks again!
We need to grab some dinner after all this nightmare passes.
Please, say hi to Ernesto

Chivonna

Married on 09/01/2018

My fiance and I won a free engagement shoot from Photos By Clay at a bridal show, and it was amazing. Dani and Clay were wonderful to work with! They were very professional, funny, and kind. This was our first professional photo shoot and they really helped us feel comfortable in front of the camera. Aside from being so great to work with, they deliver really high quality products. The prints came out so wonderfully! We are definitely looking forward to working with Photos By Clay again.

Photos By Clay's reply:

Thank you so much Chivonna and Alex. We had such a great time with you two. You were so natural in front of the camera and we were able to capture gorgeous images from your engagement. We are very excited about shooting your wedding September 2018. Can't wait to meet you guys again, this time in your big day.
Cheers!

Shirley C.

Married on 08/10/2018

Passionate photography by the amazing couple

I am so glad that I have found Dani and Clay among sooooo many other photographers to shoot for my wedding ceremony and wedding portraits. It is fate and it is karma :). Despite the time zone difference and the quite non-traditional family-style setting I requested, Dani and Clay have worked with me in relatively aggressive timeline. Their references for bakery, hairstyle and makeup as well as florist have literally helped achieve my mission-impossible wedding with across the globe planning journey. Thanks for your passion and enthusiasm in your work and in helping people in general.....Keep up the ever-demanding artistic perspectives!!


Photos By Clay's reply:

My dear Shirley & Alex
It was a great honor to be a part of such a wonderful time in your lives!
Knowing you guys as individuals and as a couple was so nice. You are cute together, you are loving and so much fun. We also loved spending time with the so lovey family of yours. It was just amazing!
We have no words to describe how much we were happy to photograph your wedding day and your wedding portraits. Can't thank you enough for hiring us. You will always be so special and to us, mostly coming all the way from Hong Kong!
Sincerely,
Dani & Clay


Antonio R.

Married on 05/06/2018

Amazing, Artistic and Professional

Clay and Dani are an amazing team. They are able to capture and produce amazing shots even from the most simple and spontaneous situations. Their shots tell so much about the moment I really cannot describe. On top of that, they are very easy to work with, professional and good people. My wife and I are extremely happy and very satisfied we chose them on our very special day and we definitely recommend.

Photos By Clay's reply:

Hello Antonio!!!
Thank you so much for your kind words! So nice!
How are you guys doing? Hope everything is well :)

Tammy

Married on 04/21/2018

We could not have had a better photographer! My daughter booked them a year in advance and I am so glad she did because the photo's they took were breathtaking!! There is definately a magic they perform.. .. how they can take a moment and make it absolutely breathtaking is beyond words... If anyone needs a professional photographer please check out their pictures.. You will not be disappointed.. Thank you Clay and Dani for all the wonderful photos!!

Are you interested?
Send a message