26 Reviews
Recommended by 100% of couples
Quality of service

5 out of 5 rating

Average response time

5 out of 5 rating

Professionalism

5 out of 5 rating

Value

5 out of 5 rating

Flexibility

5 out of 5 rating
Awards
6 User photos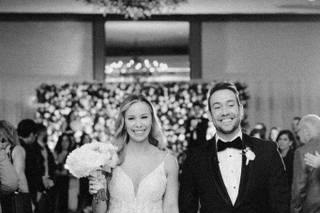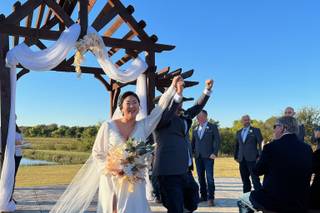 + 2

photos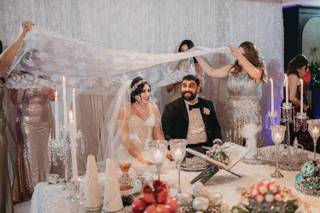 Eric

Married on 06/25/2022

Best Wedding Planner!

Stephanie with Peachy Events did an excellent job planning our wedding and we highly recommend her to anyone planning a wedding. She offered 3 different packages and we chose the partial planning package. She went far above and beyond what was required of her. She was quick to respond to phone calls and emails. She was very knowledgeable and familiar with the vendors in Houston, and provided many great recommendations for vendors. She has an excellent working relationship with all of the vendors we used. She has a very easy going personality that makes her very easy to work with. Our wedding went excellent and stress free because of Stephanie!

Peachy Events's reply:

Eric - thank you sooo much. I loved working with you and Svetlana! I truly appreciate you two choosing me to be a part of your special day and getting to witness your love for each other. Congratulations, again!

Daniel A.

Married on 04/22/2022

Phenomenal experience!

Stephanie was incredibly helpful during the planning stages of our wedding. She checked in periodically, making sure we were on track, and followed up with all of our vendors to ensure they were aware of the schedule. Even when we had a major issue regarding transportation on the day of the wedding, she handled it calmly and made sure the entire experience was as stress free for us as possible. I highly recommend Peachy Events for a relaxed, stress free wedding!

Peachy Events's reply:

Daniel - I'm so glad I was able to take the stress from y'all and resolve the transportation issue. You, Hailey, and your families are so wonderful to be around. I wish you all the best! Congratulations, again!

Iris T.

Married on 03/19/2022

Stephanie is AMAZING!

Stephanie was absolutely phenomenal! We had some nontraditional and unique parts of our vision for our wedding and no clue where to start, and Stephanie turned it all into reality! We did not have to worry about a single thing, and our wedding day was PERFECT. Highly highly recommend!

Peachy Events's reply:

Iris, I LOVED your and Tim's ideas - from your red dress, how y'all entered the ceremony, to the cake alternative. I'm so glad I could be a part of such a memorable day for y'all. Congratulations, again!

Are you interested?

Send a message

Anastasia B.

Married on 02/12/2022

Wedding of my dreams!

THANK YOU PEACHY EVENTS! Stephanie was exactly what we were looking for when we started to plan our wedding. She was extremely patient with all my questions during the planning process and during the days just prior to our wedding. Stephanie's level of organization was exactly what I needed. Her responsiveness and communication helped me stay calm throughout the whole year of planning. The wedding ran smooth thanks to Stephanie and her team. Thanks again, Stephanie, for being the best, keeping me calm, and helping me plan the wedding of my dreams! Couldn't have done it without you.

Peachy Events's reply:

Anastasia - I'm so happy I was able to keep your mind at ease the whole planning process. You were an amazing, beautiful bride to work with. I loved all of your ideas and vision for the day, and I'm so glad I could help bring it all to life for you and Blake!

Melissa M.

Married on 11/20/2021

The perfect day!

The Peachy team did a flawless job! We hired Stephanie for day of coordinating for our wedding and it was the best day ever. I did not stress for one moment of the entire day- I was able to fully enjoy the day! Stephanie was so attentive and made sure everything was perfect. Her attention to detail is amazing and she knows exactly what to ask and to whom. If you want a stress free and perfect day, look no further than Peachy Events:)

Peachy Events's reply:

Melissa, thank you sooo much for your kind words! I'm so glad you were able to relax and enjoy the day! You, Nelson, and your families are so nice and pleasant to be around! What a great day!

Vanessa H.

Married on 11/12/2021

Stephanie is the one you want on your team!

Stephanie is the person you want by your side on your big day! She's detailed, thoughtful, anticipates your needs, is very responsive, and a great problem solver. After our first conversation, I knew she was the perfect fit for us. I mentioned issues I had with one of my vendors and she had options in our budget on standby (just in case). Midway through dinner, we found out we were running low on liquor (thanks family!) and she handled it. Everything was executed exactly as we discussed. I would 100% recommend her over and over.

Peachy Events's reply:

Vanessa, I am so happy we were able to sort through all the mishaps and have alternative plans ready for you! The day was beautiful, you and Ben were beautiful, the love you have for each other is beautiful! I am truly going to miss working with you both. Congratulations, again!

Judith K.

Married on 10/16/2021

5/5 - first hire, best hire

When I got engaged, the first vendor I hired was Stephanie!

Stephanie made wedding planning approachable and dare I say, easy? Once our vendors were locked in, she made sure that they were in the loop and provided any information needed. Her planning resources (timelines, floorplan, reminders) were all so helpful throughout the planning process, and made the whole thing way less stressful.

On the day of, Stephanie came prepared for everything. Her day-of kit is amazing and is like Mary Poppins' bag. Every curveball that was thrown her way was knocked out of the part, because that's just what Stephanie does. She takes care of you and makes sure that your wedding goes as smoothly as possible. Also, she helped clean out the venue after and made sure we didn't lose anything.

So all in all 5/5; hire Peachy Events for your wedding planning needs.


Peachy Events's reply:

Mary Poppins' bag, haha. Judy - congratulations, again, to you and Kyle! I loved being a part of your wedding and being able to make it special for y'all. Your Korean ceremony was also fun and nice to witness your traditions. Thank you!

Christina L.

Married on 07/17/2021

Best Day Ever Thanks to Peachy Events!

Stephanie is THE best. Hands down. We booked her month-of coordination package for our wedding reception and having her was such a weight off of my shoulders. From the initial consultation meeting, she had a very calming and sweet personality and provided her package information to me clearly and concisely. After booking with her, she was extremely organized and noted every little detail I mentioned to her - even when I was getting scatterbrained the closer we got and sending her things randomly. Stephanie was always just a quick email/text away when I needed something and is SO fast on her feet at thinking of solutions/ideas to our problems. She pointed out things that we wouldn't have ever thought of when discussing the details and helped make our event flow smoothly. Stephanie was such a calming presence the day of and my husband and I truly got to just relax and fully enjoy the day without any worries. I would highly recommend for couples to book with Peachy Events!

Peachy Events's reply:

Christina - thank you so much for leaving a review! I'm so happy you and Admir could relax the day of and let me take the weight off of your shoulders. That's what I'm here for! Congratulations, again!

Meghan D.

Married on 06/11/2021

Calm, Cool, and Collected!

If you are looking for a planner who will keep her cool no matter what happens on your wedding day, Stephanie is the one you want! She is such a calming presence, and doesn't seem frazzled under any circumstance. We hired her for month-of coordination, but she was available to answer our questions as we negotiated our contracts throughout the process, so that when we handed things off to her a month ahead of time, we had thought through the important things, thanks to Stephanie's guidance. Stephanie also was excited about any out of the box ideas we had, and just rolled with it to make our wedding exactly what we wanted. I would recommend Stephanie for any engaged couple- get her on your team as early as possible!

Peachy Events's reply:

Meghan - you and Schaefer were such a pleasure to work with! I'm so glad I was able to offer guidance throughout the planning process so when it came down to finalizing everything, we were already on the same page. I love that you both also made the day "YOU!" It was a very special day and I'm honored to have been a part of it.

Kelsey G.

Married on 06/02/2021

Stress Free Wedding Planner :)

If you are looking for a calming influence on your hectic wedding day, Stephanie is your girl! She also worked very well with all my vendors which made the day go smoothly. I highly recommend her!

Peachy Events's reply:

Thank you, Kelsey! Congratulations, again, to you & Beau! We're ready for an anniversary party when y'all are 😉

Kyle B.

Married on 05/30/2021

An AMAZING Event Coordinator!

Stephanie Ton with Peachy Events was key to making our wedding day go smoothly and we're so glad we chose to go with her as our Month Of Coordinator! From our first meeting with her, she was very organized with a timeline, table arrangement, and condensed vendor information typed up for us. She also had some great questions and things to consider that never crossed our minds. She had our wedding day detailed down to. the. minute! Our first impression of Stephanie was that she is very sweet and soft spoken. Come wedding day, she remained polite yet assertive and focused on finding solutions to anything that went sideways. Her calm demeanor kept our stress level low. She was the reason why despite us knowing things went differently than planned, our guests never had a clue and have been ranting and raving about our wedding event these past few weeks since.
We will definitely be recommending her services to friends and family that find themselves in need of an event coordinator for years to come.

Peachy Events's reply:

Elise & Kyle - thank you! Your words really mean a lot to me. Y'all are such an amazing couple and your guests were so much fun! Congratulations, again!

Karen J.

Married on 03/04/2021

Peachy Events made my daughter's wedding dreams come true!

The best decision we made was hiring Stephanie @ Peachy Events. She immediately made the planning process easy and stress free. Stephanie was extremely organized, gave us detailed check lists to work from and was a joy to work with. I can't thank her enough for making the planning process so much fun! The wedding was perfect and was executed flawlessly. The best gift you can give yourself is to hire Stephanie and know that your wedding will be exactly what you want.

Peachy Events's reply:

Thank you for your kind words, Karen! We definitely loved being a part of Lauren and Jeremiah's day and will miss working with y'all!

Lauren D.

Married on 03/04/2021

Peachy Events

Stephanie at Peachy Events was beyond amazing when it came to planning our wedding. She listened to both the groom and I about what we wanted and made our vision come to life! I am so thankful she was there every step of the way. You will not find someone more caring or helpful in planning your wedding!

Peachy Events's reply:

Lauren, thank you so much for your gracious words! We're so happy we could help bring your vision to life. Congratulations, again, to you and Jeremiah!

Parisa B.

Married on 11/07/2020

11/7/2020 Persian Wedding

When I met Stephanie in September 2019, I knew she was the perfect fit to be our Wedding Planner. She was calm, cool and innovative. She was excited for our Persian Wedding ceremony and completely up for the challenge.

Our wedding was in November 2020. With the global pandemic A LOT had to change from the original plan. Stephanie was an absolute Angel, and I could not have imagined working with anyone else. The minute we told her we were going to do a huge downsize, she never pushed back. She immediately started thinking through everything that needs to change, and making a running list of vendors she'd need to contact and make adjustments. Stephanie was a huge lifesaver and helped make our wedding dreams possible! Everything about the night was perfect.

Stephanie was so patient with my mom and me throughout vendor meetings, and we absolutely loved her. Hiring Peachy Events was the BEST decision possible, I highly recommend Peachy Events to all brides and grooms out there on the search!

Peachy Events's reply:

Parisa, congratulations, again, to you and Rod! We're so happy that we could have assisted and been there for y'all with all of the changes and the uncertainty. Y'all were beautiful, the wedding was beautiful. Definitely going to miss working with y'all and your mom! ❤️

Alyssa G.

Married on 10/17/2020

Wedding Planner

Stephanie was an amazing wedding planner to work with. From the very beginning, I knew she would be a big help for our day. Stephanie helped with finding vendors that she knew could see what I was picturing to have. There was never a moment I questioned her. Stephanie was easy to contact and answered any and all questions I had!

Peachy Events's reply:

Alyssa, thank you so much for your nice words! Congratulations, again, to you and Larry! So glad we could make the planning process and wedding day seamless for y'all!

Justin G.

Married on 04/11/2020

Smooth and easy experience

First off, I would like to say that without Stephanie, we would not have been prepared for our wedding day and the wedding would not have gone as smooth as it did. She did an amazing job piecing everything together and keeping everyone involved in the wedding on the same page. She even brought to our attention little details that we completely forgot about. From our initial meeting where we did a run through of the wedding timeline to a few days after the wedding, Stephanie was professional and easy to work with throughout the entire process. Even our vendors enjoyed working with her! Our wedding day was a huge success and I would like to give thanks to Stephanie for playing a large role in that. I would highly recommend her services to anyone looking to get married!

Peachy Events's reply:

Justin - thank you for your kind words! You and Audrey were rocking that dance floor all night! We're glad we could be a part of it!

Jordan D.

Married on 01/03/2020

Day-of-Coordinator

I first met Stephanie at the Bridal Show about a year ago, not thinking I truly needed a wedding coordinator. After all my meetings with vendors and being flooded with questions and contracts, I knew I couldn't do the wedding planning alone. Stephanie made a great first impression and I found her card tucked in all my wedding mess, reaching out to her for help!

Stephanie was transparent, organized, and relieved some of the wedding anxiety I had been holding onto for months. I told my now husband that I don't think I could have done this without her! Knowing someone was in my corner making sure vendors arrived and all the miscellaneous nonsense was taken care of was worth more than anything!

Her and Kelly were great! Thank you guys!

Peachy Events's reply:

We're so glad we could be there for y'all! You and Ricky both looked stunning and were so much fun to work with!

Keisha N.

Married on 12/07/2019

Made our day easy

Stephanie made the wedding process very easy by suggesting vendors and getting them all lined up for the big day. She was able to help us come up with a timeline of the day and keep everything in check. -Rae

I'm so glad we hired Stephanie! I was in a planning rut and wasn't motivated. Having someone on your team that's experienced in the business took a burden off my shoulders. It's nice having someone to bounce ideas off of, ask for vendor recommendations, and to receive honest and genuine feedback. She was pretty much our backbone throughout this whole process. She was well organized, very responsive, and just everything you needed her to be! If you're contemplating about hiring Peachy, don't think too hard about it! You won't regret it! We miss you Stephanie! 😩 -Keisha

Peachy Events's reply:

Keisha - we're so glad that we were able to make the process easy for y'all. You and Rae looked amazing day-of!

Megan

Married on 11/01/2019

Beyond Amazing!

We knew from our first meeting with Stephanie she was hired! She was organized, attentive, and professional. Our wedding day had a tight schedule and hundreds of guests, but Stephanie made sure it was perfect and all our details were taken care of and catered to. She made sure not only our day was perfect and stress-free but our whole experience. Thank you for everything Stephanie!

Peachy Events's reply:

Megan - thank you for your kind words! We had so much fun and hope y'all did, too! Congratulations, again, to you and Willie!

Krystle

Married on 10/12/2019

Peachy Events made our day perfect

Working with Peachy Events was an essential part of making our wedding phenomenal. We used them for month of coordination and Stephanie was very helpful with tying up the loose ends and making sure the day was set to our expectations. The day of Stephanie and her team were very attentive and made sure everything happened to plan. We could not have had the amazing day that we had without her.

Peachy Events's reply:

Krystle - we're so grateful we could be there for y'all and witness the love between you and Rickie. Congratulations, again!!

Jose A.

Married on 08/24/2019

Peachy Events worth every penny!

Where to even begin with Stephanie and her team! She was such an amazing person and an even more amazing wedding planner! We started the planning process a little late but she was able to accommodate and help us even with our time restrictions. The main thing I loved about her, she is so calm! She made me feel calm when I wanted to pull my hair out!

She had an amazing team with her the day of our wedding and took care of me, my husband, and our parents. Everything was perfect and she definitely made sure of that!
All the vendors she helped us secure were more than amazing!

I can honestly say without Peachy Events and Stephanie and her crew, our wedding would NOT have been as amazing as it was!

Thank you to Stephanie, her team, and Peachy Events!

Peachy Events's reply:

Gaby, first off, congratulations to you and Jose! Thank you SO MUCH for letting us be a part of your day. We were more than happy to help make it calm and perfect! We wouldn't have wanted it any other way for y'all! Loved seeing y'all enjoying the day and getting to dance the night away!

Robin N.

Married on 08/02/2019

Just Peachy did a fantastic job!

We met Stephanie at the Houston Bridal Extravaganza. She was immediately engaged about my daughter's wedding. Throughout the process she was helpful with questions and advice and was a great help with booking the vendors. On the day of the wedding she and her assistant were phenomenal!

Peachy Events's reply:

Robin, thank you for your kind words. I loved working with you, Emily, and Sam, and getting to see y'all come together as a new family :)

Kelly

Married on 07/13/2019

Let Stephanie Handle the Details

We hired Stephanie as a day of coordinator for my daughter's wedding since we were doing the planning ourselves. Although we did the booking of all the vendors, Stephanie handled the reading of contracts, the creation of timelines, the communication with vendors, and the seamless flow of the rehearsal and the wedding day. Because of Stephanie's attention to detail, I did not have to worry about a thing on my daughter's big day. I got to enjoy the moments with my daughter knowing that Stephanie was handling all things vendor-related. Stephanie's sense of calm and her ever-present smile made her a dream to work with. She was very responsive to seating questions I had in the last few weeks before the wedding. Do yourself and favor and let Stephanie handle the details so you can soak up the moments of the big day.

Peachy Events's reply:

Kelly, we're so glad that you got to relax and enjoy Maggie and Mitchell's wedding! We loved getting to know you and the family throughout this process!

Jason B.

Married on 04/06/2019

Fantastic Experience

We hired Stephanie to do our day of coordination but what she offers is so much more than that. We met on multiple occasions leading up to our big day. She asked all the right questions, wanted to know who the vendors were and what they're contact info was, how we wanted our day to progress, special music, all down to the most minute detail. She had ongoing contact with all the vendors to make sure they were going to show up at the right place and on time. When the day finally did come, I was constantly asking if she had heard from this vendor or if this vendor had shown up yet and she just calmly looked at me and said "don't worry, everyone has shown up, everything is ready." At that moment, I could let it all go and my worries disappeared. I would like to give my gratitude to Stephanie and her assistant, they really helped pull it off.
Thanks, Jason

Peachy Events's reply:

Jason, we are so glad we could put your mind at ease and you were able to relax on your special day! Thank you for letting us be a part of it! Congratulations, again, to you and Morgan!

Kevin

Married on 04/08/2017

I recommend 100%! Stephanie was a game changer for us to pull off our Four Seasons Wedding this Spring. We had a very clear vision of what we wanted our wedding to look like and feel like, and Stephanie was able to put that into production. As a couple we wanted a really good DJ, the wedding to flow seamlessly (all elements, and the room to look amazing...Stephanie crushed all aspects for us! Her vendor recommendations are incredible, very big name players for us to choose from. She was a major piece to our most precious day and we forever will be her biggest fans! Thank you so much Stephanie!
Are you interested?
Send a message