58 Reviews
Recommended by 98% of couples
Quality of service

4.9 out of 5 rating

Average response time

4.8 out of 5 rating

Professionalism

4.9 out of 5 rating

Value

4.9 out of 5 rating

Flexibility

4.9 out of 5 rating
8 User photos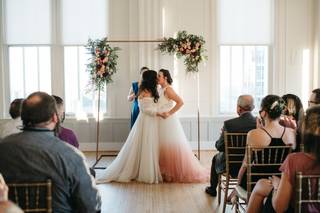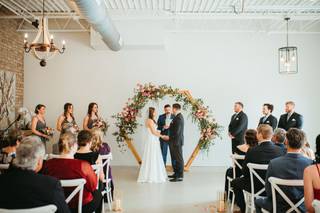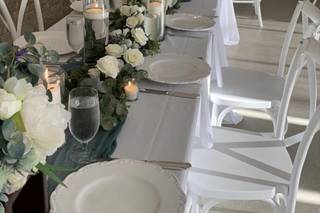 + 4

photos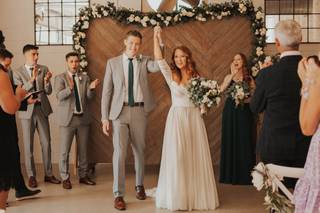 Molly E.

Married on 04/01/2023

Best Day Ever!

Paisley and Pearl did an amazing job keeping our day stress-free!
Two weeks leading up the wedding Heather took over all vendor communication which was incredibly helpful. She answered all our questions and made sure she had all the details of what we wanted on wedding day.
During wedding day Heather and her team did an incredible job setting up our personal decor items, keeping us and the vendors on time, communicating with us and with the vendors, and making sure we had food and drinks!
Our day was beautiful, fun, and stress free - all that thanks to Heather, she is a life saver.
We highly recommend Heather and her team for your wedding day.

Alison

Married on 03/26/2023

Month-Of Wedding Coordinator

We are so happy with our choice to hire Paisley & Pearl as our wedding coordinator. Heather and her team alleviate so much stress for us not only day of the wedding but the month leading up to.

Her attention to detail is wonderful! About a month prior to the wedding, we met with Heather to discuss in great detail everything you could imagine all the way down where we want certain people to sit during the ceremony and how we wanted our napkins folded. Things I would have never thought to consider. The best part was when she told us to re-direct all of our vendors her way. Music to my ears!

The highest compliment I could give for wedding day is that I didn't see or hear from Heather and her team except to make sure I had food and drinks throughout the reception. They handled everything flawlessly especially given a quick change in plans due to rain. They executed on my vision beautifully. If there were any issues with guests or vendors, I did not know about them (which is exactly what I wanted).

Erin I.

Married on 07/03/2022

Created our dream day!

Heather and Paisley and Pearl Events created the day that we dreamed of to a T! She was phenomenal to work with and really listened to what our vision was for the wedding day so she could bring it to life. We used Heather for month of coordination and day of coordination which was amazing because the last month before the wedding is the most stressful. She took all that communication over for us and allowed us to enjoy the last month of an engaged couple without having to worry about anything! The wedding rehearsal and wedding day were absolutely perfect and we have so many thanks to give to Paisley and Pearl for making our dreams a reality!

Are you interested?

Send a message

Emily

Married on 06/11/2022

Perfect Day!

Heather was AMAZING!!! We could not have picked anyone better to coordinate our wedding day! The whole day was absolutely PERFECT!!! From our first meeting with Heather, she was willing to share her expertise to help our day be the best possible. As soon as she began working on our wedding 6 weeks before the big day, I knew we were in good hands. Several family members commented on how calm I was on wedding day (very uncharacteristic for me on big days) which was all thanks to Heather! I trusted her 100% to make our day wonderful, and she created a better day than I ever dreamed! Our day was PERFECT!!! Thank you, thank you, THANK YOU Heather!!!


Suzanne M.

Married on 06/04/2022

Lifesavers!

If I have one recommendation for wedding-planning couples out there, it's to hire a month-of planner! And to choose Paisley and Pearl! I don't know what I would have done without Heather and Jessica's help! From the first consultation, Heather was so friendly, personable, and helpful, and definitely helped put my mind at ease. As the wedding month approached and things were getting hectic, my husband and I were again put at ease following a 2-hour planning call in which we went over every single possible detail and made a specific plan for our day! It was so helpful to know that Heather and Jessica were in touch with all of our vendors and making sure that everyone knew what they were doing, where they were supposed to be, and when. And on the day of--WOW. Jessica did a phenomenal job making sure that I had absolutely ZERO worries. I'm an anxious person anyway, and was super worried about certain things with the wedding, but when I tell you that I was maybe the most calm I've been in a long time (except for maybe when the music started and I saw my husband at the end of the aisle!). Jessica decorated and made my venue look beautiful, made sure everything was running smoothly and on time, and I had hardly a worry the entire day. I have no idea how my husband and I would have managed that all on our own. We honestly wouldn't have changed a thing about our wedding and we owe so much of that to Paisley and Pearl! Thank you both so much!

Josie P.

Married on 05/28/2022

Couldn't have done it without her!

They helped make our day perfect! I couldn't have imagined how much I would have stressed handling all the little details that Heather took care of for us!

Rebecca

Married on 04/23/2022

Incredibly helpful in putting together our celebration

Heather was super helpful in dealing with our venue, our other vendors, and answering all our random questions throughout the planning process. Our venue coordinator changed multiple times leading up to our wedding day, and having Heather's guidance on the venue contract was critical when issues came up. We really appreciate that Heather went the extra mile to answer our questions even before our 6-week contract began, rearranging her schedule to meet with us, and even giving us a ride home once. Highly recommend!

Karyn O.

Married on 04/02/2022

The most supportive and kindest wedding coordination team!

My husband and I had an awesome time working with Heather and her team at Paisley and Pearl to plan our wedding celebration at Chatham Station! She is the sweetest! Heather helped us with all our questions and supported us through our month-of and day-of wedding coordination. She went over and beyond to make everything as smooth as possible for us and that meant so much to us! We're so grateful she and her team were a part of our big day! We look back on it all really fondly. :)

Sarah H.

Married on 01/03/2022

Fantastic Planner

My husband and I are so thankful for everything Heather did for us in helping plan for our wedding. We started with her "Month Of" package, but quickly upgraded to the partial planning package to help take on the load. She is friendly, supportive, knowledgeable and experienced in making your vision come to life. We couldn't have had the flawless day we did have without her help. Cannot recommend enough!

Emily M.

Married on 08/21/2021

Top Notch Wedding Planning!!

I knew I was going to need some help planning from the beginning and within seconds of meeting Heather, I knew she was going to be the best of the best! My fiancé and I were unfortunately affected by COVID restrictions and needed to reschedule almost an entire year later than our original date. Heather was so accommodating during that time and made sure I was staying level-headed and on track during a very stressful time! She kept me sane and reassured me everything would be great! Our wedding day was so beyond perfect and beautiful due to Heather and her team's diligence, timeliness, and top-notch wedding planning skills! I couldn't be more thankful and would recommend Heather over and over again without hesitation!!!

Wynne

Married on 05/27/2021

Flexible and Knowledgable

Heather is very knowledgeable and transparent while working with her. She knows the ins and outs of the wedding industry, and she had helped us navigate the foreign waters. She worked hard to find the best vendors at the best prices and presented all the options clearly. She guided us with the design aspect and ensured we got our vision for our ceremony and reception. She was flexible to be reached by phone, email, or text due to our unusual schedule. Heather ensured our wedding day ran smoothly and that we got the best experience we could.

Alex A.

Married on 02/12/2021

Highly recommend!

Heather was incredible to work with - she was organized, helpful, and fun. She knew all the questions to ask - things I hadn't thought about but were clearly important. She took care of everything day of and I didn't need to lift a finger. We told her our vision and she made it happen.

Alisha H.

Married on 11/07/2020

Amazing Wedding Coordinator!

Heather was a vital part of our wedding! We hired her to be our day of coordinator and she did not disappoint! She was very on top of all of the details. She was also super responsive when I asked her for advice when our caterer fell through a year before she was set to start on our wedding. As the bride, I didn't worry about a single detail or schedule the day of the wedding. She made sure we were both happy, fed, and always had a drink in our hand. I would book her over again in a heartbeat!

Kay H.

Married on 10/24/2020

Paisley & Pearl All Day in Every Way

Heather is seriously a Jack of all trades which makes her a Master in her industry! Whatever you need, she is already 3 steps ahead. She showed up on my wedding day with a handy dandy 'Everything you Need' box, like Hermione's never-ending bag in Harry Potter! Whatever you think you need, that you may have forgotten, it's in there! She did all the leg-work for scheduling, rehearsal training, vendor communications, layout...the whole 9 yards!

Heather was such a pleasure to work with! She is a visionary and has thought up every possible scenario to ensure that you don't have to. Planning a wedding during a pandemic can be STRESSFUL, but Heather had all the plan Bs covered. She was incredibly reassuring, hard-working, professional, as well as just a JOY to be around. I would HIGHLY & whole-heartedly recommend this rockstar lady!


Gretchen W.

Married on 10/17/2020

Heather anticipated everything we wanted.

We opted to have Heather on board for full wedding planning and it was totally worth it. We had picked our venue and that's how we found her. The rest was SO much easier than finding a venue. She knows the vendors in the area and provided us with options she thought would be able to provide what we wanted and she was absolutely right every time! She made sure we had everything we needed and helped us navigate the pandemic waters at every turn. Our wedding day, while smaller than we originally planned, was everything I hoped for. It went off so smoothly and it was so nice to have passed everything to Heather so I could focus on enjoying the day instead of worrying about the details and MAN did I enjoy it!! She and her assistant anticipated everything we needed throughout the day - the had drinks and appetizers for us while we escaped for post-ceremony photos. We didn't have to think about food or drinks, they just appeared and they kept everything right on schedule. It was a beautiful, special day and Heather played an enormous part in making that happen. I can't say enough. Full planning was worth it, if you don't go for that, definitely have Heather take over the details a month out and ENJOY YOUR DAY!!!

Samantha C.

Married on 09/05/2020

Highly Recommend

Being a bride during the time of COVID is not easy, but Heather and her team at Paisley and Pearl were there every step of the way. Heather was ready and waiting to talk through any concerns that I had the couple months leading up to our wedding date. As it got closer, we decided to hold off on our big celebration and to do a minimony. Heather made the switch seamless for us by contacting all of our vendors to see if they were available on our new date. She was also there the day of our minimony to make sure that it was still an amazing day for us. If you do not have a wedding coordinator yet, I highly recommend Heather and her team. They go above and beyond for their clients and make you feel like you are part of their family.

Devin

Married on 06/13/2020

All You'll Ever Need & Want!!

The first and BEST decision we made for our wedding was hire Heather! She is simply a beautiful person inside and out- infectious laughter, great listener, and truly will make your vision come true even if you don't know what that vision is yet. We had a longer engagement that was prolonged by Covid and she worked with us to navigate those waters like a champ when everything was so up in the air and unclear. There is absolutely no way I would have gotten through the whole wedding process and day of without her! She really makes you feel like family!! And she knows how to get ish done! If we could hire her all over again, we would do it in a heartbeat!! There are not enough words to describe how amazing Heather is and was as a vendor and person. I'm telling you hire this team RIGHT NOW!

Christina D.

Married on 05/09/2020

Heather rocks!

We are early on in the coordination process, but Heather is great to work with so far!

Nicole P.

Married on 11/09/2019

Couldn't have done it without Paisley and Pearl!

When I started planning my wedding I had no idea what was involved. I considered myself a pretty simple bride and only had the vaguest idea of what I wanted my wedding to be like. From the moment I first contacted Heather by email to our first meeting and all the emails and meetings in between, I knew I was in great hands. She was the first coordinator I met with but not the last, but none felt as comfortable and connected to us as Heather did. She answered every question I had throughout the process, and made me aware of a bunch of details I would never have thought of. When I had vague ideas of something I thought I wanted it was Heather that knew how to make it happen. And every other vendor I worked with would have the same response when they asked who my coordinator was: "Oh, Heather! We love working with Heather!". I knew that with Heather looking out for me my wedding would be all that I could hope it would be. And as it turned out, it was even better than my dreams. I was completely blown away by how thoughtfully she pulled together all the elements of my crazy ideas to make the wedding absolutely beautiful and just perfect. And the best part of all of it was that Heather was a joy to be around. She's not only professional and extremely on top of things, but she's also really fun and delightful and was great at making me feel calm when I was tempted to feel panic.

I loved my wedding so much more than I ever could have hoped to, and I give Heather at Paisley and Pearl a huge amount of credit for that. I couldn't have done it without her!

Tess B.

Married on 10/25/2019

Great so far!

Heather is very easy to get along with; she is bright, outgoing, responsive, and organized. We just booked her and are excited to work with her. She has been very helpful already and I am excited to have her support on our special day. Will post another review after the wedding! :-)

Sarah O.

Married on 10/19/2019

Great pre marital counseling

My fiancé and I saw Heather for pre marital counseling and have already recommended her to all our friends. She was welcoming and worked with our busy schedules. The activities that we did really prepared us for the next steps. She's awesome!!

Bryce

Married on 10/05/2019

Five Star service!

Heather helped make our wedding day run seamlessly. She took care of everything so that we could have the best night ever. Everything at our wedding was perfect and if anything wasn't I still have no clue about what it was! Five stars!

Cassandra

Married on 09/28/2019

Heather was absolutely amazing!

I honestly don't know how I would have gotten through this day without her! Even before our wedding, she was so helpful and gave so many good suggestions - things that I would never have thought of. It's obvious that she has a lot of experience and is passionate about what she's doing. She went above and beyond what was expected of her - and so many of our attendees commented on all that she did during the ceremony/reception. She truly was wonderful and I would recommend her to anyone who asks.

Meagan

Married on 03/31/2019

Best Wedding Decision I Made!

Hiring Paisley and Pearl Events for month-of-coordination services was easily the best wedding planning decision I made! They made the days leading up to my wedding so much easier by taking over as my point of contact for vendors and creating a very detailed timeline of events. On the day of, everything ran so smoothly. I didn't have to worry about a thing. I had the pleasure of working with Heather (the owner), Caitlin, and Kelly. They are all very sweet, positive, and professional. They made themselves readily available for all my questions via email and text. I worked with Caitlin and Kelly on the day-of, and their constant smiles were so reassuring on such an emotional day. I can't thank them enough for all of their hard work!

Ashley

Married on 03/30/2019

All around amazing!

We could not have been happier or more grateful we went with Paisley and Pearl for our spring 2019 wedding. I like to plan everything and am a perfectionist in general so to hand over such an important day to someone else was difficult to say the least. Heather was there for me every step of the way to bounce ideas off of and her insight was invaluable. She kept me calm during the final stretch and was extremely attentive. Some of my vendors were less so, which I'm sure made her job more difficult, but she handled every situation with professionalism and understanding. Our day of coordinator, Ebony, was equally as amazing. She kept us on schedule without making us feel rushed. If anything arose during the wedding we were none the wiser because she had it under control. Thank-you so much to the Paisley and Pearl team for helping us pull off what many of our friends have called the best wedding they've ever been to. We couldn't have done it without you!
Are you interested?
Send a message