58 Reviews
Recommended by 100% of couples
Quality of service

5 out of 5 rating

Average response time

5 out of 5 rating

Professionalism

5 out of 5 rating

Value

5 out of 5 rating

Flexibility

5 out of 5 rating
25 User photos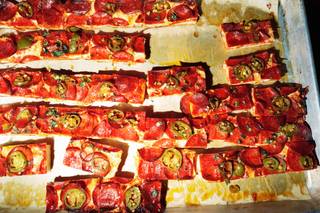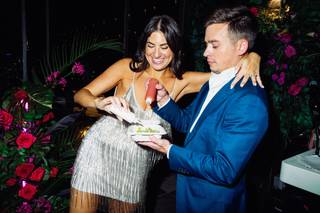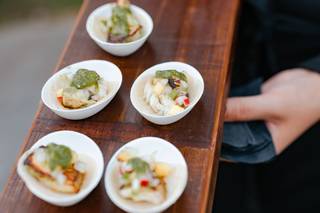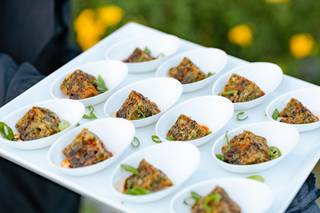 + 21

photos
Adam R.

Married on 12/10/2022

Incredible Wedding by Night Kitchen

Used Night Kitchen for our daughter's wedding in Brooklyn. They were incredible - with many of the guests saying that it was the best wedding food that they had ever had. Night Kitchen was a pleasure to work with - but most importantly the food was beyond expectations.

Allison R.

Married on 10/23/2022

Absolutely Phenomenal

There are no words to describe how phenomenal our experience was with Night Kitchen. In the early stages of wedding planning, we had tastings with three separate caterers so that we could be sure to deliver a top-notch dining experience to our guests. We didn't just want the food to be good - we wanted it to be fantastic. Despite the fact that each of the caterers we tried was very highly rated, there really wasn't much contest - we knew after trying all of them that Night Kitchen was our caterer without a doubt. Chef Aaron was so thoughtful about creating a tasting menu just for us based on our wedding vibe. Our wedding theme was inspired by the roaring 20s/Great Gatsby, so we wanted an opulent feel to the menu. In particular, the passed hors d'oeurves Chef Aaron and his team came up with were exquisite (the caviar deviled eggs, saffron arancini with parsley pesto, tuna tartare on sushi rice cake, and mac and camembert with fried kale were probably my favorites, but they were all delicious beyond words). They also created a family-style menu for the main course including two proteins (hanger steak with duck fat fried potato roses and shug; Zaatar seared salmon with miso tahini) complemented by four vegetarian side dishes, plus a salad (kale Caesar salad with brown buttered croutons) and fresh bread course. So many of our guests absolutely raved about the quality of the food, even some of my family members who are very tough critics!

It was also such a wonderful perk that they offer in-house day-of coordination services. We were so happy to have Angela helping us with the details as the wedding approached - I truly don't know what we would have done without her attention to detail. She came up with a "run of show" day-of schedule early in our process with her which totally demystified how the day would go and what we needed to do to make sure we had all of our ducks in a row. Just knowing she was there making everything go smoothly was so reassuring.

Hiring Night Kitchen was one of the best decisions we made in planning our wedding. We are so grateful to Chef Aaron, Angela, and their entire team. If you book them for your event, I'm certain you will be equally blown away.

Tim

Married on 10/09/2022

Professional, Incredible, and Delicious

If we were to re-do our wedding all over again, Night Kitchen would be the first vendor that we'd sign in a heartbeat! All of our guests raved about the food, and they were incredibly easy and professional to work with. Additionally, Chef Aaron and the Night Kitchen team pay incredible attention to detail and ensure that everything from numerous dietary restrictions to fussy-eaters are covered. One of the things we were particularly impressed by was that Chef Aaron really took the feedback we gave him during our tasting seriously and the food at our wedding was even better than what we had at the tasting!

A Night Kitchen review wouldn't be complete without giving a shout-out to Angela, the in-house day-of coordinator. The days and weeks leading up to the wedding were and will always be a literal blur, and Angela was key to our sanity by being the point person between all of our vendors and making sure that our event went off without a hitch.

We absolutely recommend working with Chef Aaron, Angela, and the Night Kitchen team for your event–you won't regret it!

~Judith & Tim

Are you interested?

Send a message

Ziwei G.

Married on 10/01/2022

Best of the Best

Let me start this review off by saying that I met with a friend a day after our wedding in September, and before he could say hello he mentioned the delicious white rice that accompanied his salmon entree. This was the white rice– can you only imagine what everything else tasted like?!

We prioritized finding the perfect caterer when we first started wedding planning. To me, great food is the most important thing to have at a wedding. We contacted Night Kitchen and actually spoke to Chef Aaron himself. He and Angela arranged a tasting within 5 days of contacting them, and my husband and I had the most incredible meal at their Brooklyn kitchen. Angela was a dream to work with. She is organized, helpful, and her communication was excellent.

We live in NYC and we are used to eating at fantastic restaurants. The food at our wedding was one of the best meals we've ever had. We asked for a Asian- Italian fusion to reflect our cultural backgrounds and they DELIVERED. Every single guest we've spoken to after the wedding raved about the quality and quantity of the food. People literally close their eyes when recalling the hors d'oeuvres they had.

If anyone is looking for a caterer, please do yourselves a favor and ONLY contact Night Kitchen. Chef Aaron and Angela are one of the nicest people we've met. We look forward to our next event so that we can eat their food again.

Jessica H.

Married on 09/16/2022

The best of the best

Night Kitchen was SUCH A JOY to work with! We hired them for our Sept 2022 wedding and they did not disappoint! Not only are they incredibly professional and experienced in the space, but they are truly SO creative. We had a cocktail-style wedding and they knocked it out of the park. The food was absolutely delicious, all of our guests were raving and are still talking about all of the amazingness - including our request for late-night halal to-go boxes! UNREAL. We also used their wedding coordinator, Angela, who was our saving grace. Our wedding would not have happened without her - she truly made the entire day/night run SO smoothly without a single hitch (!!!), and we are eternally grateful for her experience, organization, insight, and service! WE LOVE YOU ALL!!!! Hire this team - your stomachs and hearts won't regret it!

Molly P.

Married on 09/04/2022

Night Kitchen is the best!!!

We had the best experience working with Night Kitchen for our wedding at the Brooklyn Grange in September 2022! Chef Aaron, Angela, and the whole team were so professional and so wonderful to work with - from taking the time to learn about foods that we love and that are important to our families and curating the perfect menu, to the amazing tasting we did, to the communication throughout the wedding planning process, to coordinating rentals, to everything on our wedding day - we are so glad we had Night Kitchen cater our wedding! Throughout the night and in the days following our wedding, we received SO MANY comments, emails, and texts from friends and family about how incredible all of the food was - so many people told us that it was the best food they've ever had at a wedding (and we agree!!!). Everything was so delicious! We'd highly recommend hiring Night Kitchen to cater your event.

Gabe C.

Married on 09/04/2022

Highlight of Our Wedding!

Night Kitchen catered our wedding at the Green Building in Brooklyn on 9/4/2022 and it was the best decision we made (apart from deciding to marry each other). We love good food and knew that if we were going to have a wedding the food should match the occasion and reflect our love of food, and wow, did it ever! Multiple guests literally got up from their seats *during dinner* to rave about the food--that's how good it was.

We could go on and on about the food, the presentation, the generous portions (both for the dinner and the passed appetizers), but you should just taste it for yourself because it's so delicious. But what made the experience so worth it was the quality of the people who run Night Kitchen, and specifically, Chef Aaron and Angela. They were so easy and fun to work with, and all the staff at the wedding were incredibly professional. In addition, Angela helped us with day-of coordination for our wedding and we are forever indebted to her for keeping us on track and ensuring that everything went smoothly.

If they are available for the date of your event, jump on it! You will not be disappointed.

Shelly P.

Married on 08/16/2022

The Greatest Of All Time!

Night Kitchen was an amazing caterer to work with for our August wedding at the Brooklyn Grange! I'm sure there are a lot of great caterers in NYC, but I'd choose them again in a heartbeat. Reasons they rock are twofold:

#1 The people. Chef Aaron is not only talented, but he is extremely nice and his values aligned with ours greatly (he believes in really fresh ingredients, is non-wasteful, etc). And we simply could not have pulled our wedding off smoothly if it had not been for Angela, the NK admin who we also hired as our Day-Of Coordinator. She was always two steps ahead of us to make sure everything got done.

#2 The food. The food is delicious. So many people complimented us on it during and after the wedding, and many even said it was the BEST wedding food they'd ever had. The chef can do all kinds of world cuisines, so we felt like we had a really multicultural, diverse, unexpected menu for our wedding fare. They worked with us to build a menu that was inclusive of guests with dietary restrictions and that incorporated dishes that were meaningful to us too. In short, they are comfortable with customizations and pulled everything off expertly.

DO NOT skip the private tasting in Chef Aaron's kitchen if you are offered the chance! It was so much fun to try many types of dishes, learn about the chef's experience, and plan a menu with my fiancé in a private, intimate environment. One of my favorite parts of wedding planning for sure!


Victoria Z.

Married on 07/30/2022

Wedding MVP

Night Kitchen was the MVP of our entire wedding. The number one comment we got was how delicious and unique the food was. My only regret is that I was too busy to eat all the passed hors devours. The entire evening ran smoothly and my guests had nothing but great things to say. I would 100% recommend using them as a caterer for your big day or any special occasion!

Ali G.

Married on 05/14/2022

Incredible catering experience!!

Night Kitchen did an absolutely incredible job catering our wedding!! Everything was delicious!!! Night Kitchen stuck with us through an incredibly stressful time (re-planning our wedding multiple times due to COVID). They were incredibly flexible, professional, and a dream to work with. We even used Night Kitchen for both a small ceremony with family in 2020 and our larger celebration two years later - Night Kitchen provided an incredible experience at both the large and small events! We are three weeks out from our wedding day and we are still receiving almost daily compliments from our guests that the food was the incredible and the best wedding food they've ever had. Would strongly recommend Night Kitchen to anyone!!

Melanie C.

Married on 03/05/2022

World Class Wedding Caterer

Chef Aaron, Angela, Angel, and the whole Night Kitchen team truly went above and beyond for our wedding. From the very first conversation, they were incredibly helpful and professional, and you could just tell that they love what they do. We went in for a tasting trial before making a final decision, and the food was INCREDIBLE! We challenged Chef Aaron to make a menu that was a fusion of Peruvian and TexMex - two very different cuisines - and you could just see the attention to detail, ingredients, and flavors in every dish he made. Aaron and Angel are truly world class chefs and so versatile in what types of foods they are able to cook, and cook exceptionally well! And that was just the tasting!

Angela not only coordinates the catering, but also offers wedding day-of-coordination, which is probably the best decision we made for our wedding! She was so helpful making sure we thought about all details, no matter how small, and she created an incredibly detailed timeline, which made the day run smoothly. She reached out a couple months before the wedding to understand our vision and make sure we were on track with all of the vendors. And once we gave her the contact information for all of the vendors, she made the rest of the planning process stress free!

The day of the wedding was executed to perfection by the Night Kitchen team. They have their own staff for the kitchen and table service. Set up, rentals, and breakdown were all handled by the team. More importantly, we received so many compliments on the food! Highly recommend going family style, because everyone is going to want to try a little of everything - it's all amazing. And as a nice touch at the end of the night, they made sure to pack us a 'hangover box' of food for the next day. So thoughtful from start to end - don't even think twice about booking them for your wedding!

Sasha R.

Married on 12/04/2021

Incredible food, incredible caterer

Night Kitchen rocks. You should pick them for your event, they are so, so good at what they do.

We wanted to have a real food-forward wedding. No gimmicks. Food meant a lot to us, and we wanted a caterer that wanted to make fresh, interesting food for our event. Night Kitchen completely blew us away. On the calls they listened to what we liked to eat, and came back with an absolute dream menu that combined our tastes with our story. It seemed a bit too perfect though, so we went in for a tasting. The tasting was the best meal I ate all year. Basically a chefs kitchen in the coolest mad scientist garage, and every bite was revelatory. Pineapple+queso appetizers, calamari tapas, spicy and coconut-lentils, wild deserts. It was so good. And then they did it again at the event itself! Like the food for 150 was as good as it was for 4. Literally every person at the event complimented us about the food, they were so into it.

Other aspects were great too. We worked with the team at Night Kitchen to design special drinks (we had a punch and mulled wine) and they were extremely helpful about testing it out and giving us precise ingredient lists. They were very helpful in the walkthrough and arranging rentals as well, including small things like glasses for specialty drinks and coffee. All the aspects around the food went off seamlessly and so the food really was able to shine.


Amy L.

Married on 07/02/2021

Perfect, personalized, pandemic-wedding in Brooklyn!

I could not have had our wedding without NIGHT KITCHEN and Angela! From rescheduling dates and working through different and ever-changing COVID regulations, Night Kitchen and Angela were on top of everything!

Catering -- My husband and I had very personalized elements we wanted for our wedding and Night Kitchen was able to deliver above and beyond. We wanted to serve Korean-inspired food like Atoboy, Danji, etc. However, many of these places do not cater outside of their own restaurant. We were able to work with Chef Aaron and his team to develop a menu that was elegant and so authentic. Everyone at the wedding was blown away by the food. My Korean aunt in her 70s could not believe this food was not from a Korean chef. We also wanted to deliver part of the food to a local homeless shelter for young mothers a few blocks away from the venue. Chef Aaron and his team was able to cook and set aside food to be delivered to the shelter prior to the wedding on top of prepping for multi-course dinner with at least 12 dishes for over 80 people. We were a little concerned this Michelin star Korean-fusion fine dining experience we wanted would lost with the volume of food that was cooked at once, but we were absolutely blown away with out nuanced and delicious everything was. You can bring any type of cuisine and experience you want to Night Kitchen and they will deliver!

Day of Planner - We highly, highly suggest hiring Night Kitchen's day of planner, Angela when you book their catering services. Angela's planning template is what dreams are made of for Type A planners. She thinks of everything to the very last detail and went above and beyond with everything behind the scenes to make sure we could enjoy our day to the fullest. We also had some special events like a surprise puppy party for our guests, ice cream truck for dessert, and donating our flowers the next morning, and they were able to help us execute these on top of regular wedding stuff.

+ 6

photos

Jacqueline R.

Married on 05/21/2021

Delicious and Meticulous

I cannot give Night Kitchen enough praise and gratitude for catering and coordinating our wedding. Our original wedding day was scheduled for July 2020 and we postponed it to May 2021. Night Kitchen was so understanding, gracious, and transparent throughout the entire process. The food was top notch and all of our guests could not stop complimenting them on the taste and quality(we have some 'picky' friends/family)! Angela, their coordinator, allowed my partner and I to enjoy our wedding day to its fullest. She took care of any issues and executed our vision for our wedding day to perfection! We are so grateful to them and will continue to use them for any other events that may occur in the future.

Jack

Married on 10/03/2020

Incredible food, incredible event planners

Night Kitchen catered our 50 person wedding in a time of COVID, and we're SO glad they did. After the ceremony, a delightful plate of h'ors d'oeuvres was waiting for us in the reception room, and they were all INCREDIBLE. Especially recommended are the Gochujang Fried Chicken, Lobster Rolls, and Lemongrass Beef.

And then the main courses! All so very delicious, and catered to exactly what we were going for with the Indian-American theme of our wedding. It was all so, so much better than usual wedding fare, and all our guests agreed.

Perhaps the greatest of all was Angela herself, as our day-of coordinator. She went above and beyond WELL in advance of the wedding, to make sure that all our vendors were in the loop on everything, and that we felt completely comfortable with the pace of our day as it approached. If anything went wrong she was ALWAYS immediately ready with just the right solution to alleviate our concerns.

Hire these folks for your event ASAP!

Alice L.

Married on 05/09/2020

Great Food and Great Service

Night Kitchen was able to make my COVID wedding dreams come true! They cooked two night in a row for a formal sit down for our rehearsal dinner for 18 people and a family style dinner for 40 for our wedding celebration. My husband and I were delighted with food and service. Chef Arron and his team really listened to what we like and was honest with what his team could due during Covid. They made getting married very easy and everyone loved the food!

Benjamin S.

Married on 04/09/2020

A wonderful and delicious experience

Angela and Aaron from Night Kitchen were a complete pleasure to work with. We started planning our wedding and had our first tasting meal with Aaron in early 2020, and they were very understanding and accommodating as our plans got pushed back two years. They helped us make some late adjustments to the menu and were all around very flexible, as well as just being incredibly helpful with different aspects of our planning, beyond their job description as caterer. Most importantly, our food was delicious, and on the day of, Night Kitchen's whole team was incredibly professional and well-organized. We have gotten countless comments from guests that it was the best food they've ever had at a wedding—and we agree.

Catherine T.

Married on 02/14/2020

So thankful for this team!

My partner and I just celebrated our one year anniversary. We were married less than a month before the COVID shut down. So many times this past year we have thought how lucky we were to have our wedding and party when we did. Not only thank goodness that our plans didn't get disrupted by COVID, but also THANK GOODNESS for such a fun, fun, FUN night before it all changed. We are so thankful for all Night Kitchen did to help us make magic happen. It was seriously the BEST WEDDING EVER!

Chef Aaron is the best. He is always creating menu's reflective of who he is working with and their guests. Have a specific desire or need? He has got you covered. So many guests told us how this was the best food they had ever had at a wedding - and we know it! I also want to share how great the staff was. They were never in the way but always there when you need them. They were polite, gracious, funny and attentive. And Angela?! (The day of coordinator that works with Night Kitchen) - Trust me, you want her and need her help. She will keep all the details organized and make sure everything happens as you dream it and on time too! She is also sweet and fun and exactly who you want in your corner while planning your special celebration.

You really can't go wrong with Night Kitchen. You are 100% setting yourself up for success by working with this team. Have fun!



Venus C.

Married on 01/04/2020

Great to work with and amazing food!

If you're looking for a caterer that will go above and beyond your expectations, then Night Kitchen is the way to go!

Night Kitchen catered our wedding last weekend. When I was first researching caterers, I came across Night Kitchen and reached out for a quote. Evgenia responded promptly and provided some helpful general information and pricing guidelines, and offered to set up a time to discuss further. Initially, the prices she provided were a bit high for our budget and I thought we would have to continue our search for a caterer. I responded to Evgenia, telling her about our budget constraints. To my surprise, she responded back and said that they would work on a catering proposal that would meet our budget. Over the next several weeks, I communicated back and forth with Evgenia, and she was extremely patient as I explained our budget concerns and what we wanted for our wedding. I kept asking for more time to think, and she never rushed me. Ultimately, my husband and I decided to go with Night Kitchen, and it was the best decision we made!

After signing the contract, Angela reached out to me to begin the planning process. She raised all the right questions and thought of details that never even crossed my mind. It was clear that she was extremely experienced and knowledgeable. We set up a time for her and Chef Aaron to do a walk-through of our venue. Even though the venue was not typical (it was a church), they were not phased at all and assured us that they would be able to work with the space just fine.

Between the walk-through and the wedding date, Angela continued to be in touch, and I never had to stress about a thing. I could trust that she had everything under control. I spoke with Chef Aaron over the phone about the menu, and he had lots of great options to offer. Our menu ended up being very versatile, but somehow also completely gluten-free, which several of my guests appreciated. We also had plenty of vegetarian and vegan options. Food was a priority for me, so it was such a pleasure to work with people who know and love food as much as I do.

On the day of the wedding, everything was executed flawlessly. The servers were kind, helpful, and efficient. The food was AMAZING. All my guests were raving about the food and wanted to know the name of our caterer! Everyone said that the food was way better than what they get at traditional wedding venues. Our food was served family style, but the tables weren't crowded or cluttered at all, and everyone had more than enough to eat. The team also packed a few boxes for my husband and I to take home, which we were so grateful for!

I could go on and on about our wonderful experience working with Night Kitchen. They were amazing to work with and were such a key part of making our wedding day as special as it was. Choose Night Kitchen, you won't regret it!!

Emmy B.

Married on 10/19/2019

Best wedding food ever, literally

Night Kitchen is the only caterer we will ever work with again. A review can barely capture it, but to start:

First, the food is unbelievable. We hired NK because we saw reviews that said this just doesn't taste like catering food, and that was an understatement. I'm not being hyperbolic when I say that every single one of our 100 wedding guests pulled us aside or texted us afterwards to say it was the best wedding food they've ever had. The passed hors d'oeuvres were the eclectic, globe-trotting menu of our dreams, and the meal was just bite after bite of impossibly well prepared dishes. It's some of the best food I've had period, much less at a catered event. (We have also attended one of Night Kitchen's Chef Tables, and it's no-joke one of the best meals I've had in New York.)

Second, Aaron, Angela, Angel, and the entire team are just world-class humans. We hired them for our originally scheduled May 2020 wedding, and they stuck with us through two postponements with nothing but warmth and love, even though I'm sure it was a huge pain for them. Not only that, but when we emailed in December 2020 (between rescheduling attempt #2 and attempt #3) that we'd decided to get married just with our parents in a tiny, COVID-safe wedding at an Airbnb in Brooklyn, Night Kitchen prepared an incredibly beautiful and special meal for our small group that Aaron personally delivered to us. And, of course, the food was once again phenomenal.

Third, Angela is a catering logistics champion. She was unfailingly friendly and helpful, answered even the dumbest questions with grace, and made the whole process a breeze. She even helped us navigate the order and delivery for our wedding dessert. And the entire catering staff was incredible—many of our guests actually called out how wonderful the servers and bartenders were. (At one point I popped over to a friend who had an allergy to a specific dish, since it was all family style and I worried she wouldn't spot the ingredient—and she told me multiple servers had already seen her allergy restriction on the seating chart and come by to make sure she knew before the dish was served.) They were all a huge part of the perfect tone of the night.

We are SO lucky that we found Night Kitchen and can't imagine how we would have gotten through the past two years of pandemic-rocked wedding planning without them. We would love them to the ends of the earth even if the food weren't so outstanding, but it is. If you need any catering, don't go anywhere else.

Jamie H.

Married on 10/19/2019

Extraordinary food, amazing team!

Night Kitchen Catering is THE BEST! They recently catered our 180+ wedding in NYC and guests could not stop raving about the food. Chef Aaron is so talented (and a dream to work with) and Angela is the ultimate pro making sure everything runs smoothly. We threw a lot of "favorite" foods at Chef Aaron and he somehow blended everything together into a cohesive, creative, menu that reflected both of us. Our menu included takes on some of our favorite meals together (like mapo tofu and pav bhaji) some individual favorites (like serving mashed potatoes with the salad course) and some of Chef Aaron's best dishes. Night Kitchen Catering exceeded my wildest expectations!! I don't plan on getting married again, but I do hope to find MANY reasons to work with Night Kitchen Catering again. Thank you for making our special day so special!

Moonie

Married on 10/05/2019

Thank You Night Kitchen!

I cannot say enough great things about Night Kitchen. My experience working with the Night Kitchen Team was amazing!

We used Night Kitchen for our +200 person wedding at 99 Scott in Brooklyn. All the phenomenal online reviews for Night Kitchen grabbed our initial attention - so we quickly booked a tasting. I attended the tasting with a group of friends and we were not disappointed. After the tasting, I knew that Night Kitchen was the one.

After signing with Night Kitchen, we worked closely with Angela to figure out the menu, equipment, and other logistics-related topics. She did a great job proposing creative solutions to any issues that we ran into. My mind was at ease during the planning process and the wedding day knowing that we were in great hands.

The day of the wedding was perfect. All of our guests commented on how awesome the food was. There were no issues throughout our wedding and we couldn't be happier with our decision to choose Night Kitchen.

I highly recommend Night Kitchen to anyone looking to cater their wedding. Their food and service is Michelin three star quality.

Niraj

Married on 09/01/2019

Fantastic!

This is embarrassingly long overdue, but Night Kitchen catered our wedding just before the pandemic and did such a fantastic job! It was a cross-cultural wedding and they went above and beyond to create a menu that all of our guests loved and felt represented by. They even adapted the first dish I made for my partner into a fun appetizer! They were also so easy to work with. I can't recommend them enough!

Linh

Married on 08/31/2019

They are the absolute best, seriously!

We booked Night Kitchen for both their catering and Day of Coordinator services and plain and simple, Night Kitchen is the ABSOLUTE best! Everything about their team and their services are seriously just impeccable.

The Food - just AMAZING. Our first tasting with Aaron was great. He is such a fun and all around great chef that after our first tasting, all of the stress we had from planning our wedding was just immediately gone upon saying just hello to him. His overall presence and love for food really shines through in ever dish he made. We didn't think it could get any better until the day of our wedding because the food was even more better than we had remembered! Everyone and I mean EVERYONE (including the little ones) could not stop talking about the food from our wedding, even days/weeks after! I couldn't even count the amount of people that have come up to us, texted us, or told us in person after that it was the best food they've ever had at a wedding. And that says a lot because everyone went out of their way to tell us this.

Day-of-Coordinator - Okay... seriously, Angela is SO SO GREAT. She was honestly better than we could have ever imagined for a day-of-coordinator. She did so much more than she needed to and we're just so very thankful and glad that she was a part of our special day with us. She is very meticulous and knows her stuff. She made our whole wedding such a stress-free process that we really believe that everyone should have an Angela for their wedding cause she's that freaking amazing.

All in all, if you're looking for a caterer and/or day of coordinator, I would highly recommend Night Kitchen a million times over and over again. We have absolutely no regrets with them and are so very thankful for all they've done to make our wedding day the best day of our lives.

Harris R.

Married on 08/31/2019

Wedding Food that Rocks

Wedding food can be hit or miss. Night Kitchen is a different type of catering company. These guys dish out real good food. I'm talking about restaurant quality, inventive, and delicious food. We wanted the best caterer and I truly believe we found them. The food and staff were stellar. Even all the other vendors and location marveled at their organization, skill, and plating. We decided to have a vegetarian dinner (though we are not vegetarian) and it was out of this world. I don't know how to recommend them more. Schedule a tasting or damn it just put down a deposit. Chef Aaron is a wizard. Guests raved about the food. You really can't go wrong with Night Kitchen. These food ninjas will make your wedding unique and beyond tasty.
Are you interested?
Send a message