66 Reviews
Recommended by 100% of couples
Quality of service

5 out of 5 rating

Average response time

5 out of 5 rating

Professionalism

5 out of 5 rating

Value

5 out of 5 rating

Flexibility

5 out of 5 rating
10 User photos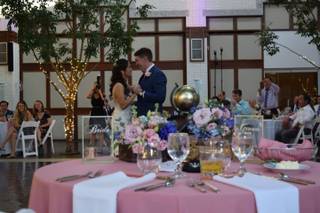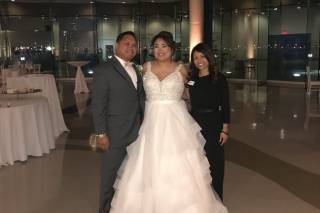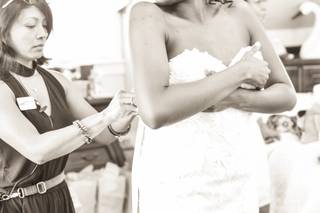 + 6

photos
Jennifer S.

Married on 04/11/2020

Well Organized Team!

Michele was awesome to work with! She really made sure that I had "no worries" the days leading up to my wedding and on my wedding day. She was always available by email or text. Her monthly to do lists were so helpful in keeping me on track with the wedding planning. She left no question unanswered. On my wedding day, I did not have to worry about anything. Michele and her team had a timeline of the whole day. They made sure all the vendors were in place and made sure that everything was going as planned. I would recommend Michele and her team to any bride planning her big day!


Leialyn

Married on 09/20/2019

#HannahEverAfter2019

We were so over the moon with how our wedding turned out! Even 2 months later, we still hear from our guests about how much fun they had at our wedding and how beautiful and we'll organized it was! We'll remember that day for the rest of our lives, so thank you so much for helping make it a dream come true!

Kristy

Married on 08/03/2019

Must Have Wedding Planner!

We hired Michele as our wedding planner and she was nothing short of FABULOUS! Her time management and organizational skills are phenomenal. Her team is extremely professional and friendly. Michele helped to book our caterer, venue, floral event designer, hair and makeup artist, bakery for our cake, rehearsal dinner, wedding day hotel room, day of transportation and all the little details. We had a slightly complicated wedding with the ceremony 30 minutes away from the reception and the ceremony starting 4 hours before the reception start time and two outfit changes -- one for the groom prior to the reception and one for me during the reception. Luckily, Michele made sure we had good transportation and even arranged to have a long photo session during the break time. We were even able to have our own private dinner during the cocktail hour, in which she provided us toothpaste and toothbrushes to then go back out and socialize with minty fresh breath. She is SO THOUGHTFUL. Her team even took our personal items that we wanted to display (engagement photos, memorial table items, handmade items ordered from Etsy) and put them on display for us at our wedding. Every month she sent us a list of things upcoming and to-do. She coordinated all meeting times with the vendors which eliminated us having to do hours of research for different vendors and eliminated the massive emails one would get trying to plan a wedding without a planner. She'll make sure all save the dates, invitations and RSVPs are on-time to make it a completely stress free day for you. We absolutely loved that she took a personal interest in us as a couple and even made sure all vendors were on the same page with what we wanted for our wedding day. All the little details people tend to forget for weddings are covered by Michele. She even set up a full day final walkthrough a few weeks prior to the wedding day to ensure every vendor was on the same page and timeline. Her top-notch skills made our day absolutely perfect. With all of her preparation we literally did not have to do or think about one thing on our wedding day except ENJOY THE DAY! She is a definite must-have for your wedding day to ensure you have no worries!

Are you interested?

Send a message

Emily H.

Married on 05/18/2019

No Worries! - The Perfect Wedding Day

5 stars could never be sufficient for the incredible job Michelle and her team did on my wedding day. Even more than that, they were there every step of the way. Michelle kept me on track with planning, was always available when I had questions or needer her, and was always incredibly professional, warm and friendly. I always looked forward to seeing her or hearing from her! She really treats her bride and groom as if they were family. Michelle was thorough in every detail - nothing could escape her diligence! I already thought she was incredible planning the wedding, but her and her team absolutely blew me away the day of my wedding. She handled everything that came up so I could have NO WORRIES. Seriously, I worried about absolutely nothing on my wedding day and I was able to completely enjoy the day because I knew Michelle and her team were handling everything perfectly and professionally. Even several of my guests commented on how smoothly the wedding ran and how professional the MorLina team was. I could not recommend them enough. Thank you, MorLina! You made a happy day even more perfect than I could have ever dreamed!

Fawnne

Married on 05/06/2018

Very Professional, Excellent Customer Service, my day of the event was stress free and I want to that Michelle and her team.

Maggie

Married on 04/28/2018

Michele is amazing, you really have no worries with her. There were no bumps in the road or drama during the whole process. Not to mention she gets you the best deals with vendors. She really treats you like family yet remains professional the entire time. We love her ??

Benner

Married on 03/03/2018

After numerous referrals from family and friends my fiancé and I did not have any doubts hiring MorLina Events for our March 2018 wedding. Michele is amazing! From day one Michele was always by our side helping us make decisions, sending us monthly emails (to-do lists), and she would always document our vendor meetings with her trademark selfies! Michele has vast knowledge of venues available and an even bigger family of "friend-dors". If we ever had a concern or question Michele would quickly respond by email or text (even if she was on vacation). On our wedding day Michele and the MorLina team took wonderful care of us and it was truly a "no worries" experience! Michele has been a priceless asset in turning our dream wedding vision into reality. We are now proud to call Michele a friend and we are honored to be a part of the MorLina Events Family!

Charlene

Married on 09/30/2017

Michele and her team made our wedding day absolutely perfect and worry free! We had originally wanted to DIY everything from the centerpieces, to the planning process, but little did we know how much time/precision it would take to plan everything. From the minute we met at our initial consult, we automatically knew Michele was someone who we could trust to plan our special day. She was always a phone call/email away from questions that we had. She also made sure that every little detail was ironed out. She is very passionate about what she does and it definitely shows in the output. Her work was not only admired by us, but was complimented numerous times by our family/friends. Again, thank you Michele and your team for such an amazing job! =)

Krystiana

Married on 09/09/2017

Words cannot expressed the amount of gratitude I owe Michele and her team. A month later and I still have friends and family complimenting my husband and I...telling us this was the best wedding they ever attended. I owe this to Morlina Events. Michele kept me focus, on schedule, and made sure that I had everything I needed. I truly fell in love with Michele and her team. She is an exceptional person and her team are the sweetest people I have ever worked with. I am so happy and pleased. Our wedding was PERFECT. I couldn't be more happy. I wouldn't change anything about my wedding. It was everything a girl could ever dream of...and Morlina Events definitely executed my every wish. Thank you The best decision I made was Michele and her wonderful staff. I can't imagine how everything would have happen without her expertise.

+ 4

photos

Karen

Married on 08/26/2017

I knew about Morlina Events from my sister's wedding. I saw how exceptional their quality of service was. Therefore, when I got engaged with my now husband, I didn't think twice about contacting Michelle to help us plan our big day. In most cases, planning a destination wedding can be quite challenging due to the fact that we were from out of town and our source of communication were mostly phone calls, emails, and text messages, but Michelle handled everything so well that the planning process went so smoothly. She responded to calls/massages the moment she received them and kept us up to date throughout the entire process. She is well organized and pays really close attention to what her bride and groom want. The moment we let her know of any concerns that came along the way, she always made sure she was on top of them. "NO WORRIES" was exactly what we had with Michele and her wonderful Morlina Events team... and more!

Ashley

Married on 07/07/2017

At first, my husband & I did not want a wedding planner. We thought we could do everything ourselves. But once we started doing DIY centerpieces and was having trouble finding other vendors for our special day - it was clear we needed help. Michele helped us find our caterer, cake, & florist. She was always one text/call/email away whenever I had a nervous breakdown - reassuring me that I had "no worries". The day of the wedding was super smooth - thanks to her and her amazing team! They made my dream wedding come to life! My family & friends were so impressed, they want to hire her for future weddings, parties, & events. Thank you so much Michele & ME Team!

Desiree

Married on 06/10/2017

Michele and her team were absolutely wonderful. I've never been the girl that has dreamed about her wedding so I was not excited to start the planning process - but Michele made it so easy. She was always available with any questions and was usually prompt to respond, if she was going to be out of touch and not prompt, she always let us know before hand. I couldn't imagine having done it all without her - in fact I know that I wouldn't have been able to! I definitely recommend her and her entire team and appreciate all their hard work they put put in for us!

Favi

Married on 10/15/2016

Michelle is absolutely amazing! She stands next to her motto "no worries". Especially with my sisters even, we have her a lot to worry about but she kept it very profesional and in order. She made sure to take care of every single detail! She made us feel like we were the only ones she was helping, she's knew exactly what to do with everything that came up and in the end made my sisters dream come true. It was even better then we ever expected!

Meagan

Married on 09/17/2016

There are not enough words to describe how amazing and happy I am with Michele and the Morlina Events team. Our wedding was flawless from the beginning to end.

Meredith

Married on 05/15/2016

I would highly recommend Michele and her team to anyone. While planning a long distance wedding, she was my lifesaver! She is very efficient and accommodating. Love, love, love Michele and Alyssa!

Corrinne

Married on 04/30/2016

Michele and Alyssa are wonderful. They helped me plan my wedding from start to finish. She really means "No worries". My entire day ran smoothly and I didn't have to worry about a thing. It was executed to a tee. I did diy for my centerpieces and other decor and Michele and her team were able to complete my vision for the day of. My words cannot truly express how wonderful and helpful they were throughout the entire process.

Teresita

Married on 02/24/2016

Always available and helpful from the start to end of the event.

Jessica

Married on 02/20/2016

As soon as she told us she makes sure all her brides and grooms eat on their wedding day we hired her! Michele is personable, professional, and efficient wedding planner! She made all of our worries non existent! Her staff is very accommodating and flexible! She also recommends and is friends with many vendors!! For anyone getting married we highly recommend her and her team!

Sharise

Married on 12/19/2015

Amazing is the only word to describe Michele and her team. From the moment we met, Michele has been spectacular at helping my fiancé and I prepare for our special day. Our wedding day was truly unforgettable and went better than we could've ever imagined, all thanks to MorLina events. I recommend Michele and her team to everyone-- she was the best wedding decision I made, by far.

Wanda

Married on 10/03/2015

Planning a wedding is overwhelming. However, I breezed right through every aspect with the knowledgeable assistance of Morlina Events and their fabulous network of vendors. if you want to have "No Worries" you can't pick a better partner for your wedding plans. They took my vision and made it come alive. They made my event one to remember forever. My fairy godmothers from beginning to end.

Larenda

Married on 08/22/2015

The absolute best decision I made was hiring MorLina Events to plan my wedding. I did not have to worry about anything at anytime during the entire process. I am actually sad the whole event is over because of how fun she and her assisants made the process. They become friends and feel like a part of your family by the end. I am so grateful for everything they did for us.

Ilene

Married on 06/27/2015

Michelle and her group were incredible! My husband and I both agree this was the best money we spent on the entire wedding. We are in and out of town often and she was flexible, accommodating and able to use technology and on-line communication extremely effectively. In addition, she's a sweetheart to work with. Her professionalism and enthusiasm joined together to create an amazing experience. There's no way we could have pulled this off without her. My husband and I are not the typical young couple. We are both 71 and completely out of touch with the local wedding scene. She LISTENED to what we wanted and made appropriate suggestions of venues and vendors. She opened our eyes to possibilities we hadn't considered. All in all, she put together a stupendous party and totally memorable occasion in less than 6 months. A true miracle worker! We love her to pieces and I have no hesitation in recommending her services to our two granddaughters!

Alena

Married on 06/13/2015

If you want to see a fairy godmother in action, get in touch with Michele and her team at MorLina events. From day one Michele was 100% on task and in the zone. It doesn't matter if your wedding is in 1 month or 24 she has everything broken down for you and the steps you need to take to get everything in order. Hands down she is one of the best decisions I made for my wedding. She will work late into the night to get things done for you. When it is the weekend of a wedding she is working she will focus solely on THAT wedding. Her motto is "no worries" and she proves it every day you work with her. The only worry I had on my wedding day was the weather!

Hannah

Married on 05/23/2015

I loved working with Morlina Events. She is truly able to make any dream wedding come true. My husband and I had an unforgettable wedding at the Hermitage Museum and Gardens. She was able to arrange meetings with vendors and keep me on schedule for making sure I had every thing ready for my big day. The biggest hurdle I had was that I lived in Hawaii while planning a Virginia wedding, she made sure that the little time I spent in Virginia while planning was well spent. She has a great relationship with the vendors and we were able to stay on budget which was extremely important. I would highly recommend her & her team, they are absolutely incredible.

Christine

Married on 05/15/2015

Words cannot express how grateful my husband and I to Morlina Events for giving us the most magical wedding. Michele is accommodating, organized, and always on top of her to-do list. I love that we were given the opportunity to have a meet-and-greet with various vendors. Options with pros and cons are always a plus when it comes to final decision making. The team is professional, friendly, and detail oriented. The motto, "No worries," stays true because literally Michele and her team takes care of their bride and groom. Our wedding was beyond our expectation because of the teams hardwork and dedication. My husband and I are very pleased. Thank you Michele and Morlina Events team! We will miss working with you all!
Are you interested?
Send a message