23 Reviews
Recommended by 100% of couples
Quality of service

5 out of 5 rating

Average response time

5 out of 5 rating

Professionalism

5 out of 5 rating

Value

5 out of 5 rating

Flexibility

5 out of 5 rating
Awards
43 User photos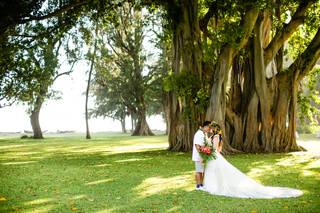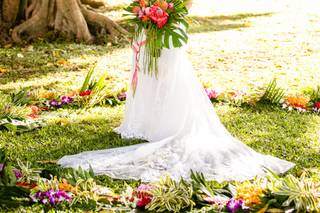 + 39

photos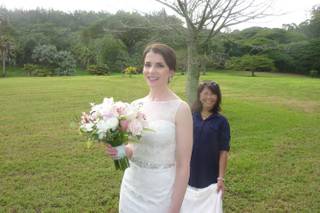 Aja C.

Married on 07/07/2021

Marlene is the best wedding planner ever!

We knew from the beginning when we got engaged that we wanted to have an outdoor/beach wedding but doing that in Southern California that also means big bucks. As a couple we both wanted a small wedding and that we didn't want to spend so much that we would also be in debt. We want to buy a home after we got married. So we decided to have a destination wedding in Kauai. When we first started planning we were overwhelmed with all the things we had to do (what vendors to look for, what venue is best, etc) and plan so we looked into hiring a wedding planner. We looked into reviews about hiring a wedding planner and pretty much the consensus was GET A WEDDING PLANNER. If you want to have a stress-less and a fun wedding planning experience, get a wedding planner. Especially if you do a destination wedding! So we went into searching for wedding planners in Kauai and looked at reviews and we decided to send out a few emails to different wedding planners.

After our first phone conversation with Marlene, we knew she was the one for us. Not only was she very conscious with our budget, she knew all the vendors that works best for your taste and vision. She is always quick to respond to our emails and texts. We highly recommend Marlene if you want a stress-free planning on your special day. We were one of the unlucky couples that initially wanted to get married in August 2020 but due to COVID, we pushed our wedding to July 2021 and seriously Marlene was a champ and not only provided us several new dates to choose from but we also kept all our vendors for our new date. Seriously can you imagine how much phone calls/texts that saved us as a couple, on top of that all the stress of moving a wedding to a new date?!?!

As a person, Marlene is very caring and actually went above and beyond her role as a wedding planner to us. She would FaceTime us and actually got to know our two fur babies through all our conversations. She really was more a family member to us than someone we hired for our wedding. Her attention to detail and her out of the box thinking helped us with our wedding and staying within our budget.

The vendors that she suggest for you are the best!!! Our vendors were...
Catering: Contemporary Flavors Catering (Try their PORK BAO appetizers!!! But seriously all their food was amazing!)
Hair/Make-up: The Artist Co. with Mia Moriguchi (ladies, if you want a natural look for your big day, hire her!)
Floral: Blue Orchid (made my Haku lei and bouquet dreams come true!)
Venue: Waimea Plantation Cottages (just a beautiful venue with lots of history)
Officiant/DJ/Emcee: Kahu Donovan (he is such a sweet man and super funny)
Photography: Naomi Wong and Mami Wyckoff (knows all the best spots and takes the BEST PICS!)
Videography: Zest Kauai (such a sweet person and we cannot wait to see our video!)

Since we were planning a small wedding, I wanted to do a Haku lei (flower crown) workshop for the girls and a Papale Niu (coconut leaf hat) workshop for the guys as a hangout before the big day which then leads into a rehearsal for the wedding. Marlene suggested Auntie Ronda (Haku Lei) and Uncle Onio (Papale Niu) and it was seriously so much fun! The ladies were able to wear their haku leis for the wedding and the guys were able to wear/keep their hats forever! For our rehearsal, Marlene walks us through what to expect for the big day and then we had our rehearsal dinner at our venue. We were unsure what to do with our rehearsal dinner but we decided last minute to hold the dinner at the venue as well. Thanks to Marlene again for suggesting our caterer (again) with their amazing BBQ menu. Like I said... AMAZING FOOD.

On the day of our wedding we didn't have to stress about the little things because Marlene was there in the background making sure that everything was running smoothly. Seriously you will not regret hiring Marlene to help you make your special day come to life. Thank you Auntie Marlene for everything!!! I wish I can go back in time and just re-live it everyday!

David W.

Married on 05/22/2021

Mahalo, Marlene!

Marlene is absolutely incredible! I highly recommend working with her and would choose her again in a heartbeat. She was our rock throughout the pandemic. She expertly navigated the sea of unknowns and helped us concept, plan, shift, and execute the wedding of our dreams. During a year that was filled with so much change and uncertainty, Marlene was our voice of reason. No challenge was too big or too small for her to overcome. And she did it all with poise, grace, and kindheartedness. None of it would've been possible without her leadership. Mahalo, Marlene! Forever grateful for your partnership and all that you've done for us.

Hilary N.

Married on 03/26/2021

Amazing! Our dream wedding would not have been possible without Mira Mira Events!

Marlene is a dream! We were planning a wedding (super stressful) but even more so during a pandemic! I am from Kaua'i, and it was important for me to find a local wedding planner who knew the island, who knew the local vendors, and who had experience-Marlene met all of our checks and more! Although our wedding was intimate with a small list of guest-Marlene's ideas brought it to life! If it wasn't for her recommendations and connections regarding officiant, cakes, lighting, tents, flowers, and photography-our wedding wouldn't be the amazing event that it was. It was crucial for me to have a wedding planner who helps with rehearsals AND setting up the day of! I thought this was common practice for wedding planners, but read their information carefully because many do NOT provide Day of planning/help! Marlene was there through every step of the way, guiding us-even helping to clean up! She walked our very nervous families and selves through rehearsal, made sure everything was the way we wanted it, and made our wedding the most stress free event! Meeting with her for planning was relaxing and comfortable-she felt like family to us right away! We are so thankful for Marlene and her team. If you want someone who knows the island, who knows the best of the best vendors, and who can make your vision come to life-choose Mira Mira events!

Are you interested?

Send a message

Kelsi I.

Married on 04/18/2020

Planning a wedding on Kauai? You need to work with Marlene.

We literally would not have been able to have our wedding without her. Not only is she attentive, detailed, flexible, and one of the sweetest people you'll meet, she really cares about making your day as seamless and easy for you as possible.

I grew up on Kauai but now live in Seattle, so I knew I would be hiring a local wedding planner just to make our lives easier. My husband and I visited several wedding venues on a trip back home and when we asked for recommendations for a planner, they all said Marlene, she's the best. So, we hired her in the beginning of 2019, targeting an April 2020 wedding. While I knew what caterer I wanted to hire, she gave us great recommendations for all the other vendors, keeping in mind our budget and style. She has a great reputation on the island, giving her access to the best people for each job. From the hair and makeup gal to the florist, they were all spot-on.

For more than a year she kept us on schedule, making sure our vendors were squared away, deposits were paid on time and all details were addressed. Then in March 2020, with a month to go before the big day, COVID hit. Marlene stepped up and helped us postpone everything. Every decision made over the course of the last year needed to be undone and she was able to ensure all our vendors could be available for our second wedding date. We also weren't her only clients at the time; she was juggling multiple postponements. Then it happened again. Our second wedding date neared and COVID wasn't going anywhere. She moved everything a SECOND time, to our third and final wedding date.

At this point we had been working with Marlene for over a year and a half. By the time we were able to have the wedding we envisioned, Marlene had stood by our side for almost three years. Not only did she do the extra work of rescheduling our vendors twice, but there were also added requirements we needed to adhere to so we could get permission from the County of Kauai to have our 120-person wedding. We had an endless amount of Zoom calls with her, and she coordinated it all with a smile.

Our big day arrived, and we didn't have to lift a finger, Marlene took care of everything. In fact, we barely saw her during the wedding as she was behind the scenes making sure all flowed smoothly. The next day, we woke up to all our wedding supplies neatly boxed and ready for us to transport home.

Post-wedding, Marlene stayed in touch to tie up loose ends (we were owed a small refund from one of our vendors) and sent us a thoughtful "thank you" text on Thanksgiving. She really went above and beyond for us, and we now feel she is a part of our Kauai family. Marlene loves what she does and is just as happy as you are when your wedding dreams come to life. We would recommend her to anyone planning an event on the island.

Robin

Married on 03/04/2020

WOW! Thank you Mira Mira Events!

From the start Marlene was such a joy to work with! We live in Seattle so this was going to be a destination wedding for us on Kauai. She truly made us feel like she was right down the road! She really listened to our wedding vibe and understood what vision we were wanting for our wedding. She had great recommendations and contacts and always kept us on track. Everything from our initial call, through the planning process and budgeting, to the day of – she was wonderful. She handled all the little details I didn't even think of, and on our wedding day made sure everything was in tip top shape. She is professional, always smiling, and works very hard! With so many options for a wedding planner or if you are on the fence – search no more! LOCK HER DOWN!

Charlotte T.

Married on 02/15/2020

Marlene is the absolute best

I foolishly thought that a wedding planner was the first vendor that I could leave out when planning my budget. After choosing the NTBG as our venue, I had to rethink that decision. I'm so thankful that Marlene was highly recommended to us. She was so kind and patient as we were planning from CA. She was so organized, had detailed PDF files for us to review and kept us on track and within our budget. She found mistakes in our estimates, took over all vendor communication and adjusted our florist budget to make sure we weren't getting more than what we needed. She absolutely understood my style and expectations. She made sure we didn't need to assign jobs to our family and friends on our big day so that everyone could experience the wedding stress free. She helped make our wedding day perfect in a way that I would never have been able to do on my own.

Joanne W.

Married on 10/26/2019

Absolutely amazing!

After two months of struggling with wedding planning I decided the best thing to do was to hire Marlene. She saved me from pulling out all my hairs. Marlene was very personable and easy to work with. She always got back to me on a timely manner, and answered all my questions. She also gave good advice, and let me mail a lot of my wedding stuff to her so I didn't have to take it on the plane. On the week of our wedding my husband and I were at Costco picking up tons of alcohol for the wedding, and Marlene had a feeling we would be struggling fitting all the alcohol and drinks in our car so she came to Costco and surprised us. She helped us load the rest of the drinks in her truck and brought it over to our hotel. And on the day of the wedding she took care of everything. She even did last minute request for me. Overall, we were very happy with Marlene. Her positive attitude, organizational skills, and connection made our wedding day even more special. Thank you Marlene for the most magical wedding ever.

Laurice A.

Married on 09/12/2019

Mira Mira Events

The best day of our lives couldn't have been achieved without Marlene! I wasn't looking to hire a coordinator, but the venue that we chose required one so we did our research. Although we were contacted by other coordinators first, I just had a feeling that I needed to wait until I heard from Marlene. When we finally connected, I knew instantly that this was the person I wanted to work with to plan our wedding. She was so kind, personable, and organized. We had a budget, and she did everything she could to get close to it. Never once did I feel pressured to choose something that was out of our budget. She was also very honest with me and always gave me great advice. Whenever I was clueless about something, she always had a solution. She grew up and lives on Kauai, so she is very well connected with the vendors on island. When we told her our vision and what we wanted for our wedding, she knew exactly which vendors to choose and they were perfect! I put my trust in her expertise, and it alleviated so much stress with the wedding planning experience.

The day before and day of the wedding, Marlene and her team were very professional and focused without losing the Aloha spirit. Everything ran like a well oiled machine from set-up to take-down. Her attention to detail was incredible. I was able to relax knowing that everything was getting taken care of, which I appreciated so much. Marlene also made sure we stuck to our timeline when we got distracted in the kindest way, and my guests who interacted with her had such wonderful things to say.
I highly recommend hiring Mira Mira Events for your destination wedding. I am really going to miss our emails and phone calls! From the bottom of our hearts, mahalo for everything Marlene!!

Lani

Married on 06/15/2019

Really fun Vow Renewal!

Marlene did a marvelous job helping my son plan his wedding several years ago, and my daughter in law highly recommended her. I knew Marlene to be highly energetic, super capable and organized, and personality plus, just watching how she pulled things together for my son's wedding, so it was an easy decision to ask her to help me with our vow renewal. June is so busy, and with just a few months notice, a bold request from me to her...and she was already busy but squeezed our event into her crowded calendar. My husband and I just finished our "rest of our life" house, and decided to invite our closest friends and relatives to join us in our recommitment as we moved into our new home. At first I said no to a planner...just need to order some food and play some music was my plan. Glad I followed my daughter's advice because all I had to do was answer Marlene's questions, make some decisions of cake flavors, flowers, table cloth colors and I could let go of the details, knowing it was all in her capable hands. I had family from the mainland coming, as well as college roommates, and a guest list of 97 people--plenty to stress over if I handled everything myself! So the day was a happy one, everything was set up perfectly by Marlene and her assistant, the flowers, food, photography, signage, music was perfect. Everything that Marlene did allowed me to just spend time with our guests and soak in the happy moments. If there were any problems, she handled them and I did not know about them. During the planning she kept in touch, we continually refined the timeline and elements...it was a wonderful experience working with someone who genuinely enjoys helping people and working with you to create your vision of a fabulous, memorable event. Our guests told us we really raised the bar on vow renewal--and the credit goes to Marlene, who assured each guest a wonderful time. Thank you Marlene for making our "I do, take 2" event so much fun!

+ 14

photos

Kelly R.

Married on 02/16/2019

We love marlene!

Marlene was instrumental in planning our Kauai destination wedding and I am so glad we went with her! Our venue required that we hire an outside wedding planner and Marlene was on their short list of recommendations. After reaching out to all 3, I ended up choosing Marlene because our personalities clicked well during our FaceTime, she was a local resident of Kauai who could expertly navigate the vendor selection process due to her ample experience, and she worked with me budget-wise to provide a fair and all-inclusive quote for her services. I found that the other planners I reached out to wanted either 15% of my overall budget (which I found ridiculous), or had moving target a la carte pricing when in reality, you want it all.

Personality-wise, Marlene is extremely calm, positive, and organized. I really appreciate her listening skills and genuine care for all of her couples. She was always adamant about us making our own decisions and I never felt pushed to do anything other than what we wanted. With this being said, when I had no idea what to choose or do, she would offer her opinion and guidance in a pressure-free way.

She did a great job of keeping me focused on our timeline, providing quick answers to all of our questions, and liaising with all of our vendors so that I didn't have to. She created multiple layouts for our event and took the time to walk me through everything so that I could make the best decisions for what we were looking for. A lot of vendors on the island are used to doing business in an old school manner and Marlene was the perfect middle man to help me work with them in a way that worked for both parties. She even passed her kama'aina/local rates on to us which was much appreciated!

I had never been more glad to be on Marlene's team than when our florist and event design company (Martin Roberts Designs) went MIA and took our deposit with him. Luckily, this happened months before our wedding and she was able to convince an Oahu-based florist to do their first ever wedding on Kauai for us. Had I not had Marlene, I wouldn't have even known where to start and she really saved the day on this front.

On the day of our wedding, I was able to sit back and relax while she and her team handled everything. Our wedding was hand down the best day of my life, and I was able to enjoy it stress-free, thanks in large part to Marlene. I highly recommend her to anybody wanting to plan a destination wedding on Kauai! Thank you for everything!

+ 2

photos

Rav C.

Married on 01/25/2019

Mira Events as Wedding Planner

Mira as Wedding Planner
Professional, very reliable and approachable is only a few words to describe Mira as a wedding planner. My son got married at Halekulani Hotel in Honululu this month where we put our trust in Mira to be our Wedding Planner. A year prior we had contact with her via email, telephone and text messages discussing our vision of a wedding that we wanted to take place. To say that she delivered was an understatement, from the venue, photographer, videographer, DJ, dancers – just to name a few, exceeded our expectations and created an event that we will cherish for the rest of our lives. On the day, she was extremely hands-on with the program, running and executing of the event. We cannot thank her enough for all of her hard work and dedication that was put towards the wedding. I would highly recommend her to anyone who is looking for a wedding planner, she will not disappoint you.


Torrey

Married on 11/07/2018

Five stars all the way!

Marlene is the sweetest person and helped us plan our perfect wedding! There were so many details that we would have missed that she brought to our attention throughout our 6 months working with her. She is very quick to respond to any questions or concerns we had at every step of the planning process. Marlene was so helpful in gathering information from potential vendors and laying out our options so that we could make the best decision for our wedding day. I could not have asked for a better wedding planning experience! Thank you so much!

Stephanie C.

Married on 10/06/2018

Amazing amazing amazing 11/10

If you need a wedding planner Marlene is the one! Her and her team went above and beyond for our special day. Starting from start to finish she exceeded all of our expectations and truly captured all of our visions. Marlene really takes the time to get to know each and every one of her clients and was beyond the sweetest!
Marlene is very responsive and there for you for any questions needed. We started out with a budget and she made sure to stick within reasoning to accommodate all of our needs and wants.
Our wedding day went beyond our expectations without being in the same state everything turned out above and beyond! Her and her team were extremely efficient, organized kept everything on time and budget and overall went above and beyond anything we could of asked for!
without Marlene and her team our dream wedding would have never happened!
WE HIGHLY RECOMMEND MARLENE AND ABSOLUTELY ADORE HER AND HER TEAM! MAHALO
-Steph and Jake


Our wedding day went better than we could have ever imagined. Marlene and her team were extremely organized and efficient. They kept the entire party on schedule and every detail completely covered.

Her cost is reasonable and totally worth it. Having someone on island that can make calls and arrange every detail took away so much stress and gave us time to focus on our friends and family.

We couldn't be happier with how everything turned out!

+ 5

photos

Amanda

Married on 08/25/2018

Excellent! Marlene is a dream!

Marlene is a DREAM! Our wedding was on Kauai, and we previously had hired a planner on Oahu to coordinate the wedding, and that planner turned out to be very unprofessional and a nightmare. So four months into planning, we were very depressed with wedding planning, and were no longer having any fun. That is, until we fired that planner, and hired Marlene!! Hiring Marlene was the BEST DECISION we made for our wedding! She is literally AN ANGEL. She is amazing to work with for many reasons. She is extremely professional, upfront about everything regarding budget, and honest with you about your goals and expectations in a way that is very supportive. She communicates extremely well, and explains everything extremely well so that it's very easy to understand. Wedding planning can be overwhelming sometimes, but Marlene knows exactly how to keep you calm and happy. She puts you at ease because you know you can trust her. Also, she's from Kauai, so she has great relationships with everyone. That proved to be very important for our wedding. There was a hurricane the week of our wedding (at least the news said it was coming, it turned out it never came to Kauai!), and our venue said they were closing Saturday, the day of our wedding. So, we had to move our wedding up 2 whole days to Thursday! And had only 24 hours to make changes! It was a scary moment, we lost major vendors that were already booked on other jobs, like our tent! Our band, lighting, chair rentals, hair and make-up artist, etc., and Marlene came through on EVERYTHING! We got a back-up venue on the same property to replace the tent, she found us a new band that was AMAZING! I don't even know their name, but ask her who they were, everyone at the wedding was raving about them! She got our floral/decor vendor to come through with lighting and chairs for us (HUGE!) and found me a new hair and make-up artist duo that were LOVELY and did everything PERFECT! Without her many connections on Kauai, none of that would have been possible. We wouldn't have been able to even have a wedding. Most people will luckily not need to deal with a hurricane the week of their wedding, or moving up their date 2 days, but if Marlene can pull that off, she can do anything! I would not recommend anyone else to plan your wedding on Kauai except Marlene. She may seem a little more expensive than other planners, but she makes up for it by getting discounts with vendors that she passes on to you as the bride and groom. So she saves you money! On your wedding day, you want a planner that you enjoy being around, that feels warm and bright, and who's there for you no matter what. Someone who is a calm and comforting presence. That you feel supports you. Marlene is all of that and more. She is a ray of sunshine. When we hired her her website wasn't super up-to-date, but that's just because she's so busy she hasn't had time to update it! But her work and style are impeccable. Ask her for more photos of her work if you want to see it, she sent them to us! We'll hold a special place in our hearts for Marlene for the rest of our lives. I wish we were still planning our wedding just so we could still talk every week!

Janelle

Married on 06/10/2018

So blessed to have her as our coordinator!

Words can't even begin to describe what a blessing Marlene Mira has been for us! My husband and I always knew we wanted to have a destination wedding on Kauai. We had so many ideas of what we wanted but no clue as how to make them all come together! Enter Marlene! From the moment that we spoke to her, we knew she was the gal for us. She listened to all the things that I wanted, went over every picture and detail with me and miraculously put them all together even better then I could have imagine! Marlene has an amazing personality that helped to melt all of my anxieties making the planning process feel so effortless. From the amazing chefs to photographers, down to the seating and lighting details, Marlene made sure that everything was perfect! She even set up our ceremony in a specific spot with a view of the ocean and had it timed perfectly so that we had the sunset in the background in every picture! Talk about feeling the romance in each picture! Did I mention she got us the best photographer?!? Or that our guests were completely stuffed and beyond happy and impressed with the delicious food? We had 4 food stations which included a dessert crepe station! There was no detail that went unnoticed! After it was all said and done, we look back on our day and know that it would've not been possible without the help of Marlene and her amazing Mira Mira crew. Even now, I have my guests telling what an amazing wedding we had and that it was one of the best that they been too. Thank you Marlene for all of your hard work, your dedication to our vision and countless emails and phone calls that brought peace of mind and helping us capture the romance and love in every step of the way! We are truly blessed by you!!

Sam

Married on 08/01/2017

If you're looking for a wedding planner in Hawaii stop now because you have found the one. Marlene and the Mira Mira team were fantastic from start to finish.

Marlene truly cared about our wedding and took the time to get to know us and our vision for our dream wedding day. She spent numerous hours on the phone with us answering all of our questions and laying out the entire process step by step.

She is also so well connected on the island that there is literally nothing she can't do. We asked for a couple requests that she had not dealt with before and without hesitation she said she would get it figured out, and she did.

Our wedding day went better than we could have ever imagined. Marlene and her team were extremely organized and efficient. They kept the entire party on schedule and every detail completely covered.

Her cost is reasonable and totally worth it. Having someone on island that can make calls and arrange every detail took away so much stress and gave us time to focus on our friends and family.

We couldn't be happier with how everything turned out!

Jamie

Married on 11/19/2016

Best Decision of Our Wedding

I cannot express how thankful I am for Marlene and her team. My husband and I got married on Kauai two years ago and our family and friends are STILL talking about. Heck, WE'RE still talking about it. Like a lot of other brides on here, I was also planning this wedding from the mainland, so Marlene made the planning process a breeze.

She immediately makes you feel like ohana (family) from the moment you meet her! I never felt overwhelmed or stressed because I trusted her expertise and relationships with local vendors so much. On our wedding day, there were so many little details that I didn't even think of, that she and her team implemented with such grace (ex. cute signs on the dessert tables, a gorgeous pineapple statue at the drink station, etc.)!

For anyone looking to get married on the beautiful island of Kauai, I'd highly recommend Mira Mira Events to help you plan your special day!!

+ 3

photos

Caely

Married on 05/11/2015

Marlene took all the stress out of our wedding. Planning a wedding in Hawaii from France was easy with her help! She was professional, gracious, calm and caring throughout the entire process. Most importantly - she never once stressed me out, to the contrary: she was a stress blocker! Or perhaps even more important than that - she is very clearly passionate and enthusiastic about her job. I very highly recommend her!

Jasmine

Married on 03/21/2015

Marlene was a such an important part in planning our wedding. She was tremendously helpful from start to finish. Her reliability, kind and positive attitude, and impressive pick of local vendors, made our special day perfect.

Melody

Married on 05/20/2013

Marlene from Mira Mira Events helped me plan and execute a beautiful wedding in Kauai in May 2013. She really listened to my needs and made great recommendations along the way. Her responsiveness and friendliness took a lot of stress out of the planning process. She was always pleasant and willing to go the extra mile..and that really put me at ease. She did a great job in all aspects and not only gave me an unforgettable wedding, but also created an amazing experience for all my family and friends. I can't thank her enough for everything she had done for me. I highly recommend Mira Mira Events if you're looking to get married in beautiful Kauai island! You will not regret it!

There are not enough words in this review to express how amazing and wonderful this wedding coordinator is! She makes everything happen with a smile and makes the entire wedding process effortless. She is a professional, a great listener and the best wing-woman you could ever ask for! Marlene has kept me calm and stress free. Don't let that sweet smile fool you…she will get things done when you need to get things done! Any questions you have will be happily answered and every detail will be covered. She takes wedding planning to a whole different level of WOW!!! Magnificent Marlene!

Bob

Married on 01/16/2013

It was actually and engagement event that Marlene of Mira Mira events helped my orchestrate, but the services were stellar. Perfect!
I can not say enough good about Mira Mira Events!.
I wanted to plan a very special evening for my engagement. Being from the mainland, I wanted to have help from somebody who knew the area, the vendors, and could help me put an incredibly special evening together.
After calling three different event planners, all of whom had good reviews, I felt that I connected best with Marlene. She immediately began to visually put my evening together for me and I could tell after just a few minutes on the phone that we would work together well and she had a good comprehension of my vision, the resources, and the eagerness to help me make my evening spectacularly memorable.
Her communication with me was excellent. She kept me up to date with progress and offered reassurance that she was busy with my project and things were falling into place. She made sure that all the details were covered and worked with me to be sure that everything had been planned for and covered.
When we got to Kauai and my event began to transpire, I was as in awe as my girlfriend, and I knew what was coming! Every nuance, every detail, was perfect!
Marlene is a rock star! My engagement evening was dreamlike and I owe it all to Mira Mira Events and the incredible team she put together for my evening.
I will add here that that team included a private chef, AJ Irons,(http://ironchefkauai.com). Amazing! Turn him loose and your palate will sing.
Slack key guitar musician Pancho Graham (http://panchograham.com/…)
A wonderful musician and individual, perfect for a magical ambiance.

My fiancé has a wonderful story to tell and we have unbeatable memories of a perfectly orchestrated evening thanks to Marlene and the team she put together!

6 stars!




Miranda

Married on 09/24/2011

Marlene is absolutely fabulous and helped us plan a Kauai wedding that exceeded all our expectations. She was fun and easy to work with, but was always super professional. I would highly recommend mira*mira events!
Are you interested?
Send a message