180 Reviews
Recommended by 100% of couples
Quality of service

5 out of 5 rating

Average response time

5 out of 5 rating

Professionalism

5 out of 5 rating

Value

5 out of 5 rating

Flexibility

5 out of 5 rating
31 User photos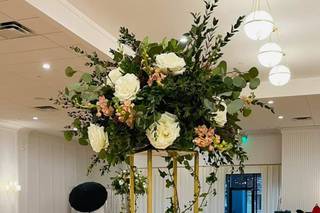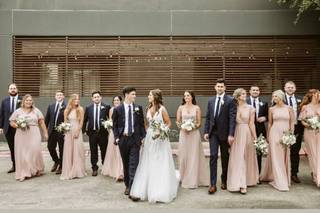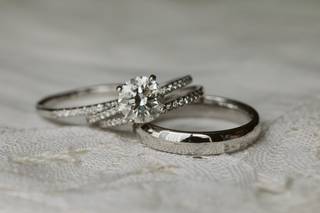 + 27

photos
Christina M.

Married on 05/01/2021

The best team EVER!

Where do I even begin? There are truly no words to describe how incredible Laura and her team are. Not only was Laura the MOST incredible planner that we could've ever asked for, but she has also become a friend. Laura and the Mayfield events team are extremely intentional with the wedding planning services they offer. They truly take the time to get to know not only what you want, but who you are as a person, and as a couple. We unfortunately had our original wedding date planned for June 2020, which was the peak of Covid. Of course, I as a bride was distraught. Not only did we move our wedding once, but TWICE. Laura and her team planned 3 different wedding days for us like it was nothing. Through an incredibly difficult time, the Mayfield events team was our rock. My husband and I decided that we wanted to still get legally married on our wedding day, and amazingly, Laura Mayfield was the one who married us. She was our wedding planner, and now our officiant too! The one thing we will tell every couple planning a wedding, is how crucial a planner is. Thanks to laura and the Mayfield team, after 2 long years of waiting due to Covid, we had the most incredible wedding day day we could've dreamed of. We are more grateful than words! If you are on the fence about who to hire, we whole heartedly can assure you that you can trust Laura and the Mayfield events team. We love them and are so blessed by all they did for us!

Ella A.

Married on 05/30/2020

Amazing Experience

Mayfield Events is beyond amazing. They were professional and helped my husband and I during the craziest time of rescheduling our wedding due to covid. I would recommend them completely! All our of attendees and bridesmaid/groomsmen were so pleased with how organized Laura and her team were.

Mayfield Events's reply:

That is so kind. Thank you so much. What a year! We were so pleased to get to serve you both. So much love.

Marissa C.

Married on 05/02/2020

Love Mayfield Events!

This review was the hardest to write. How could I possibly capture how incredibly grateful my husband and I are to Mayfield Event's in the allotted 3500 characters. Shortly after I got engaged, I knew I needed to find a month of wedding planner. I interviewed 6 planners and knew right away Laura was the one. Our conversation was short but I instantly felt at ease. She was personable, kind, down to earth and clearly had a passion for what she does.

Throughout the planning process, Mayfield Event's was always available and happy to help with any questions even though I had only signed up for month of services. Whether it was vendor recommendations or timing of events, they were always quick to respond and never made me felt like a bother. And when the dreaded pandemic hit, Laura was there to help walk me through what was completely unknown territory to us both. She so graciously held my hand as my husband and I postponed our wedding not once but twice. Never once did she make us feel guilty despite the setbacks in the planning process.

A silver lining in the postponements is that I then got the opportunity to work more with Andrea, another lead planner with Mayfield Events. I'll admit, I was nervous at first to work with another member of the team but that was short lived. Andrea went above and beyond what I could ever ask for. She frequently checked in, answered my million and one questions, hopped on random calls and truly became such a friend to me.

Rounding out this incredible team is Mitch. Going into this process, the floral and design part stressed me out the most. I had such a strong idea of what I wanted but wasn't sure how to bring it to life. One virtual consult with Mitch and I knew I was in good hands. He is truly a floral genius and such a kind soul. The flowers at the wedding were breathtaking and more than I could have ever dreamed. They had my guests talking about them for weeks.

The day of our wedding finally came and the day was perfect. Of course, this is not to say things didn't come up but that is the magic of a good wedding planner. My husband and I had no idea. We were able to enjoy the day celebrating with our friends and family while Laura and her team worked tirelessly behind the scenes. Thank you Laura, Andrea, Mitch and the whole Mayfield Event's team for giving us our dream day!


Are you interested?

Send a message

Lauren F.

Married on 01/04/2020

The best planner, florals & design!

I cannot recommend Laura and her team enough!!! We hired Laura as our wedding planner and Mayfield events for our florals. Laura got to know my husband and I and really understood our style and desires. She made the planning process fun and easy! I never felt overwhelmed because Laura kept us on a prioritized schedule. It stormed cats and dogs on our wedding day but Laura already had perfected a plan B. The night was so magical that I'm actually glad we went with plan B!! Everyone who attended was blown away by the beautiful florals and design of the night. I'm telling you- you can trust Laura and her team to pull it off rain or shine and it will be amazing no matter what!!!!!! We can't thank enough Mayfield Events enough for our fairytale wedding!!

PS- my in-laws hired Laura to do the rehearsal dinner and it was perfect as well! We were even able to repurpose some of the flowers ;)

Megan H.

Married on 11/10/2019

Laura and her team are the best in the business!

From our first phone call, I was impressed with Laura Mayfield Events. She knows her stuff, walked me through the process, and she kept me at ease. I hired Mayfield Events for month-of coordination for our wedding at the Perot Museum and I would highly recommend them to anyone! She had calls with all of my vendors to make sure everyone was on the same page. I had a specific vendor who was VERY slow to respond and was a huge stressor to me. Thank goodness for Andrea who follow-up called and emailed the vendor daily and spoke to higher management of the vendor until we got a response!! They went above and beyond before & during the wedding as well. I felt stress-free the day of knowing Laura was going to take care of everything.

+ 3

photos

Caitlin B.

Married on 10/05/2019

Hire Mayfield Events- you'll thank me later.

I was a delusional bride who thought I had everything in the bag. My future mother-in-law was extraordinarily organized, and we could plan my massive 330 guest wedding without the help of a professional wedding planner. About 50 days out from my big day- sleep was non existent. My mind kept running around in circles thinking of the tiny details that needed to be addressed and praying that everything would just work itself out. Then I realized that my very expensive big day could be derailed if somewhere along this complicated road we dropped the ball. It was time to face the facts- I couldn't do this on my own.

Everyone I spoke to about wedding planning kept name dropping Mayfield Events. Jason and Laura Mayfield. You need to contact them. Trust me. They'll take all of the stress away and you can focus on getting married.

If I could go back in time- I would've listened to all of those wise friends and made the call so much sooner.

In comes Laura who waves a magic wand. She meticulously covers every square inch of an event (including important details that were no where on my radar.) She knows precisely how every aspect works, and she has relationships with every vendor in the market. A few brief meetings with her and the weight of the world had been lifted off of my shoulder. She was taking care of absolutely everything with careful efficiency.

Due to my delay in pulling the trigger on hiring a wedding planner, my new fairy Godmother, Laura, was already committed to another event on my wedding day. Her trusted associate Christina would take care of everything. (I'd be lying if I said I wasn't a little bummed that my new BFF wasn't going to be there, and I'd have to bond with someone else- but lo and behold.... another extraordinary talent.) Christina was every bit as organized, thorough, pleasant, brilliant, experienced as the angel before her.

No matter what I threw at Christina, she would confidently look at me and say, "I've got it covered." From a week out to 5 minutes before "I do" I felt so secure in how my ceremony & reception would transpire because I had my secret weapon, Christina, overseeing the whole day from top to bottom. Her calming presence and confident demeanor provided me with so much reassurance. I kept thinking, "I want to be like her." So put together. So thoughtful. So on top of things.

My wedding day went off without a hitch. My ceremony was beautiful and sacred. My reception was magical. My family & friends had a blast. My special day was everything I ever could have imagined and more. And it might not have been so, if I didn't wise up and make the call to Mayfield Events.

Hire Mayfield events for your big day. You'll thank me later.


-Caitlin Barker
Newlywed & #1 fan of this wedding planner.

Wenting

Married on 10/01/2019

Best choice!

We found Mayfield Events on Wedding wire and honestly one of the best decisions we ever made! Laura was easy to communicate with and very professional! She listened and gave us feedback on what we liked and helped the planning process to be easy for us! She was always punctual and versatile in where to meet, and always responded very promptly to our questions! We also did our florals with Mayfield events and Laura and her team exceeded my expectations for the florals on our wedding day! We received many compliments on the beautiful florals ! We are so glad to work with Laura and her team and really appreciate all their hard work to make our special day extra special! Thank you Laura, Andrea, and Jen! (Wendy & Ke)

Sheiva G.

Married on 07/20/2019

Mayfield Events Planning & Floral/Decor

My husband and I loved working with Laura and her team when planning our wedding! Laura went above and beyond to meet with us on multiple occasions and when meeting with a few of our vendors to ensure everything would go smoothly on the day of the wedding. We worked with Laura not only for wedding planning, but also for her floral and decor services. We absolutely loved our floral and decor! Laura was very personable, flexible, kind and helped us very much along the way. She always remained calm and patient with us. Laura was a pleasure to work with!

Fara S.

Married on 06/22/2019

Perfect night

There really are no words that could ever do justice on how I feel about Laura Mayfield, Mayfield Florals and her entire team! I hired Laura and her team for month of planning as well as Mayfield florals, and it was the absolute BEST decision I made throughout the entire wedding planning process. Laura is kind, considerate, and listens to everything you say and then makes your dreams a reality. I really could not put into words what my vision was of my perfect day and Laura asked all of the right questions to help me figure it out. My fiancee (and mom) loves Laura as well. When I would start to worry about something, he would tell me to call her so I would feel better and he was correct-within 1 minute, my mind was put at ease. The day of our wedding was absolutely perfect in our eyes. We had no idea if there was anything going on behind the scenes that needed to be taken care of-it just was. This let me enjoy the day and not have to think about anything except having the happiest day of my life. My wedding was an absolute dream come true, and Laura is the reason, other than my now husband of course. If asked if someone should have Laura Mayfield as their wedding planner, I would scream out loud "YES, AND DO NOT WAIT ONE MORE MINUTE!"

Macey

Married on 05/25/2019

Mayfield Events a million thumbs up

Where to even begin with Mayfield Events. My wedding was on a very, very tight budget and I am also a control freak so I had never dreamed of "needing" a wedding planner, but after a friend of mine in a similar situation referred Laura to me I went ahead and had a meeting with her. From the initial meeting, to the 18 months of planning and a million phone calls (all from me of course) Laura was so patient and helpful with EVERYTHING. She made sure to keep me on budget, let me know when invoices were due, and made my champagne (but beer budget) event come to life. One specific moment I remember of Laura is her coming on the dance floor, getting on her hands and knees and helping me switch from heels to sandals because my feet were killing me AND I didn't even have to ask her! She just knew! I would choose Mayfield Events a million times over again. Thank you SO much Laura, Jen, and the entire team!!

Ashley B.

Married on 05/18/2019

BEST decision ever made!!!

I truly can not say enough AMAZING things about Laura Mayfield and her team. Best decision we could have ever made!!! I was so unsure as to whether we needed a planner but honestly - the best choice we could have ever made. I tell all of my friends to most definitely hire a planner and to hire Laura! Not only is she professional, organized and knowledgeable - she is passionate, creative, kind and loving. She wants your day to be perfect for you and will go to extreme lengths to make that happen. We had a terrible severe thunderstorm blow through and ruin our entire setup and venue. We were devastated. However - Laura SAVED our day. She had a Plan A, B, C, D and E!!! She worked out in the pouring down wind, rain and humidity. She was running helping to make sure we had the day of our dreams and it happened. I was so sad when our wedding was over because it meant I couldn't talk to her anymore weekly!
Her designs are beautiful, her ideas are wonderful, her team is so kind, hardworking and helpful.
She helped make all of our ideas come to fruition all while helping us stay on budget. Truly, I can not say enough wonderful things about Laura and her company. She is truly an amazing soul and LOVES her work and loves her clients and will do anything to make you smile. We were BLESSED to work with Mayfield Events!

Debi F.

Married on 05/11/2019

Mayfield Events - Perfect!!

As the Mother of the Bride I cannot express adequately how invaluable Laura and her staff at Mayfield Events were to my daughter's wedding. The planning process was so smooth and Laura's advice was spot on. Despite perfect planning, problems beyond anyone's control can arise on the wedding day. Laura had everything taken care of in a professional manner in a matter of minutes, mostly without our awareness until it was handled. Organization is her middle name. Mayfield Events was also our florist - beautiful!! Laura saw my daughter's vision for the entire wedding and delivered it. The wedding was perfect thanks to Laura and her staff.

Jillian

Married on 05/11/2019

Amazing Experience

I would recommend Laura and Mayfield Events to anyone. Laura and her Team are absolutely amazing! Before I met with Laura, I was so overwhelmed with everything that had to be done. From our first meeting I felt relief. She was organized, and after just a few meetings knew exactly what I was going for. The day of the wedding I was so relaxed because I knew that she had everything covered. It was raining the day of my raining and I was having an outdoor ceremony. We had a Plan B set up, but I am a stubborn bride. She was outside wiping down all the chairs and the pathway where I would be walking. She is the best-of-the-best. Plus on top of all that, she was my florist as well. I couldn't of chose anyone better. Everything that day was Perfect!

Micah V.

Married on 05/04/2019

Impeccable!

I inquired about several people's opinions regarding Mayfield Events before I finally made the decision to book them. It is pretty difficult to make such a big decision so quickly for a day you've dreamt of forever! As expected, each person had wonderful things to say about Laura and her team, but of course you want everything to be perfect when it comes to YOUR wedding day! I am a pretty picky person that knew what she didn't want but I wasn't quite sure what my vision was…and we only had 5 months to plan! After meeting with Laura for the first time, it didn't take her long to figure out Dane and I's personalities. She immediately had ideas that captured the two of us individually and together. The flowers were something that were of big importance to me. I was persistent on them including my Nana's favorite flower because she had passed several years ago and I wanted a piece of her with me on one of the most important days of my life. Laura requested a couple of mock-ups with Jen to ensure I was 100% pleased with all of the flower arrangements and the overall decoration layout. I truly appreciated these ladies insisting I do this because everything turned out beautifully and we could not have been more pleased with the final result! The Mayfield Events team work very well together and with their couples to ensure and deliver high quality production!

P.S. It had rained off and on for several weeks in Texas, even causing some areas to flood…and our ceremony was outside! Laura left the venue, drove to town, purchased a shop-vac, and vacuumed up the pools of water where our guests would be sitting. If that is not DEDICATION, then I don't know what is!


Alisha

Married on 04/07/2019

Can't thank LAURA enough!

Laura Mayfield did an amazing job for our wedding at the Marie Gabrielle Gardens. We hired her as a day-of-coordinator.

She advocated for us and supported us during our conversations with vendors, offered great advice on preferred vendors based on her experience, and also was a friendly person to talk to for bouncing ideas. Also, she has a great personality and is very easy to talk to while she's getting to know you as a person. Understanding your needs is what matters the most to her, and she bases her suggestions on you.

During our wedding, she also found a problem and corrected it very quickly without even bringing it to our attention! Her top priority is for the wedding to go as smoothly as possible and she genuinely cares for her clients. As an example, when people were coming to see us while we were eating dinner, she politely told people to give us some space so we could enjoy our own food! It's the little things that matter.

I can't stress enough how much Laura helped us with the flowers, decorations for our mehndi ceremony, and consolidating everything into her portal. People continue to talk about our wedding, and major credit goes to Laura and her team for making it all happen.

Caitlyn W.

Married on 12/01/2018

There is nobody better!

If you are trying to have the best wedding experience EVER, then you have to choose Mayfield Events. This team really gets to know your heart. I have absolutely no doubt or worries the entire wedding planning process with Laura. She read me right away and knew that I didn't want to plan out every little detail - Laura took that on for me and I couldn't be more overjoyed. The day of the wedding was picture perfect. Her team totally spoiled us and we always had a drink in our hands! Everyone at our wedding had a complete BLAST and we didn't have to worry about a dang thing. I could not recommend Mayfield Events any more!

Juliana B.

Married on 11/20/2018

Could not be happier!

I met with a few planners and knew right away she was the right choice. When we spoke about my vision for the wedding she captured everything that was important to me and my husband. Leading up to the wedding there were so many variables that could have gone wrong but Laura and her team worked every and all angles to make our wedding unforgettable. So very happy and grateful for Laura!

Meghan

Married on 11/10/2018

If you want a planner that will put her whole heart into your day, choose Laura. You won't regret it!

Where do I begin to describe what all Laura did to help us along the planning process. From our very first call I remember immediately feeling at complete ease. I knew from that moment "she's got this down" -- which is exactly what she delivered. She was always there to lend a solution to whatever issue had come up, between dealing with vendors to figuring out logistics of the wedding day. The day of went flawlessly, of course, there were hiccups with vendors behind the scenes but Laura made sure to handle and fix with ease-- so we or any guests didn't even notice! Not only is Laura super meticulous and organized but she is also a very kind and loving person. I never felt as though I was annoying her or being super anxious (even though I am sure I was... haha), she always made me feel heard and at ease with any big planning decisions. It was especially hard not having my mom close for planning, so I am forever grateful for all of Laura's help. If you want a planner that will put her whole heart into your day, choose Laura. You won't regret it!

Sharla

Married on 10/04/2018

Incredible experience

Laura was Extremely helpful, kept us on time with everything leading up to the wedding and at the wedding too!
We needed something, she got it!
We were so happy she was there every step of the way! Thanks to Laura everything went so smoothly, it just couldn't have gone any better!

Katelyn

Married on 09/29/2018

If you want a big badass wedding, go with Mayfield Events! If you want a small intimate wedding, go with Mayfield Events! Basically, if you want the wedding of your dreams, go with Mayfield Events! Laura and her team went above and beyond at our wedding last weekend and exceeded our expectations by FAR! Did I mention that the flowers they did were INSANE?! Hiring Mayfield Events to plan our wedding was the smartest thing I could've done. They made everything so easy! Not only is Laura a great wedding planner, she's also a great therapist (she listens and gives good advice), she's a great problem solver (she comes up with other options/solutions when you've been thrown a curve ball), she's available (she doesn't mind when you send her 100 pictures from Pinterest at 9pm because you have a newborn and that's the only time you can), she's interested in planning YOUR big day and helping you find YOUR own voice (when so many people have their opinions on what you should do), and last but not least, Laura is a sweet and genuine person that I am lucky to call my friend. Now if somebody could tell me what to now that our wedding is over because I'm having serious withdrawals!

Mayfield Events's reply:

Sweet, amazing Katelyn you are awesome! I loved every second of planning with you guys. There was so much love and beauty and I really enjoyed the whole process. I can't wait to see you again!

Jessica

Married on 09/22/2018

Amazingly easy and stress free

When we met with Laura, and hired her and her team, we had no idea where to start with planning a wedding. Laura was so organized and easy to work with -- Laura helped lay out a plan and not once did we feel overwhelmed. We selected every vendor she suggested, Laura and her team understood exactly what we wanted.
We also used Laura and her team for floral and decor - they went above and beyond. Our wedding was perfect, and truly a dream come true thanks to Mayfield Events!

Matt

Married on 09/22/2018

I'm a wedding photographer in the Dallas area and Mayfield Events has been an absolute dream to work with. I've shot many, many weddings in my time as a photographer and not only can I say that having a planner makes a world of difference in all the best ways, I can say that it doesn't get any better than trusting Laura Mayfield and her team to coordinate your big day. They know all the connections and best vendors, they're very quick with communication, and they're extremely professional but personable as well. I love the weddings that I get to shoot with their team and recommend their services to anyone in need of a wedding planner, they're amazing.

Adrienne

Married on 09/14/2018

Laura and her team were amazing! We hired them for "month of" planning and she was an absolute life saver. My mom passed away 5 weeks before my wedding and Laura made sure that all of the plans we had made together were executed flawlessly. The entire evening was perfect and I was able to focus on my guests while she worked out all the details and made sure my husband and I were fed and had a drink in hand. She even saved the evening when one of the bridesmaids zipper broke on her dress. I couldn't have done it without her and will highly recommend her to anyone that needs an event planner!

Mayfield Events's reply:

It was such a pleasure to serve you and your family. Your friends were the nicest people, and you looked amazing walking down the aisle. Best wishes for a long and happy marriage! Congrats!

Susan

Married on 09/08/2018

Laura is an excellent wedding planner. She is down to earth, professional and makes everything seem easy. She is kind and understanding and will always be there for you during the process. I never felt alone and always felt like I could confide in her with any questions or emotions I had. The wedding was perfectly executed and I felt like they went above and beyond on the day of. I highly recommend using their services. I can't imagine the wedding going as smoothly without them.

Things I was impressed with:
-super timely responses
-I only did partial planning services and she really helped through the whole process with little details I was planning, and I knew she didn't have to
-we built our own arch and it supposedly broke and fell down (was my worst nightmare) but she came through and put it back together, and it looked better than before. Kudos to Laura and team. I didn't even know this was happening the day of the wedding!
- I found her assistant helping curl the flower girls' hair when I didn't even ask them to! They are so helpful in making everything perfect that day you don't have to worry.

And so much more. You really get what you pay for and trust me when I say that hiring mayfield events is truely the best thing you can do for you and the groom. You can actually enjoy your wedding day and all the hard work that was put in.


Mayfield Events's reply:

Susan, you were so much fun to plan with! I really enjoyed working with you. Lol. My assistant said that the flowergirls hair went flat and luckily we had a little extra time before she was needed for pictures. We wanted everything to be as you planned :)

We wish you guys all the best!

-Laura and Team Mayfield Event :)

Janaye

Married on 08/18/2018

Laura and the entire team at Mayfield Events were absolutely perfect for us and our wedding! We could not of asked for a better team to support us during the planning process and on our wedding day!

I knew from the beginning that we needed a planner...so I lined up 6 meetings with different planners (that I found through Wedding Wire). My mom, husband and I went to all 6 meetings in the span of a few days. We walked out of the meeting with Laura and all agreed immediately that she was the one! From the beginning she was easy to work with, we instantly trusted her and we're excited to make our visions come to light with her.

I could not be more grateful for how the entire team at Mayfield Events supported my desires for our wedding. There were several things that I was very particular on and needed help making my vision come to light and the team always accommodated me and went the extra mile to make sure I was comfortable with everything. The planning process was great with Laura for the overall wedding and Jen was absolutely wonderful helping us with floral and design!

The wedding day was an absolute dream! We're still talking about how absolutely perfect it was! The whole day felt so smooth. Everything about the floral and design was exactly what I wanted! We received so many compliments from guests! Many thanks to Laura and to the team at Mayfield Events for making our wedding day the best day ever! If you are considering hiring a planner, it is 100% worth it and I fully recommend Laura and the team at Mayfield Events!

Happy Planning!
Are you interested?
Send a message