67 Reviews
Recommended by 100% of couples
Quality of service

5 out of 5 rating

Average response time

5 out of 5 rating

Professionalism

5 out of 5 rating

Value

5 out of 5 rating

Flexibility

5 out of 5 rating
13 User photos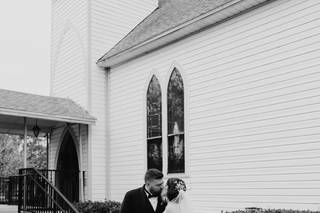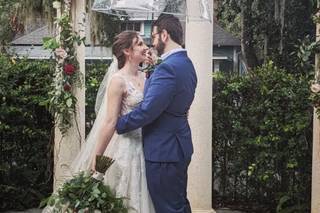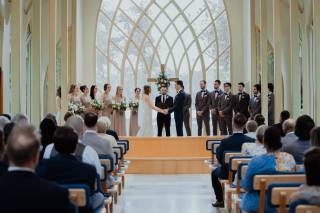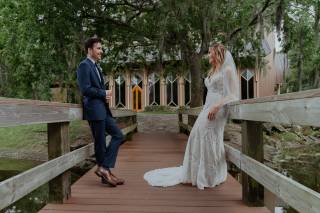 + 9

photos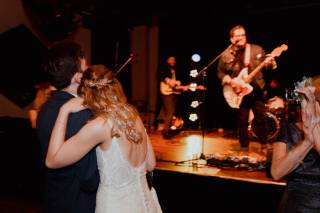 Linda R.

Married on 12/31/2022

Hire MasterPiece Weddings!

Highly recommend MasterPiece Weddings!! Rachel and Crysta are incredible! They took the time to know us as a couple and our vision for our special day. Their knowledge of weddings is vast!! They asked questions I hadn't even thought of, such as "Would you like us to plate your meal for you? What would you like to eat/drink?" Our wedding timeline was navigated down to the quarter-hour and they made sure we were on time for everything. On the day of the wedding, they really made us, and our family, feel special. Every detail was taken care of, and I truly felt like we were guests at our own wedding. These two amazing women have a special place in our hearts and I'm so excited that Rachel had the opportunity to ring the church bells as my husband and I took our first steps as a married couple on New Year's Eve. Thank you MasterPiece Weddings for your expertise and care!!!

MasterPiece Weddings's reply:

Wow Linda!!! This made my day reading it!! :) We couldn't be happier for you and Paul and your new family! I'll never forget ringing those bells either!! Congratulations again to you both!

Shelby E.

Married on 12/17/2022

MasterPiece Weddings

Rachel and Crysta did such an amazing job helping us through our day, and the weeks leading up to it! We had such a sense of relief knowing that we had someone we could trust creating our timeline, reaching out to our vendors, and guiding us through the day! Our hair and makeup was running really late and Rachel made sure everything kept moving and managed to keep us on schedule without missing a beat! Not to mention they are incredibly kind and sweet people and made me feel so confident. Cannot recommend Masterpiece Weddings enough and cannot thank them enough for all their hard work and help!

MasterPiece Weddings's reply:

Thank you so much Shelby for such an amazing review! It means the world to us that you had such a great experience and wedding day! Huge congratulations to you & Michael!!

Marlene K.

Married on 12/17/2022

Precious Piece of Mind

As the mother of the bride, we planned the wedding over the course of a year and a half. Made all decorations, booked all vendors, etc. However, one thing that worried me was management of the actual rehearsal and the day of the ceremony. If I became so involved in the details, I knew I'd miss out on truly enjoying the day with my daughter. MasterPiece Weddings, Rachel and Crysta came to the rescue. We hired them for the month-of package. We live in a different town, so we were able to communicate via Zoom and email/texts. Rachel has everything so perfectly organized, that she took us through our initial interview process and opened my eyes on all the things I never would've accounted for. She prepared the wedding day timeline (A/K/A wedding day Bible) for us and coordinated with all the vendors.
On the day of the rehearsal, she showed me how much she was needed. She organized the group and made sure everyone understood their roles, etc.
However, one the day of the wedding, they blew my mind. They followed our instructions to the T, and took care of all the set up and take down of the ceremony and reception. I was able to enjoy the entire day with the peace of mind that all was being handled by a professional. She was on top of every detail, and was quick to handle any glitch in the schedule with a very calm, commanding nature.
We highly recommend Rachel and MasterPiece Weddings if you're in the market for a wedding planner in the Gainesville area.

MasterPiece Weddings's reply:

Marlene - I'm all teary reading your kind words!!! It was such a wonderful experience working together with you all and being a part of Shelby & Michael's wedding day. All the décor you made was incredible too! I'm thrilled to know that we helped you enjoy their day to the fullest. :)

Are you interested?

Send a message

Paul

Married on 10/08/2022

Our Best Decision (besides marrying each other)

Our wedding was everything we hoped for, thanks to MasterPiece Weddings! They were the single most important piece in making our event memorable not only for us, the married couple, but also for our guests. We are forever grateful to Rachel and her team for keeping us on point and coordinating the whirlwind around us! The expertise, professionalism, and kindness they showed us is something we will never forget. They were recommended to us, and we are now recommending to you!

MasterPiece Weddings's reply:

We're incredibly touched by your review, Paul!! Thank you so much! It was such a joy working with you and Danielle and I'm so happy that you had such a beautiful wedding day. We won't forget you both either or your sweet families! Congratulations again!!

Cheshire H.

Married on 09/03/2022

Outstanding!

Rachel and her team were outstanding. She is an expert at what she does, and it allowed me to fully enjoy my wedding with my new husband. I couldn't recommend her and her team enough, they were just the best. She and her team of course managed all the details seamlessly, but what sets Masterpiece Weddings apart is I felt she and Crysta really cared about our wedding and wanted it to be as amazing and I did. I could not have done it without them, and can't recommend them enough!

MasterPiece Weddings's reply:

Cheshire - we're incredibly touched reading your review! Thank you so much for taking the time to write it. Congratulations to you & Abe again! :)

Ryan

Married on 06/11/2022

We couldn't have done it without her

We literally couldn't have asked for a better wedding planner and day of coordinator. Even with a vendor and groomsmen change last minute, Rachel made sure everything was taken care of and we had nothing to worry about. It was great getting to focus on our wedding day without worrying about anything else. Not one thing went wrong as far as we know, which means she is either an incredible planner, or an even better day of coordinator to be able to pull everything together without anyone noticing anything.

MasterPiece Weddings's reply:

Yay!! We're so happy that you had such a worry-free wedding day! That is ALWAYS our goal! Congratulations again to you and Sarah!!

Anjum A.

Married on 06/01/2022

Hiring Rachel was our best decision!

Rachel is an absolutely incredible coordinator, and I'm so glad that she teamed up with us to make our day so special! I hired her as our "Month Of Coordinator." Throughout my whole planning process, Rachel was quick to answer any questions that I had or provide recommendations based on her wealth of wedding knowledge. At the one-month mark, Rachel coordinated our vendors and helped me work out all the details leading up to our wedding. When we finally arrived at our big day, Rachel took all the pressure off from me and my husband so that we could just enjoy ourselves! Rachel and her team did all of our set up, coordinated the flow of our ceremony and reception, then broke down all the decor after the reception. I am beyond grateful that Rachel and her team coordinated our wedding, and I wholeheartedly recommend them!

MasterPiece Weddings's reply:

Oh! What an amazing way to start the day! I'm so touched by your words! It was great getting to know you both and I loved how your day fit you both so perfectly. Congratulations again! Thanks for letting us be a part of your wedding!

Nicole M.

Married on 04/23/2022

100% would recommend to all couples planning a wedding!

We cannot recommend Rachel and her team enough! Our wedding was seamless and stress free and perfect because of her hard work setting up the venue and keeping everything moving behind the scenes. When we initially started planning our wedding, we realized very quickly that we needed somebody to coordinate everything on site the day of the wedding while we were getting ready and taking photos 30 minutes away. I am a bit of a control freak, so the idea of letting go of the responsibility was slightly terrifying. Rachel's day-of coordination services were exactly what we needed. I was able to plan and organize everything on the front end, and then Rachel & team executed them flawlessly on the wedding day. I didn't have to think about anything other than showing up to marry my best friend and enjoying the evening with our family and friends. We could not have done this without Masterpiece Weddings!

MasterPiece Weddings's reply:

Thank you so much Nicole for the wonderful review! It was so much fun getting to know you both and being a part of your wedding! The details and vision that you put into each element of the day was so fantastic - we loved helping make it all come to life. Congratulations again to you and Molly!

Julia W.

Married on 04/02/2022

Wonderful wedding planner!!!

Hiring Rachel and her team was the best money we spent on our wedding. We were planning our wedding from across the country, and relied on Rachel's recommendations and connections to find a team of exceptional vendors, all of whom were thrilled to learn we would be working with MasterPiece Weddings. Our wedding was somewhat non-traditional, and Rachel helped us figure out what did and did not make sense for us on our wedding weekend, and enthusiastically supported the more unconventional parts of our plan. On our wedding day itself, a huge storm rolled through just in time for our ceremony. Rachel and her team spent all afternoon running around in the pouring rain to make sure our wedding could go forward as planned--they were completely professional and cheerful the whole time and our wedding was an absolute success! I truly don't know what we would have done without them. We love Rachel and her team!!

MasterPiece Weddings's reply:

Holy cow! I can't explain how much this means to me!! I had the best time helping you both figure out the ins and outs and logistics of your totally unique wedding! I love how it was completely tailored to your love story. Congratulations!! I don't think I've ever had so much fun being drenched before! LOL

Shelby C.

Married on 02/26/2022

Highly recommend!!

If you are debating about hiring a wedding coordinator, DO IT. Rachel and her team are the best in the business and I can not express how thankful I was for her on my wedding day. She is the sole reason my day went as perfect as it did. Rachel paid attention to every detail and has the sweetest soul. Highly recommend ❤️

MasterPiece Weddings's reply:

Aw Shelby!! This means the world to me! We had such a great time helping you both celebrate! Congratulations again!!!

Jamie M.

Married on 01/22/2022

Hire Rachel as Your Wedding Planner!

Rachel was so helpful with contacting vendors and helping get everything ready for our wedding the month before. Her help was so needed and appreciated especially on the day of our wedding. I didn't have to worry about anything! Rachel and the staff at MasterPiece Weddings were so great to work with and cared so much about making our day stress free. Everything went so smoothly on our wedding day!

MasterPiece Weddings's reply:

Jamie, this means SO much to us! We're so happy to hear that you had no worries at all! Congratulations to you both again!! :)

Emma H.

Married on 12/22/2021

The best!

Rachel Griffin and her team from MasterPiece Weddings was absolutely the best for our wedding. We had a couple of meetings before hand and Rachel helped me figure out what details I was missing and just shedding light on things I never thought of. The day of Rachel's help was a Godsend. Without her I don't know if my mom would have even gotten ready. She was just prepared with everything, her and her team were a well oiled machine at West Light Farm. Without her my wedding would not have gone smoothly she thought of and took care of everything. I would recommend Rachel a million times to everyone in the area. You don't know you need a wedding coordinator until you needed her, good thing I had Rachel. I seriously would have been a wreck without her.

MasterPiece Weddings's reply:

Oh my gosh - Emma! This means so much to me! I'm so happy that we were a part of your day & LOVE that your mom got to enjoy everything instead of worrying!! :) Congratulations again to you and Sage!

Gina R.

Married on 05/01/2021

Rachel and her team were ESSENTIAL WORKERS!!!

Rachel and her team are beyond amazing! They made sure that every single detail was thought out and had a backup plan for anything that could come up. If you are planning even a small, intimate wedding, planners are a MUST. Rachel thought of necessities that hadn't even entered our minds and made our day the most magical experience it could have possibly been. She has the knowledge and the skillset to handle any size wedding. Her team made our wedding an absolute masterpiece and my new wife and I could not be happier. Every guest was raving about all the details and intricacies that made the entire day so enjoyable. Little did they know that Rachel and her team were behind each and every one of them!

MasterPiece Weddings's reply:

Thank you Adam & Gina! I loved being able to help coordinate all the special, personalized touches that you both (and your families) put into your day! There was so much love & we were honored to be a part of it! Congratulations again!

Ana

Married on 11/18/2020

Rachel is the BEST wedding planner!

Rachel is the BEST wedding planner, she is also a mind reader (preempting my every thought on my wedding day) and one of the nicest people you'll ever find!! When my (then) fiancé and I decided to get married during a pandemic we were intent in making our ceremony be a fun but safe event. Because we were from out of town and had unique planning needs, she worked with us to develop a custom planning package, which worked out wonderfully. From the start, Rachel worked diligently to make sure our wedding dreams came true while ensuring we had little to worry about in terms of coordinating vendors and safety standards. She recommended fantastic vendors and even those that we had already reached out to individually knew her and spoke highly of her.

On our wedding day, she handled issues that came up (since things always happen!) swiftly and seamlessly. She seemed to be in several places at the same time, fixing my hair, decorating the getaway car, coordinating the vendors and getting us a snack before we even realized we needed one, all without skipping a beat. We are so grateful to have found her and I highly recommend you hire her!

MasterPiece Weddings's reply:

Ana & Brian - thank you so much for such sweet words! It was amazing getting to know you both over the last few months! Decorating your car was SO much fun too!! :) It makes me incredibly happy that you had the wedding you hoped for! Congratulations again!

Stephanie S.

Married on 10/10/2020

Best decision we made

When you hire Rachel you just made your dream wedding come true. Rachel thought of every detail and every possible need and made a spectacular day filled with love and laughs for our families. Our venue was a little tricky because it was so a private home so far away from Gainesville but Rachel never had an issue navigating that and made sure we prepared for every scenario. She knew the BEST vendors (I've had people asking for recipes from the caterer) and was able to make us feel so at ease. My husband and I had always wanted a small wedding and were able to get married in the enchanted forest that Rachel and Betsy with the Plant Shoppe Florist created. The thing about Rachel is not only the is she incredible at what she does she also is one of the warmest people you will ever meet and you will get nothing but love and expertise when working with her. One day when Covid is over I will get to give her the biggest hug for making my dreams a reality.



MasterPiece Weddings's reply:

I can't wait for that hug too! It was such a magical day and to know that you were so happy with everything is incredibly special. Thank you for such sweet words and for trusting us with your dreams!

Katie

Married on 09/05/2020

Peace of mind on your wedding day

We are so grateful for Rachel! She gave us such peace of mind knowing that she had everything under control. Thank you!!

MasterPiece Weddings's reply:

Thank you Katie for such sweet words! Your bridal party was so much fun all day and your vintage details were just gorgeous at the Rustic Oaks Ranch! Congratulations again to you and Johnny! :)

Alicia

Married on 03/20/2020

A Blessing from God

I am a COVID bride with our original wedding date being March 20, 2020 and three days before our wedding, it was postponed. Rachel seamlessly communicated with all of our wedding vendors and assisted my husband and I through a year and a half of rescheduling our wedding. Rachel was hired as a month/day of coordinator and she did not charge us any additional fees for our postponement. She was such a blessing to us, easily reached, and constantly checked on how we were feeling! On the day of our wedding, other wedding vendors kept commenting on how great Rachel and her team were, and how her team made everyone else's jobs that much easier! I would recommend MasterPiece Weddings and Events a thousand times over! Thank you so much Rachel!!!

MasterPiece Weddings's reply:

You are more than welcome, Alicia! My heart went out to you both & the challenges that Covid created. You both were such a joy to get to know over the last two years! ❤️ I'm so happy we got to be a part of your day! Congratulations again!!

Kacie

Married on 03/07/2020

HIRE RACHEL! You will not regret it!

Please do yourself a favor and hire Rachel! My husband and I were questioning if a Wedding Coordinator was going to be necessary, and we honestly could not have imagined our day without Rachel! Everything was PERFECT! There wasn't a single thing that we had to worry about, and we truly got to enjoy every single moment of our day. We had multiple guests compliment how smooth everything went, and we have Rachel to thank for that. She truly is the BEST! She is personable and pays attention to every detail, small and big. Thank you, Rachel, for making our day one that we will never forget.

MasterPiece Weddings's reply:

This means so much to me! I loved all your details, from a Beer Unity Ceremony to your family wedding photos ladder, and everything in between - it all came together for such a fun and magical day! Congratulations again!

Whitney J.

Married on 02/01/2020

MasterPiece Weddings was terrific!

Please do yourself a solid and hire Rachel. I don't want to come off as melodramatic, but you might want to consider planning your wedding date around Rachel's availability for your wedding. She was that big of a game changer. She has multiple packages for brides looking for complete planning or a helping hand the month of the wedding. She is so kind, and so efficient and just an all around dream. She was touch with all of my vendors and probably knew more about my wedding than I did (certainly more than my Husband). She treated me like I was family and I cannot sing her praises enough.

MasterPiece Weddings's reply:

Wow! Thank you so much for the kind words! Your family will always have a special place in my heart!

Lenora

Married on 01/18/2020

Beyond Amazing!

Rachel did such an amazing job at our wedding. My Husband and I had no idea what to expect and how things would run behind the scenes on our wedding day. Rachel made sure everything ran so smoothly and so perfect! Our wedding was beyond amazing and easy! The whole day was more than we could have ever hoped for. Rachel was always on top of it, and taking care of everything. She even started to help serve food for our vendor that cancelled last minute on helping to serve the food at our buffet! I had no idea that even happened until after the wedding I had to ask how she ended up serving food. Everything with every vendor went so smooth and easy I couldn't even believe how amazing and easy our wedding day was. I highly highly recommend Rachel for any bride that was like me and had no idea where to start and end. I recommend Rachel for anyone that has an idea and dream in their head and needs help bringing it to life. I used Rachel as a day of coordinator, but I feel that is was so much more than that! I could not recommend her enough!

MasterPiece Weddings's reply:

Thank you for the wonderful sweet words! We loved your wedding and learning to serve Chicken Parm is a new skill set now! :) LOL I'm so touched you were so happy putting your trust in us!

Sasha C.

Married on 11/02/2019

Rachel Griffin tackled a big, Shakespearean, interfaith wedding and gave it life

I don't know what Max and I would've done without Rachel. Early on, I was getting overwhelmed with planning and appeasing everyone. Max and I didn't have a clear vision, but knew that we couldn't have a traditional Jewish or Christian wedding, being an interfaith couple. Rachel helped us craft a Shakespearean wedding with Scottish accents to highlight our ancestry and Macbeth all at once. No question was too ridiculous or minuscule. No need went unanticipated. From our pre-planning meetings to phone calls and texts, Rachel proved herself to be responsive, capable, knowledgeable, and compassionate. She immediately assuaged my fears and tackled my workload, and did a hell of a job. Need to communicate to multiple vendors? Check. Need a new DJ because the one you had dropped less than a month before the wedding? Rachel's got you. Need your comfy shoes put under the table, or tips handed to the wait staff? Rachel is on it. She showed up early and oversaw everything with aplomb and grace. Getting Rachel Griffin as my wedding planner was the best decision I ever made. Thank you so much for making Max and I's day flawless. We will never forget it - not a single thing went wrong, and it's all because of the amazing amount of work and organization your team did behind the scenes.

Kimberly

Married on 02/02/2019

Wedding Coordinator

Rachel and her staff were amazing. I am so glad we found Rachel to help us with our big day. She did an amazing job and made our lives so much easier and you can tell she and her staff really care about your big day. She was responsive, had endless suggestions for vendors, and was incredibly organized. We hired her for the month of and day of coordination. She had everything ready to go, making it so that all we had to do was enjoy the time with our friends and family.

Nicole

Married on 01/12/2019

Rachel is the best!

Rachel was so helpful, especially for our out-of-state planning! We hired her as our month-of coordinator, and she did a great job giving us a framework and a plan for getting everything done, month by month, which was great for our busy schedules and type A brains! Her main job was the "month of," but she was wonderful about answering our many questions over email during the year of planning that preceded that month, and for that we are so grateful! We didn't end up hiring her as a true "planner," so we ended up doing all of the hiring and planning of the actual wedding weekend, but she was so helpful along the way and was such an asset as the wedding got closer! She was great about helping us coordinate all the vendors---I was SO GLAD we had hired her to do all of those week-of/day-of logistics! It took such a weight off to not have to do any of that ourselves or have our wedding party or parents have to worry about any of it. She is kind, professional, and easy to work with---would definitely recommend Rachel!!

Peter

Married on 01/11/2019

Rachel is phenomenal!

Rachel was a dream leading up to and during our wedding, we leaned heavily on her and she handled everything we were worried about and more! Couldn't recommend her more highly!

Lauren H.

Married on 12/02/2018

Absolutely The Best

Rachel and her team were absolutely wonderful coordinating and executing our wedding rehearsal and wedding day. We chose her month-of package and it was exactly what we needed. I loved being able to be hands on and to incorporate my DIYs. Rachel was a HUGE help in coordinating with all our vendors, venues, and ceremony musician. Rachel always brought a sense of calmness and ease, and her and her team brought the whole event together. I know you won't be disappointed with her on your side, no matter your vision!
Are you interested?
Send a message